11 Essential Backpacking Items
(by a 21 year old girl)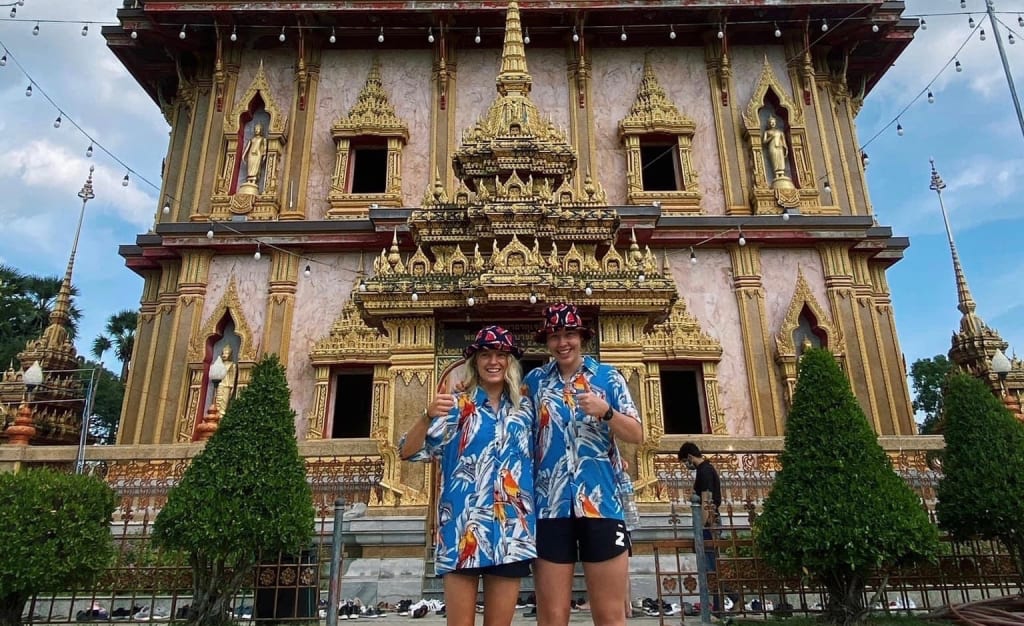 I spent 3 months backpacking in South East Asia and Australia before it was suddenly cut short by Covid-19. Not exactly an expert but I did learn a thing or two about my backpack essentials. Thought I would share my recommended packing list while I have some time on my hands...
1. Antiseptic cream
This is no1 for a reason. I could not have survived without it. In fact, before I embarked on my travels, my friends laughed at the fact my bag was full of "more drugs than clothes". A purposeful move on my behalf. Not only does this stuff heal bug bites, it works wonders on the fresh tattoo scar in Bali and the motorbike accident wounds in Vietnam. Antibiotic ointment is also a winner but sadly is only available through prescription in the UK. Probs a good bet to buy some over the counter when you reach Asia!
2. Ibuprofen
Yep. Another drug. I know. Stock up on this one before you go! This extremely handy little drug fixes those horrible hangovers from a heavy night out on Khao San Road. It also works wonders on the headaches you may endure due to extremely loud bunk bed sharers that decide to munch crisps as loud as possible at 4am the night before your 6am flight...
3. Water bottle
A close contender for 1st and 2nd place. Definitely the item in my bag used the most. This is an absolute gem when you're travelling because turns out in most countries you need to buy bottled water and they overcharge tourists massively. Recommended bottle would be the newly invented LARQ water bottle. One of a kind. Self-cleaning amazingness. Worth splashing out as it saved me from buying more than one bottle while out travelling.
4. Suncream (Waterproof SPF50)
An incident occurred in Thailand that really crushed my mood and fun for about 120 hours. I had spent 4 hours in the sea with very little suncream on my face. 24 hours post swim my face was a bright bright red. I thought 'ah some aloe vera and a cold shower I'll be okay in the morning'. 48 hours later the blistering started. I had bubbles of yellow pus all over my chin, nose and forehead. So bad I could pop them. Gross I know. Almost stopped me from going on my night out that night! I say almost because the next day I honestly felt sub-human. My mate can vouch for the fact I spent the day on the most glorious phi phi island with a scarf wrapped around the entirety of my face. Only my eyes were peeping through a small gap and even that minuscule section of exposed skin was burning in the light... Anyways you get the jist. It's essential.
5. Headphones
I almost didn't pack these because they took up so much room but boy, am I glad I did. Picture the scene - night bus to Cambodia for the next 16 hours on a thin mattress on the floor. All you can think about are the abundance of gross stranger men lying on the mattresses surrounding you. You can smell a strong scent of dried fish and soon after hear the crunching of the fish skin entering the mouth of the stranger lying next to you. You long to be anywhere else. Lucky for you, you have your headphones so can drift away to Louis Theroux's desert island discs peacefully.
6. Rehydration sachets
Hydration is key to happiness. These were honestly a life-saver. You may not like the taste but trust me they do the trick. Hangovers, diarrhoea, sunburn, heatstroke.. you name it these are the bomb.
7. Re-usable bag
Number 7 of the highly exciting items on my packing list woooop! This baby was a brill little addition. I choose to bring an orange reusable nylon-y bag with me. One of those ones that scrunch into practically nothing. It was useful on many occasions - shopping for food, sneaking booze into hostels, carrying wet swim gear, holding my toiletries because my washbag exploded on the flight and was covered in fake tan...
8. Laundry bag
I reckon my travelling partner was probably most jealous of this one. You never appreciate the true amazingness of a laundry bag until you are forced to pack for months in a tiny little rucksack when separating sweaty clothes from the few that aren't damp or dirty is highly important. I chose a netted bag with a zip. It was also v functional when I took it to laundrettes in Vietnam and they packed my clothes neatly back inside the bag rather than wrapping them in plastic. How eco-friendly.
9. Packing separators
Bags inside bags to organise your bag. These beauties worked a treat. I would say I'm a naturally messy person and I think my mates would agree. My room and workspaces are definitely more cluttered than neat and one of my fav things to own are clever little organiser systems for all my bits and bobs. I knew if I didn't have an organised system in my rucksack it would end up looking like a disembowelled gruffalo every time I unzipped it so I decided to invest in some little zip up packing bags for all my separate items.
10. Eye-mask(s)
An absolute essential. Annoyingly I kept losing these because they fell down the sides of bunk beds and I left them on buses. So no maybe don't bring your favourite 100% silk, rose scented eye-mask because if, like me, you tend to forget things, there is a high possibility of losing it. But defo bring one. They work magic on buses and hostels when sleep is looking nearly impossible due to the light shining directly in your eye-line.
11. Travel adapter
It's really hard to decide on exactly what cables and plugs and chargers you should bring. Especially when you have multiple techy things that need re-powered every so often. I opted for a multi socket universal travel adapter bought from amazon for a very reasonable fee. It worked a dream. I used the adapter so constantly I know it will be prioritised in the top section of my bag when I set off travelling again.
So there you have it! I could definitely add a few more but 11 Essentials sounded good in the title. Hope this helps all those backpackers keen to get out travelling the world again :)