10 Travel Tips for a First Time in Europe
By Alesia Di Giambattista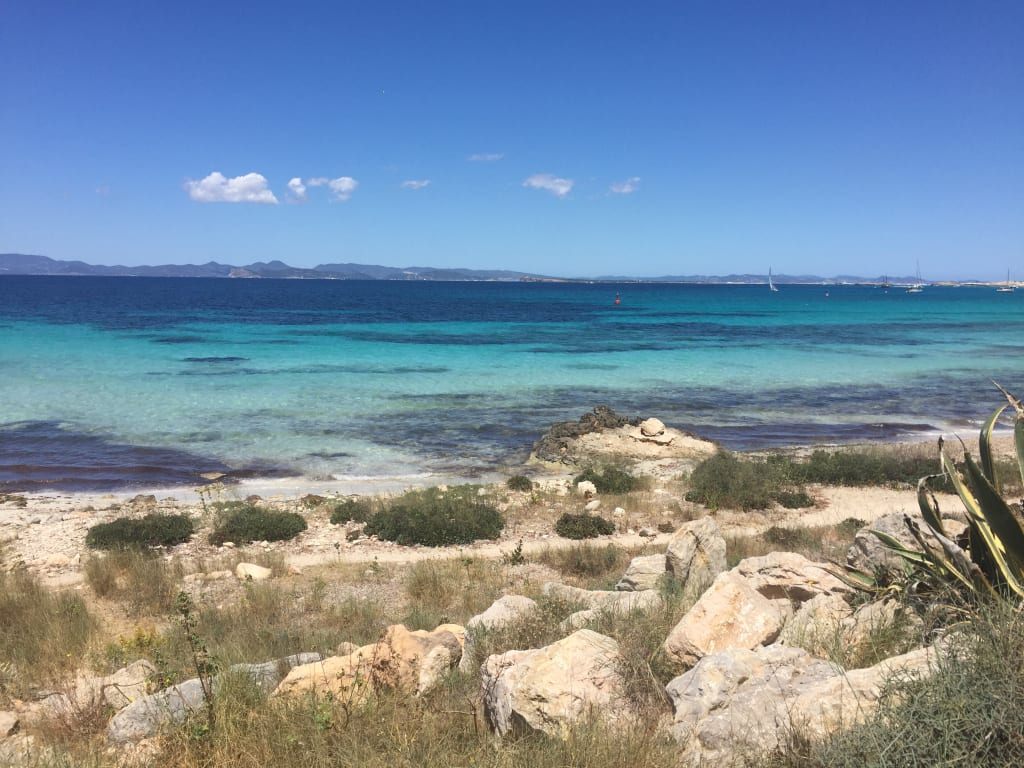 Formentera, Ibiza, Spain - Photo credit @alesia.dg
After five months of consistent travel, I've definitely learned my fair share of lessons. Like the time I was arrested by the metro controllers in Budapest because I couldn't find the place to buy my tickets and took the metro without one... and finally ended up with a 100$ ticket instead.
Some of these travel mishaps can be avoided but you cannot plan for everything. However, keeping a few important things in mind will make your travels much easier. So, in no particular order, here are my ten travel tips for a first time in Europe.
1- Low-Cost Airlines
First off, you should know that once you arrive in Europe, traveling from one city to another gets incredibly cheap and affordable. There are many low-cost airlines (Ryanair, Vueling, EasyJet, etc.) that offer you the opportunity to travel from one city to another for under 50 euros. For example, one of my cheapest flight was from Madrid to London, which costed me 25 euros with Ryanair (the same price as a pair of jeans!). The key to finding the best deals is to verify each and every day the rates on these low-cost websites because they fluctuate a lot. You can also create alarms that will notify you by email once a price drops. Personally, being on these websites became an addiction (yes, I used to consult them about five times a day) because I really wanted to make sure I got the best price while city hopping. Also, you can use Google Flights or SkyScanner, which filter all the airlines and give you the best rates possible according to your time preferences. Of course, when you travel with low-cost airlines like Ryanair, Vueling or EasyJet, you need to be prepared to receive a service equivalent to the price you're paying. For example, in a typical Ryanair flight, you don't have a screen where you can watch movies (anyways, most of the flights are not very long), you don't receive any food (or you need to pay for it if ever you have a chocolate craving) and you don't have much space for your legs. On the other hand, most of the times I flew with Ryanair, we departed on time and the staff was lovely.
2- Other Cheap Transportations
If you are traveling to a nearby city that doesn't require taking a plane, you also have the option of taking the train or the bus in Europe, which are also very cheap. I have booked many times through busbud.com, which filters all the bus companies and finds you the best rate with different times tables. As for the train, I used goeuro.com a few times, which has the same concept as busbud.com.
3- Free Walking Tours
God knows there are plenty of beautiful things to visit in Europe and it certainly can be time consuming when you did not plan your itinerary in advance. I definitely recommend free walking tours to help discover the most important parts of a city with some historical explanations. The company that completely changed and bettered my knowledge about European cities I visited is Sandemans. They have free walking tours in 15 cities in Europe and they hire great tour guides that absolutely know and breathe their city. So… how does it work and what do I mean by FREE? Simple! You only need to get registered on the Sandemans website (or any other free walking tour company) and they send you a confirmation with a specific meeting point. When the time and day arrives, you present yourself at this meeting point and the tour guide starts (it lasts approximately two and a half hours). At the end of the tour, you judge if you really liked or absolutely hated the tour and you give a tip that you think the guide deserves (that's it!). A special shout out to Madrid's walking tour Fabrizio (ONE OF THE GREATEST!).
4- Cheap Accommodations
If you are planning on visiting many cities and that you are on a tight budget regarding accommodations, I have the solution for you! There are a few options available to you but the most affordable option if you are traveling with someone else is AirBnb. Of course, you have the option to rent a private room in someone's house or apartment or rent an entire apartment to yourself. When you are many people, this option can cost you around 20 euros per person, per night. Make sure to verify the reviews before you book a room or apartment through AirBnB to make sure that there are no repetitive complaints about the owner and/or facilities. If you are traveling alone, the best option would be hostels. However, little tip for girls here, do not book a mixed dormitory if you are sensitive to disturbing noises at night. In fact, many men in dormitories snore like CRAZY! If you want peace and quiet, book an only female dormitory! The prices can vary from seven euros to 60 euros if you want a private room (which defeats the purpose of booking a hostel, if you ask me).
*Don't forget to review the AirBnb or hostel after your stay in order to help future tourists and visitors.
5- Finding Authentic Food When You Travel
One simple rule you need to follow: NEVER eat near touristic attractions. The owners charge way too much for what it's worth and food is usually not local nor authentic. You are better off asking locals for their favorite restaurants, which will very often be outside the city center or detached from the touristic attractions. Once again, it is essential to consult other customers' reviews and menus to make sure that the restaurant meets your demands and criteria. If you plan on traveling to Madrid of Rome, here are two restaurants I fell in love with during my Europe tour: Taberna El Sur in Madrid (typical tapas restaurant) and Cacio & Pepe in Rome (homemade pasta by locals).
6- Beware of pickpockets.
Alright people… I know you already heard a lot about pickpockets in Europe and you think it only happens to others, but they are real and it can happen to you as well. Pickpockets come in all kinds of shapes and sizes. For example, it often happens in public transports that a mother carrying a stroller is part of a pickpocket plan. While you are distracted by the cute baby, they take advantage to steal your phone, passport, wallet, etc. There are also the ones that ask you to sign some kind of petition on the street and while you are listening to what they're saying, they are stealing your belongings. It is the same thing with people doing magic tricks in the street. Now, how can you avoid being a pickpocket's victim? Here are a few tips. If you are traveling with someone, make it a habit to constantly ask the other if they still have all their important belongings. It really helps to be careful of where you place your things and if becomes automatic to verify every now and then. Also, never take public transport with your backpack on your back (yes, I know that's the point of having a backpack, but believe me). If you are traveling alone, you need to buy this item (or something similar).
It is a travel neck pouch where you can put all your important belongings (passport, credit cards, cash, etc.) and the string around your neck is so solid that a pickpocket wouldn't even be able to tear it off (or he will strangle you).
7- Travel light (if possible).
This section is mostly for girls because everyone knows that we have the tendency to pack a lot of unnecessary things for a trip. It took me a few weeks to figure out that I didn't need to bring three outfit options per day because I only ended up wearing one. By traveling light, you reduce your suitcase's weight and you also avoid losing all your favorite outfits if you lose your suitcase. Also, when you travel with low-cost airlines, they usually restrict the number of suitcases allowed and have a maximum weight restriction as well. For example, when you travel with Ryanair, you are permitted one small carry-on luggage and a small bad (purse, computer bag, etc.) The luggage dimension needs to be 55x40x20 centimeters maximum and if you exceed, you need to pay. When I was traveling to Ibiza, my luggage was too heavy and didn't fit in the luggage size measurer so I was obliged to transfer some of my things into my boyfriend's luggage to avoid paying an extra fee.
8- Learn to board at the last minute.
Some people start a line-up one hour before the boarding time just to be the first one inside the plane. I never understood what the point was because these people need to wait for everyone anyways but they still decide to stand for an hour. Let me give you a tip. Stay seated until the last minute because that way, you will be standing for a few minutes and seated once again in the plane.
9- Beware of washrooms in Europe.
In Europe, nothing is really free. Even going to the washroom costs a few euros. Sometimes, even getting toilet paper costs money. Another little tip (especially for the ladies) is to always carry toilet paper with you and some coins. Even if you only have American or Canadian dollars on you, they will accept it. If you are a person that goes to the washroom a lot, make sure to go at every single place you buy from (restaurants, museums, etc.) and it will avoid you the trouble to find a washroom in a hurry and not being able to pay for it if you don't have coins on you (yup, happened to me).
10- Final Tip: Enjoy Europe's greatest history.
I can tell you one thing: Europe is unique and it holds magnificent architecture with a lot of history. Before you arrive in a city, inform yourself regarding the different monuments you should visit and make sure to take pictures of them and learn about their history. You will soon realize that every European city has impressive cachets and being informed about what you are seeing is important. For example, during a guided tour in Barcelona, I saw a place where Christopher Columbus was once standing (crazy, right?).
Finally, I really hope my tips will help you get through your European tour or your smaller trips in some European countries. The most important thing is to enjoy every second of it because it passes so quickly! Talk to strangers, make some friends, take lots of pictures (and selfies) and of course, be safe!