10 Reasons to Visit New York City
An Impartial Funny Guide to Manhattan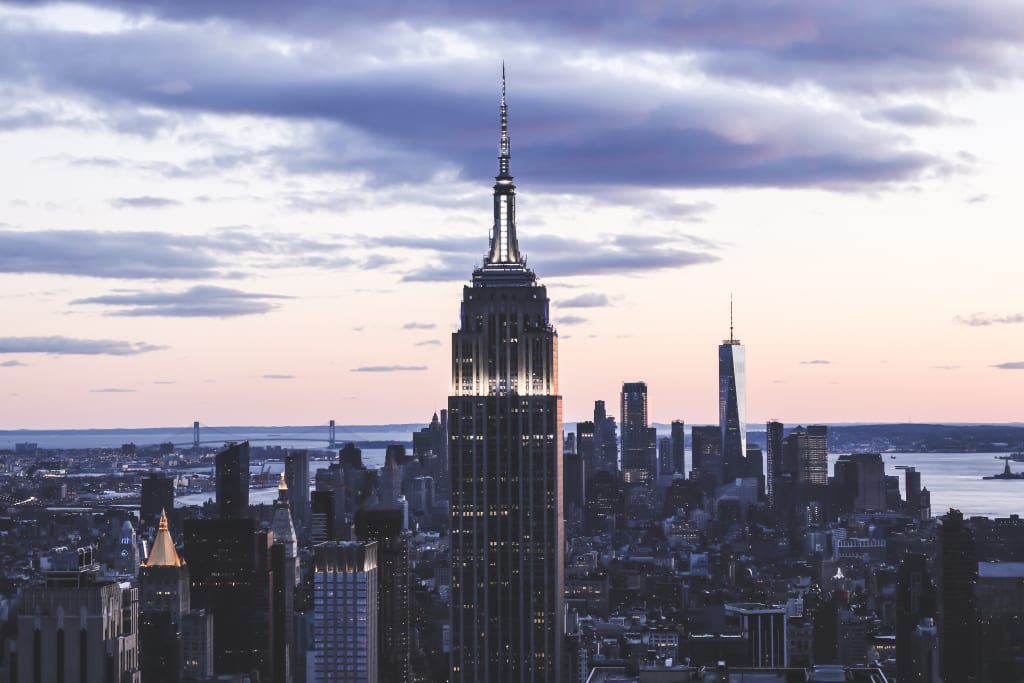 View from the top of the rock
Here's Ten reasons why you should book your ticket to the Big Apple today!
1. It's New York.
Everyone in the world should at least see Manhattan. Even if you're just driving past, you won't believe your eyes when you see the city lights shining, they will draw you in like a moth to a flame!
2. The Food
There are around 24,000 food establishments in NYC, but if you're anything like me you will head straight for Bubba Gumps or The Hard Rock Cafe! TIP: Pre-book your table at the Hard Rock Cafe to avoid disappointment.
3. Times Square
Okay, truth time! I am not a fan of Times Square. It is an overcrowded tourist trap! Unless you have flown eight hours to have a photograph with Micky Mouse or you're there to watch the ball drop on New Year, it's a waste of time.
4. Central Park
Whenever I looked at Central Park, I always thought it looked so small compared to the rest of Manhattan, it's just a small rectangle, right? Wrong! Central Park is huge, I have been a few times and still have only seen half. TIP: If you're up early, grab a Starbucks from any street corner and walk around Central Park, it's quieter and really does make you feel like a true New Yorker.
5. Tall Buildings
Petrified of heights? Lifts? Don't worry, me too. Once you're on top of the world, all that fear melts away. There really is nothing like standing at the top of the Empire State Building or The Top of The Rock. TIP: If it's your first time to NYC and you plan on doing all the tourist attractions, check out the New York pass, for a one-off payment you have access to a huge list of activities for free.
6. Pubs
I don't think there was a night where we didn't grab a pint in an Irish bar, just like the Starbucks, they are everywhere! Check out happy hour times before you go and enjoy a cheap cocktail.
7. Rooftop Bar
These you may need to doll up for, do your research as some rooftops are high-end and don't appreciate trainers, even if you have walked 50,000 steps that day. Great views of the city while you enjoy a Cosmo, it doesn't get any more New York than that.
8. New Yorkers
New Yorkers have a bad reputation for being rude, yes they will shout at you to move if you're standing in the middle of the sidewalk taking photographs! Remember to be aware of your surroundings when taking photographs or stopping to read maps, people live and work here. New Yorkers are really kind, if they see you struggling to find your way, I guarantee you someone will stop and help.
9. Hidden Speakeasies
If you're like most of the world and obsessed with Peaky Blinders, the speakeasy tour is for you! Legitimate hole in the wall that leads you to stunning underground bars, a fun evening for a group of friends.
10. Christmas
Okay, if you have dreamed about visiting New York ever since you watched Home Alone 2 as a kid, you won't be disappointed. The decorations are unbelievable. Be sure to visit the Christmas tree in Rockefeller Plaza. There are also bus tours that will take you to see houses outside of Manhattan that are wildly decorated.
So there are your ten reasons why you should go to the greatest city in America! Go book it you won't regret it.
About the Creator
"There's two things in life I am good at, telling story's and taking photographs! But they are both the same thing really." Born and raised in South Wales U.K.
Reader insights
Be the first to share your insights about this piece.
Add your insights