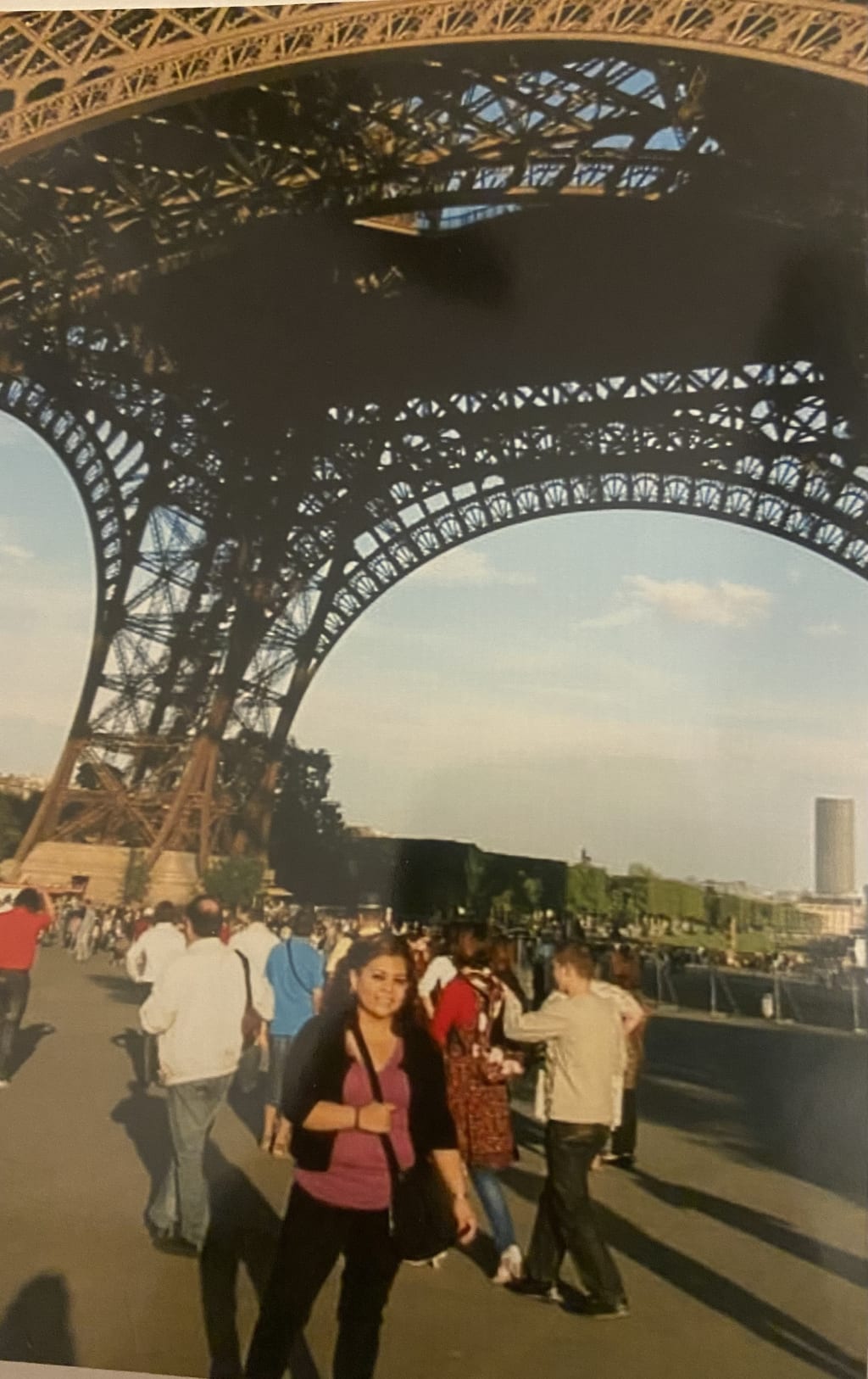 Under the Eiffel Tower
There are many experiences that we go through in life that shape us. Shape us to be better people, to think differently, or to be more catious about elements around us. I have been very fortunate in my life to say that I'm "well-traveled". In my 33 years of life, I have been to many places, experienced different cultures, and slept on many different pillows. One experience that I will forever be grateful for and one that is etched into my heart, is when I went backpacking through Western Europe with my best friend.
2010
"Let's do it." Eliza told me as we laid on her bed after watching an evening full of Criminal Minds. I looked at her and decided in that moment, "Yes."
We stayed up the rest of the night planning where we would go and how long we would be gone for. How much we needed to save and what countries we wanted to see.
2011
It was May 2011 and we were about to leave on our month journey across the Atlantic. We were 22 and 21 years old, both from middle class families and both servers at restaurants making our living to pay through college. But we did it. We saved up our money, bought our airfare, booked all our hostels, and bought our Eurail passes. I wasn't much of a planner back then, that was Eliza. She booked and planned everything down to the tee. I was still confused about the time change and all that so I let her brain have at it. When our parents dropped us off at the airport, all we had on us were giant backpacks full of clothing for the 32 days we would be overseas. I remember my mom hugging me for life but her face spoke a different language. She was happy yet fearful. Happy that I was able to do what I was about to do. Happy that her eldest daughter was about to rack up some stamps on her passport and do what rich kids do. Happy that I was about to experience more in life than just Houston. I kissed her goodbye and gave my sisters a hug. My brother stood there with his hands in his pockets and said "come back safe."
My best friend's dad gave me a hug and told us "I'm not about to go save y'all over there. This isn't Taken. Y'all better be careful." I gave a chuckle and quick nod. Taken had come out a few years before and he couldn't stop joking about it. We walked into the cold airport and I gave a quick glance to my mom, she had tears in her eyes.
As we checked in our huge backpacks it hit me. We are about to really do this, huh? I took off from work for a month and we really aren't coming back for a month, are we? The reality took my breath and my best friend snapped me back into place.
"Let's go get a drink before we board. Maybe a shot will knock us out for the flight." She said. I was a nervous flyer but more nervous being over bare ocean for a 9 hour flight. We downed some drinks and said prayers aloud and in our heads. When we finally boarded the plane, it was nighttime. Just in time to have dinner on board and sleep. Except, sleep never found me. I paced up and down the plane without comfort. I couldn't sleep from excitement.
London, England
05/12/2011
The glamour of the long flight was drawn all over our eyes. When we finally arrived I felt relief and eagerness to get off the plane. We were so tired and jetlegged but we quickly claimed our backpacks and made it through the airport to catch the tube. We arrived in the morning time but being tired and 6 hours ahead of our regular time, we didn't know which way was up.
We boarded the tube to head towards our hostel. Eliza was so exhausted that she hit a random girl on the head with her huge backpack. Apologies were given and we found our seats.
Our first hostel was called Astor Museum Hostel. It was located right next to the British Museum. It was a nice hostel, shared rooms, with an English breakfast included. When we checked in and got to our room, it was dorm-like, with red bunk beds in a room shared with 12 other people. Each one of our bunk beds came with a drawer that you could lock. We got to our beds and locked up our backpacks.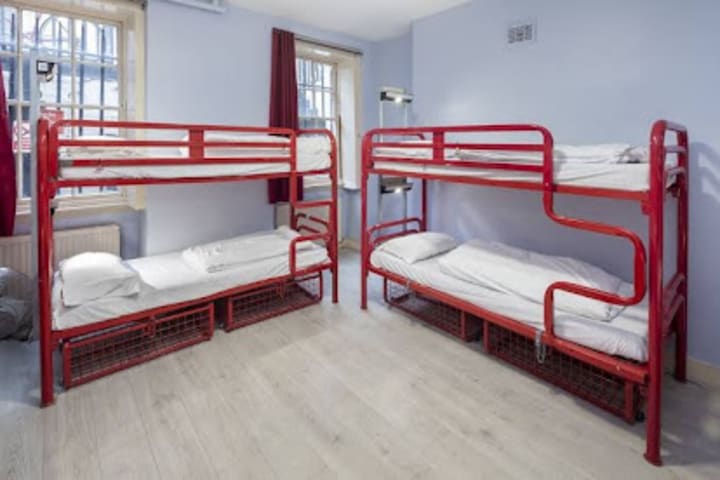 We decided the first thing to do was explore our new neighborhood and grab some food. We ended up walking around for a while, it was a nice area with a nice nearby park. It was around lunchtime and we decided to grab some local fish and chips.
After lunch we went back to our temporary home and settled for the night. We met some of our hostel friends. In the bed right next to us there was a young Canadian girl traveling alone. It actually was common and we met a lot of solo travelers in that one month. I forget her name but she was 19 and a very free spirit.
"So how long are you two traveling for?" She asked us as we settled in for the night.
"A month. What about you?" Eliza asked
"Until my money runs out." She responded so casually.
"You don't have a plan? A list of destinations?" I asked a little dazzled by how nonchalant she was being.
"No. I just bought a one way ticket. When my money runs out my parents will fly me home." She said.
Eliza and I looked at each other in amazement. We had planned and saved for so long and here was someone just literally living day to day. I must admit I was a bit jealous because I don't think I'd ever be okay with just traveling until "my money runs out" but it must be so free.
There was also someone else we met that night. While we were unpacking, there was a group of guys in the other corner of the room. One of them resembled a character from a very popular Mexican show, El Chavó. The funny thing was that he was just watching us, he was laying down on his side with his hand propping up his head just watching us unpack. We looked at him and usually, when you're staring at someone and that person catches you looking at them, you look away, well not him. When we locked eyes with him he gave us a huge smile. Anyway, different people from all over the world and different cultures in one room. From that night on, we called our new friend El Señor Barigas, named after the character from El Chavó.
05/13/2011
The following morning we started exploring London. The first place we went to was Buckingham Palace. This was around the time that Prince Charles had just gotten married so everywhere we looked there were soverniers with their faces. After Buckingham Palace we went to Big Ben.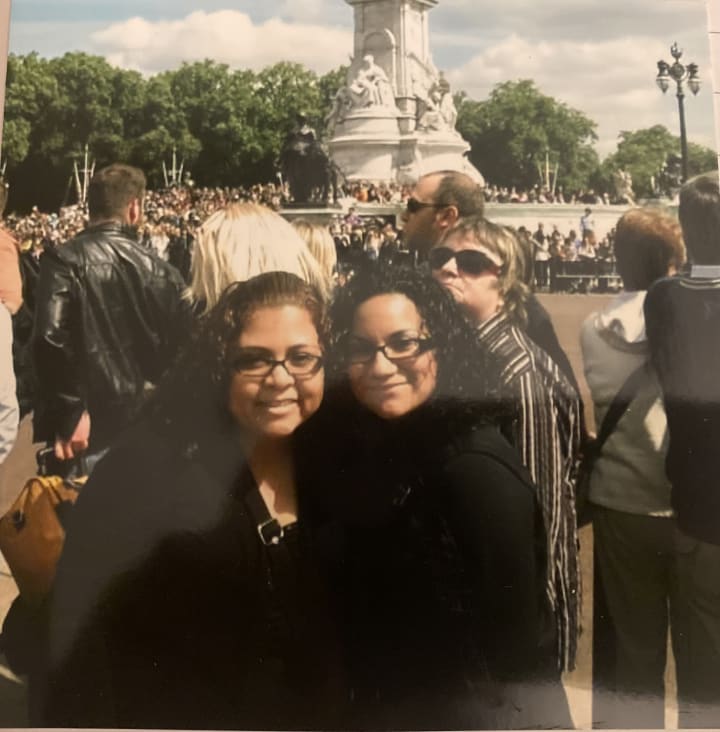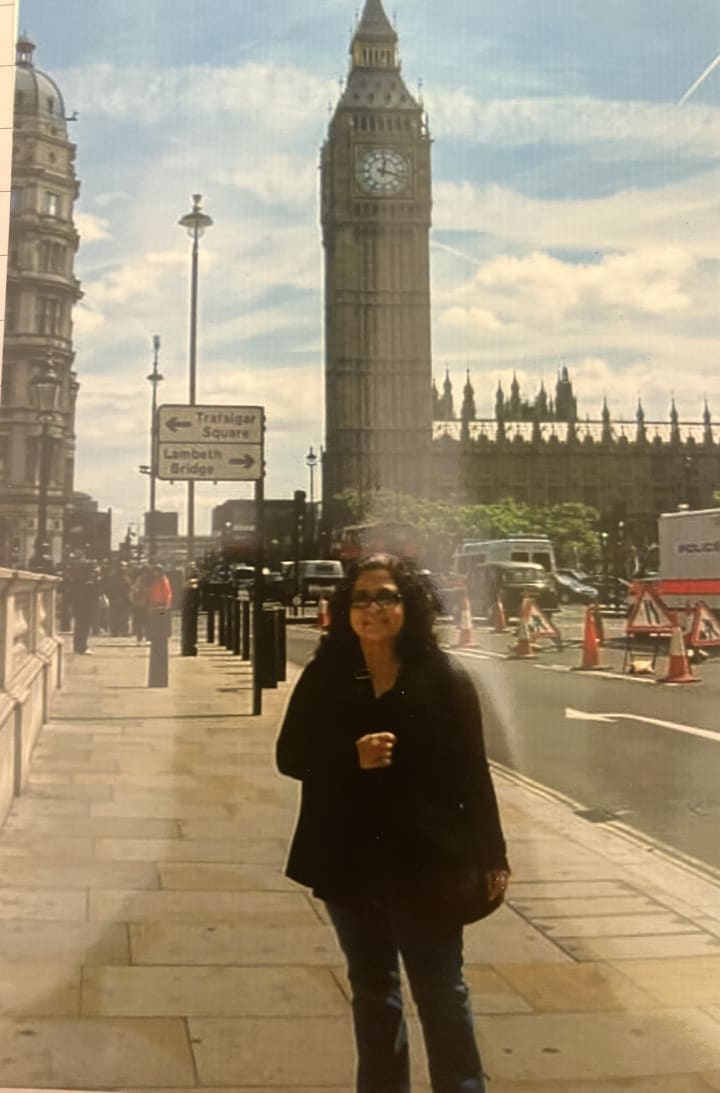 It was a fun filled day full of exploring and adventure. We did the Big Red Bus Tour and then to Madame Tussaud's Wax Museum.
We then headed back to the hostel and stayed in for the rest of the night.
05/14/2011
The next day, we learned a lesson..or two. This was one day that I'll never in my life forget. We had planned to go to Shakespeare's Globe, Sherlock's Pub, and take the Jack the Ripper Tour. Since we didn't want to wake up too early, we got out of the hostel later than usual. We got on the tube and headed to Shakespeare's Globe.
Shakespeare's Globe was built in 1599. It was amazing to be in it and enjoy a nice meal by the Thames River. We didn't see a play or anything but walked around and enjoyed the architecture.
The Jack the Ripper Tour was set to start at 3:30 and the pick up location was in front of the Tower of London. It was a bit farther than we expected but we left the globe and walked over to the tower. We, unfortunately, got there at 3:40. Only 10 minutes late! The tour had already left.
I was so bummed because the next tour was set to start at 11pm and we told ourselves we would not be out that late. I sighed and faced my friend in defeat. Her face lit up as she pointed and said "oh look at his sign!"
I turned over to where she was pointing and there was a man in a top hat holding a sign that read, "Jack the Ripper Tour". As soon as I laid eyes on him, something inside of me yelled, "NO!!". There was an uneasy feeling in my stomach. But what did I do?
"Okay! Let's go!" I told my friend as we walked towards him. We approached him and asked how much and when the tour was starting.
"It's 10 Euros each and we leave in 30 minutes." He responded.
"Okay, we'll do it." I said as I reached into my pocket and handed him a 20 note.
"Sit over there and I'll get you both when we are ready to leave." He said as he pointed to a bench.
As I walked to the bench the uneasy feeling was overwhelming. "Do you think it'll be just us?" I asked Eliza while taking a seat.
"Hmm I don't know. It'll be weird if it is, no? He said in 30 so maybe more people will join." She said
"You're right." I told her while crossing my arms and trying to get rid of that feeling.
No more than 5 minutes went by and he walked towards us with a huge smile and said, "Alright let's go! Follow me."
We both looked at each other but stand and started to follow him. He had a top hat and a black trench coat on. As we walked next to him he slipped the sign he was holding into his trench coat.
"Are you two from overseas?" He asked us while adjusting his coat.
"Yes." My friend responded in a soft tone.
"That's nice. The tour will be about an hour and 45 minutes. It starts where the first murder took place." He said as he looked at his watch and around.
I looked at my friend and the feeling I had been feeling had gone down all the way to my toes and up to my throat. I felt a huge knot in my throat. I later determined it was fear. I was in fear, in a way I have never felt before. Not a scary movie or book fear can compare to the fear I felt in that moment.
"You are from overseas, right?" He asked again. This time, alarm bells were ringing high in my ears. "When we cross this brick wall, we will be in the most dangerous part of London." He said, as we sill followed him.
He took us to an alley. There was NOBODY there but us. He started talking and as he spoke he kept looking at his watch. I looked around and it was 3 ish in the afternoon but the alley was dark and it seemed as if it was caving in on us. I couldn't even hear what he was saying, all I heard was my heart pounding in my ears. I looked over at my friend and she was pale with fear. I grabbed her hand and she yelled out "We have to be somewhere."
He stopped talking and looked at us.
"Yes. We have curfew at our hostel." I said
"I told you that the tour was an hour and 45 minutes!" He yelled as he threw our money back at us.
With that, I grabbed my friend and we took off running. What did it for me was the fact that he threw our money back at us, asked twice if we were from overseas, and kept looking at his watch in that short time. He could have just been someone who loved to talk about Jack the Ripper. Perhaps we over reacted. But something inside me, to this day, tells me otherwise.
As we finally reached the tube again and left that scary alley. We sighed with relief. We didn't see him again.
After we had found our breaths again, we decided to go to Abbey Road. We read the tube map and found a route and hopped on. I was still a bit shaken and so was Eliza. We then promised each other and ourselves that we would never be that stupid again and to follow our instincts.
Abbey Road was great! I mean, I'm sure the locals hate tourists stopping in the middle of the road. We snapped a few pictures and wrote on the wall. We then went to this little shop and I bought a cute wallet a yellow submarine clock.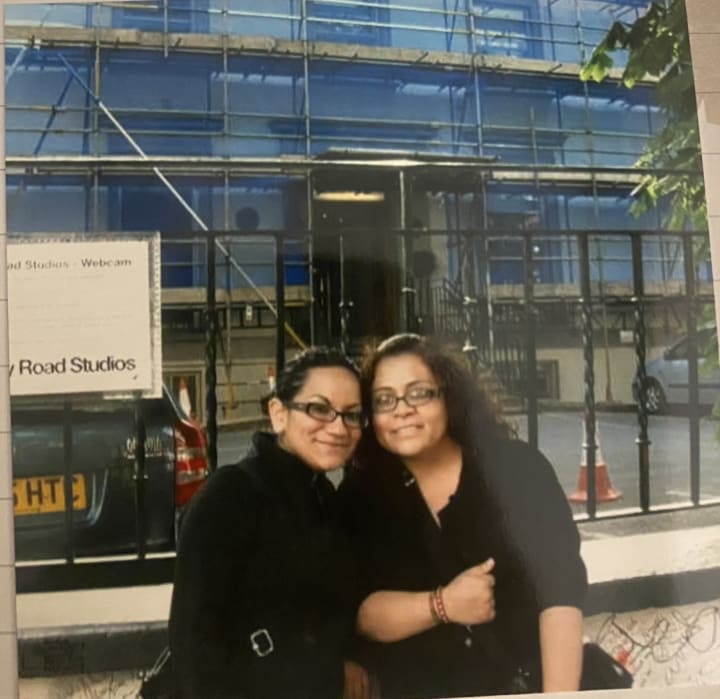 We took the tube back to our hostel and decided to settle in for the night. We had bought a bottle of wine and were drinking it in the common area. Just then one of the hostel workers came up to us and said that they were going on a pub crawl at 11 and that we should join.
I looked at my friend and thought about the promise we had made each other of not being dumb and following our instincts. We both nodded our heads immediately. So instead of settling in for the night, we went to our room and got ready for a night out.
"We'll be fine! We just can't get super wasted." I told Eliza while I decided which dress to wear. Even though we had said we wouldn't party in Europe, we still took a club dress or two, just in case.
We met everyone downstairs in the lobby to get ready to go to the pub crawl. It was 3 clubs that we were going to. They also gave us a shot at each place, it was included in the pub crawl ticket.
We followed the crowd and headed to the first stop. We all took shots and enjoyed talking about our travels so far. We then headed to the next stop, and had our second shot. We also got drinks and started to hang out with these two French girls from our hostel. We went to the little dance floor and danced for a while.
"Alright next stop!" One of the hostel guys came to get us.
I was already feeling buzzed and I could tell Eliza was too. We held hands to balance ourselves as tequila, vodka, and wine swished around in our bellies.
We looked and felt more in control than others in our group. One guy fell over on our way to the club. He got up and laughed it off. We got to the club and got another shot and then took another shot just because. We hit the dance floor with the hostel guys and our new friends.
The night became a blur as the techno music blasted around us. The events of earlier that day started to fade and were replaced with laughs and drinks.
We danced and danced and drank some more. The hostel guys came over and said they were heading back to the hostel. The French girls decided to stay longer but we were done for the night. We followed them out of the club but it was all a haze. One guy was left with us but he was the drunkest of all. He fell over in the middle of the street. I tried to help him up but Eliza said "No! Let's go. He'll be fine, he's from here." As I came to, I realized we were lost. I mean we were close to our hostel but we had been turned around and lost the other 2 hostel guys, and another was laying on the street drunk.
"We'll be okay. We just have to find out where the British Museum is." Eliza said as she held my hand.
"Okay, let's ask someone" I said while trying to shake off the buzz and get it together.
We walked up to this guy and asked him where the Bristish museum was. He pointed up the street. Something in me and in Eliza said "no."
"No. That's not right." Eliza told him while we walked in the opposite direction. We really didn't know where we were but we felt he was sending us in the wrong direction.
We then found a cop. Yes, a cop. We went up to him in our American drunken state and asked him where the Brisith Museum was. He told us how to get there and that we were not far away.
He was right. We found our way back to our hostel that night. As we arrived, we told the hostel guy at the front desk about his coworker that passed out in the street. He laughed and said "okay, I'll check on him." As if it must happen all the time.
We then made it back to our beds and crashed.
05/15/2011
The next day was just a recovery day. We stayed in the movie room and watched movies as we recovered from the night and day before's events.
We watched The Pineapple Express, caught up on our writing and did take a little stroll in our neighborhood. But mostly, we stayed inside. We then really decided to not party while on our trip. Not only do we not know where we are but a day is wasted because we get wasted.
05/16/2011
We planned to go to the British Museum since it was right across from our hostel. Unfortunately, there was a bomb threat. They had closed many places down because of it and the hostel workers advised us to avoid going to crowded places or the tube. So we stayed in and decided to do our laundry and pack and get things ready. The next day we were going to go to Paris! Here's the thing. Our alarms hadn't been working well on our phones. I'm not sure why or even remember. But we had to stay up because our train to Paris departed at 5:25 am. We had to catch a cab and then head to the train station. We couldn't miss it or it would mess up our whole schedule. We did take a nap but stayed up until it was time to depart.
Paris, France
05/17/2011
When we got to Paris, we were dead tired. Travel days were always exhausting but more so when you don't get enough sleep. We got in around 8am. We went to our hostel and dropped off our backpacks, check in time wasn't until 3pm so we had some time to kill.
We walked around and got to know our new temporary neighborhood. We grabbed some coffee and breakfast and enjoyed it outside in a patio area. We walked around and found a pay phone. We called our moms to let them know we had arrived to our next stop. We called them at least once a day to let them know we were okay. We made sure to omit our little tour thing and our pub crawl.
We made it back to the hostel and decided we would hang out in their patio area until it was time to check-in. We both passed out and I think the front desk girl felt bad for us that she let us check-in a bit early.
We got our keys and went to our room. It was a smaller room with 4 beds but our own bathroom! We didn't have to share it with 12 other people this time. We had some lunch and then we both wanted to take a little nap. My watch read 4:30 when I closed my eyes.
Next thing I knew, it's dark and confusing. I woke up not knowing what time it was, if it was am or pm. Had we slept through 12 hours? I said to myself confused. I poked Eliza's bunk bed and she shared my confusion.
"It can't be am. It's definitely pm" she said while she rubbed her eyes and sat up.
"Right. Okay, it's 8:45 pm." I confirmed as I finally looked at my watch. Those travel days were so tiring.
"Let's walk around a bit." Eliza said.
We both got ready and headed outside of our hostel. It was in a bustling area. We reached a little kabob shop and picked up some dinner. People were walking outside enjoying the nice weather.
We stayed out for a bit exploring and then decided it was time to turn in, again.
05/18/2011
Our first whole day in Paris, we went on a walking tour. It started out at Saint Michael's Fountain and ended up at the Eiffel Tower. Our tour guide was hilarious! She was originally from Scotland but moved to Paris because she fell in love with it. The tour was 4 hours long and it was all walking.
We went to the prison where Marie Antoinette was before she was beheaded. On that building, the tour guide pointed to bullet holes on one corner of the building. She stated that those bullet holes, were the only remaining thing of WWII. The French wanted no memory of WWII around their city, but they left those bullet holes. It was insane to see.
We then went to Musee du Louvre. It was massive! We didn't go inside, just viewed it from outside. We planned to go the following day. The tour guide said that the museum contains around 35,000 paintings, and that if we were to see every painting for 5 seconds, we would be there for 3 weeks. She also mentioned how the Mona Lisa is a disappointment, that she's so tiny.
Then we went to the bridge full of locks. Couples go there and place a lock on it and then throw the key away. Showing their endless love I guess. It was cute but the weird thing was the combination locks, like will they just take it off after a break up or what?
05/19/2011
Our second day in Paris we saw the Mona Lisa and yes, we both thought it was disappointing. She's tiny compared to other paintings. In that same room she was across a painting the size of a wall! She is placed safe behind a large glass which makes her look even smaller. But hey, we saw the Mona Lisa.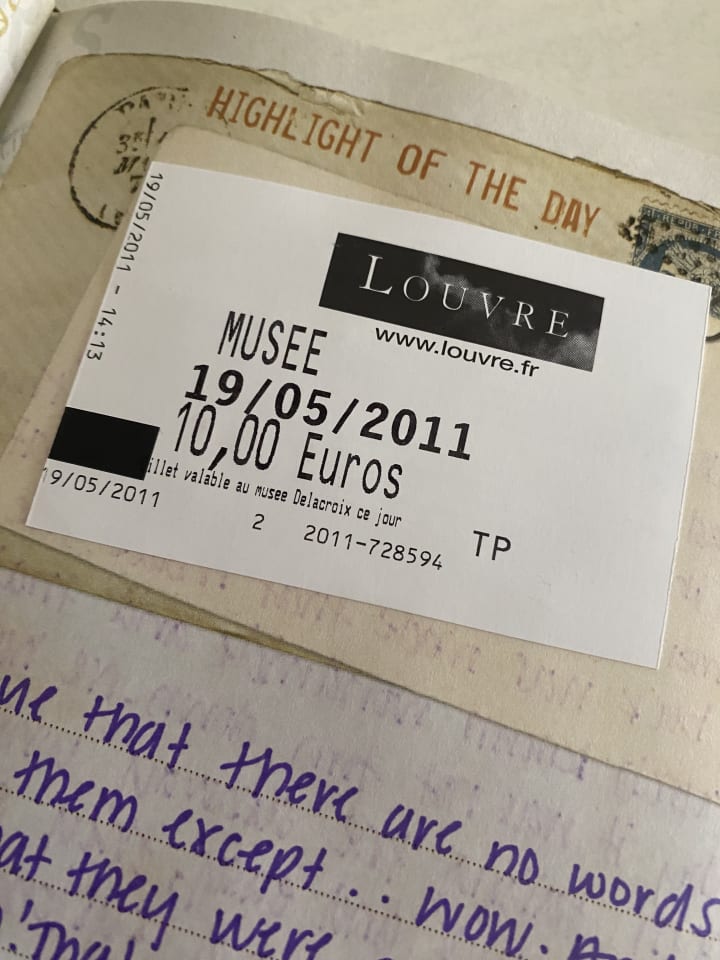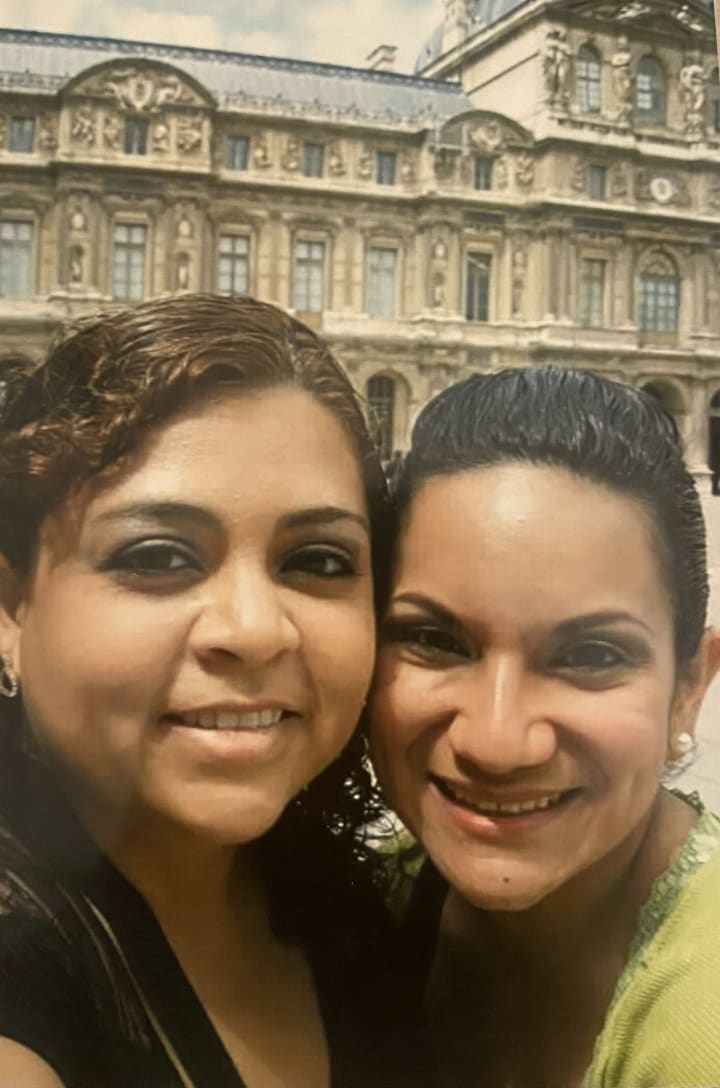 We then headed to see Norte Dam. I always had wanted to see it ever since I was a kid and saw the movie The Hunchback of Norte Dam. It was beautiful inside and out.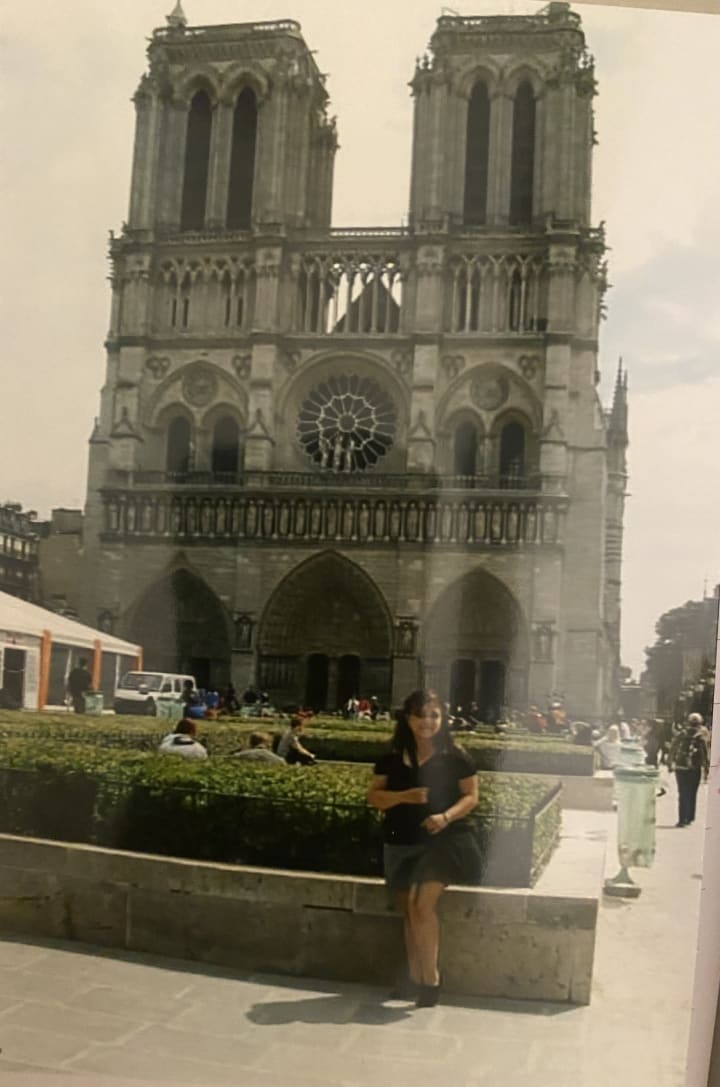 05/20/2011
We continued to explore Paris. Our next sightseeing spot was the Arc de Trumph. It is located in the middle of a roundabout of 12 lanes! When I saw it, I didn't understand how people can drive there. Then we went to go see their Statue of Liberty, which was tiny compared to the one they gave to New York.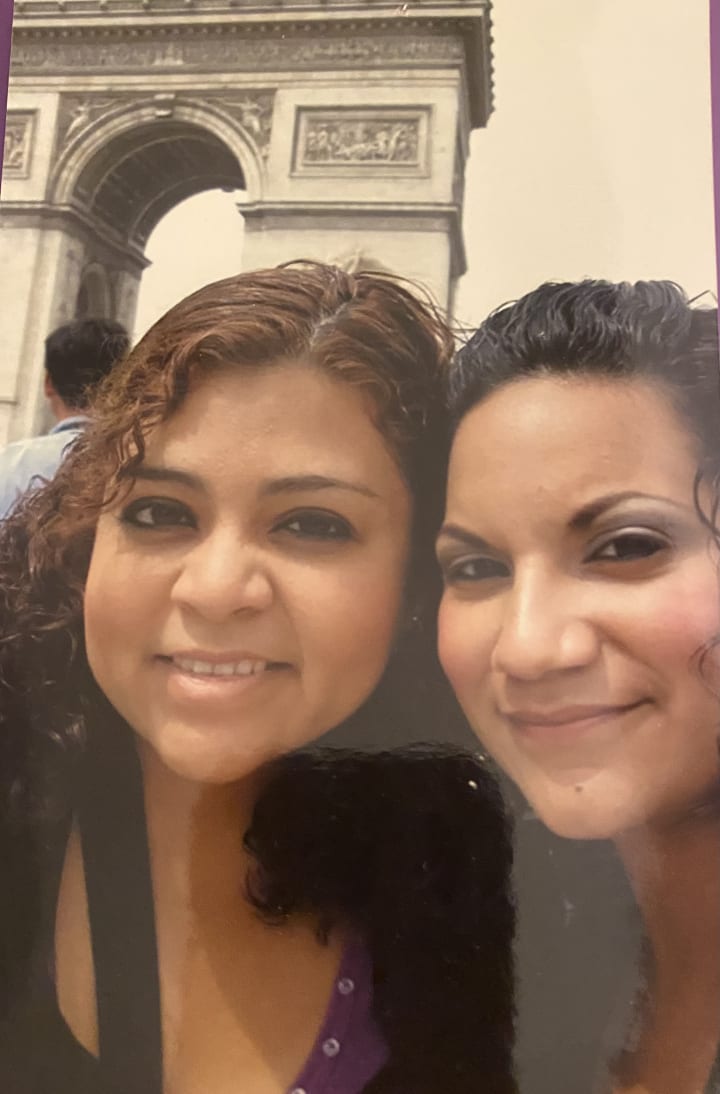 We then went to the Effile Tower at night, we wanted to see it sparkle! It was beautiful. We stayed for a while and did some shopping after.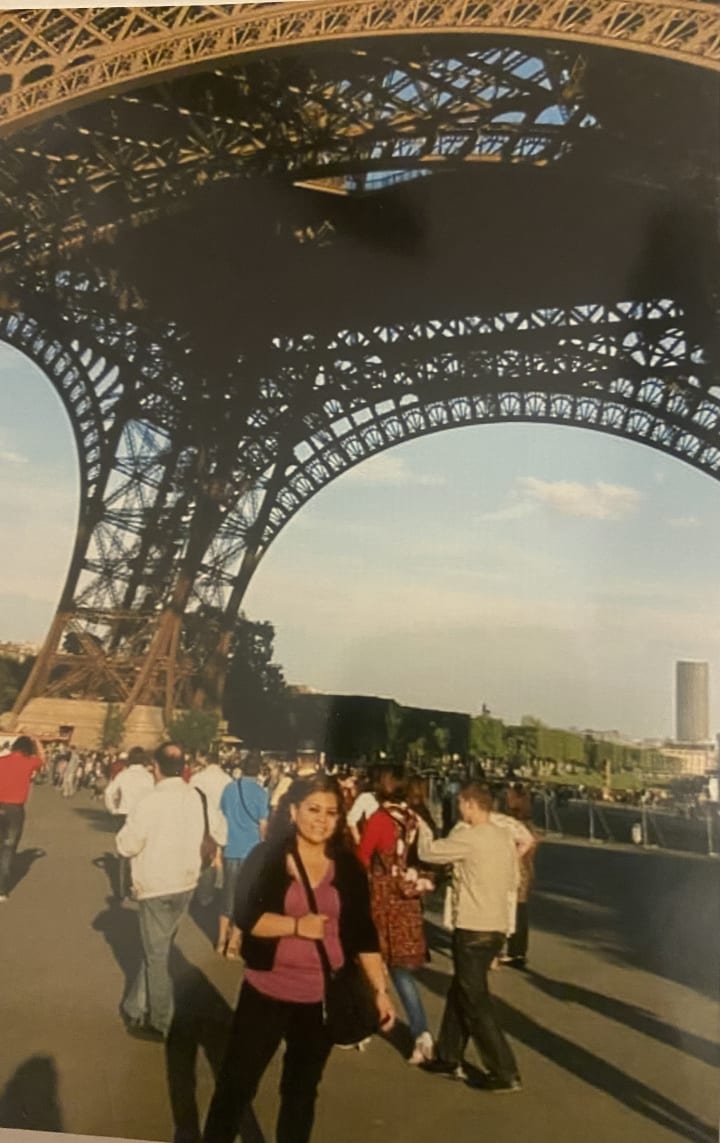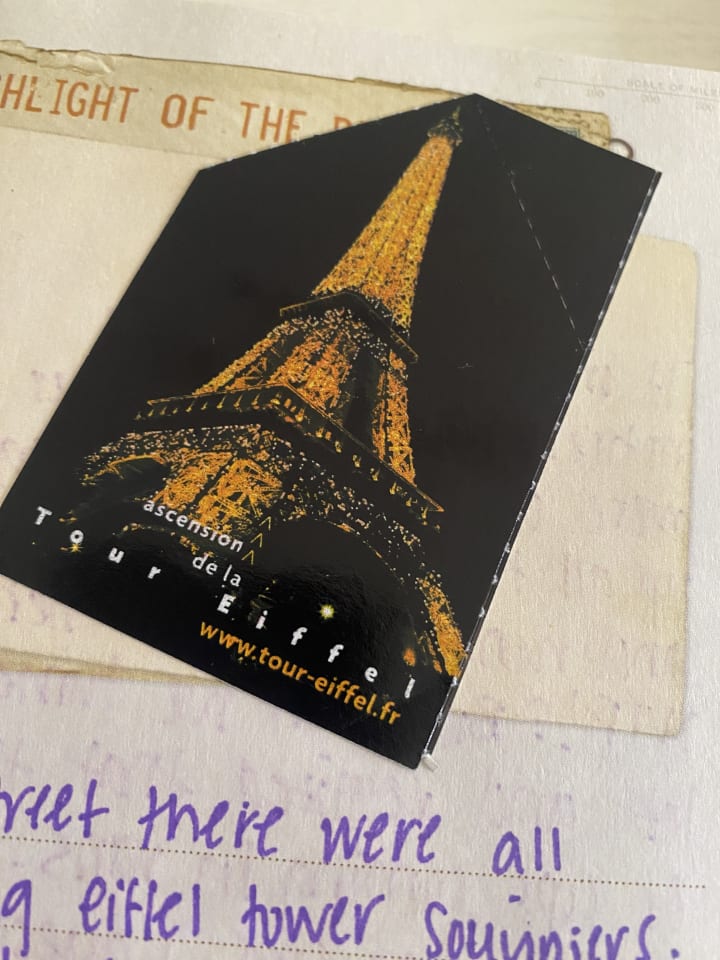 05/21/2011
On our last day in Paris, Eliza was feeling under the weather so we kept it easy. We did some souvenir shopping and laundry. We had to take multiple trains later and then an overnight train because our next stop was Madrid!
We went to a little cupcake shop near our hostel. They were so yummy! We got back to the hostel and packed our stuff, our first train left at 7. We headed to the train station around 5.
Too many trains to take to take the final train to Madrid! The overnight train was around a 9 hour ride.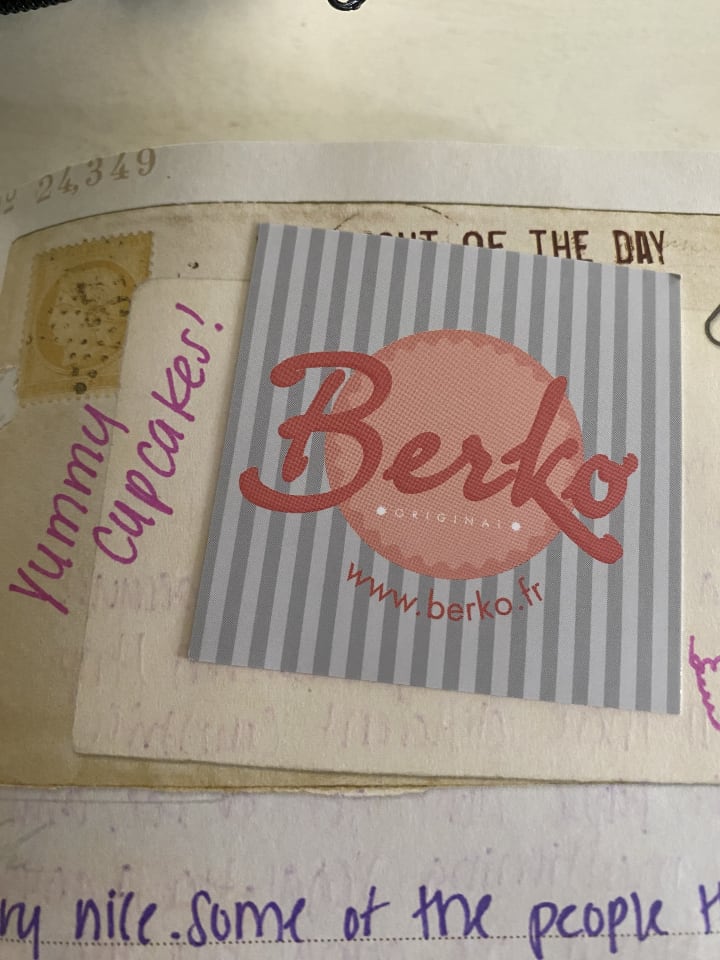 Madrid
05/22/2011
Hola Madrid! We arrived to Madrid after a very long travel day. The overnight train was something in its own category. We had bunk beds in our cabin and they pulled down. You also had to strap yourself in so you won't fall over while sleeping. It was an adventure.
We arrived to what would be my favorite hostel of the whole trip, Way Hostel. It was nice, the staff was friendly, and it was located in a central area.
05/23/2011
The first thing we did was take a 3 hour walking tour. We got to see a lot. The tour started at Plaza del Sol. When we got there there were a lot of protesters. People in tents, with signs, and shouting. The tour guide later explained that they were protesting the recent election.
Anyways, we saw the royal palace, the royal theater, churches, and the biggest and smallest streets in Madrid.
We then walked around ourselves after the tour and did some shopping. When we got back to our hostel, I gave my mom a call. I had been calling her everyday around 7am her time. I did miss them and my dog.
I then explored a little bookshop in front of our hostel. I bought a book and then headed back to read it and write in the common area of the hostel.
05/24/2011
We went to an amazing tour of the Real Madrid stadium. The stadium was huge! It was a tour of the stadium itself and then an area like a museum with history of the team.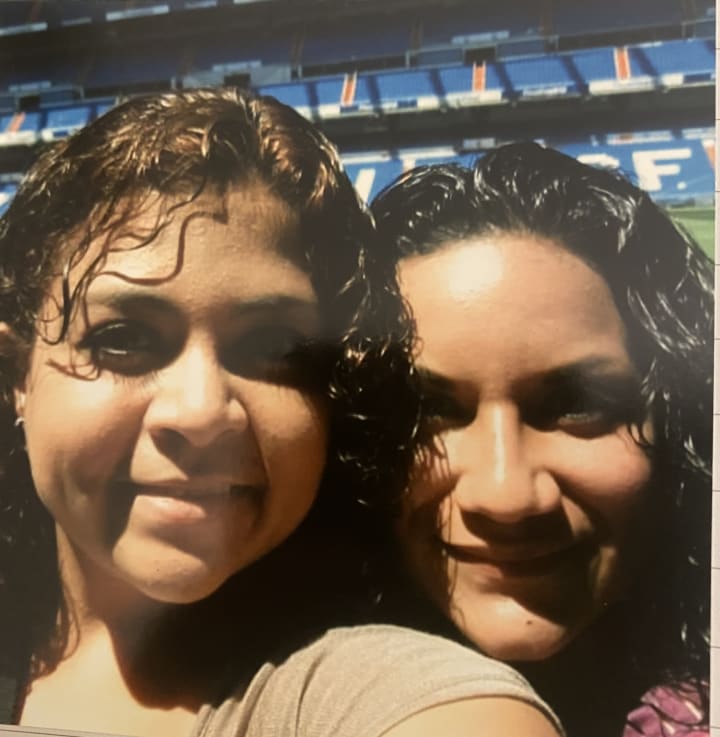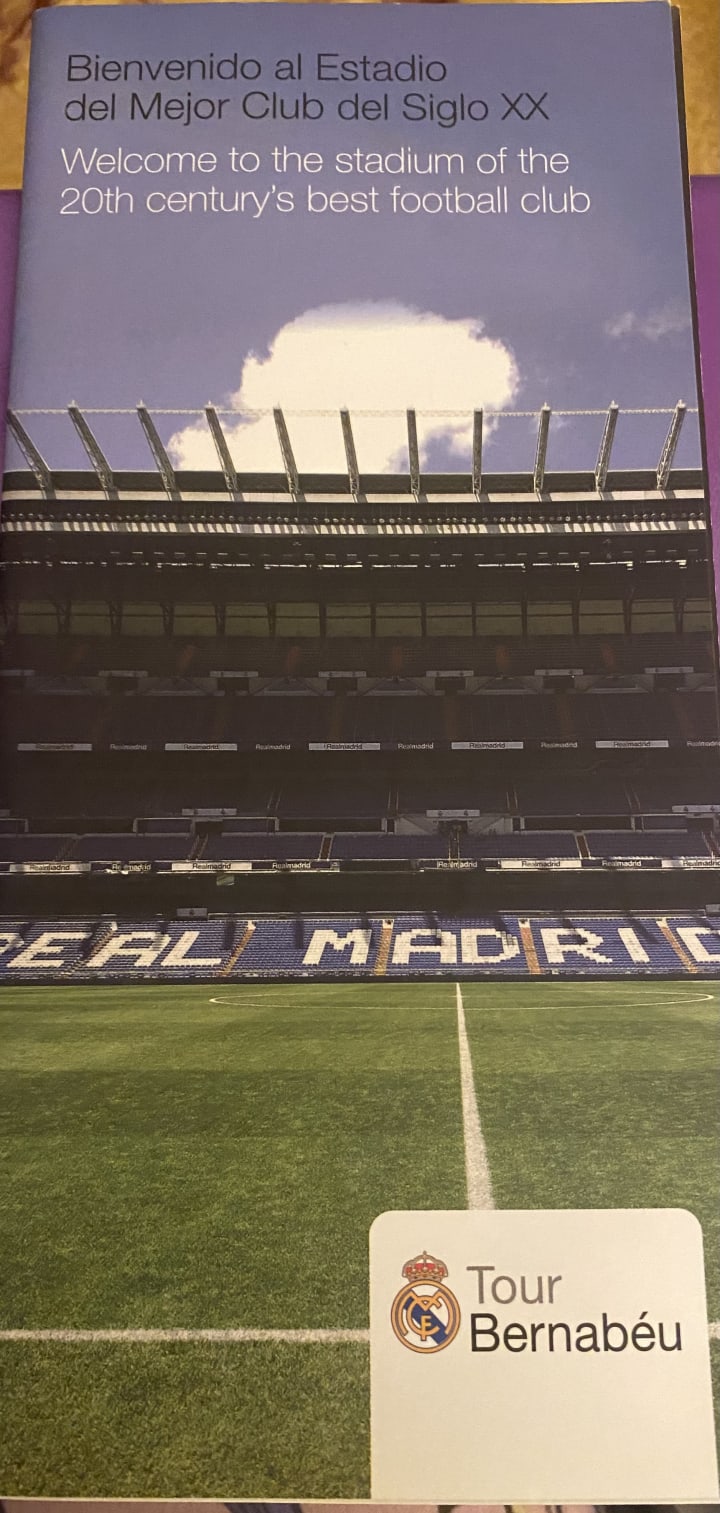 After, we walked to the HardRock Cafe nearby for lunch. I bought a pin for my collection and after we continued to explore the area around the stadium. We then took the bus back to our hostel.
We asked one of the guys working at the hostel where the closest H & M was. He gave us directions and we took another long walk to do some more shopping. That's another thing I loved about that hostel, the people working there were so nice!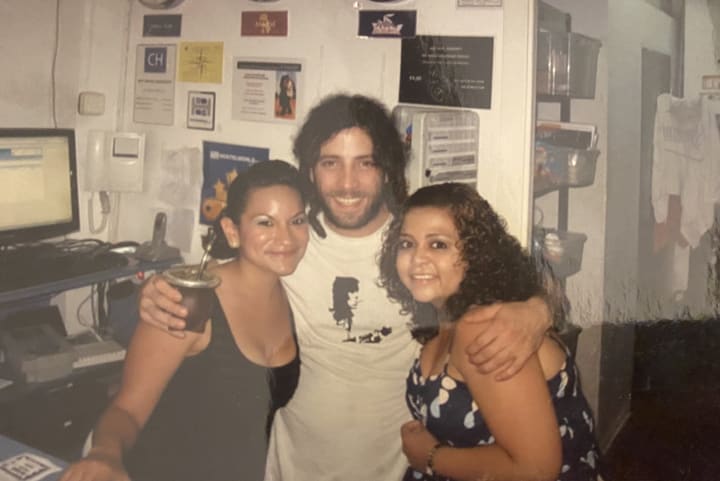 After we did our shopping and returned to the hostel, we signed up for their Flamenco tour. It consisted of a Flamenco show, tapas, and drinks at a local bar.
We dressed in what we had just bought from H & M and took off with our tour guide and people from our hostel.
The show was amazing! We watched a show, had tapas, drank sangria, and also met so many new people from all over the world. It was a fun night.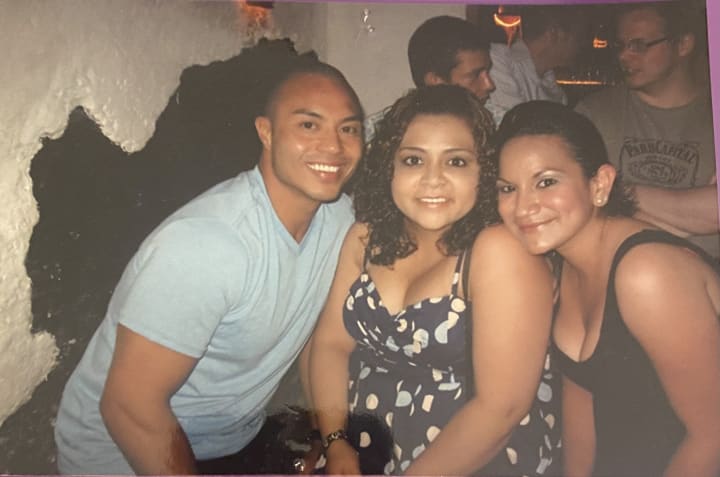 05/25/2011
We went to explore again and ended up at the Museo Nacional Del Prado. It was full of beautiful paintings. We had lunch at a nice restaurant before heading back to the hostel.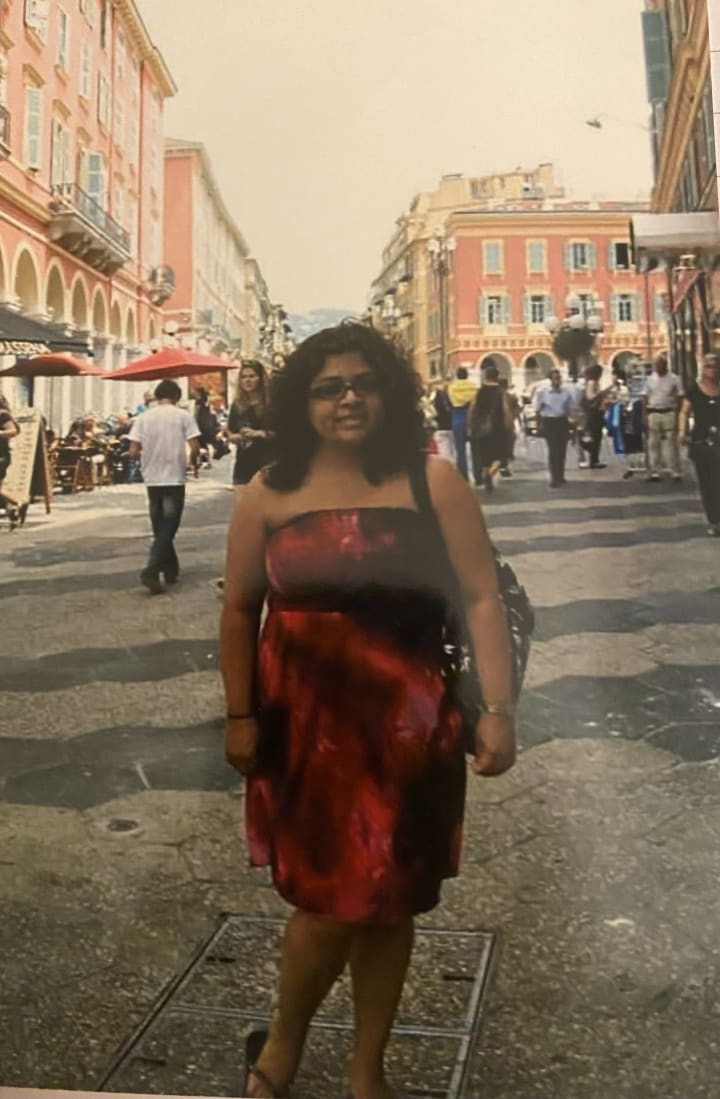 We then joined a Tapas tour with a guy from the hostel as our guide and more people from our hostel. We went to 3 different bars and each one had a different type of tapas that represented north, south, and central Madrid. We met a girl from New York who had just gotten into medical school and the trip was her last hoorah. We met a guy from North Carolina who just decided to backpack on a whim. Also, a couple from Australia. We talked and laughed surrounded by sangria and tapas.
Barcelona
05/26/2011
Our next stop was Barcelona. The train was around 3 hours, not bad at all. Madrid was amazing but then the excitement to explore Barcelona washed over us.
We arrived to our hostel which was called "Saint Jordi" it was by far the nicest one we've been to, look wise. Big open spaces and large rooms.
We unpacked and explored the area a bit.
05/27/2011
We did a 3 walking tour, our tour guide's name was David, originally from Sweden but moved to Barcelona after a trip. We went to Les Rambles, an outside market, and churches. It was a nice tour.
After, we went to the store to buy another calling card. We had to use calling cards on pay phones to call our moms and the ones we had were running low.
We then went to the market. It was full of fresh food and bright colors. We bought food to make back at the hostel. We went back and dropped it off and then headed out again to go on another tour.
When we got to La Sagrada Familia, I was amazed. It was breathtaking beautiful. It was still (and I think is still is) under construction. We gazed from the outside for a long time taking in all the different shapes carved into it. Then went inside and finished the experience.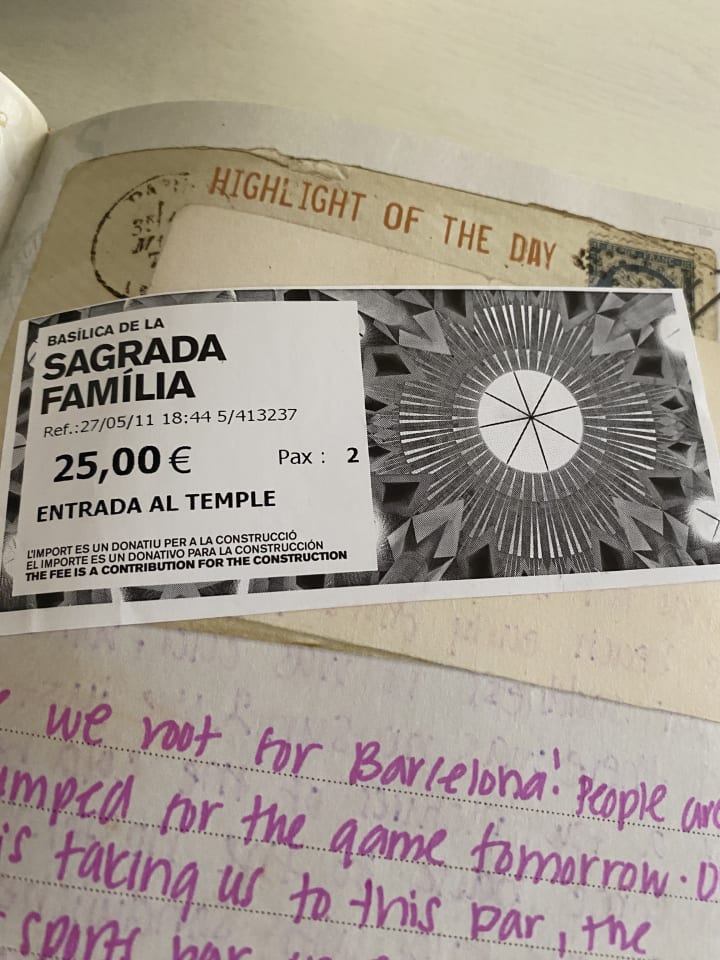 We then discovered this nice restaurant right in front of La Sagarada Familia. We ate dinner that consisted of Paella. It was fresh and delish. We also ordered some crisp sangria.
After we ate we went to this plaza close to us that had a fountain. It was a fountain show and pretty cool, with lights and music. The water was in the color of Barcelona! The championship game was the following day.
05/28/2011
We both root for Real Madrid BUT when in Barcelona during a championship, we had to go and join in the celebration.
We walked towards a crowd in the arc, a place the hostel workers told us the game would be televised.
We stopped and bought some beers before and headed over. The crowd was so pumped and it was amazing to watch the championship in Barcelona surrounded by super fans. Oh and this was just a year after Spain had won the World Cup in 2010.
We had so much fun and rooted for Barcelona, they won. We actually didn't even drink our beers, they were so gross and disgusting. It was the Stella brand which I've drank before but I'm not sure why we couldn't finish them. We gave the rest of the pack to some guys near us and they drank them like nothing.
We then caught the night train back to our hostel. Everywhere people were celebrating Barcelona's win. It was such a fun night!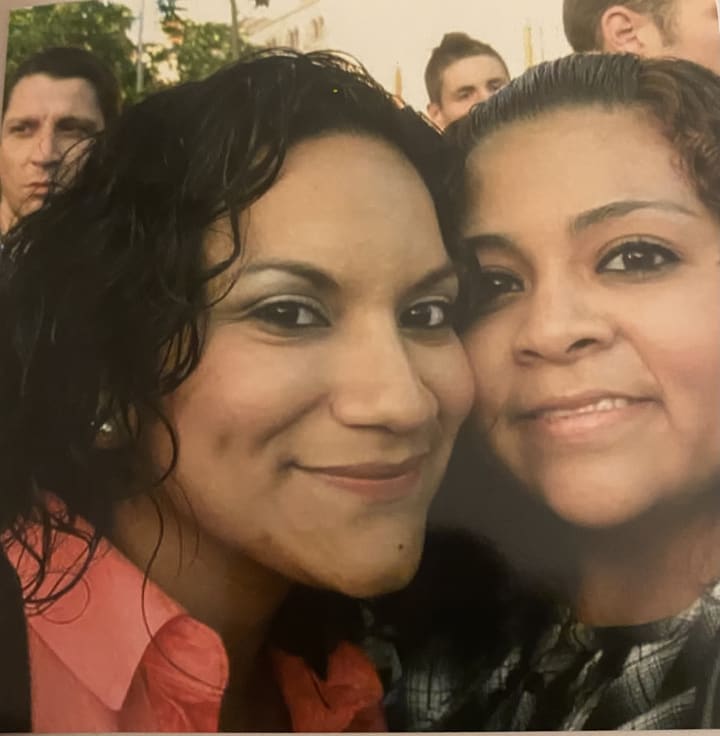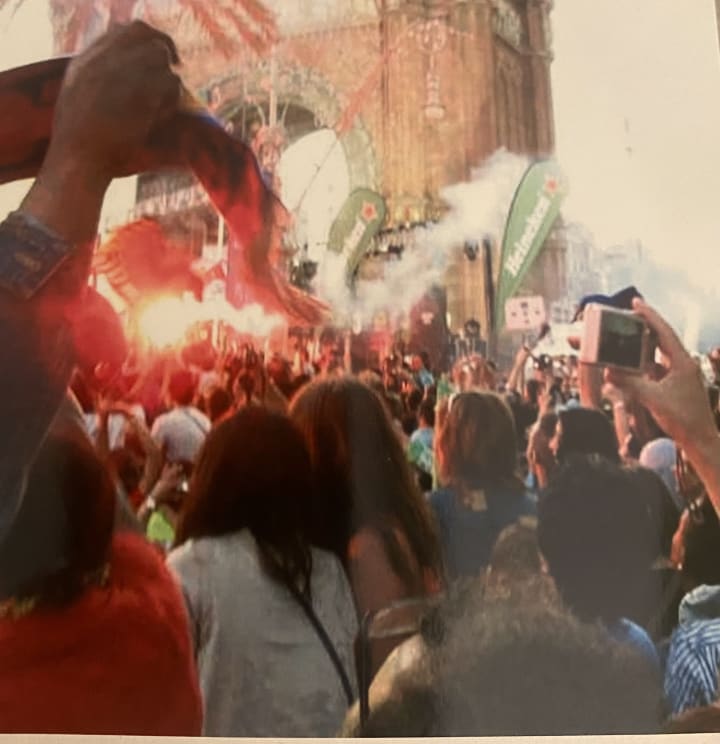 Nice
05/29/2011
We took 3 trains from Barcelona to get to Nice, France. We arrived at the train station and it was nice that the hostel had shuttle service. We stayed at Hostel Villa Saint Exupery Beach. It was the first hostel with a downstairs bar. The bar was huge!
Our room had a nice view of the beach. We shared the room with 8 other people. We unpacked and headed downstairs to the bar. They also had a food menu as well. Because the hostel was so nice and had such good vibes, we decided to stay one more night in Nice and one less in Florence. Eliza worked in changing our reservations and intinerary.
05/30/2011
We headed to the beach after breakfast. I had never seen a beach like Nice. It was a stone beach but we did want to tan so we laid out on the stones.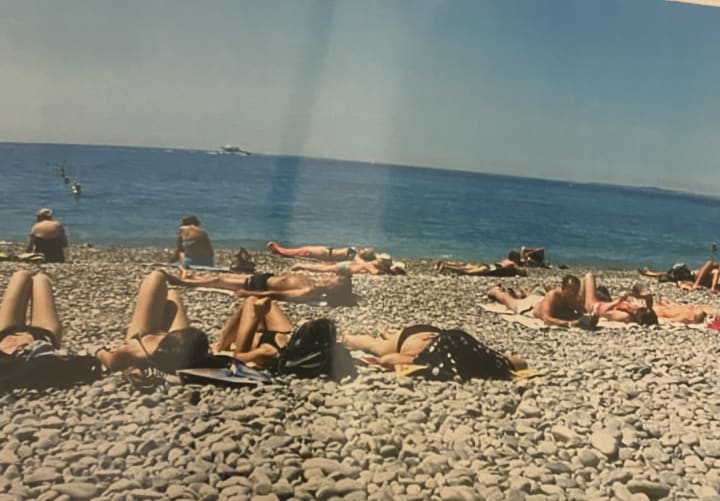 We saw a few people parasailing. I asked Eliza if she wanted to do and she said maybe. We went to go ask how much it cost and the guy said it would be 35 euro each. We decided why not? We went back to the hostel, grabbed our money and were on our way to try something new.
The guy strapped us in, put life jackets on us, and explained in a thick accent what was going to happen. He said we could sit on the cord part and just relax.
I don't like the ocean, actually, it's not that I don't like it, I respect it. I know how to swim and that wasn't a problem, it was being up high and being controlled by a guy on a jet ski.
We were off, eventually we were about 500 feet off the water. It was beautiful up there. I turned over to Eliza and asked her if she was okay, she said yes but she was too scared to sit. I told her it was fine! Just take a seat. But she couldn't let go of the straps attached to the parachute.
We glided up there for about 15 minutes. At one point the guy in the jet ski sunk us into the water on purpose. When we landed for the end of the ride it was amazing.
Eliza said "let's go to the bar after we get out of this. We deserve a few drinks!" I agreed.
05/31/2011
Today was an aimless day. We explored our area more but it was cloudy and started to rain so we couldn't go to the beach again. We decided to do laundry and called our moms with updates.
We finished laundry and writing and then we went to the bar downstairs for dinner and drinks. We met this fun Canadian girl. She was traveling with another girl as well. When the other girl stepped away to get her food, the Canadian girl confessed that she was going to end her trip short, that she couldn't travel with that other girl anymore. She was driving her insane and that she called her parents crying asking to buy her a ticket home the next day. We asked her if they are friends and she said no. No!? Why on earth would you travel with her then. I remember thinking to myself. She stated that they were coworkers but not even for that long. She regretted going on a trip with her and she was cutting it short by 3 weeks! I can't imagine that. We told her we understood but that it sucked she had to cut her trip short. She said she was over it and just wanted to go back home.
When we got back to our room I told Eliza that I'm thankful we are so close. I am very particular with who I travel with and Eliza is one of the very few friends I know I can travel with. I'm shocked that someone would go on a long trip like backpacking with someone they really don't know.
06/01/2011
We took 2 trains to our next stop, Florence. The first train ride was short and we both took a nap. The next one was longer. We met these two Australian guys that made the train ride seem quicker. We shared our traveling stories so far and discussed our next stops. It was weird because when we were in Barcelona they were also there, when we were watching the game at the Arc, they were also there! Such a small world. When it came to their stop, we said our goodbyes and then this cute little old Italian lady came into our cabin.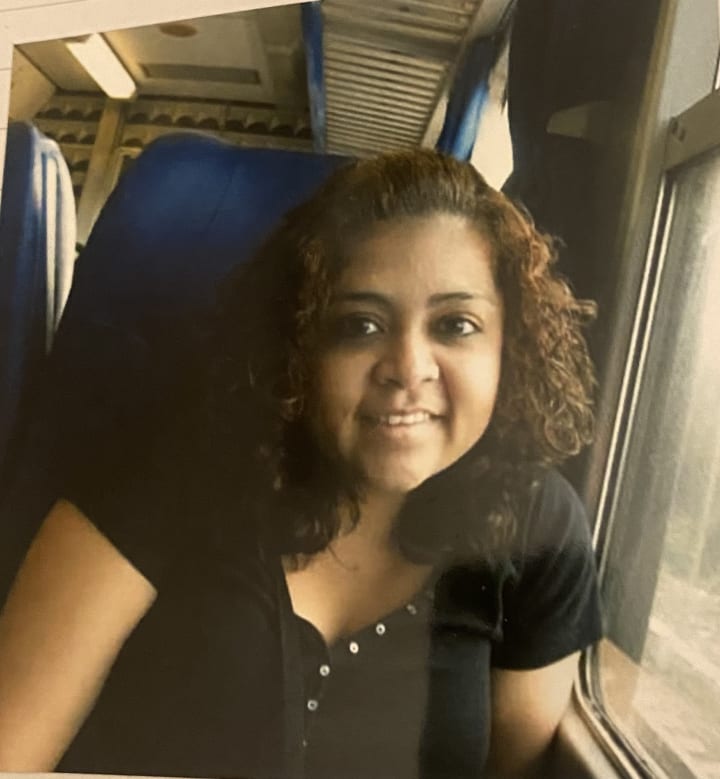 She started speaking to us in Italian. We tried to hold a conversation with her. Eliza and I both took Italian in high school for 4 years, that's actually where we met.
We talked to our new friend, or at least tried to, for the rest of her train ride. She even showed us pictures of her daughter and granddaughter, she then started to sing. When we got to her stop she held our hands and told us she was going to tell her daughter about us and that we are good girls. It was such a random but sweet interaction.
We then finally made it to Florence! The hostel was called Archi Rossi.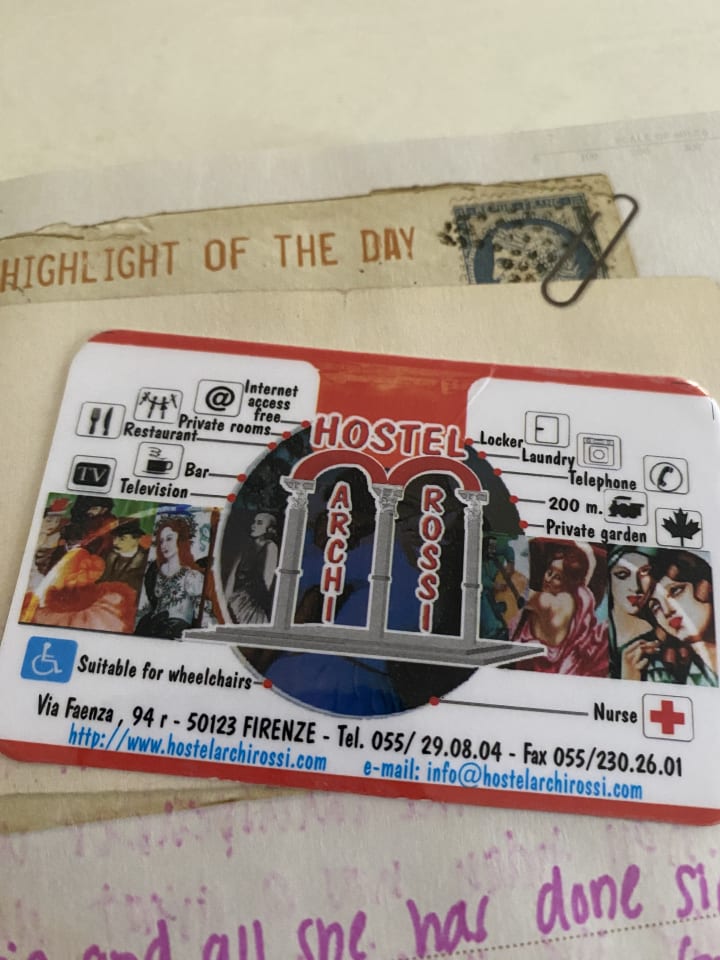 06/02/2011
The hostel is pretty awesome too. Nice big rooms, clean restrooms, and breakfast included, as well as dinner served for an additional charge.
After breakfast, we went to Galleria dell'accademia to go see David. I was really surprised at how big he really is. I thought it was a sculpture of a regular sized man but it turned out he's 15 feet tall. In the room where he was there were other Davids in the process of becoming David. Basically a room of rough drafts. It was neat to see.
After the museum we went to Piazza San Marco and then to Il Duomo. It's amazing how everything is kept in condition. A very old looking city but beautiful at the same time.
We shopped at the market and ate dinner there. Oh and David has very big balls.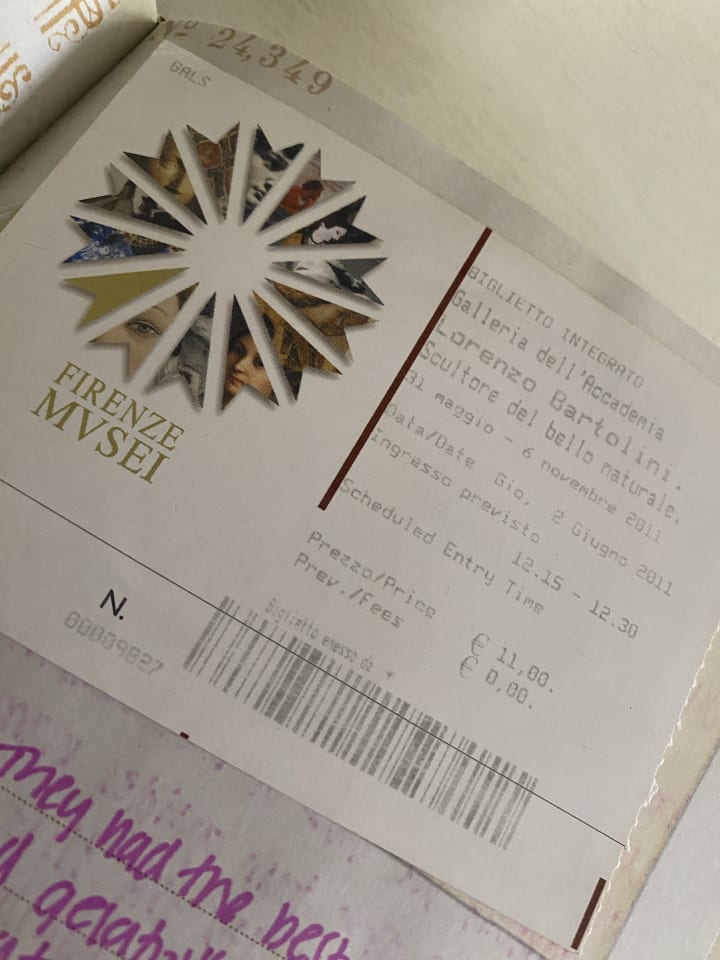 06/03/2011
We did a 3 hour walking tour and it was the first time our tour guide was from the city they are guiding. Her name was Francesca and she was straight to the point. We went around Florence and then she took us to a gelato place.
The best gelato ever.
After the tour, we went to H & M, I know, we probably had a problem. We then headed back to the hostel and met two new girls that checked into our room. They were from Alabama. We chatted for a bit and then told them we would be back, we were heading to Ponte Vecchio.
We went to Ponte Vecchio and then a free museum. As we were walking back to the hostel we saw the guys from Jersey Shore! I was confused because why were they there? Eliza said that they were filming the new season. We took a few pictures and then headed back to the hostel.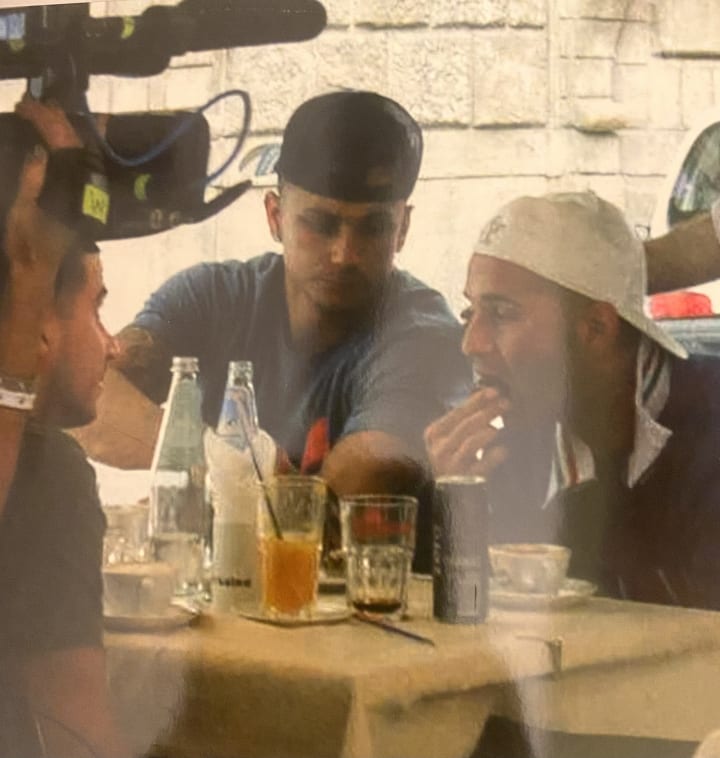 When we got back we mentioned to our new friends from Alabama who we saw and both of their heads shot up in their beds. "What?! You saw them!!" Emma said
"Yes!!" Eliza responded
"We have to go find them! I want to see." Her friend then added.
We all put our shoes on and headed to the area we saw them at. They were at this restaurant eating in the patio area. Both girls started squealing and started to take pictures. We then got bored and went to the plaza near by. They had this huge carrousel, just beautiful.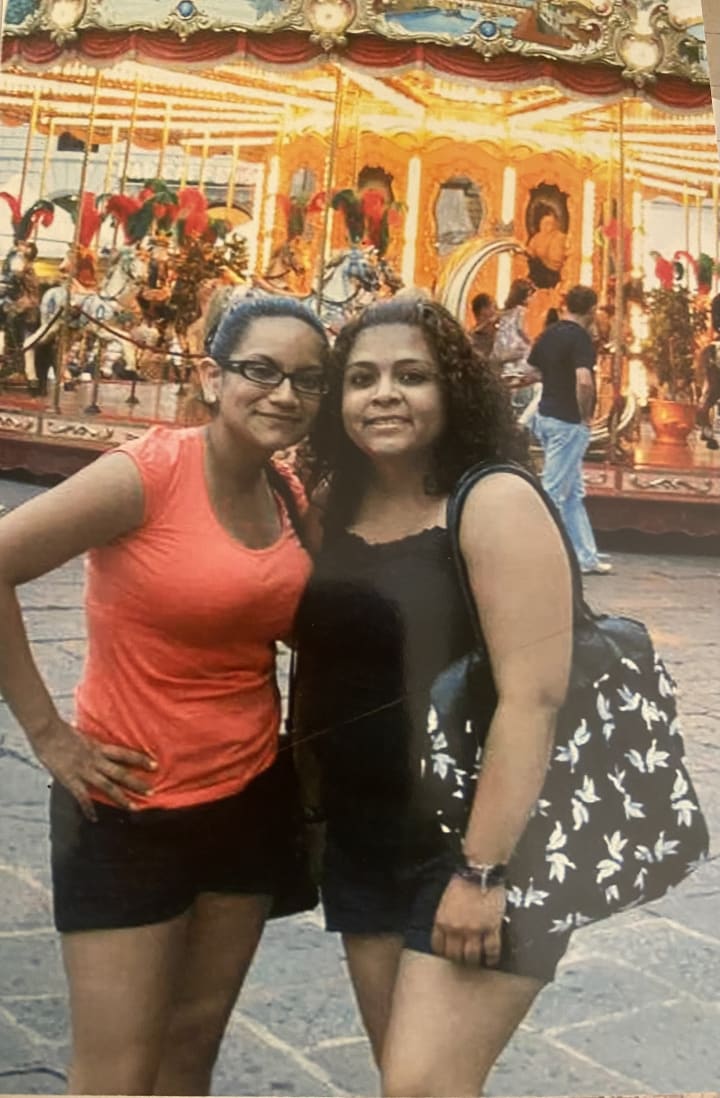 We stayed out for a while until it was dark and started to head back to the hostel. We passed by the restaurant we saw the cast earlier and it was being turned into something that resembled a club. Lights were being added to the front and the tables and chairs had been removed and a carpet was placed. It was weird.
06/04/2011
Our next stop was Naples. The Hostel we stayed at was called Giovanni's House. The owner lived in the hostel and he was very kind! He explained to us everything we needed to know about the area around us and Naples itself.
After we unpacked we set off and went to Naples Underground. It was something recently discovered. It was a guided tour and they explained that it was a theatre underground from the Roman times.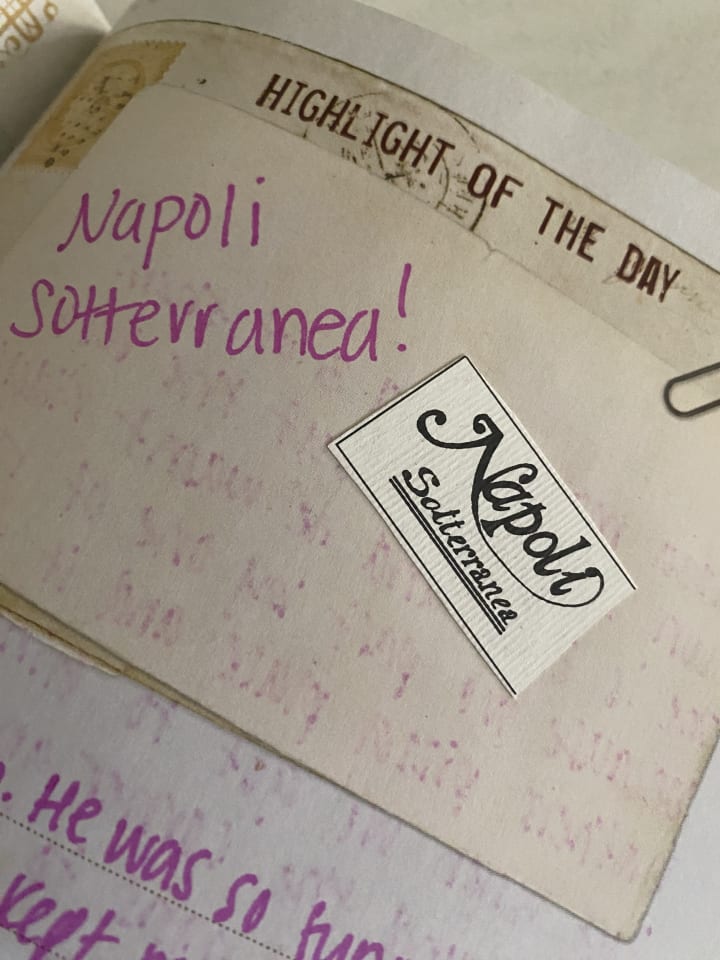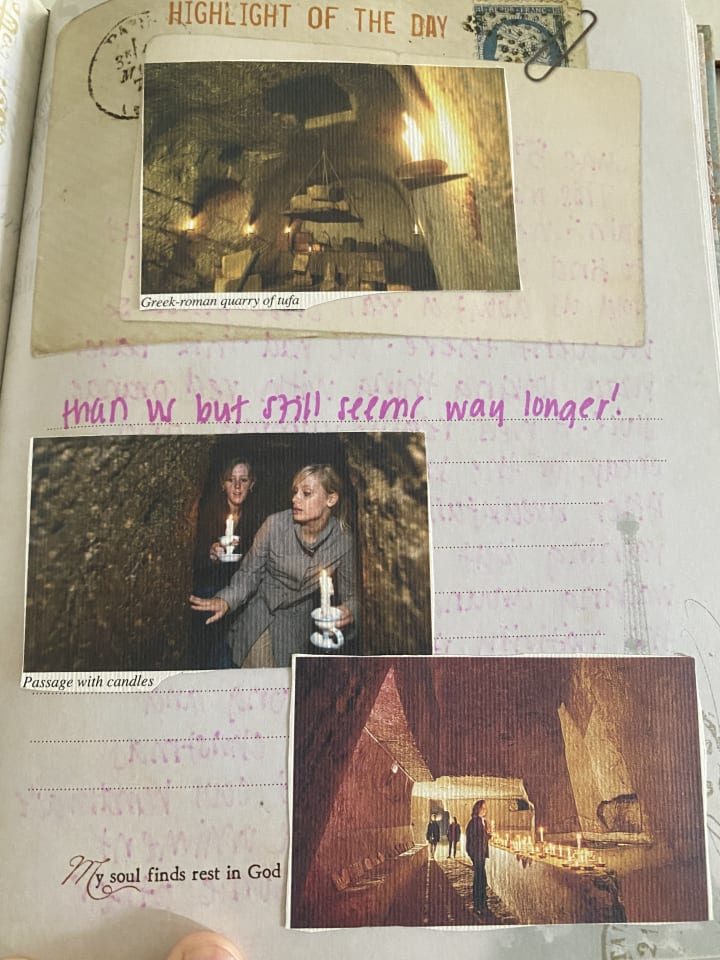 After our tour we took Giovanni's advice and went to the restaurant with the best pizza in Naples! It was called Gino's and when we got there, the line was around the corner. The wait was over 30 minutes but it was worth it, it was the best pizza I've ever had.
06/05/2011
It was a rainy day but we walked to a nearby shop Giovani recommended for breakfast. We ate this pizza bagel looking thing with red orange juice, it was delish!
We then walked to the Nativity Market. It was a beautiful market full of everything Christmas. I bought my grandma a baby Jesus for her nasimiento. It was beautifully made of ceramic so I asked them to wrap it up well.
After, we headed back to the hostel. We were resting in our room when one of the girls came over and told us that Giovanni wanted all of us to join him in the living room, he wanted us to sing Happy Birthday to another guy staying there. It was so sweet!! He even bought little pasteries and placed a candle in the middle. We all sang him happy birthday, it was guy from New Zealand I believe. While there we met more people. Henry who was from North Carolina, Daniel from Miami, David from Kansas, and Sandra from Peru. We decided to all go exploring aimlessly through Naples. When we told Geovanni, it was so cute because he acted like our dad "don't stay out too late and be safe." he told us. He also told us about the best place for gelato in Naples.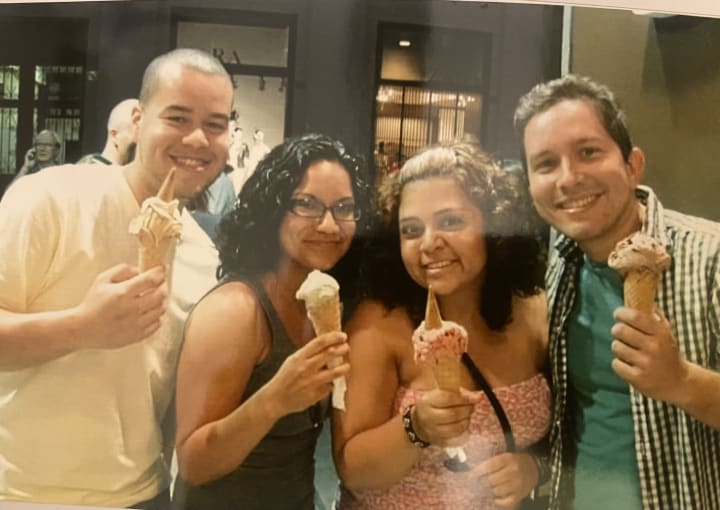 We decided to go to get the best gelato. He wasn't kidding! It was the best we've had. We then sat around and talked about our travels, where we are going, what we do, etc.
We finished our gelato and continued roaming Naples. We ended up in front of this castle and explored that area.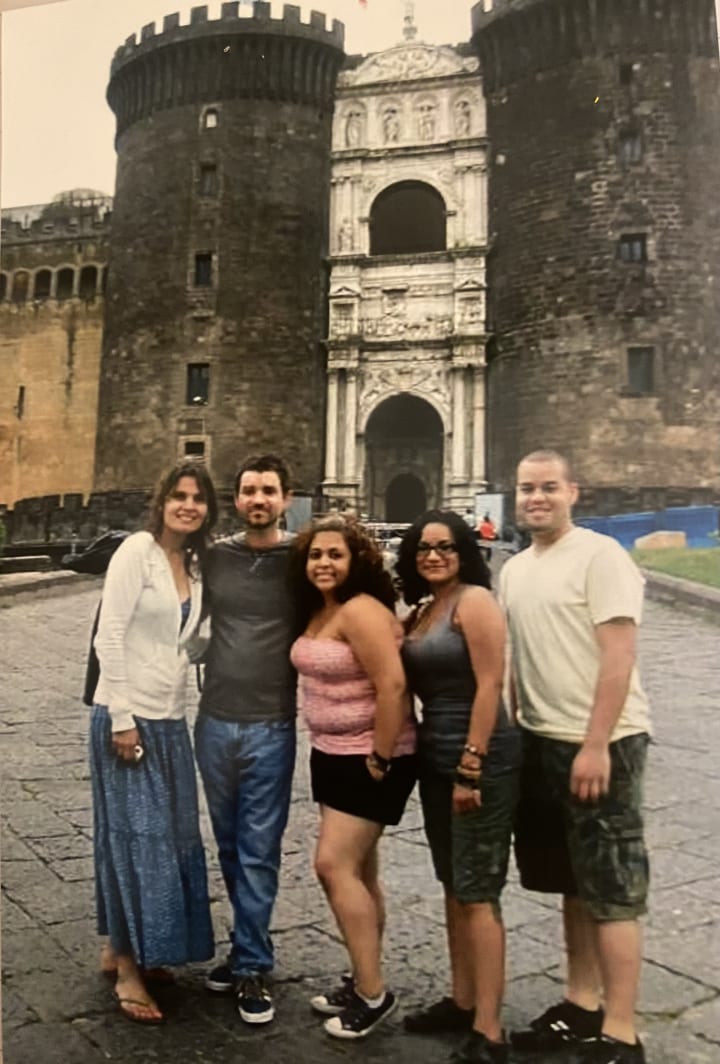 We headed back to the hostel after some exploring. The only bad thing about Giovanni's hostel was that it was on the 4th floor and had these massive stairs. We were all huffing and puffing and going back up when David said "who is going to start working out more regularly raise your hand" and we all really raised our hands while trying not to die.
We stayed and hung out more talking in the living room. After we hung out for a while longer we decided to go out again and get some food. It was around 10:30 and Giovanni was like "Where, where you going it's late." We all told him we were hungry and wanted something quick. He said, "okay, this pizza place is very close. Don't stay out late." And he explained how to get there. It was sweet that he seemed so worried and cared. We all went and grabbed some pizza. On the way back Daniel noticed that the streets were still very alive with people. We saw a family eating dinner outside their home. We were told that dinner is usually a late thing in Europe, around 9pm and beyond.
06/06/2011
Our next stop was Rome. Naples was amazing in every way. We have loved meeting new people but something about the ones we met last night, stuck. We had so much fun exploring with them and we wanted to change our reservations and stay another night but we wouldn't have enough days to see our other stops.
Our hostel's name was Alessandro's Palace. It was nice and we shared a room with two guys. They were from Argentina and super friendly.
We needed to do laundry and we found a place that did laundry for you and folded it as well. We went to drop it off and then called our moms for a check in.
When we got back to the hostel we spoke to our bunk mates more and talked about our travels.
The hostel also had a bar and we went there later that night. We met more people. There was a couple from India, a guy from Mexico, and us. We talked and drank and drank and talked. We tried Limoncello for the first time, it was not to my liking. We told the guy from Mexico that we were going to go see the Colosseum the next day. He said he was too so we planned on going together.
Then, everything went black. The last thing I remember was trying to go upstairs to our room.
06/07/2011
Sigh. It was a fun night but the morning after was the worst. We were both very hungover. We had told the guy we would meet up with him at 9 to head to the Colosseum. When I looked at the time, it was past 10. I poked Eliza's bed above me.
"Hmmm" she said in a pained voice. "Why did we do this again? I feel like complete crap."
"Me too. We have to get up though. We can't waste today." I told her reluctantly as I rubbed eyeliner off my eyes.
We got dressed and threw up before we headed out for the day.
The Colosseum was amazing!! I had always wanted to see it and be in the presence of Roman history. We bought the guided tour. I kept looking over at my friend and she looked horrible. She said she was feeling better but it seemed the opposite. I was a bit better and the headache was gone.
While we were on the tour we ran into the same Australian guys from the train ride! What a small world. We spoke for a bit and went on our separate tours. We then also bumped into the guy we met at the bar, he said he waited for us but then he assumed we weren't waking up on time. We finished the tour and headed back to the hostel.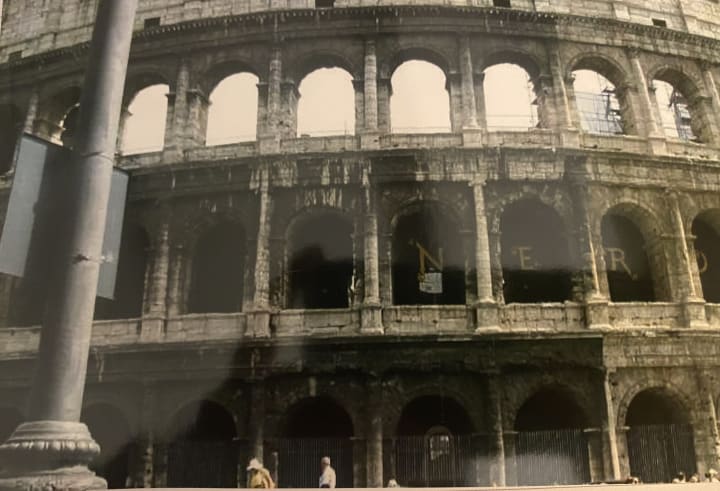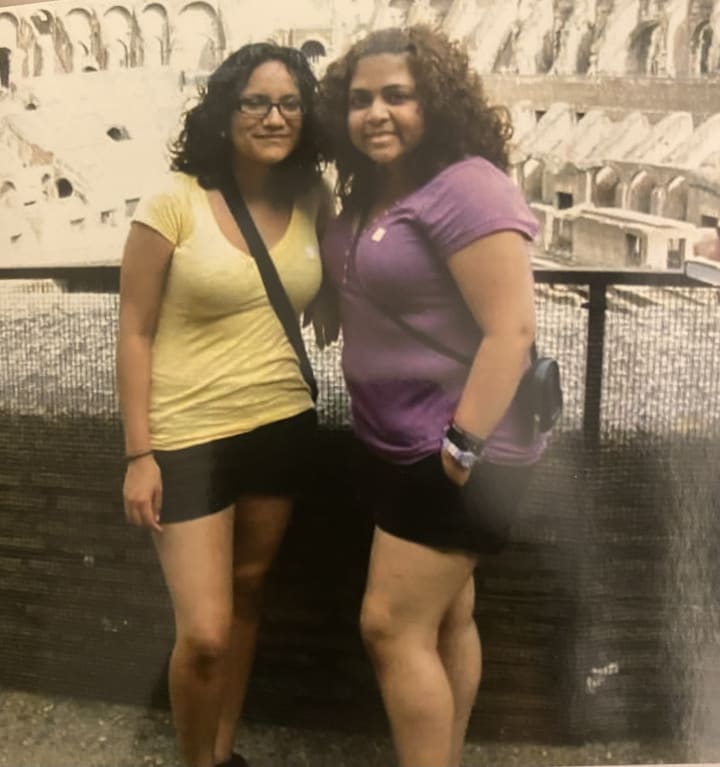 When we got back to the hostel we made some soup and that was basically all we had that day. We promised to not drink again on the trip.
06/08/2011
We took a day trip to Pisa! The train ride was about 2 hours. We asked around how to get to the tower. While walking there we were being followed by guys trying to push us into buying purses. It got so annoying that I believe we actually cussed them out. It happened for a few blocks.
Anyway, we arrived to the tower and it was full of tourists but it was in a large area, not crowded at all.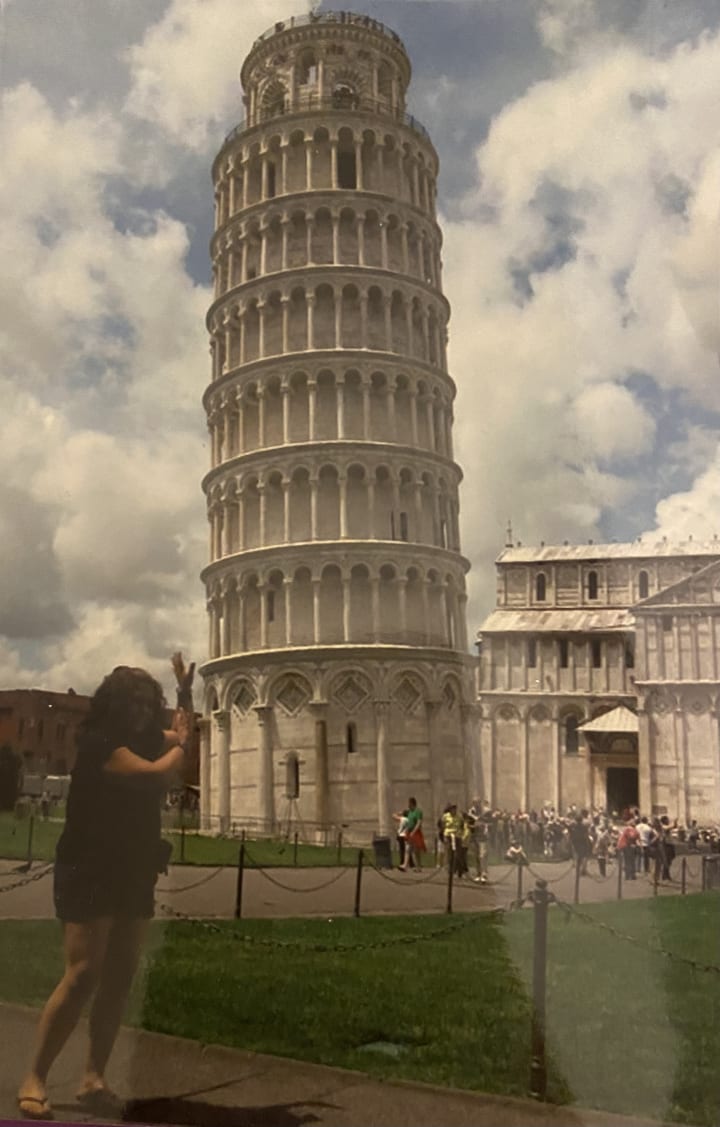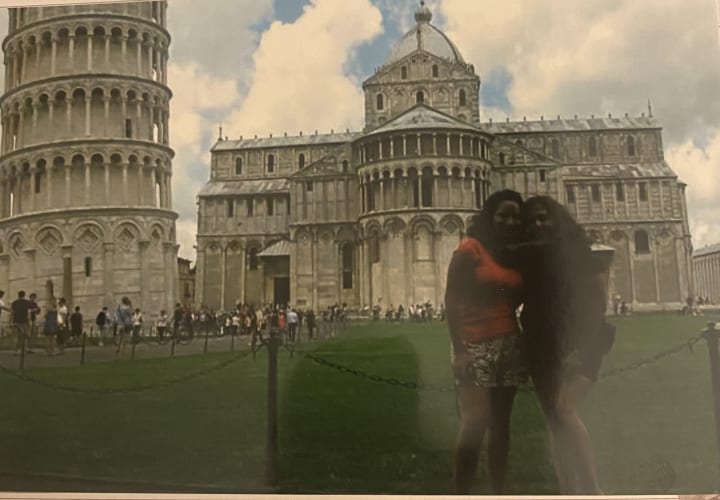 After the tower we had lunch. It was around 1pm and our train didn't leave until 5:45. I asked Eliza what she wanted to do and we decided to ask if we could take an earlier train. We got to the station and there was one leaving. We asked if we could get on and the guy looked at our tickets and seemed apprehensive but he said yes.
We got on and took a seat. The views were amazing! We passed by so many beaches with water as blue as can be. The thing was, we kept stopping, and stopping. The train we took that morning, it didn't stop at all. That's when we realized, we were not on a direct train. It took us 2 hours and 10 minutes on the train we took in the morning. On this one, we didn't get to our stop until 5:40. We were freaking out because we hadn't called our moms. We usually called them at 7am or 8am their time. We called them 3 hours after the time we usually have called them.
I punched in the numbers on the pay phone. It rang once and my mom picked up.
"Mama! Sorry, el tren tardo." I shouted at the phone.
All I heard was a deep sigh of relief. She told me Eliza's mom had called her and they were freaking out and waiting. We explained about the trains and not knowing until after we had gotten on and that we couldn't get off to make the call.
We headed back to the hotel and relaxed to be ready for Vatican City the next day.
06/09/2011
Vatican City was our next sightseeing spot. We started off at the Sistine Chapel. I had been wanting to see Michael Angelo's painting of God and Adam for such a long time. It was beautiful. It really pissed me off that people were taking pictures of it when there were signs posted of "No Pictures."
We then waited to go into the Vatican. It was a long wait. I really didn't care about it in a religious way, I left the Catholic Church when I was 15. We went inside and there were so many religious figures all over and people praying and on their knees etc. I appreciated the architecture but that was about it.
We then went to Fortana de Trevi and finished up a long day back at the hostel.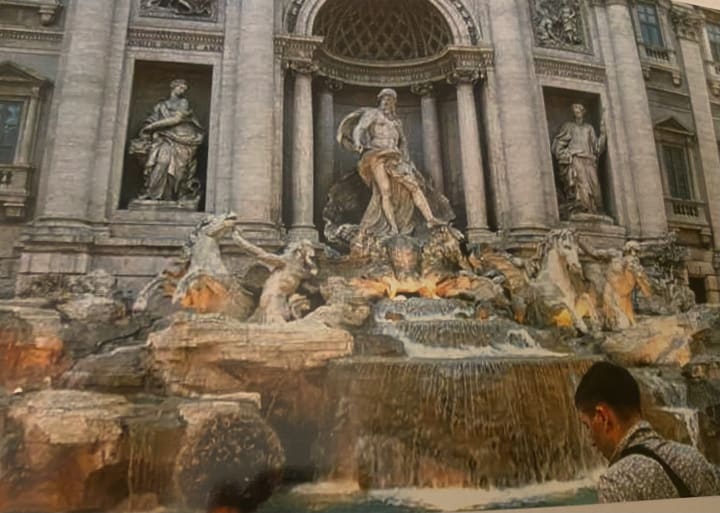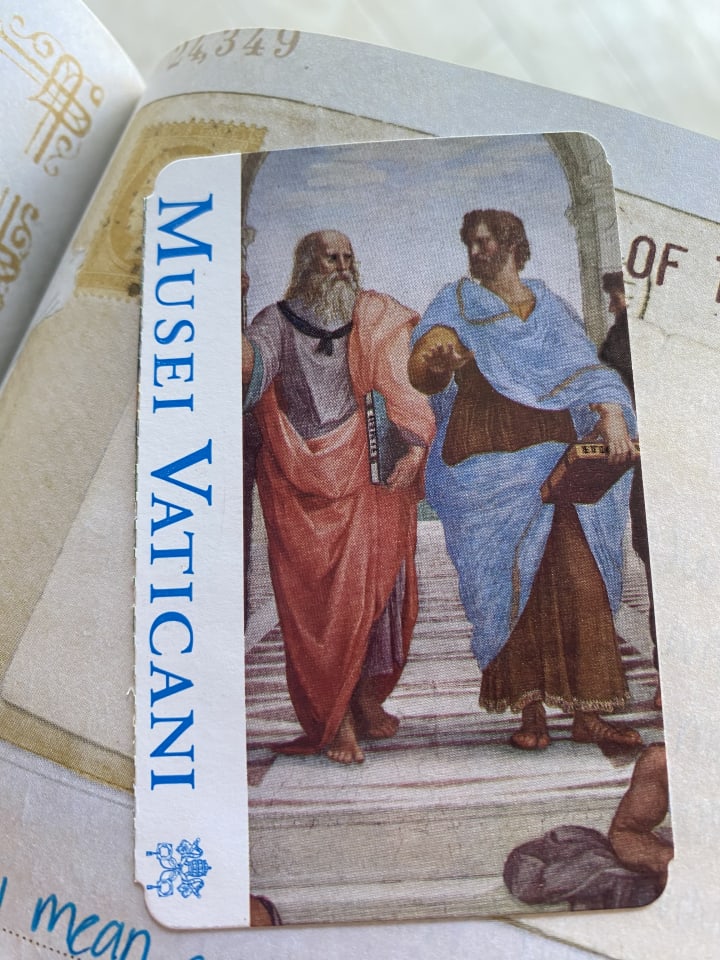 06/10/2011
Next stop, Venice. We arrived at our hostel and by far it was the worst hostel on our trip. In every way. It felt dirty and unsafe. We locked our stuff up and started exploring to get out of there.
We went to a gelato shop, of course. Walked around the shops and saw the gondolas with sightseeing people. We did have some amazing seafood pasta at this restaurant, it was so fresh and you can tell they made the pasta there.
We walked back to our hostel after a day of shopping and sightseeing. It was just so uncomfortable and dirty there. I did not sleep.
06/11/2011
At this point, was when I started to get homesick. I missed my mom, my sisters, and my dog. I missed my bed.
It was a rainy day but we went out to explore more. We headed out for breakfast and as we were walking to a shop, it started pouring rain. We got soaked.
We decided to go back to the hostel and change but we didn't even want to hang out there, we had no choice because the rain continued. We waited until it stopped and went out again.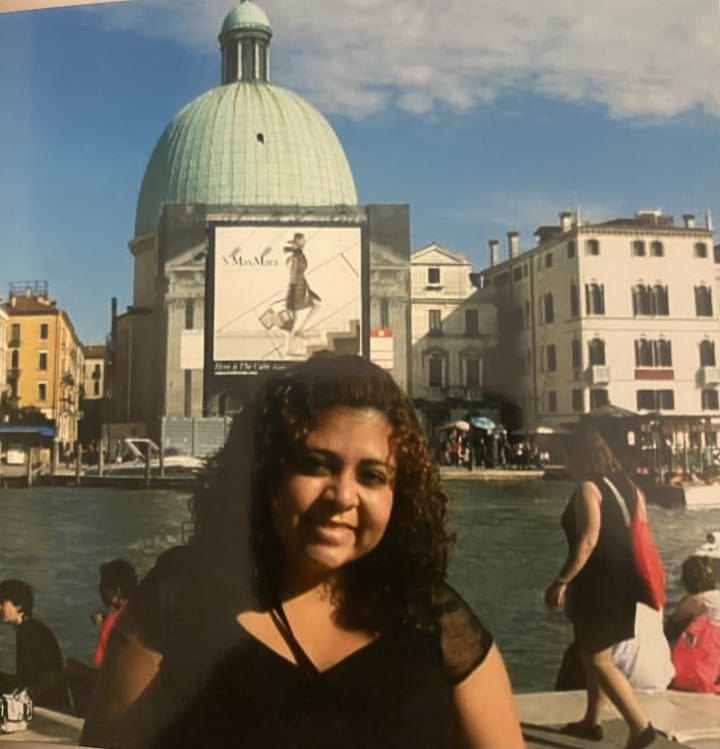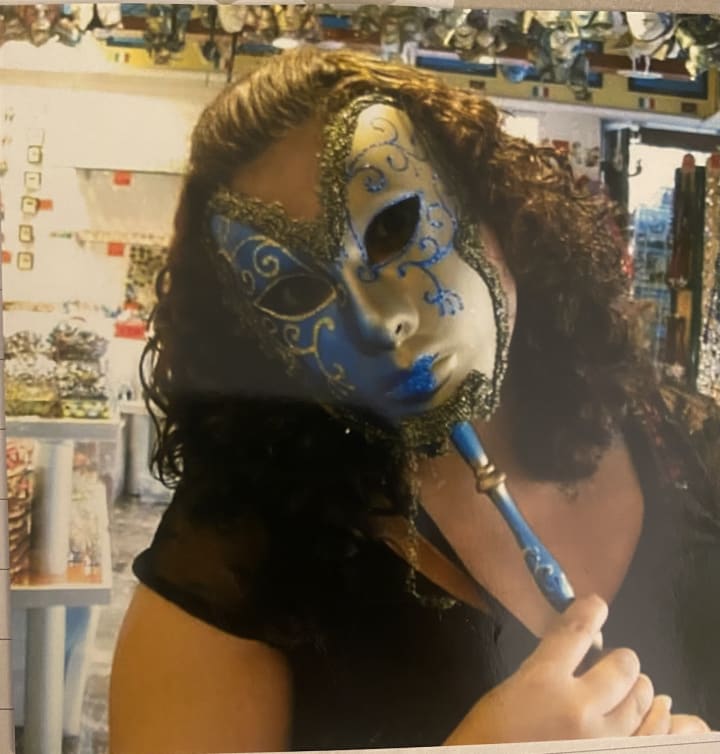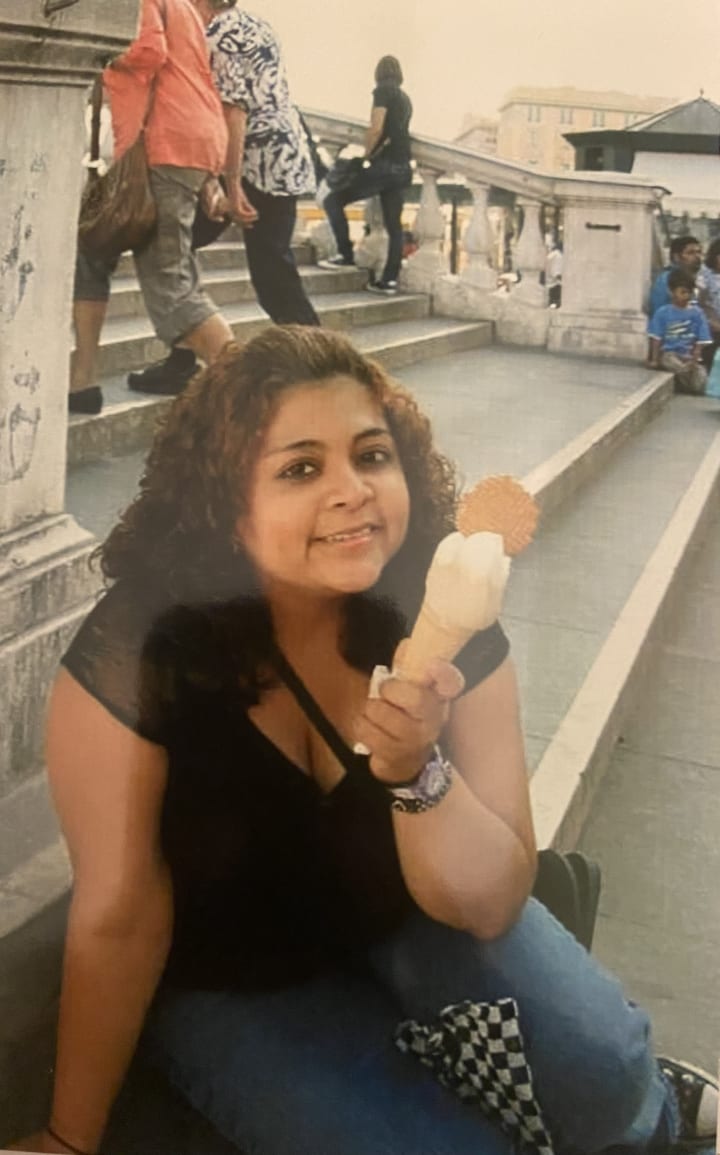 06/12/2011
Amsterdam. Our last stop. It took forever to get to our last stop. There was a train boycott back in Venice which delayed our travels. Then we finally were able to take the night train to Paris. 3 hours later than planned. Then from there a train to Amsterdam. As soon as the doors opened out of the train station, a certain smell hit our faces. We had been so excited about Amsterdam.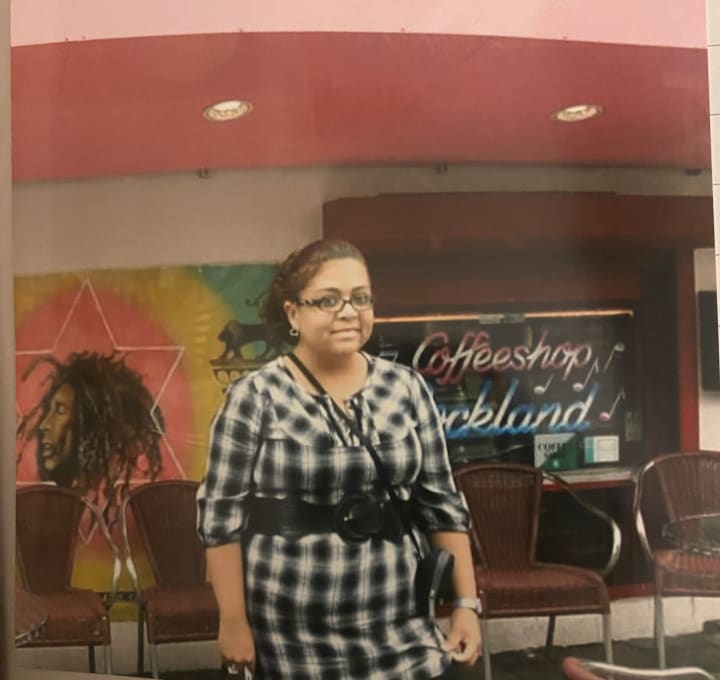 We arrived at our hostel, The Flying Pig. We checked in and then went to explore. We went to a coffee shop to get some things and then headed back to our hostel. We relaxed for the rest of the night.
06/13/2011
One of the places I had been waiting for most on our trip, Anne Frank's house. We headed out and walked around, Amsterdam was beautiful. I loved the look of the streets, the buildings, the shops, all of it.
We made it to Anne Frank's house and did the tour I had been waiting for. It was so sad to be surrounded by all her memories but also grateful because she left behind such a legacy at such a young age.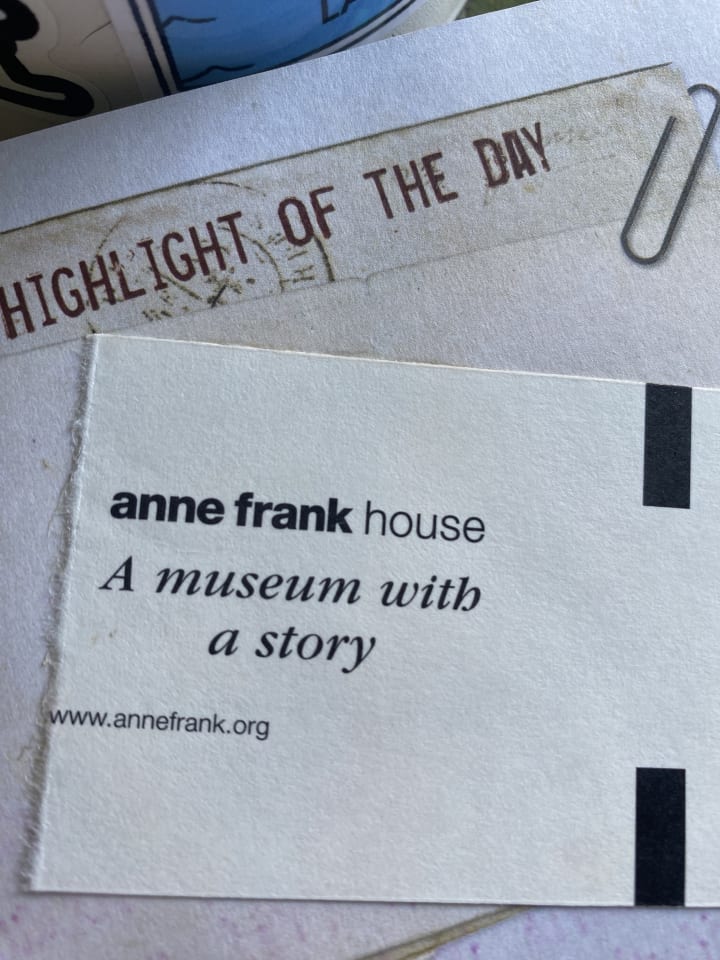 We then continued to walk around and enjoyed Amsterdam. I was sad that it wasn't tulip season but it was still beautiful regardless. We also went by the Red Light District and it was just as our friends from Naples described it.
When we got back to our hostel we enjoyed more coffee shop items and relaxed and wrote.
06/14/2011
Last day in Amsterdam. Last day before we went back home.
We went to the Heineken Brewery. It was such a nice tour and they also gave us 2 beers. It was the freshest beer ever.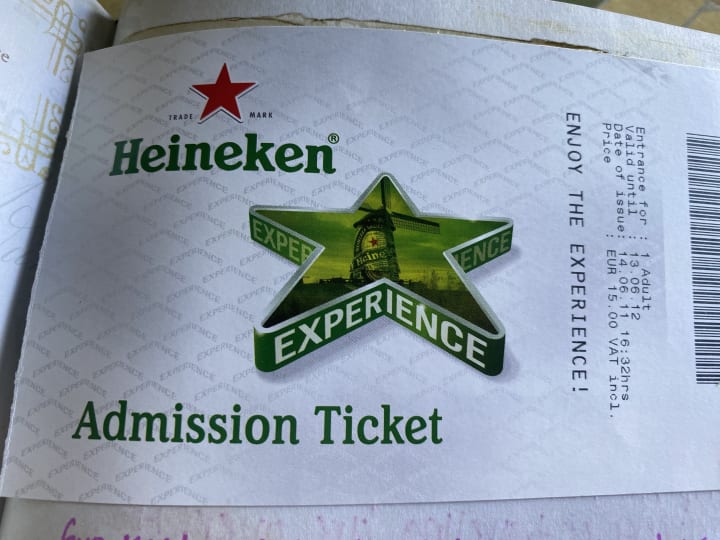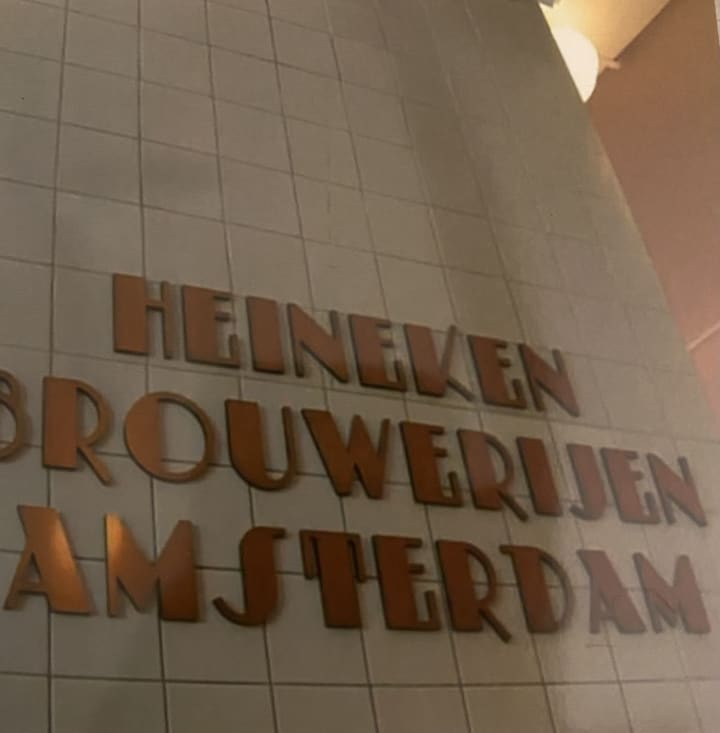 We enjoyed it and then headed out to buy soveniers and have some lunch. We called our moms to check in and then headed back to the hostel to pack our bags.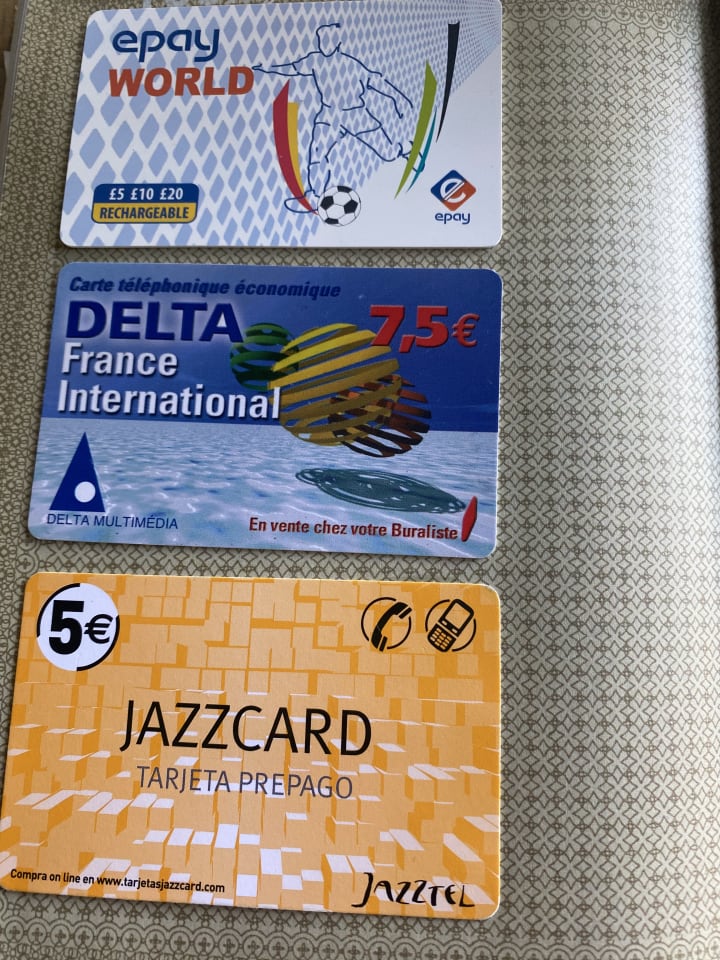 06/15/2011
Our flight home was bitter sweet. We missed home and were excited to go back but our journey around Europe was over. So many new memories created and so many new friends made. I will never forget the time I lived out of a backpack with my best friend.
When I went back to work, a coworker asked me where I had been for the past month. I told her I went backpacking and lived out of a backpack with my best friend.
She responded with, "Wow. You're a brave little thing."
**As I was writing this, I was rummaging through my old journal box and found that we had a travel journal (it's been so long that I forgot we wrote in our journals everyday) I read it and it was like I was back there all over again. Here are some entries. **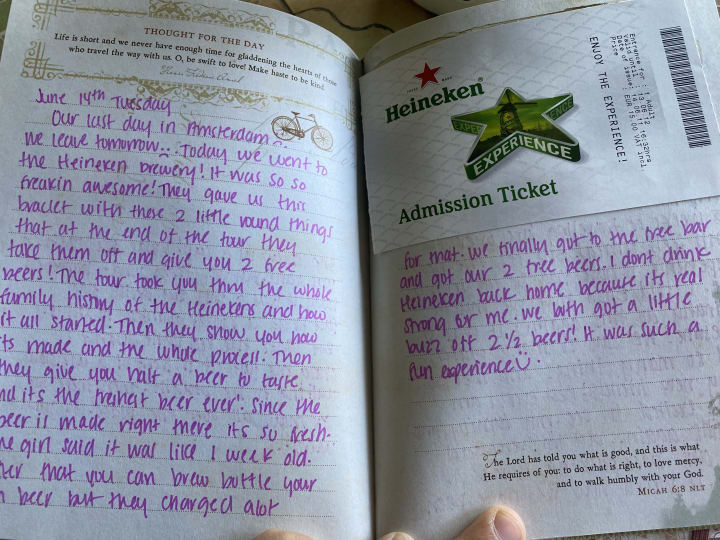 About the Creator
Teacher, traveler, fur baby mom, reader, and writer. I enjoy writing historical fiction stories, fiction, poetry, true crime, and nonfiction.
Reader insights
Be the first to share your insights about this piece.
Add your insights