WOMEN IN HISTORY
Rosa Lewis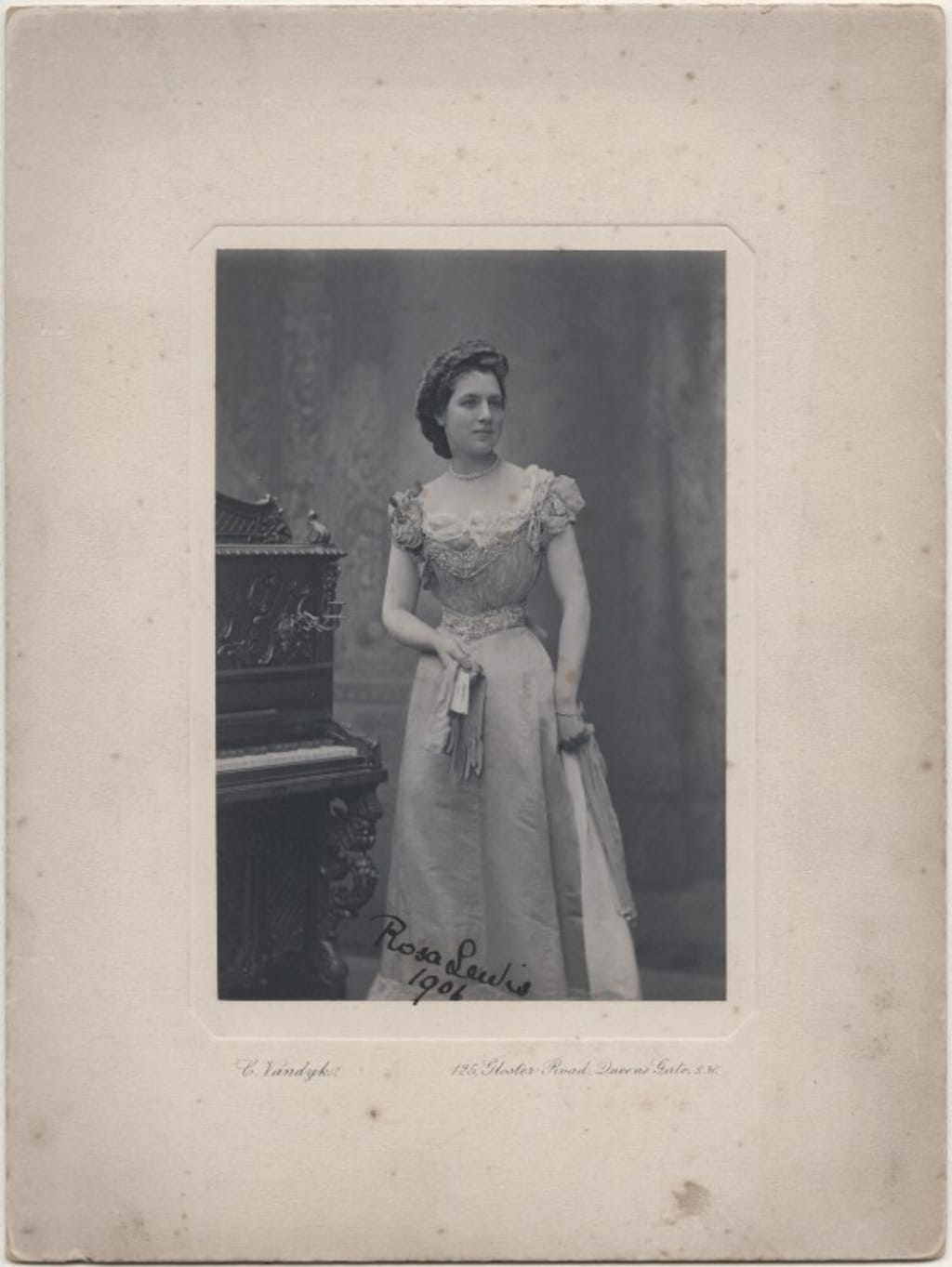 Rosa who? I can hear you asking.
A woman, lost in history, but whose determination to better herself is an Inspiration for us women today. You could almost call her a Suffragette as she did not let anything get in her way to 'get to the top.' Rosa was a real example who showed us that hard work really does have its own rewards.
Rosa Ovendin (her maiden name) was born into a very poor family in 1867. Her father was an undertaker and Rosa was one of nine children. The whole family lived in Leyton. As was common back then, Rosa started working at the age of 12 as a domestic servant --- it was preferable to the workhouse. She cleaned and did the menial chores in exchange for a bed to sleep in and decent meals every day. During this time, Rosa learned quickly and showed that she had a great talent for working in the kitchen. Rosa managed to rise to being the cook at 16 years of age. The people she worked for gave her a good recommendation and this caught the attention of a French Count who was in exile in Surrey. Rosa was offered the job of scullery maid at this Count's home. This was the lowest of positions within service and a gruelling job, but because she would be working for a Count, the job was a 'step up.'
Instead of a cook, there was a chef in the Count's employ, who was a devotee of Auguste Escoffier (who had worked at the Ritz, the Savoy and Le Petit Moulin Rouge in Paris). Under his instruction, Rosa's technique within the kitchen developed into an even greater degree, and this time she caught the eye of the Duke of Orleans, who requested that she work at his home in Sandhurst.
Rosa was allowed to cook at other dinner parties now, and her reputation as a good cook soon spread among London's high society. Rosa could now cater for fine continental tastes.
Rosa now took a job at White's, a gentlemen's club on St. James' Street, becoming the first woman to work there. However, after a colleague made an inappropriate remark and Rosa 'defended' herself, Rosa was dismissed.
Rosa was hired for a dinner party being help by Lady Churchill (the mother of Sir Winston). This party was attended by the Prince of Wales, the future King Edward VII, who was so impressed by Rosa's cooking that he thanked her in person. Word soon spread and she was now catering for nearly every dinner party where the Prince was attending. The two became friends and a rumour started that they were having an affair. To stop the gossip, Rosa married Excelsior Lewis, which was really a marriage of convenience but this did not last.
Rosa Lewis had enough money now to purchase the lease of the Cavendish Hotel and started to convert it into a much larger and more modern hotel. Under Rosa's direction, the Cavendish Hotel became one of the most fashionable addresses in London. She would host aristocrats and even had a private entrance for the now King Edward VII and his guests. Rosa was a wonderful hostess, with a wicked sense of humour and a bubbly character. She was nicknames "The Duchess of Jermyn Street." Rosa started to dress as a fashionable lady and would wear the gifts of jewellery the King had given her. This added to the rumours of before --- where they having an affair?
When King Edward VII died in 1910, Rosa became severely depressed. World War 1 now started and the parties stopped. "The Duchess of Jermyn Street" withdrew from social activities and the Cavendish started to suffer financially. When the Great War finished, Rosa was increase the prices on the rooms of the rich guests whilst refusing a penny from her poorer guests who were the veterans of the war.
At 60 years of age, Rosa went on a "tour" to New York, cooking at the finest hotels over there and giving interviews. The Americans were besotted by what the aristocrats in England were eating but Rosa never talked about King Edward VII or the friendship that had developed between them.
Coming back to London, the Cavendish became fashionable again, with a new set of aristocrats which then included the future Duke of Windsor.
World War 2 started and the Cavendish, like so many buildings in London, was bombed. Rosa Lewis nearly died in the blast, but true to her nature, she was more worried about the vintage champagne bottles that had smashed during the bombing.
Rose Lewis died, peacefully in her sleep, in 1952 at 85 years of age. A plaque is now near the entrance to the old hotel which honours Rosa Lewis as a Chef de Cuisine and Hotelier.
Rosa Lewis was known as the "Queen of Cooks." A story of a very young girl from a very poor family who rose, with hard work and determination, to eventually cook for and serve princes and kings. Rosa did well for herself. If she could do it --- so can we today --- when women have much more freedom.
You may have watched the television series "The Duchess of Duke Street" which is based, loosely, on Rosa Lewis's life (it's a little old 1976-1977). I've watched this myself and love everything about it, as it's based on Edwardian times, an Era I love.
The dresses are exquisite!
Look out for more articles on "Women in History."