Willow Smith and 30 Other Bisexual Female Celebrities
These famous women aren't afraid to flaunt their bi pride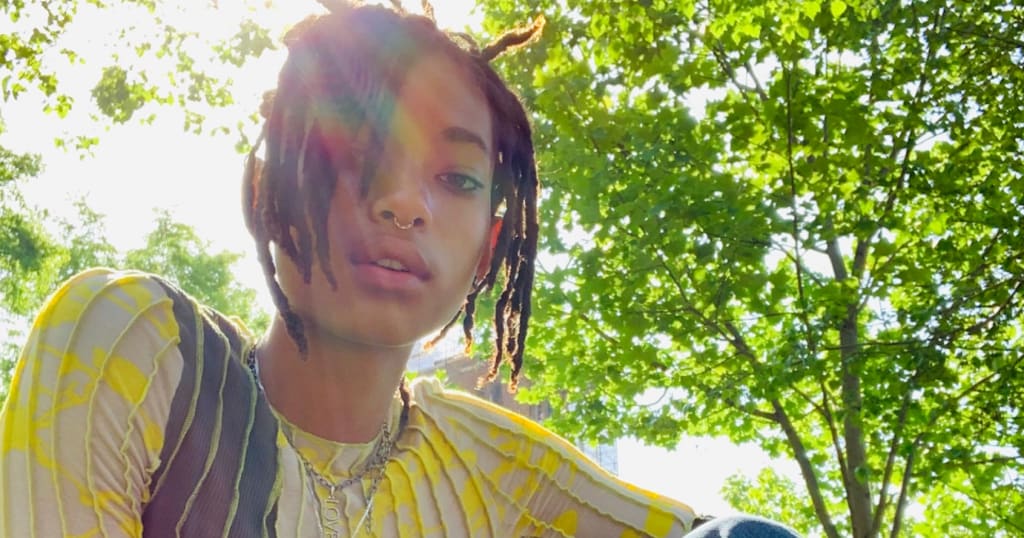 Willow Smith recently came out as bisexual. The 18-year-old daughter of Hollywood power couple Will Smith and Jada Pinkett-Smith joins a growing list of young female celebrities who have opened up about having a non-heterosexual orientation, and she even revealed that her ideal relationship would be a polyfidelotous one with one woman and one man.
Willow's revelation came during Pride Month, a time when many bisexual women feel excluded from the celebrations that other members of the LGBTQ community enjoy partaking in. While they can claim one of the five letters in the oft-debated acronym that lumps a diverse group of minorities together, Washington Post writer Zacharay Zane notes that bisexual men and women are often "viewed as outsiders in their own community." They also have to deal with confused straight people who think that they should "pick a side," and they've faced silly misconceptions about their sexuality, such as the belief that bisexual women automatically become lesbians when they begin dating other women.
Luckily, high-profile celebs like Willow Smith are bringing more visibility to the bisexual community, and they're opening more people up to the idea that sexuality is fluid. Still, since Pride Month is such a tense time for many bisexual women, it now seems the perfect time to celebrate the many female stars who have embraced being attracted to both sexes. They might not want to completely declare their independence from the LGTBQ community during the month of July, but what's wrong with giving the oft-misunderstood bisexual community a little recognition of its own?
Cynthia Nixon
I'm kicking off this list with Cynthia Nixon's coming out story because she has been brutally honest about why she was initially reluctant to label herself as bi. The Sex in the City star came out later in life, having only had relationships with men before she met her current wife. Unfortunately, members of the LGBTQ community found it hard to celebrate her 2012 sexual orientation revelation, because she stated that she had made the choice to be gay. Cynthia responded to the backlash to her comments by explaining that her choice was all about labels, not sexual attraction.
"I don't pull out the 'bisexual' word because nobody likes the bisexuals," Nixon told The Daily Beast. "Everybody likes to dump on the bisexuals. We get no respect."
However, Cynthia did eventually confirm that she considers herself bisexual, and hopefully some of the other stars on this list are helping to alter the unfortunate view of bisexual women that made Cynthia so despise the label (Sex in the Citycertainly didn't).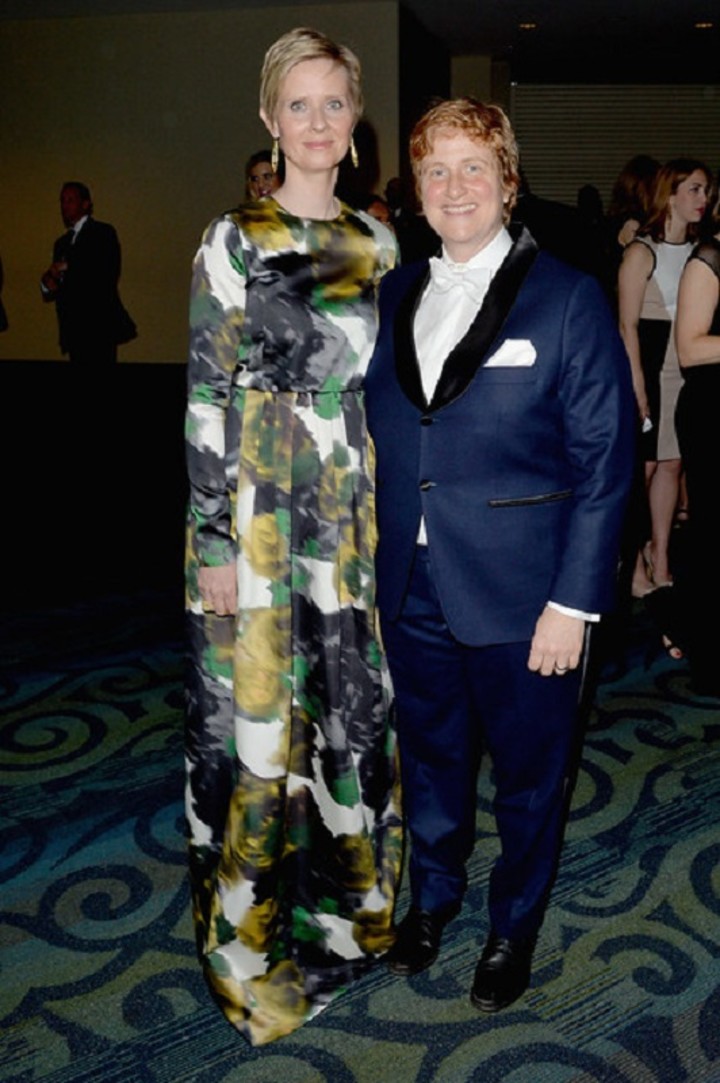 Dove Cameron
Young celebs are coming up with some creative ways to come out in the digital age. In 2017, this Disney Descendants star shocked fans by revealing that she was bi in response to one of her Twitter follower's desperate attempts to get a like from her.
The fan in question got Dove's attention by sending out two tweets to the actress, one asking her to like it if she were gay and another asking her to like it if she were bisexual. Dove liked the latter, and her followers totally freaked out. They hoped that this low-key self-outing on social media meant that the Clueless, the Musical star was romantically involved with her close pal Kiersey Clemons, but Dove is currently dating her Descendants costar Thomas Doherty.
Bella Thorne
This red-hot, sometimes-redhead has a lot in common with Dove Cameron; she's also a Disney star, and she also came out as bi on social media. Since the two lovely ladies are peas in a pod, perhaps it shouldn't be too surprising that the very blunt Bella has confessed to dreaming about hooking up with Dove. Of course, the social media addict shared her fantasy on Twitter.
Bella Thorne has always been rather flamboyant, and the flame-haired star came up with a crazy way to come out. First, she worked her fans into a frenzy by kissing her brother's ex (who is also named Bella) on Snapchat. This led to rampant speculation about her sexuality, which she eventually addressed on Twitter. One of her fans just outright asked her if she was bisexual, and she simply responded by tweeting, "Yes."
Bella further cemented her place as one of this generation's biggest bi icons during Pride Month this year when she helped a female fan come out by kissing her at the MCM Gay Pride Event in Los Angeles.
Anna Paquin
In 2010, this cute and quirky actress came out as bisexual for a good cause, the True Colors Fund.
"I'm bisexual, and I give a damn," Anna said in a PSA for the pro-equality group. It surprised many fans at the time, because she was engaged to her hunky True Blood costar Stephen Moyer. However, marrying one sex doesn't change the fact that Anna Paquin is bisexual; Stephen just happened to be the human being who stole her heart.
Anna and her hunky hubby are now the proud parents of six-year-old twins Poppy and Charlie, and Paquin recently told Us Weekly that the secret to her and Stephen's almost decade-long marriage is that they're "each other's best friends."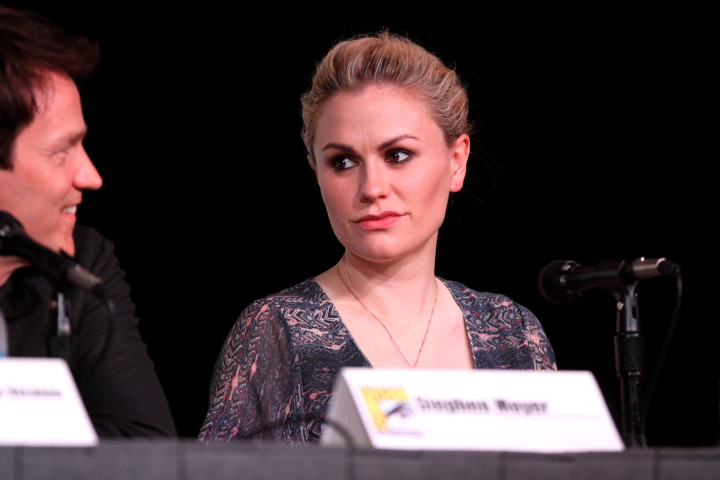 Evan Rachel Wood
Perhaps Anna Paquin's decision to come out played a part in Evan Rachel Wood's own revelation about her sexuality. The Westworld star appeared alongside Anna in True Blood, where she played a bisexual, bloodsucking vampire queen, and she revealed that she was bisexual one year after Anna's announcement.
Evan has become a fierce advocate for the bi community since, revealing during a 2017 speech at an HRC event that she hid her sexuality for many years in response to the hate speech that she was exposed to growing up. However, she eventually decided that being honest and open about her feelings could help others. She's spoken out against bi erasure and the "negative connotations" attached to the bisexual label, as well as "the shame that the world" imposes on bisexual people. She's also been campaigning hard for her Westworld character Delores to get a queer moment on the HBO show, so here's to hoping that will happen now that the woke android has left the "natural splendor" of her artificial western-themed world behind.
Tessa Thompson
This Thor: Ragnarok actress came out as bisexual in 2018 after years of speculation that she was into girls, specifically her close pansexual pal Janelle Monáe. Tessa teased that the talk about the two being romantically involved was true when she said that they "love each other DEEPLY."
Tessa's Thor character Valkyrie is bisexual, and perhaps the new iteration of her Westworld character will help Evan Rachel Wood get that queer scene that she's inexplicably having to fight so hard for.
Lauren Jauregui
Sadly, this Fifth Harmony singer's decision to come out as bisexual was inspired in part by her fear of the effect that a Donald Trump presidency would have on the LGBTQ community. In an open letter to Trump voters, she accused his supporters of being selfish, hateful hypocrites. She also let them know that she's proud to be a member of more than one of the minority groups that they seem to fear and despise.
"I am a bisexual Cuban-American woman, and I am so proud of it," Lauren wrote in her scathing take-down of Trump's base.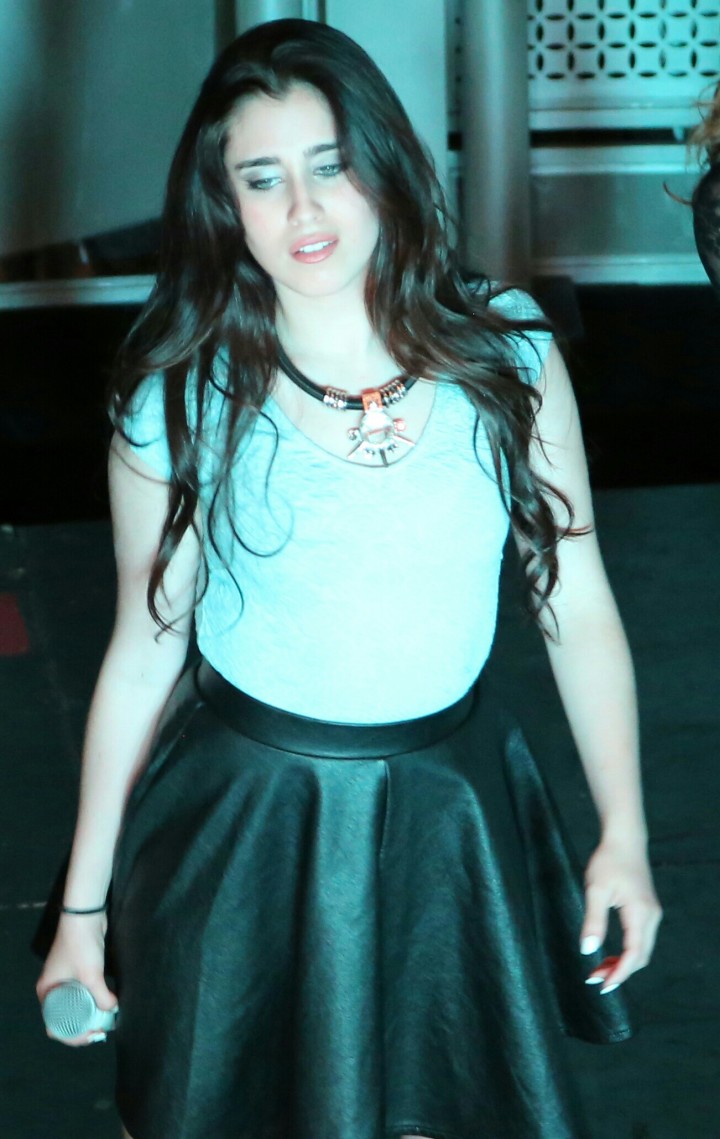 Halsey
Lauren Jauregui played one of Halsey's love interests in her music video for "Strangers," but including another high-profile member of the LGBTQ community in the project didn't save Halsey from being accused of not making it queer enough. Halsey has always been open about her bisexuality, but she disappointed many of her fans by having her character in the "Strangers" music video choose to be with the male member of her onscreen love triangle with Lauren Jauregui and actor Will Brandt. However, Halsey argued that this narrative choice doesn't make her any less bi.
"It literally IS a bisexual story," she said. "Luna has romantic relationships with both Rosa [Jauredui] and Solis [Brandt]. Her relationship with a man doesn't nullify her bisexuality. Not in an imaginary music video universe, and not in real life either."
Rita Ora
Rita Ora is another singer who has faced a backlash from the bi community. Female celebs have long been accused of feigning an interest in girls to appeal to the male gaze, but now that the LGBTQ community has a much louder voice, stars also have to be concerned about this vocal group accusing them of queer-baiting. When Rita pulled a Katy Perry by singing about same-sex kissing, she drew the ire of fans who thought that her song "Girls" was a lame attempt at courting bi and lesbian listeners. In response to the controversy, Ora was basically forced to out herself as bi, tweeting that "Girls" is an accurate account of a "very real and honest experience" in her life.
"I have had romantic relationships with women and men throughout my life and this is my personal journey," she wrote. "I am sorry how I expressed myself if my song has hurt anyone."
Dusty Springfield
With songs like "Preacher Man" and "You Don't Have to Say You Love Me," Dusty Springfield's distinctive, sweet, and soulful voice is soothing to listen to, and easy to fall in love with. But when it came to the glamorous singer's love life, her lack of relationships caused a lot of speculation about her sexuality. In 1970, she made the brave decision to respond to the rampant rumors that she was "bent," making the bold statement that she "was perfectly capable of being swayed by a girl as by a boy."
Dusty would go on to wed another woman, actress Teda Bracci, in the 80s, even though same-sex marriages weren't legally recognized at the time. With her trailblazing honesty about her bisexuality, her big voice, and her even bigger beehive, Dusty Springfield just might be the best bisexual female musician ever.
Lady Gaga
Mama Monter's massive success as a musician, and her status as a modern LGBTQ icon helped pave the way for many of the other bi pop stars on this list. She came out as bi in 2009, and she's said that her song "Poker Face" is about same-sex attraction. Art also imitated life for the "Shallow" singer when she played a bisexual countess on American Horror story: Hotel.
Gaga has always been an outspoken supporter of gay rights, and the A Star is Born actress recently made history by becoming the first openly bisexual woman to receive dual Academy Award nominations in the Best Actress and Best Song categories.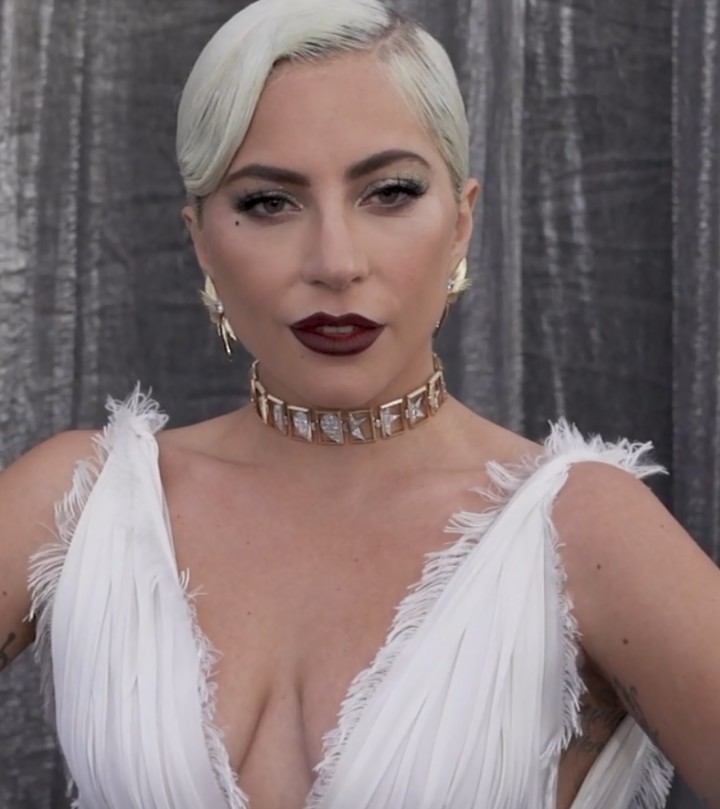 Kristen Stewart
Since Ellen DeGeneres came out as gay, has a female star's revelation about her same-sex attraction shook the world more? Kristen became one of the most-watched female celebrities in the world when she signed on for the Twilight movies, and young fans were thrilled when she began dating co-star Robert Pattinson in real life. However, these Robsten supporters' hearts were broken when Kristen got caught cheating on him with the male director of one of her first big non-Twilight franchise movies, Snow White and the Huntsman.
Things took an even more shocking turn when whispers about a romantic relationship between Kristen and film producer Alicia Cargile began making the rounds. While fans were confused, Kristen said that she didn't find her sexuality confounding at all.
"You're not confused if you're bisexual. It's not confusing at all. For me, it's quite the opposite," she told the Guardian in 2017.
Kristen Stewart said that she felt a "huge responsibility" to define her sexual orientation when she first decided to talk about it publicly, but she's since shown her support for a new movement that sees young stars declining to attach any labels to their sexuality.
Kristen has been romantically linked to Victoria's Secret model Stella Maxwell, who first made headlines when she was photographed kissing pop star Miley Cyrus in 2015. Miley had just revealed her attraction to both men and women, but she's not on this list because she has stated that she doesn't like the "bisexual" label (she identifies as pansexual).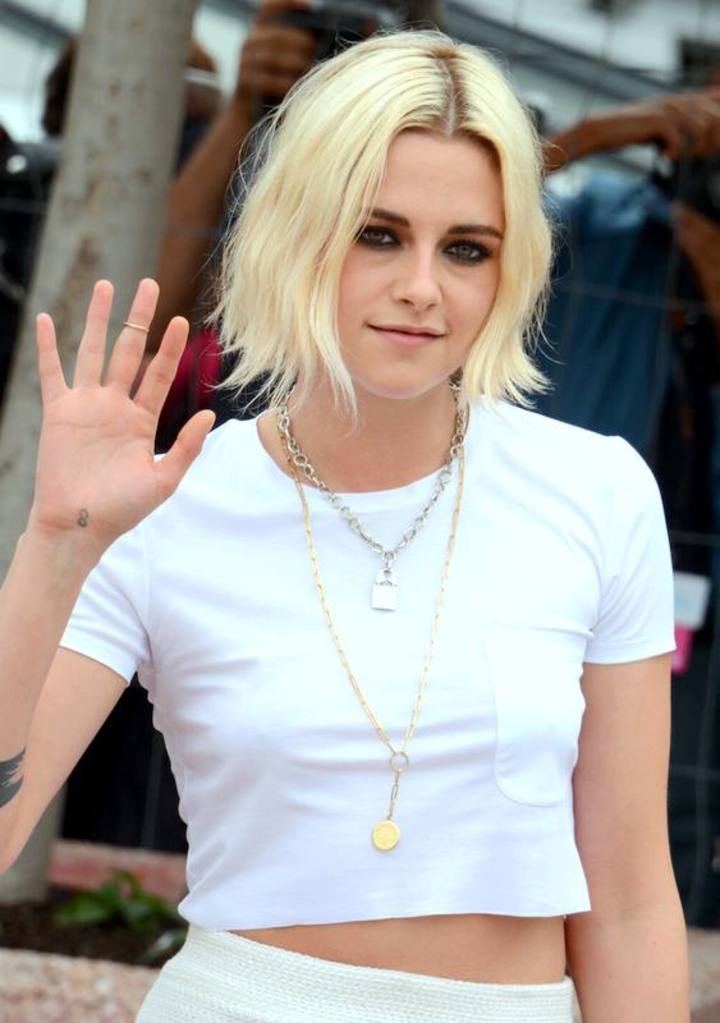 Drew Barrymore
Perhaps it's fitting that Kristen Stewart is starring in the upcoming Charlie's Angels film, because one of the original movie angels has come out as bi. Drew has stated that she "totally" likes women sexually, and has always considered herself bisexual.
Marlene Dietrich
Long before Kristen Stewart was agonizing over her decision to publicly address her sexuality, this star of the silver screen was using her sex appeal and magnetic personality to seduce both men and women. According to Kate Lemay, a historian at the National Portrait Gallery, Marlene Dietrich made no attempt to hide her relationships with "very, very out, butch lesbians." She also enjoyed the thriving gay scene of the 20s, which included riotous drag balls. The Blue Angel star's list of famous lovers included Edith Piaf, Frank Sinatra, and the next actress on this list.
Unlike other actresses of the day, Marlene didn't seem to care at all when tabloids wrote about her same-sex lovers, and she wasn't afraid of being spotted getting affectionate with other women. Actor Klaus Kinski even claimed that her amorous appetite for the fairer sex was so strong that she once pulled down the panties of his then-girlfriend, Edith Edwards, and orally ravished her backstage at a Berlin theater.
So while the fascinating femme fatale made waves for dressing in drag and kissing a woman in the 1930 movie Morocco, clearly what was going on behind the scenes was much less chaste.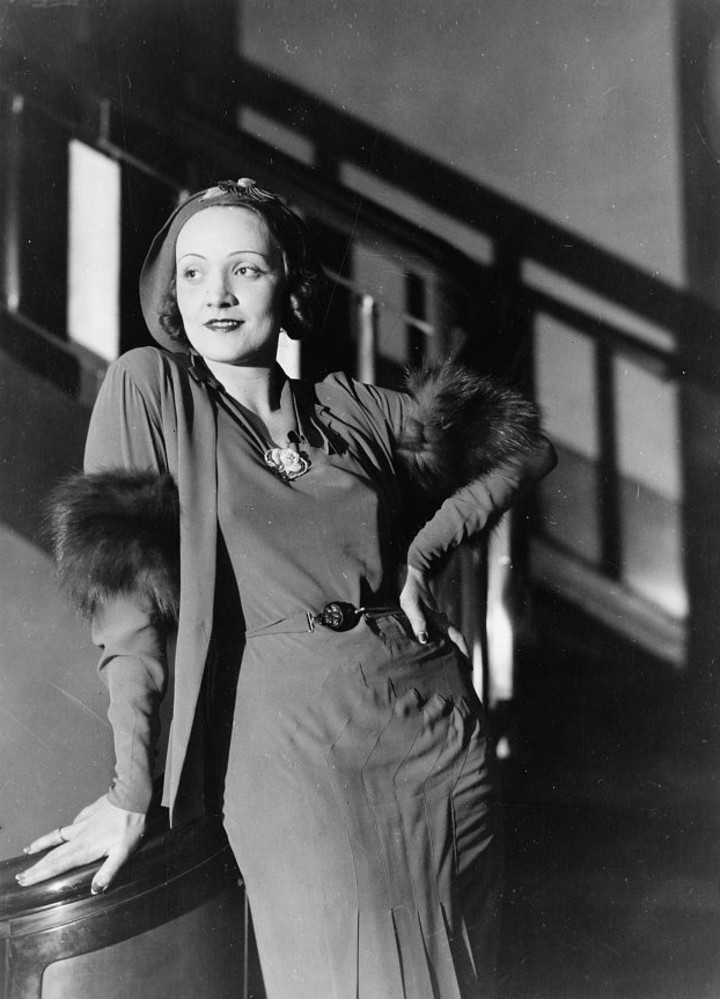 Greta Garbo
Like Marlene Dietrich, Greta Garbo also had relationships with both men and women. They might seem like a match made in bi Hollywood heaven, but a fling between the glamorous stars ended so badly that they allegedly pretended not to know each other years later when Orson Welles introduced them at a party.
Marlene and Greta first met on the set of an obscure silent film that Marlene long denied appearing in. It was inevitable that the two alluring actresses would become romantically or sexually involved in some way, but their affair eventually took an ugly turn. Marlene was said to have humiliated Greta, ridiculing the younger star for wearing dirty underwear, and deeming her an ignorant "peasant."
Luckily for Greta, the Queen Christina star eventually found herself surrounded by plenty of gorgeous women to make her forget her ugly affair with Marlene. Her alleged lovers included Mercedes de Acosta, Tallulah Bankhead, Louise Brooks, and Billie Holiday.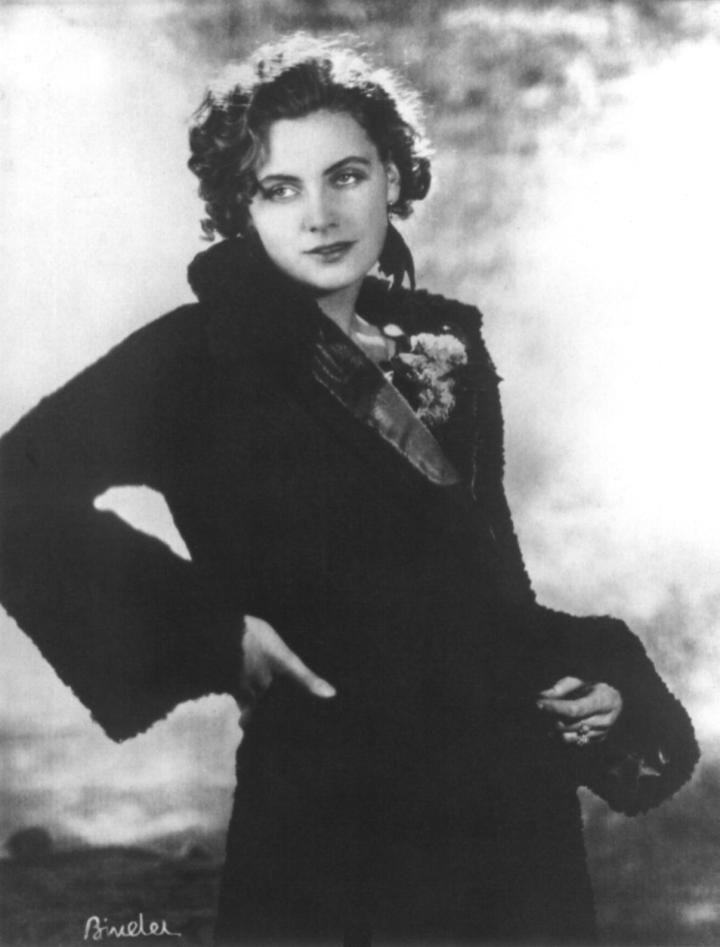 Cara Delevingne
Cara has attracted a lot of attention for being attracted to the same sex, likely because she is an attractive, likable model/actress who has been linked to multiple famous women. The Suicide Squad star has also been very open about her experiences navigating the world of dating as a bisexual woman, telling RuPaul that she has discovered that she's the dominant one in her relationships with other women, while she's "more submissive" when dating men.
She has most recently been linked to Pretty Little Liars actress Ashley Benson, who costars alongside Cara in the movie Her Smell. According to Cara, she decided to go public with Ashley in celebration of Pride Month and the 50th anniversary of the Stonewall Riots.
Cara's previous romantic partners include one of Kristen Stewart's former flames, St. Vincent, and Michael Jackson's daughter, Paris Jackson (who, for the record, seems to share Miley Cyrus's distaste for the bisexual label). Cara has also been caught canoodling with the next two actresses on this list (I have to admit, it's kinda cool to see all these bi female celebs switching partners like straight stars do).
Amber Heard
This Aquaman actress is probably best known for her doomed marriage to Johnny Depp, but she's also dated women. she was involved in a long-term relationship with photographer Tasya van Ree before she met Johnny on the set of their 2011 movie The Rum Diary.
According to Amber, she was told that her relationship with Tasya would hurt her career, but she never tried to hide it. Even though she's never kept her sexual orientation a secret, and doesn't have a coming out story to tell, the actress says that she feels compelled to talk about her bisexuality, because she hopes that being open about it will help other young women. By refusing to never hide or be ashamed of who she is, perhaps she'll inspire other bisexual girls to behave the same way as soon as they discover their sexuality.
Michelle Rodriguez
Rumors about this action star's sexuality circulated for years before she publicly came out in 2013. The Fast & Furious 9 actress said that she finally decided to let everyone know that she was bisexual because she's aging, and eventually "won't be able to use it."
"I wanted to be honest about who I am and see what happens," she told Latina magazine.
Perhaps her honesty is what helped her win Cara Delevingne's heart. She's also been linked to her Bloodrayne co-star Kristanna Loken, as well as actors Zac Efron, Vin Diesel, and Colin Farrell.
Kristanna Loken
This actress is most known for playing T-X in Terminator 3, but the fembot femme fatale also starred in multiple episodes of The L Word. Loken can also claim to be a real trailblazer when it comes to being bi in Hollywood. In 2008, AfterEllen described her as "one of very few openly bisexual actors" in the industry. During an interview with the publication, Kristianna complained about dating famous women who "didn't want to be out in public," a possible reference to her 2006 relationship with Michelle Rodriguez.
The smooch Kristianna shared with singer Pink at a 2003 awards show fueled speculation that both women were bisexual, but the pop star wasn't interested in the blonde bombshell. Pink complained that Kristanna tried to "dominate" her, and declared that she "will not be dominated by anyone." However, she did concede that Kristianna is "beautiful."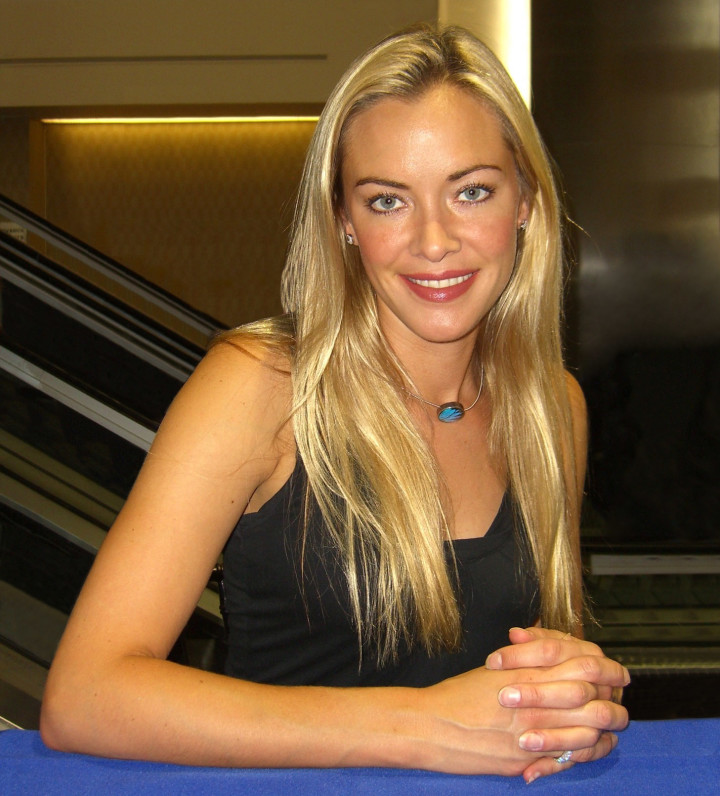 Aubrey Plaza
This Parks and Recreation star is basically everyone's dream girl: she's cute, funny, talented, smart, and she knows Amy Poehler and Nick Offerman. The Child's Play actress is just the type of gal that the bi community wants to be able to boast about having among its ranks, and it sounds like she's pretty thrilled to be a part of the accepting, awesome club.
"Girls are into me—that's no secret," she told the Advocate in 2016. "Hey, I'm into them too. I fall in love with girls and guys. I can't help it."
Vanessa Carlton
Vanessa made music fans fall in love with her when she released her bubbly pop hit "A Thousand Miles" in 2002, and she won the hearts of the LGTBQ community when she came out as a "proud bisexual" in 2010.
"I don't look at the community as separate from my life," she told TheGeorgiaVoice in 2017. "I was never able to differentiate it because I was just always in it. My adolescence was in that community, so I never really looked at it as some kind of specialty community or 'other.'"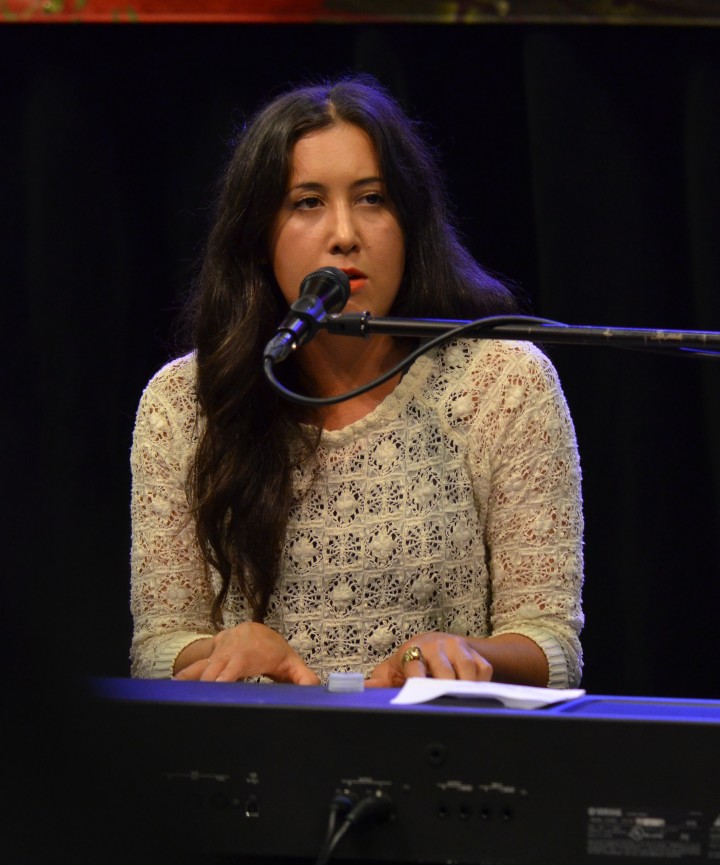 Angelina Jolie
Because of her high-profile relationship with fellow A-lister Brad Pitt, it's easy to forget that Angelina was one of the bisexual community's biggest trailblazers. She didn't bat an eyelash when she was asked if she was bi in 2003, a time when it was still taboo to identify as such. She confirmed that she was definitely capable of falling in love with both men and women, but what many people didn't realize is that she had already been in a serious same-sex relationship with model Jenny Shimizu.
During a 1997 interview, Angelina even said that she would have married Jenny. Such a union wasn't legally possible at the time, but now that gay marriage is legal and Angelina is single, perhaps the next movie she stars in with her spouse will be titled Mrs. & Mrs. Smith.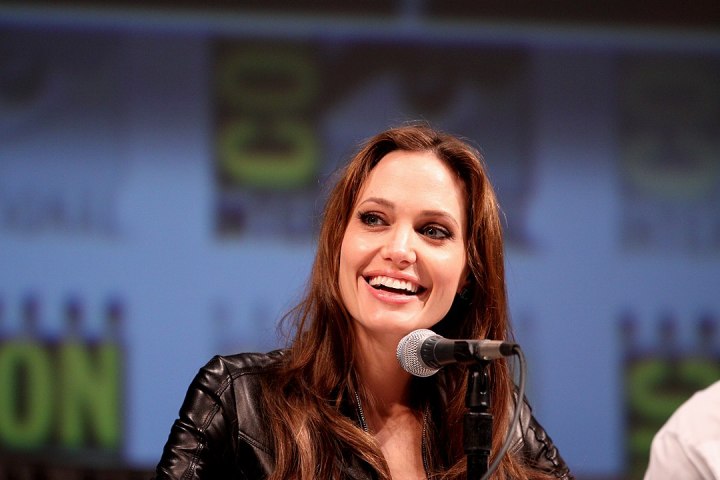 Megan Fox
This stunning actress was often compared to Angelina Jolie early in her career, and she also wasn't afraid to be open and honest about her sexuality. However, even though she came out as bisexual in 2009, she risked alienating many members of the bi community by saying that she would not sleep with another bi girl who has been with a man. Megan's bizarre explanation for this coitus caveat was that men are "dirty."
Amber Rose
This bisexual video vixen's bisexuality also comes with a hypocritical condition. Amber Rose rose to fame by dating Kanye West, but the curvy former stripper proved that she was a lot more than "one of those rap guys' girlfriends" by gaining her own fan following. She became a fierce feminist advocate for sex positivity, and she founded the SlutWalk. She also became popular with the LGBTQ community, but was called out for having problematic views in 2017 when she said that she would not be comfortable dating a bisexual man. At least she was refreshingly honest when she said that she couldn't explain why she felt this way.
Mel B
This Spice Girl isn't afraid to tell you what she wants, what she really, really wants. Melanie Brown, AKA "Scary Spice," wasn't out and proud when her gorgeous girl group was spicing up the lives of young bi-curious women everywhere, but the British beauty has been very candid about her sexuality in recent years. She openly identifies as bisexual, and she has revealed that she had a half decade long relationship with another woman. Mel has also confessed to having a sexual encounter with fellow Spice Girl Geri Haliwell, AKA "Ginger Spice," and spicing things up in the bedroom by having threesomes with her ex-husband Stephen Belafonte and other women.
Fergie
In 2009, the frontwoman of The Black Eyed Peas made headlines by announcing that she is bisexual. Fergie's marriage to actor Josh Duhamel officially ended this year, but she possibly paid him a huge compliment before their split by suggesting that she can't solely date women because she loves "a well-endowed man."
Nelly Furtado
This wannabe bird who was responsible for the biggest earworms of the early aughts has a sweet voice to match her stunning looks. Even though the Canadian songstress is one of the women on this list who hasn't revealed that she's ever had a relationship with another woman, she's not afraid to let the world know that she's attracted to them. In fact, she thinks everyone is a bit bisexual. Is anyone else wishing that she, Mel B, and Fergie would team up to create an international, all-bi super girl group?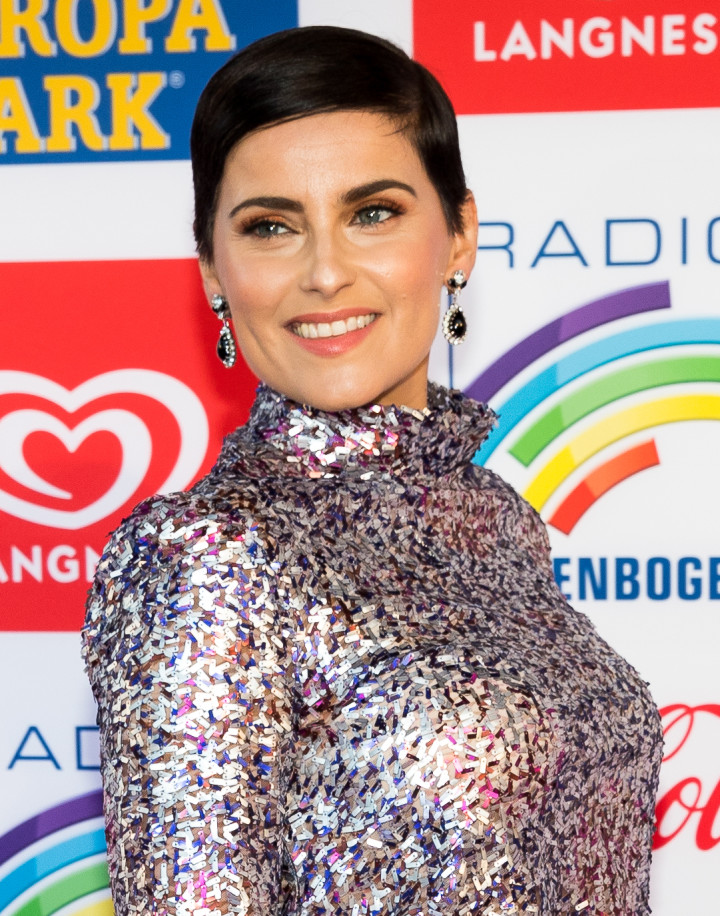 Anne Heche
Anne Heche became a household name thanks to a woman she dated, comedian and TV icon Ellen DeGeneres. Unfortunately, the actress is also famous for what happened right after she and Ellen broke up; she showed up on the doorstep of a Fresno, California home and proceeded to make herself at home, showering and babbling about a spaceship that would take everyone to heaven.
Anne was written off as crazy, and the tabloids had a field day reporting on her psychotic break, but perhaps the troubled star deserves a little sympathy. As a child, she was sexually abused by her closeted evangelical Christian father, who died from AIDS during the disease's early 80s epidemic.
Snooki
This diminutive reality show star "smooshed" a lot of guys who were "DTF" on Jersey Shore, but she also would have been open to taking girls back to the Seaside Heights house where sexy time was all the time. In 2012, Nicole "Snooki" Polizzi revealed that she considers herself bi, and has enjoyed experimenting with girls. However, she admitted that she can't see herself seriously dating another woman because she likes the D too much. Perhaps an appropriate JerseyShore acronym for her sexual orientation would be "BBPP" for "Bi But Prefers Peen."
Gillian Anderson
This X-Files star put her truth out there in 2012. According to Gillian, she made the decision to talk about her sexual orientation as a tribute to an ex-girlfriend who had recently died from brain cancer.
A surprising number of celebrities have walked back their self-outings over the years, but not Gillian. In 2018, she reaffirmed her bisexuality, saying that she has no issue with it and doesn't care if other people do. She also revealed that she was open to being in a relationship with a woman in the future, even though she's been dating TheCrown writer Peter Morgan since 2016.
One woman Peter might want to watch out for is SNL star Kate McKinnon. The comedian credits Gillian Anderson with making her realize that she was gay growing up, and the two women do seem to enjoy flirting with one another on social media.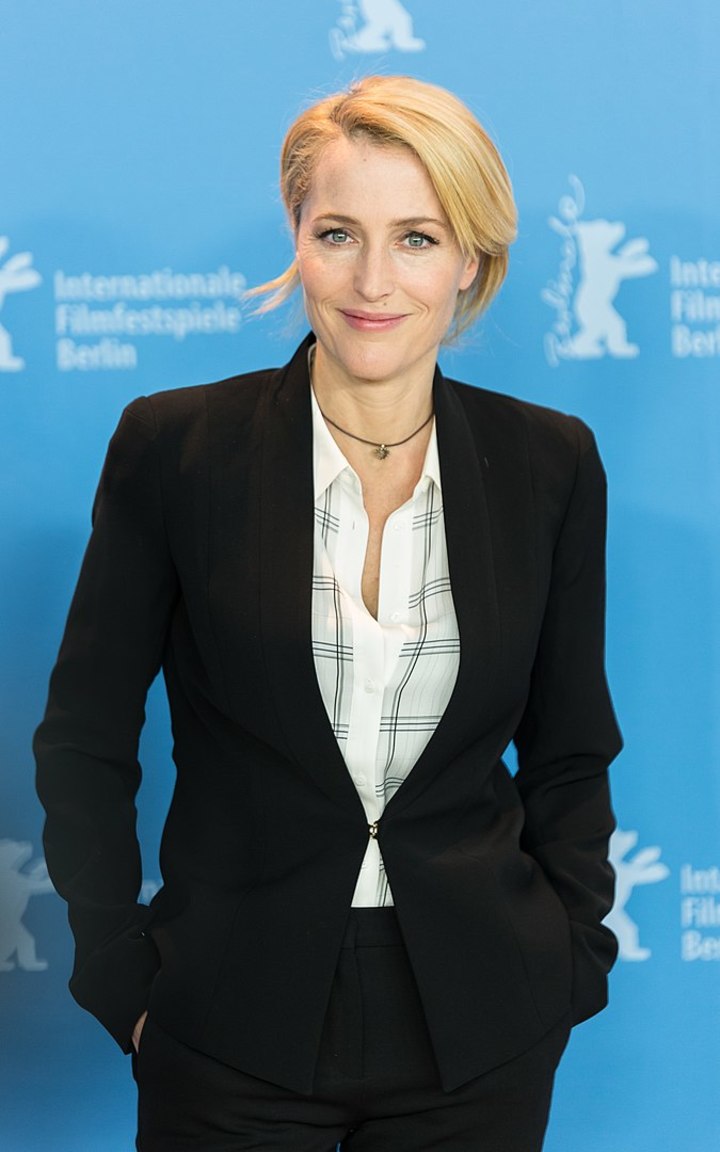 So from legendary women living lifestyles that were frowned upon to the bisexual female celebrities continuing to make waves by announcing that they are bisexual today, women like those on this list help disprove the idea that you can only be gay or straight, a misconception that many bisexual women are still fighting against as their struggle for equality in the LGBTQ community continues.