Wearable Art Passion
The wonderful world of creating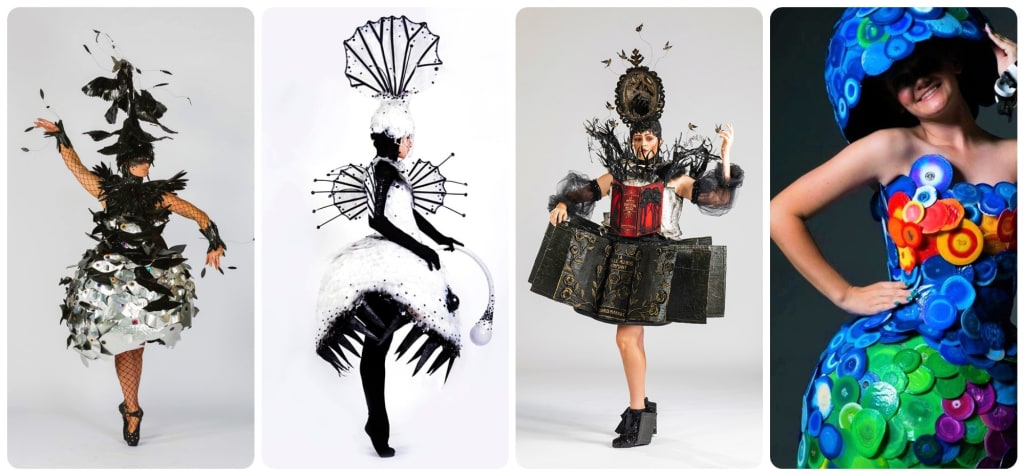 My 4 years of entries for Mandurah Wearable Art (WAM)
Between 2016 and 2019 I took part in a local Wearable Art Mandurah (WAM) competition. Situated just 40 minutes south of Perth, Australia, Mandurah is a beautiful coastal city with a multitude of canals weaving through from city to coast.
Each year a Wearable Art competition is run. It started off in 2011 and consisted of a little catwalk on the marina and has since evolved into a large showcase in the main theatre put on over 2 nights, for the viewing please of over 1000 people.
I am a self-practising artist living here in Perth. Back in 2015 I made a large peacock for a local art exhibition held on a beach. My piece had a huge tail made up of hundreds of heat pressed plastic lids. Each was rounded off with a pair of scissors then wired onto the chicken wire tail. As the sun set every evening it lit up the tail of the peacock which gave me the idea to enter a piece into WAM. After completing my Peacock I was left with a plethora of plastic lids so I decided to make my first entry in 2016. This won the illuminate category as I lined the inside of the skirt with strings of tiny battery run lights, they illuminated the skirt like a stained glass window.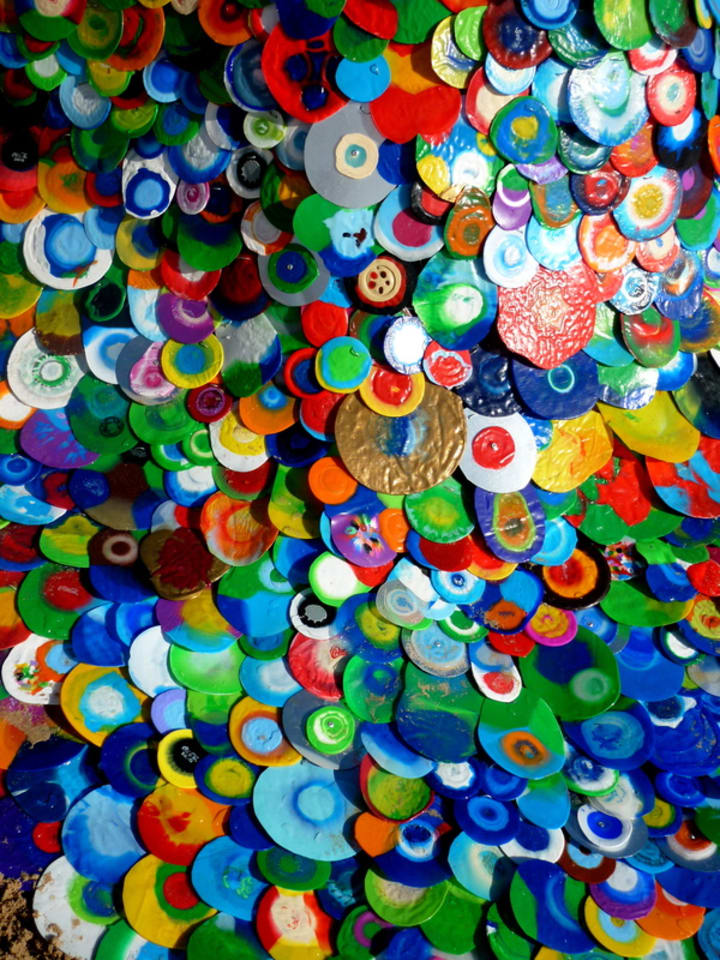 In 2017 my passion for this genre of art had grown and staying with plastic and also risking RSI in my wrist!, i hand cut over 200 milk bottles into fish scale shapes. Some milk bottle plastic was ironed into larger sheets for fins and tail. With an internally lit handheld proboscis my upside down Anglerfish won me the Re-use category, a fish dress made from plastic, ironically plastic being the material killing our fish.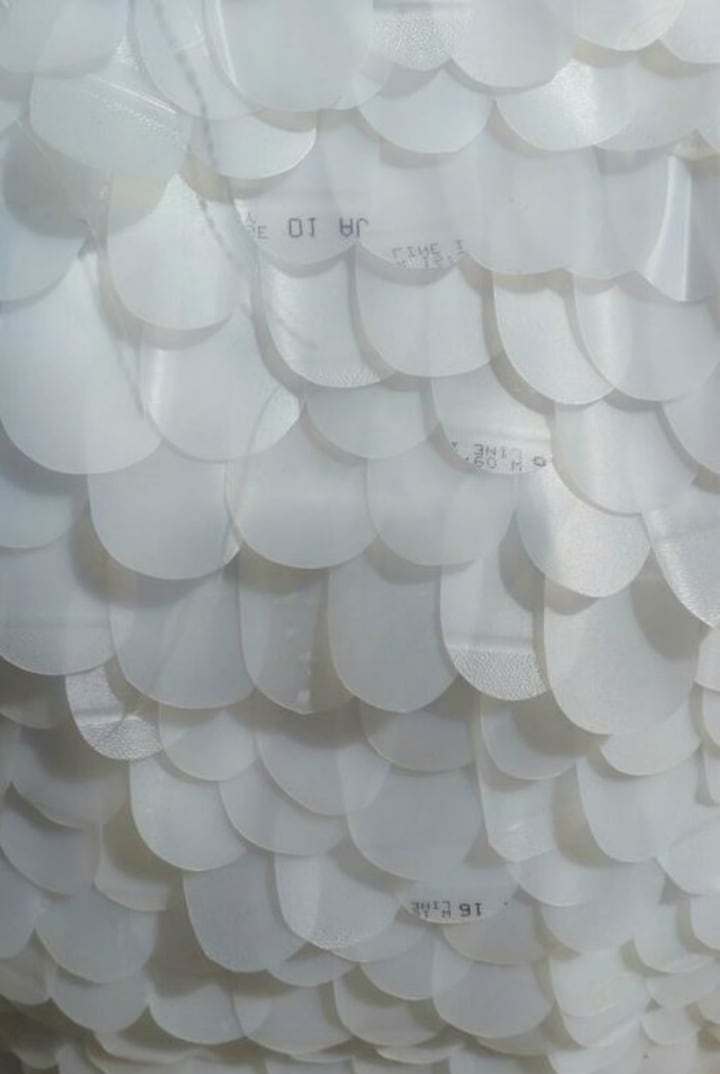 Staying with the fish theme, and entering the category 'Metamorphosis' my 2018 outfit based on Sky and Sea by the artist M C Escher took out the overall grand prize of Mandurah Wearable Art Artist of the year! A skirt resembling a ball of fish. Each fish, again, handcut then hand embossed from leftover printers plate. The birds were cut from black corflute. The large neckpiece and flying birds on the headpiece were created using handcut feathers from 50 bicycle innertubes!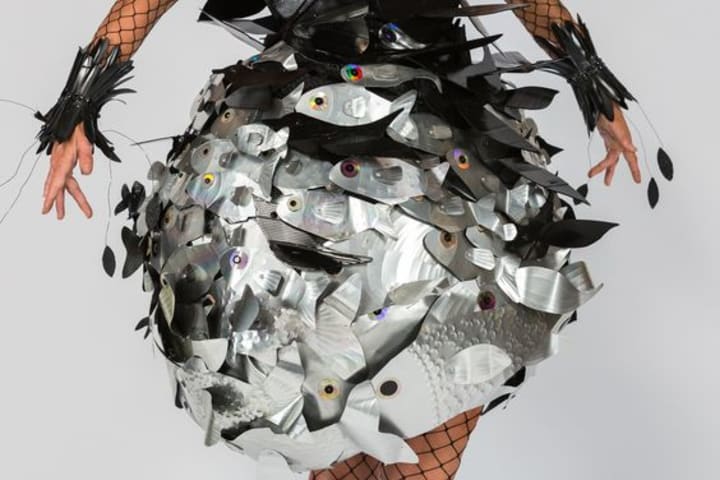 My final piece for Mandurah before Covid 19 cancelled the 2020 competition was a piece that had always been in my mind but knew it would be a challenge. Based on the category 'Movement'. I have always had an obsession with the dark and moody beginnings of fairy tales. I wanted to make a skirt that quite literally moved. Below is my friends daughter wearing the skirt to show the movement.
So two stories 'Little Red Riding Hood' and 'Sleeping Beauty' both originally written by Charles Perrault inspired my 2019 piece entitled 'Il etait une fois' translating into 'Once upon a time' The skirt cut from large sheets of card and fixed onto a wood waistband, would open as a book when the front pages are pulled open. This transforms the silhouette of the outfit. The corset, a red felted book open with a popup forest growing out of the pages. Swirling around the shoulders, wire words with a huge ruffled neck collar. The headpiece a diorama of a dark forest with a tiny figure of Little Red Riding Hood disappearing into the back. On the back of the headpiece, a paper mache wolf head, watching every movement. This piece won me the overall prize again for the 2019 competition.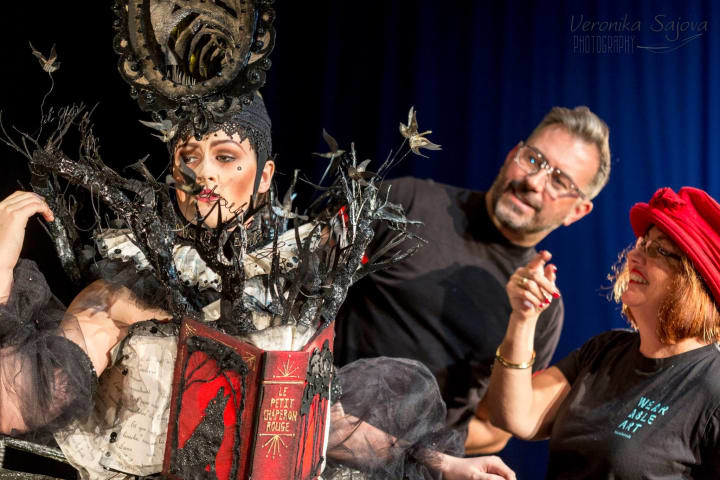 Wearable Art is a true passion of mine. I am a practising artist mainly focused on ceramics and painting but creating a sculptural piece for the body has so many challenges. It breathes life into my creative thoughts, it allows me to express myself. This year I have not had the time to enter, however, this year I am actually a judge of this amazing competition...And being very honest, anyone who wants to try this emerging genre of creativity, a sharp pair of scissors is a great starting point....!!!