We Need To Redefine The Term 'Ladylike'
It's 2021... what does this even mean anymore?
How we dress says everything about us. It's the first introduction we give out without actually introducing ourselves; people's first perception of us. I've lost count of the amount of times I've been told I'm "unladylike" because of my oversized, boyish clothing. "Why don't you wear tighter-fitting clothing and show off your body? That's not ladylike."
Yeah well, neither is the middle finger I have for you.
Growing up, I'd wear dresses to school and my hair was always pulled back into a curly little ponytail. I remember putting on my ruffly pink outfits on the first day of school, Mom insisting I looked cute (she's right, I did look cute) and off to school I went, Barbie backpack and all.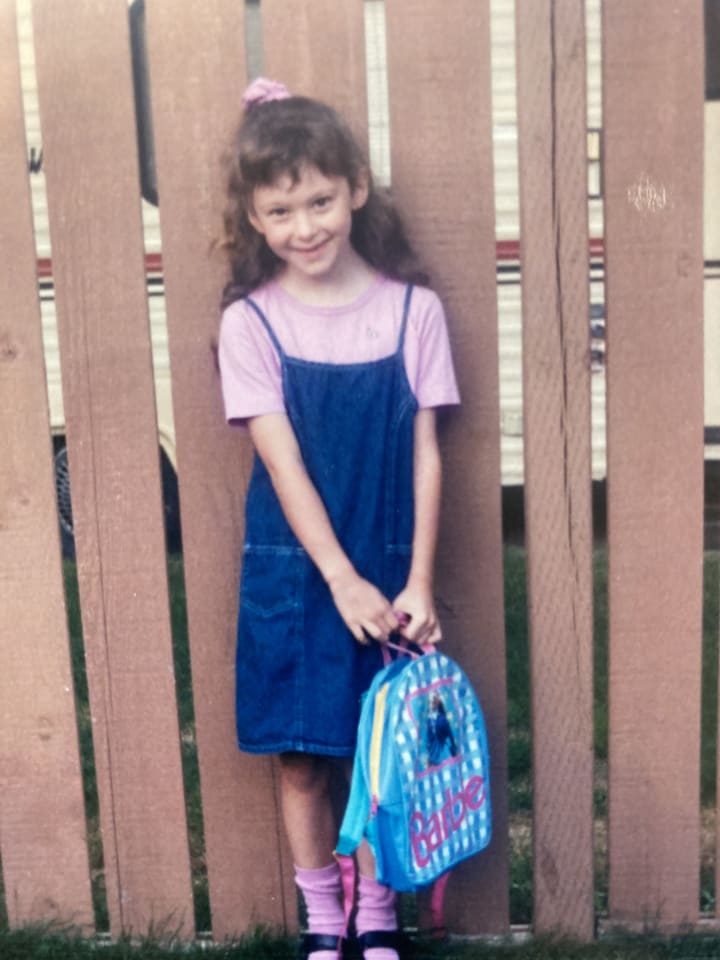 I was always a girly girl, growing up on Mary-Kate and Ashley books, television shows, and movies. I loved playing Barbies with my friends and making jewelry. I was also always the skinniest girl in my class. To most this may seem like a blessing. For me, however, it means I've struggled with my weight since Kindergarten, although I didn't know it at the time. My family, family friends, and friends' parents, and even teachers would make comments about how tiny I was. Pre-programming occuring in my subconscious at a young age.
Flash forward to high school/post-puberty and suddenly I've got hips and I'm not the skinniest girl in the grade anymore, and I feel like everyone notices. I started binge eating because I wasn't the skinniest girl anymore, so who cared? The weight gain came on strong, and even though I was still slim, my body dysmorphia told me otherwise.
By the time I reached my mid-twenties, my weight was constantly fluctuating and I think everyone can tell and I'm mortified. So I began to dress in super baggy clothing to hide my body because even though I was still skinny, I didn't see myself that way. Baggy clothing was safe; nobody could see my body. Yet still, I was told the way I dressed was "unladylike." I was struggling with mental health issues and body dysmorphia and the only thing I ever heard was how I should be more ladylike. Being "ladylike" -- trying to be perfect, skinny, quaint -- was what got me into this mess in the first place.
I'm now 27 and I feel like for the first time in a long time, I'm getting my fire back. After finally coming to the conclusion that I've been hiding for far too long, and constantly worrying what people think of me has gotten old. I'm realizing what it means to be a powerful woman who stands up for herself and does whatever she wants. I'm also realizing just how much power there is in simply being a woman.
Even though I still dress in baggy clothing, I love my style and my body is now healthy, and I am happy. From here on out, I will always do whatever it is that I want to do. I dress how I want to dress, I eat how I want to eat, I live how I want to live, and I sure as hell don't play by society's gender norms anymore. It look me a while to get here, but I am what I call a strong woman.
When a woman steps into her power, the world shifts. I always like to remind myself that there are no rules in this life, and we shouldn't listen to outdated norms created by men in order to repress women. A strong woman is someone who does whatever the f*ck she wants and is unafraid to show the world exactly that.
If you asked me what title I'd give this chapter of my womanhood, I'd call it Embracing Myself, For Myself. Every day I'm learning how to unlearn the habits, goals, and traits about myself that society has imposed on me.
Even though she's younger than me, I truly admire Billie Eilish because I know that she struggles with the same issues I did when I was her age. Billie dresses in oversized clothing just like I do because she doesn't want to show off her body. She doesn't want to be sexualized and I feel for her. It's difficult being a woman in the spotlight, but she's staying true to herself by making her fashion statements. Billie might not be considered 'ladylike' by some, but she is definitely a badass.
The next time someone says "That's not very ladylike," I'm going to reply, "THANK YOU!" We need to get rid of the outdated term altogether because truly, it doesn't hold any meaning anymore. When I think of what being "ladylike" entails, I imagine a timid 1930's housewife, prim and proper, someone who doesn't make any mistakes, a perfect being. But you know what? This life is full of mistakes. You're going to make them. I want to be messy, I want to be boyish, I want to not give a f*ck. As long as I'm doing me, I'm happy. Screw traditional gender norms. Women do not have to be skinny. Women are not just something to look at. Women do not owe you shit.
So do what you want. Say fuck it.