Treat Yo' Self: A Self Care Gift Guide Tailored to Black Women
2020 was nothing short of a existential nightmare, sis. You deserve a little extra care to recover. I got you!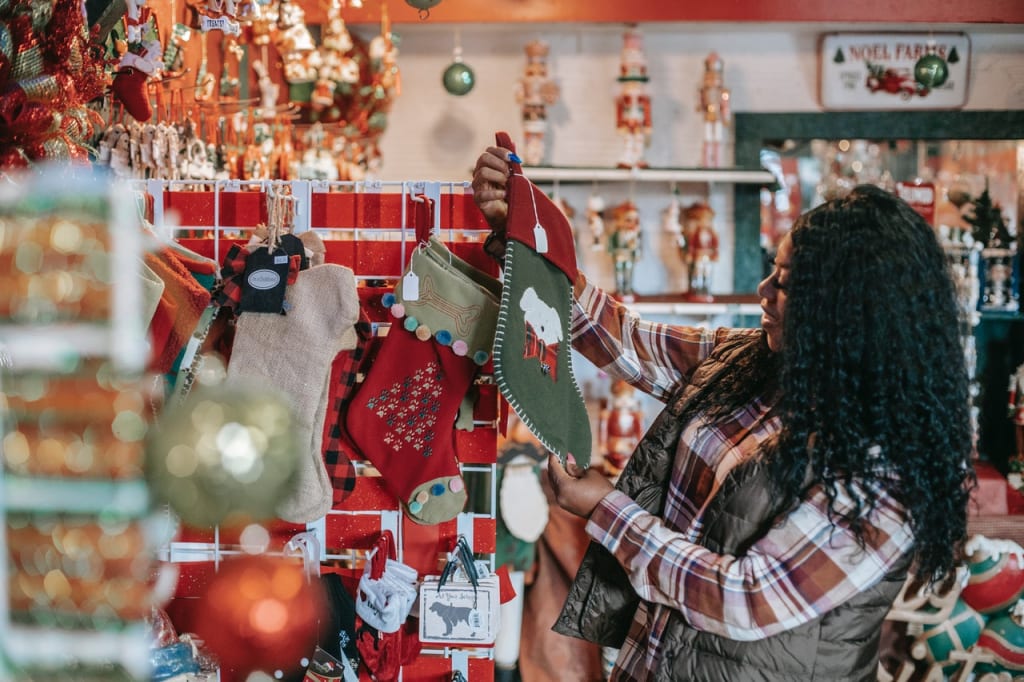 Any Lane | Pexels.com
You were there, you know what 2020 was like. Not pretty. Black women and femmes were out there on the front lines doing what needed to be done. At the same time, we were receiving a lot of the heat. But we deserve a better tomorrow and we also deserve nice things!
So, I'm a bit of a Google expert but I also am a lover of treating myself. Here's some gift suggestions from small and Black-owned businesses bound to give you or the Black women in your life the extra joy they deserve.
Hair & Beauty:
1) Hairglo
Price: £-£££
Shipping: U.K. only
Buy Now, Pay Later: No
We all know about how establishments selling Black hair care products treat us. We as Black women all have at least one story to tell. Here's a pandemic-friendly solution; a Black owned online hair care store based in the U.K..
They have a wide range of hair care products, wigs and accessories. Everything you need you will most likely find it and at a good price. I have personally bought from them and their shipping was speedy and customer service was on point. They even posted a video on their Twitter showing how they sterilise every order before it's sent off. That was definitely an additional clincher for me!
2) Silqmist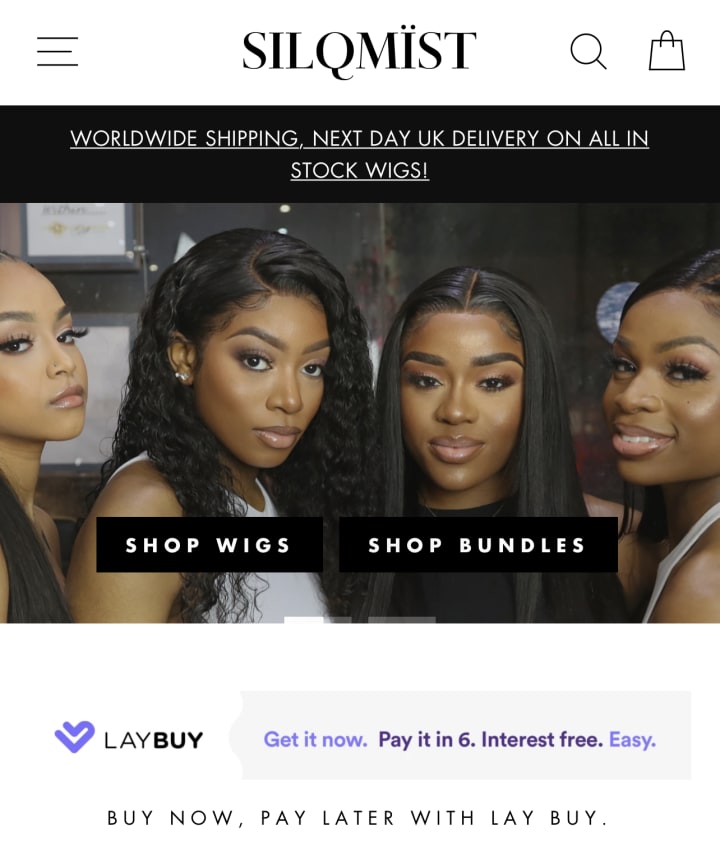 Price: ££-£££
Shipping: Worldwide
Buy Now, Pay Later: Yes, LayBuy
It's winter and it's all about protective styling and looking 'goodt' whilst doing it. Some of us protective style with wigs and Silqmist is a great place to start. They are fabulously Black owned and abundant with a wide variety of luxurious human hair wigs. Times are a little bit hard for a lot of us, Silqmist have made their wigs very affordable and have the option of paying in instalments with LayBuy. I also had some pre-sale questions and I contacted them on Instagram. They were very patient, helpful and personable. Great customer service all round. I got my wig customised and they kept me informed every step of the way and even sent me a video of the process! I would highly recommend Silqmist, you'll definitely be in good hands. The wigs come beautifully packaged as well.
3) Labello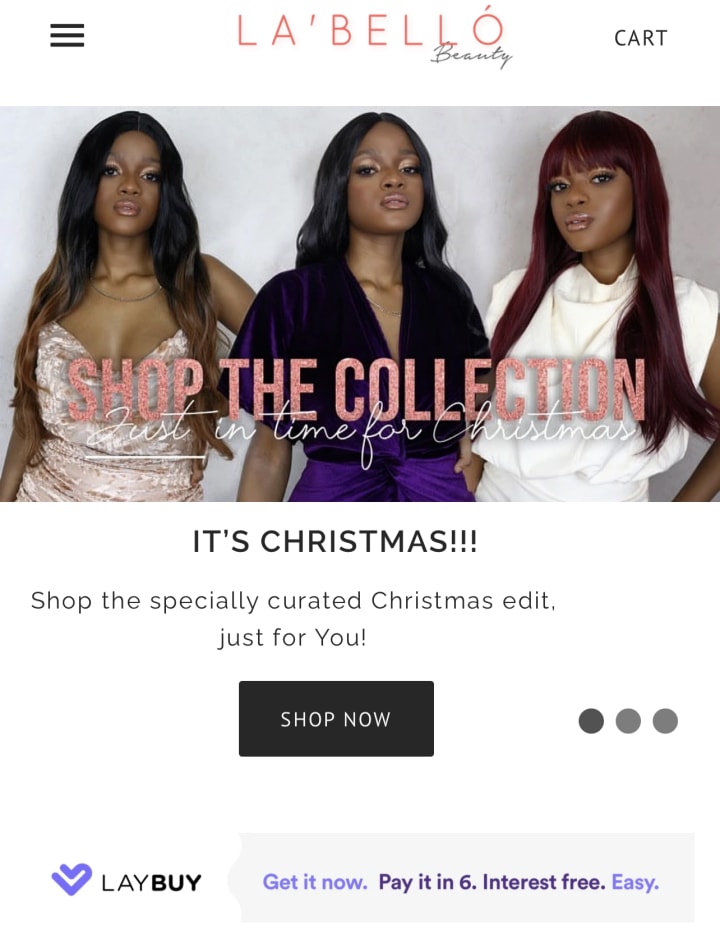 Price: £-£££
Shipping: Worldwide
Buy Now, Pay Later: Yes, LayBuy.
Sister company of Silqmist, Labello has a similar approach but is mainly synthetic wigs. They also have lashes and nails at brilliant prices. This is perfect if you want to create a bundle of goodies! Labello has the same great service and LayBuy is also available. I have also personally bought their synthetic wigs and they're the best quality that I've come across at the price point. I'm so glad I found them!
Artmakers: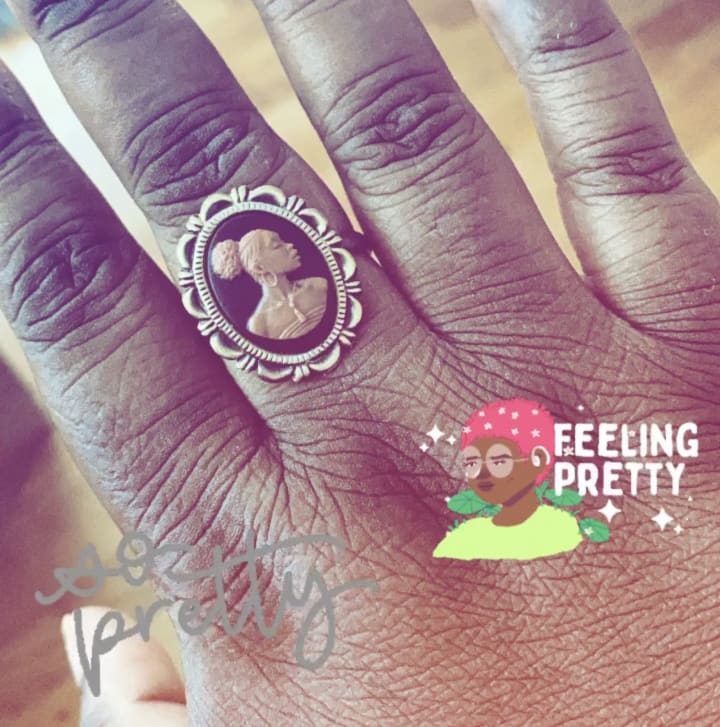 Price: £-££
Shipping: Worldwide
Buy Now, Pay Later: No.
This is an amazing independent jewellery and accessory maker from France. I found them on Etsy and instantly fell in love! If you love unique quality pieces with a personal touch, then this is for you. They ship worldwide and everything they do, and I mean everything they do is made with attention to detail and great care. This is why I love small businesses!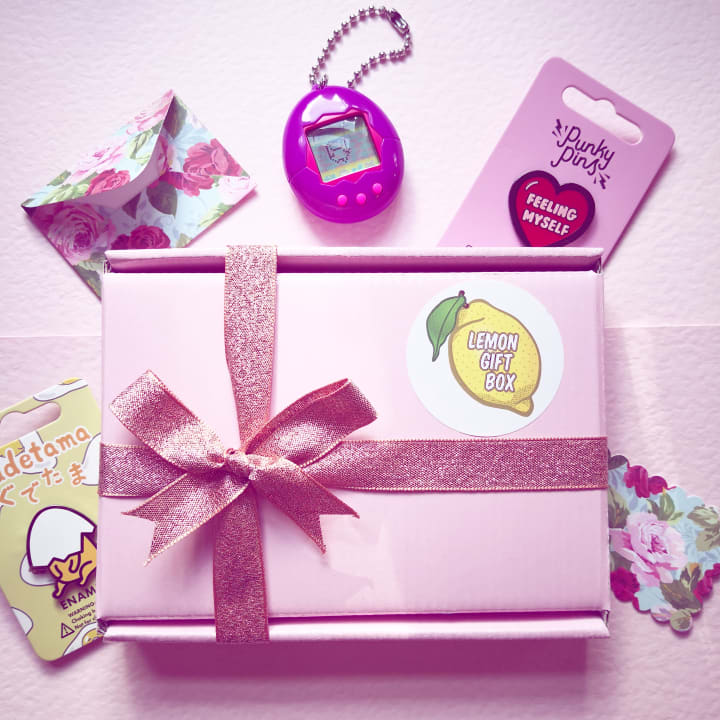 Price: £-pay what you want
Shipping: U.K. (for now)
Buy Now, Pay Later: No
Gift wrap/packaging: Yes
Admittedly, this is a bit of a self plug, but why not? I wanted to start up a gift shop where I would have cute, quirky gifts that I could wrap up all nice for people. What can I say, it makes me happy! I also wanted there to be a motivational message behind my gift boxes, too. I went ahead and made it come true all on my own and I received such great feedback and was so over the moon!
Due to the pandemic, I had to put my shop on hold to focus on caring for family... but we move! I've now revived my shop on Ko-fi which is one of the best platforms out there for helping artists, small businesses and content creators make a living doing what they love.
I have enamel pins, stickers and whole load of stationery from independent makers that come in my very popular gift packaging. Kawaii lovers would really love this as a treat!
3) thepairabirds - Art by Tabitha Brown
Price: £-££
Shipping: Worldwide
Buy Now, Pay Later: No
I found these amazing prints by a Black artist on Etsy and I had to recommend. There's nothing better than art in your home that feels like you can really relate to it and it encourages good vibes. I'm definitely going to order some prints and you should, too!
Music:
1) Lowkey Vinyl: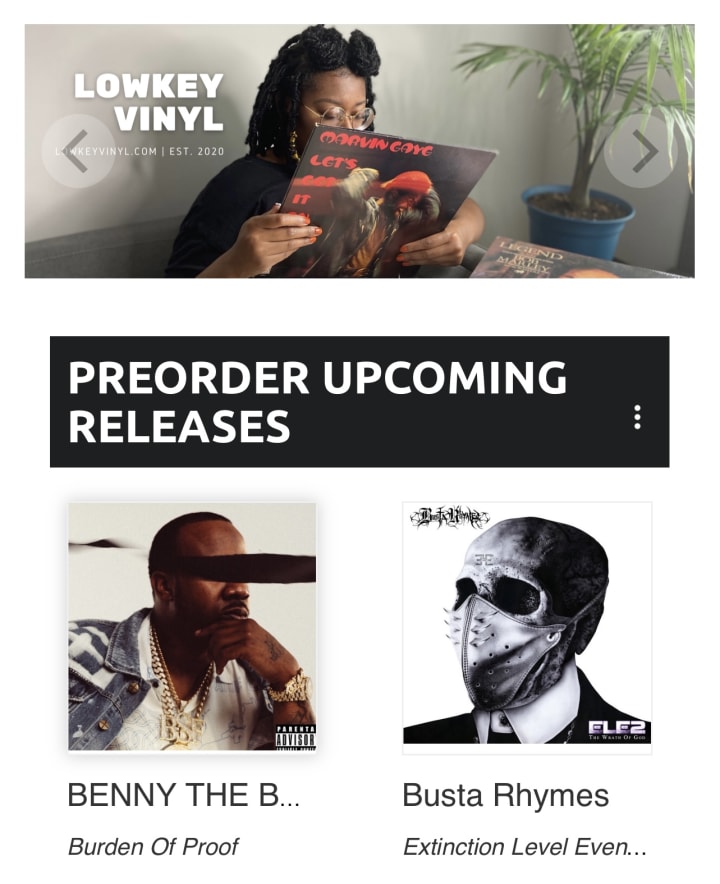 Price: ££
Shipping: US only
Buy Now, Pay Later: No
For hardcore music lovers (like myself), a super cool and meaningful gift could include vinyls! I came across a thread on twitter where a person wanted to list Black owned record stores and I immediately was intrigued! Loads more suggestions are glittered across the thread and is definitely worth checking out!
Food: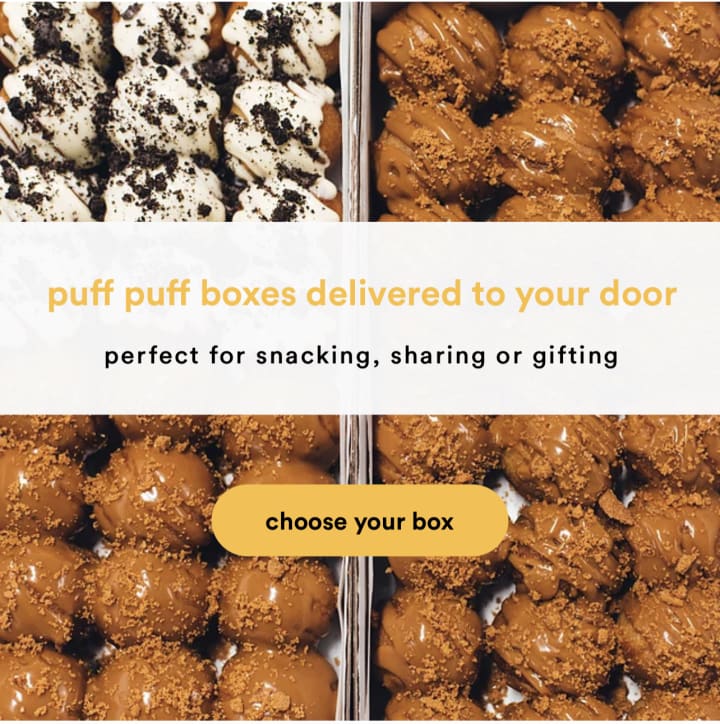 Price: ££
Shipping: U.K.
Hygiene rating: N/A
This is a very popular fried food in Nigeria. It's such an awesome discovery that many cultures within the Black community have their own version of a Puff-Puff—which is a fried dough ball. There's nothing better than gifting yourself with indulgent food!
Social media advertising got me and showed me a company that delivers Puff-Puff to your door! I couldn't believe it! They also come with different toppings and I found myself drooling whilst looking through their website. For those who have food allergies, they confirmed to me that they are working on gluten free options. Praise be to the food gods!
2) Sponge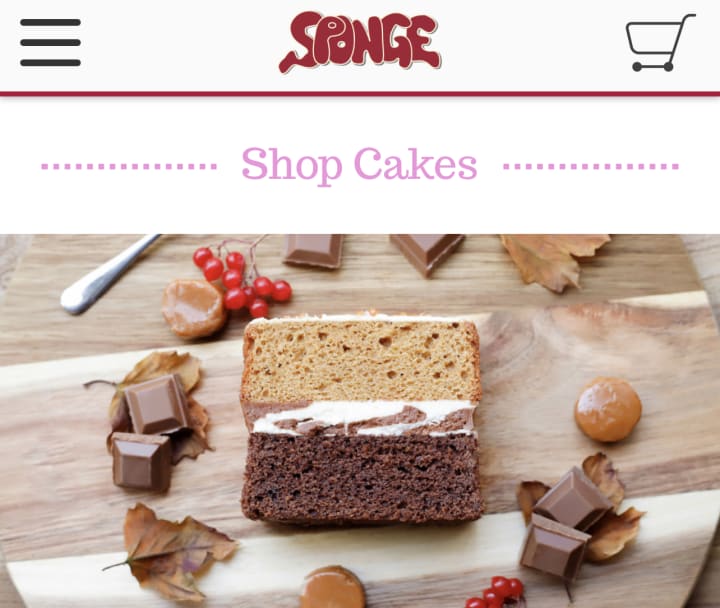 Price: £-££
Shipping: U.K.
Hygiene rating: N/A
This is a company I have been using for years and have converted a good few people to. Sponge is an online company who makes delicious cakes and delivers them straight to your door. They also cater to special diets by offering gluten and dairy free options. I have ordered the gluten free cake and can confidently say it's the best gluten free cake I've ever had—EASY. I highly recommend Sponge and you can't really go wrong with cake! They also have little add-ons that can come with your order like greetings cards, cake toppers, balloons and more.
3) Belle-Full

Price: £-££
Shipping: U.K.
Hygiene rating: 5 (excellent)
Now, sis. I don't know about you but 2020 had me exhausted. Caring for a young child 24/7 during lockdown made me the most exhausted I had ever been in my life. I didn't always have the strength to cook for myself. I wish I had known about Belle-Full earlier!
Other sites I had seen would only do dish sizes in bulk and I don't have that much freezer space. Belle-Full is an online service that delivers homecooked, small to large sized Nigerian dishes wherever you are in the U.K.! For someone like me who lives in a not-so-diverse area where Afro-Caribbean cuisine isn't accessible, services like this with national delivery are truly a life line. Put your feet up, you're working hard enough! Belle-Full's got you!
Fashion: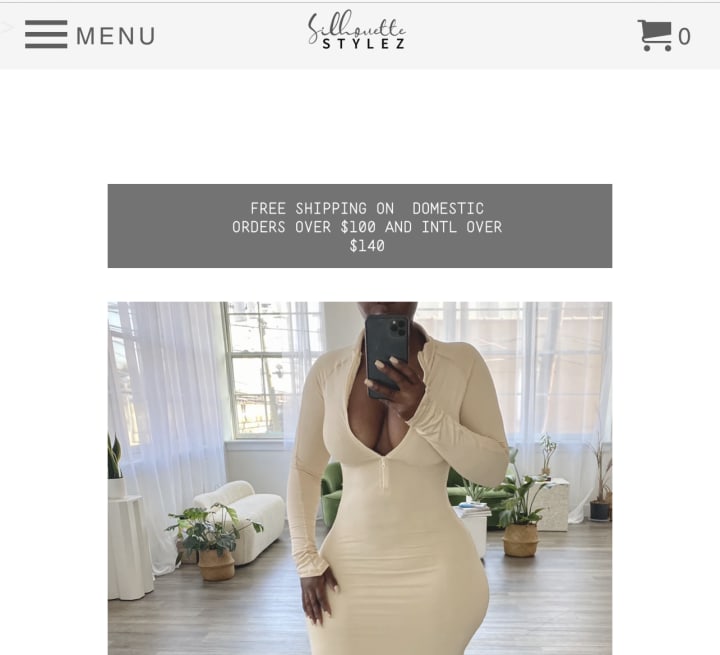 Price:£-££
Shipping: Worldwide
Sizes: XS-XL
I came across this awesome shop on Twitter. They're a Black woman owned fashion store that do stylish pieces of clothing and typically favour a curvier figure. So this immediately caught my attention. The model did, as well! Many head-turning styles are available on their website along with reasonable pricing making it tempting to order from Silhouette Stylez!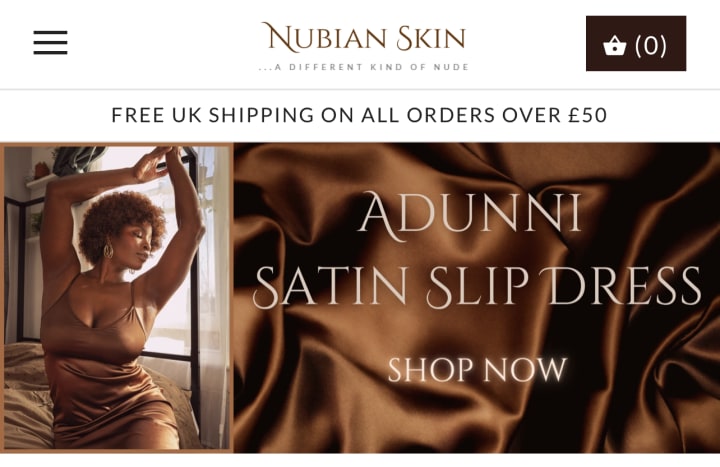 Price: £-££
Shipping: Worldwide
Sizes: XS-XXL
This is one of the Black owned companies that I'm super grateful for--the ones that change the narrative and make you feel seen. As a darker skinned Black woman, I never saw my shade of 'nude' in clothing stores so I would always have to go for Black hosiery and underwear. Nubian Skin came along and changed all of that.
They have made such a difference to the industry with the representation we all so desperately needed. You can also see the great attention to detail and quality material they use in their products. It's good when a brand makes their target audience feel important and that's why you should treat yourself (or someone else) to their shop!
3) Lexica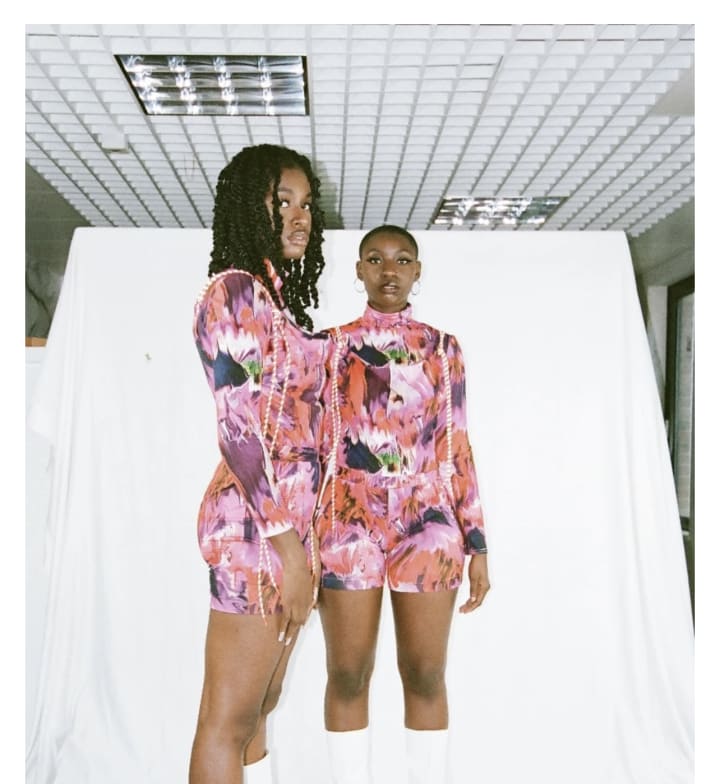 Price: ££
Shipping: Worldwide
Sizes: XS-XL
Here's a brand new Black woman owned online store that I love! These stunning statement pieces are made to order with only the best fabrics. This brand in particular caught my eye immediately as it had unique styles and patterns I hadn't seen before and I'm greatly drawn to things that are out of the ordinary! I predict big things for The Lexica. Your wardrobe will definitely be blessed with their pieces in it. We love to see it!
--
And that's it! I threw in as many varied suggestions to get you the best possible hook up. I hope you enjoy these gift ideas and if you did, feel free to let me know by treating me to a tip. I wish you the best 2021 possible and I welcome you back for more. 'Till then!

Priscilla
English Language & Literature graduate. I'm U.K. based and have A LOT to say. I'm very honest and don't hold back. Take a step into my world.
I have a plethora of projects:
https://linktr.ee/Iampris
See all posts by Priscilla →