THERE IS A GLOVE THAT IS MEANT FOR ALL OF US… DO YOU KNOW YOURS? #BODYTYPE
#BODYTYPE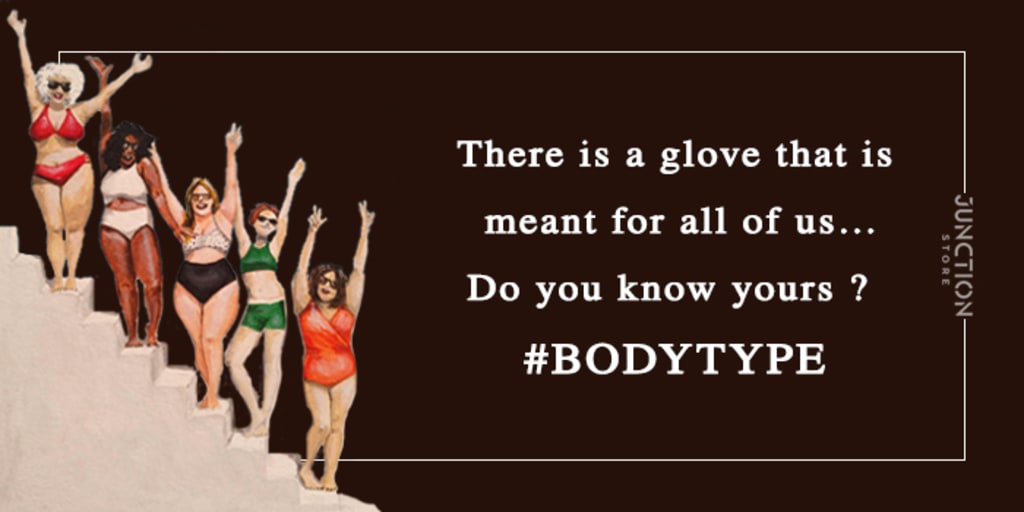 How many of you all were glued to that showroom window when you saw that dress the mannequin was wearing? But all your dreams came down crashing as you tried it on and realized that it looked awful! But why? Because it didn't suit your body type.
The JUNCTION STORE Stylist has categorised the body types into 5 (five) major types. Hopefully, understanding your body type will help you fault your body with the right type of clothes:-
I. HOURGLASS BODY
Haven't we all heard boys hoot out loud and scream "OMG, she has an hourglass figure!" Well, that is what it is! A body is like an HOURGLASS … which means a well-defined burst and waist and a rounded bottom.
II. APPLE BODY TYPE
Thinking about the red apple and whether you look like that when you stand in front of the mirror? That is exactly what this body type means. When your body shape resembles that of an APPLE! Average to big burst, fullness around the middle, and flattish bottom! (guys..stop comparing the description to that of an apple!)
III. PEAR SHAPED BODY TYPE
A Fruit again! Yes, it indeed is a fruit again! This body type includes full hips, well-defined waist shoulders narrower than hips, and a small bust.
IV. INVERTED TRIANGLE BODY TYPE
A Geometrical Figure to compare your body type. YES! There is no other way to relate it to it better than an inverted triangle. Flat hips coupled with straight or square shoulders and little definition between waist and hips. Making the figure in your mind and wondering if that is even nearly close or an inverted triangle?
V. RECTANGLE BODY TYPE
To compensate for inverting a triangle let us take a simple rectangle. Straight shoulder line and hips, the very little definition of waist and average tummy!
Now that you've learnt about your #BODYTYPE here is your favourite part! Learn about how to match your body type with your clothing to achieve that perfect my favourite kinds look:-
HOW TO DRESS UP FOR AN HOURGLASS BODY TYPE:-
"Well Balanced" is the right word to define this type of body type. Since your body type is so well defined you should aim to achieve the same through your clothing. Make the most of it young ladies, because not everybody has it!
While everything would suit this kind of body type, one can definitely avoid frills to block that extra bulk where it is not needed. And body-hugging dresses are definitely your thing! Flaut that well-defined waist of yours by adding a belt with a dress to get that extra bit of focus to your super amazing waist.
HOW TO DRESS UP FOR AN APPLE BODY TYPE:-
Haven't we all hear "highlight your strengths and hide your weaknesses"? Well…here is the time to put it to use! So fault your super shiny legs and pep yourself up to wear v neck dresses or tops, that help to create an illusion of an elongated torso. But if you are not a dress person team-up that v neck top of yours with some super funky palazzos and you are ready to roll!
HOW TO DRESS UP FOR A PEAR SHAPED BODY TYPE:-
All you girls that fit into this category say a big THANKS to Kim Kardashian that is body type is a range now! Your biggest plus point falling under this category is that if you style your clothes correctly it turns out to be an hourglass figure. So work on enhancing your lower body! Go in for skinny jeans with loose tops and create that much-desired hourglass illusion or wide-legged pants or A-line skirts can also do wonders!
HOW TO DRESS UP FOR AN INVERTED TRIANGLE BODY TYPE:-
Create Balance! Two most important words for this body type. Just add definition to your hips and create a balanced look. Straight-cut jeans and dresses will suit your body type. Avoid adding definition to your upper body. Just remember that your upper body part should remain minimalistic while on the lower you can try patterns and layers.
HOW TO DRESS UP FOR RECTANGLE BODY TYPE:-
Your hands and legs are your assets..so work on enhancing those. Sleeveless, strapless are your thing. You also play around with jackets, blazers, and caps.
Junction Store is an Online multi designer store where you can find all your clothing, styling and support needs. Calling all fashionistas and fashion designers who are looking for an online platform to show-caste your designer dresses, bags, shoes, jewelry, accessories, decor, and more.!
If you are finding it difficult to find colour that suits you don't worry. We help you to choose the right shades.
READ HERE:- SO…..WHAT'S YOUR COLOUR?