The Worth of a (Wo)Man
Save up your alterations and take them all to Bangkok.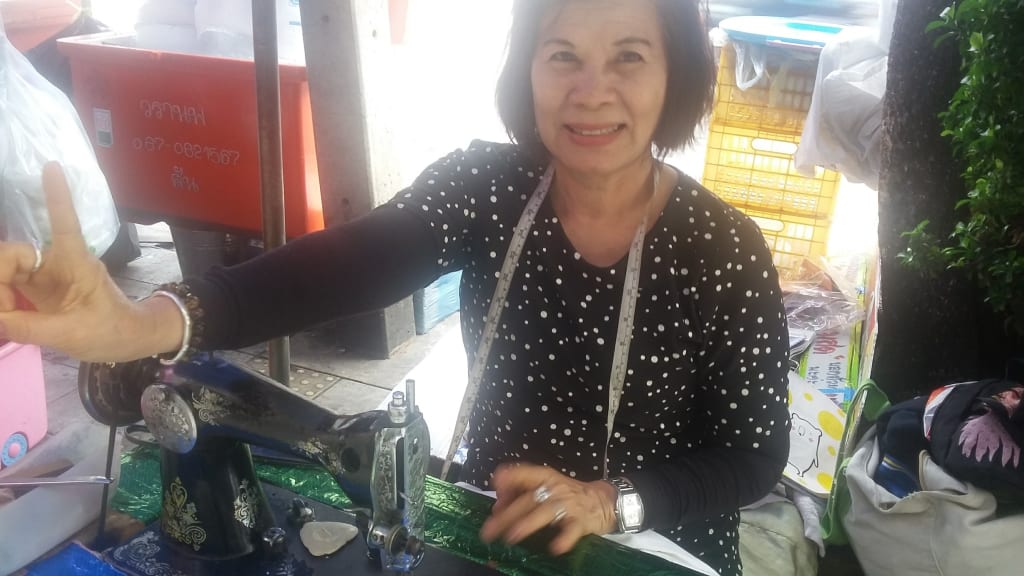 Yes, she legit works on an old school manual Singer.
There is a seamstress in my neighbourhood; a lovely lady with zero English, to whom I have entrusted two projects this year in Bangkok.
The first was shortening a pair of cheap, synthetic pants that I bought online from China that turned out to be too long when they arrived in the mail in Canada a few months ago. I knew that they would be good for Bangkok (full length, but with high slits in the sides to keep you cool) and so when I saw they were too long, I tucked them aside (but literally—they went straight into the suitcase I was taking) and gave them to my seamstress lady to have a go at when I first arrived. If it didn't work out, well, I hadn't spent much on them, and there was no emotional attachment either.But, as it happened, she did a great job, so today I gave her the other project that I had been saving up. This was another hem job (what can I say, I'm short), but these were not cheap, nor was there no emotional attachment. These were my hands down favourite Tripp bondage pants that make my butt look great, accented with D rings and zippers and straps; my Good Ol' Levi 501's, were I someone to wear jeans (which I'm not). If these were such a favourite pair, I can hear you ask, why had I never had them shortened before? I'll tell you. Because whenever I took them to a seamstress in Toronto and explained what I needed done, she would either straight up refuse, or else quote me an exorbitant rate of $40 or some such. I don't sew, but I would imagine she would see the zipper that went all the way down to where I wanted the hem, realised that she would not be able to use her machine to do it all the way around, and promptly quoted me for doing the job by hand. Fair, I suppose, but still, $40 for a hem? Not in my budget.Which brings me back to my friend on Ratchaprarop Soi 14.She already knew that I had what, by Bangkok standards, is, frankly, a bizarre sense of style, because she would see me coming and going every day. She was already an admirer of my platform boots, and she didn't bat an eye when I finally, trembling, brought my babies in to see her today. I had already done some homework and screenshotted the Google Translate English to Thai for "Too long" and "Can you shorten?" and "Like this." (with accompanying safety pinned hems to show what I wanted). She nodded without hesitation, even when I pointed out the potentially problematic zippers, only asking when I needed them done by!Being accustomed to Western dressmakers, I hemmed and hawed, said "Mai wan ni (not today)...phrùngnī? (tomorrow)...arai gadai (whenever)." She laughed out loud at arai gadai, which is very idiomatic, and promptly said they would be ready at five o'clock this afternoon. I couldn't quite believe it (we were having this conversation at two), but she insisted that was what she meant.And so I went back shortly after five and there were my babies, folded carefully in a transparent bag with a piece of paper showing the price on it, which we had discussed before, but I thought might go up after she struggled with it. It said 40 Baht.Forty Baht translates to $1.60 Canadian.I gave her a 100 Baht note, then refused the change when she tried several times to give it to me. I didn't have the language skills to tell her that what she had just done for me SAME DAY SERVICE for 40 Baht would have cost me close to 1,000 Baht in Canada (and I would have had to wait a few days).What made me a little sad, and got me to thinking, was the absolutely humble way in which she wai'ed me deeply to say thank you. It made me feel like the Lady Bountiful, splashing out cash to the common folk, when really what I was trying to do was thank her for her excellent work and help her realise what she was worth.I need to find someone who is fully bilingual (or become so myself!) to explain it to her.Also, I'm totally saving up any repairs and alterations that come up while I am back in Toronto over the next few months and am giving her the business next year upon my return.
About the Creator
I'm a former ballet dancer, actor and cheesemaker, now dividing my time between Toronto and Bangkok.
Reader insights
Be the first to share your insights about this piece.
Add your insights