Image via LitHub
What is the Women's Prize for Fiction?
Starting in 1996, the Women's Prize for Fiction is the UK's most prestigious annual book award honoring female fiction authors. This award was previously called the "Orange Prize for Fiction," the "Orange Broadband Prize for Fiction," the "Baileys Women's Prize for Fiction," and finally became the "Women's Prize for Fiction" in 2018.
This prize was established in response to the all-male shortlist for the Booker Prize in 1991, to recognize and lift up women who were often overlooked.
However, this did not come without criticism. The Women's Prize for Fiction has gotten a lot of backlash with writers such as Tim Lott saying it is "a sexist con trick." Regardless of the controversies, this prize has helped to uplift female writers and their careers, with all of their winners and nominees getting a larger platform to reach more audiences.
Previous Winners
Each winner of the Women's Prize for Fiction from 1996 had or became a notable and accomplished writer. Some of these past winners include:
Fugitive Pieces by Anne Michaels (1997)
Bel Canto by Ann Patchett (2002)
On Beauty by Zadie Smith (2006)
The Song of Achilles by Madeline Miller (2012)
An American Marriage by Tayari Jones (2019)
Piranesi by Susanna Clarke (2021)
See the full list of past winners here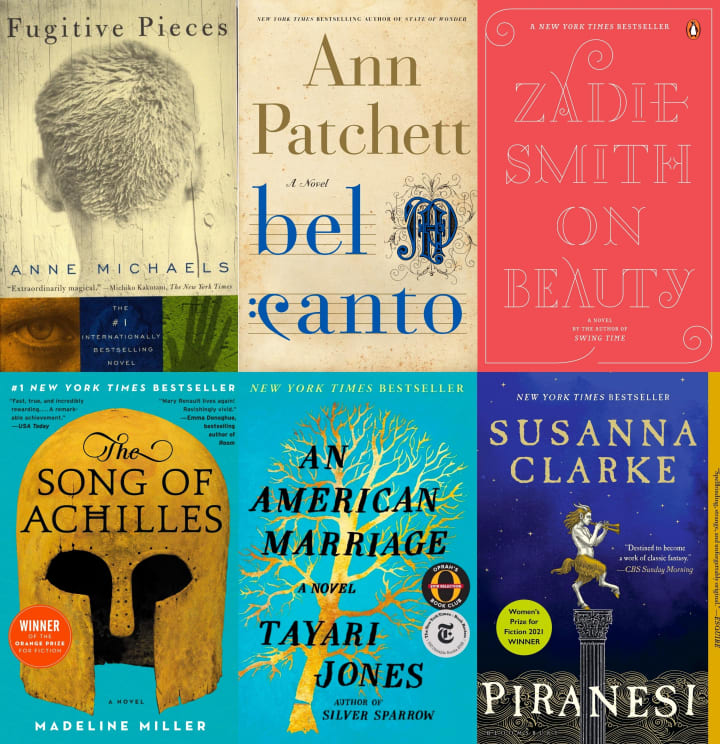 There are also many memorable nominees such as Margaret Atwood (on three separate occasions, for Alias Grace, The Blind Assassin, and Oryx and Crake), Rachel Cusk was nominated for Arlington Park and Outline, Maria Semple for Where'd You Go Bernadette?, Britt Bennett for The Vanishing Half, and many many more.
This brings us to the awards for 2022.
The Longlist
On March 8th, the longlist of nominees was announced.
They are as follows:
Build Your House Around My Body by Violet Kupersmith
Careless by Kirsty Capes
Creatures of Passage by Morowa Yejidé
Flamingo by Rachel Elliott
The Great Circle by Maggie Shipstead
Remote Sympathy by Catherine Chidgey
Salt Lick by Lulu Allison
Sorrow and Bliss by Meg Mason
The Book of Form & Emptiness by Ruth Ozeki
The Bread the Devil Knead by Lisa Allen-Agostini
The Exhibitionist by Charlotte Mendelson
The Final Revival of Opal & Nev by Dawnie Walton
The Island of Missing Trees by Elif Shafak
The Paper Palace by Miranda Cowley Heller
The Sentence by Louise Eldrich
This One Sky Day by Leone Ross
This list will be cut down to a shortlist that will be announced on April 27th, 2022.
The winner is announced on June 15th, 2022.
This year's judges are Mary Ann Sieghart, Pandora Sykes, Anita Sethi, Dorothy Koomson, and Lorraine Candy.
Women's History Month
It has been a consistent drawback for people (men and women alike) to discredit feminist perspectives as if gendered biases do not exist. Even though this conflict has always existed, as women get closer to equality, it has become more likely for people to turn a blind eye to female issues, and even the long history of oppression women have faced.
As stated above, Tim Lott mentioned this award is a "sexist con." This may come from a place of overlooking the gender gap in all workplaces, but specifically in the world of literature. It is clear that this prize for women began as a result of the inequality between men and women in fiction writing; not at all to push a sexist agenda. To say that this prize is sexist not only blatantly ignores the gender gap, but also discredits the long history of injustice that female authors have faced: i.e. Mary Shelley's work being published as Percy Shelly's, many female writers were forced to use male pen names such as the Brontë sisters and Louisa May Alcott, and the constant challenge for women taken as seriously as a man.
There is a reason that we celebrate International Women's Day on March 8th and continue to mark the social, economic, cultural, and political achievements of women throughout the month. If you are a reader, pick up a book from your favorite female author, learn about historical figures that never showed up in class, listen to and support the women around you, not just this month, but always.
Reader insights
Be the first to share your insights about this piece.
Add your insights