The Gramma-Pooch
I Am What I Have Done
When I was a child, holidays were predictable.
• Jacks and a miniature red ball in my Christmas stocking. There would also be a 'book' of Life-Savers. 10 rolls for each of us. We only ate 9- no one liked Butter Rum then.
• Creamed onions with the turkey at Thanksgiving.
• Fried chicken and German potato salad (my favorites) on my birthday.
• The pillow case with the small blue roses on it to use for Trick-or-treating.
• A treasure hunt for our Easter baskets. (Hint: always check the stove and the laundry hamper.)
The Easter basket had its own familiarity:
Bright blue Robin's Egg malted milk balls. One hard-boiled egg. I always hoped for the azure blue egg. Strange, oblong, hard as nails, pastel-colored, nougaty, hard marshmallow-y eggs. (We never ate those. Who eats those?!) Fruit jelly beans. (We didn't go with the spice ones ever since I threw up after eating the clove flavored beans.) A wooden paddle with a rubber ball attached via elastic string.
And one brightly-colored punching ball balloon. Un-inflated, and with an industrial rubber band to use after you blew it up.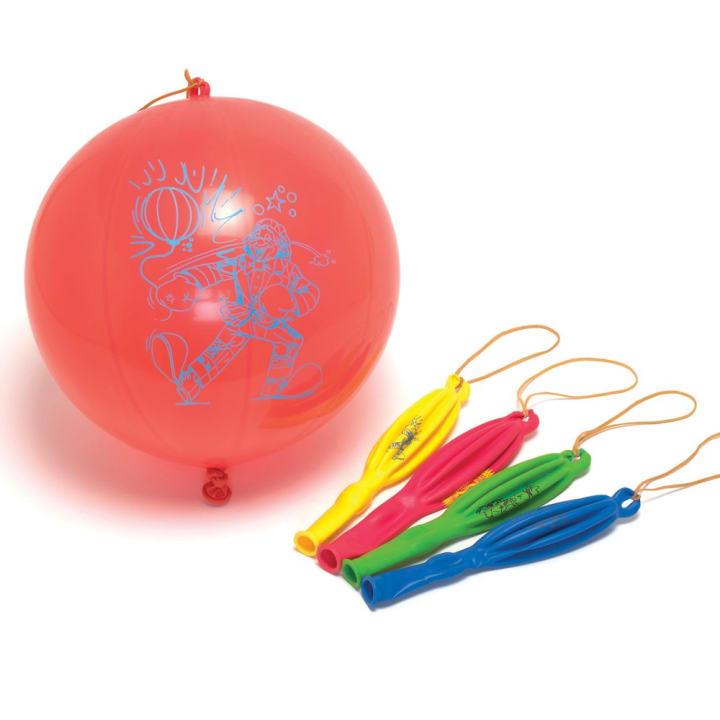 The other day, getting ready for work, I thought I'd stumbled back into Easter morning. For a brief, wild, confusing moment I thought I'd discovered a pink, uninflated punching balloon.
I was wrong.....It was my stomach.
Have you ever lost weight? Your skin, once so feverishly-packed with fat, deflates. The hard drum of your stomach slowly drifts away leaving, depending on how big you were, folds of skin.
I am trying to reconcile myself to the new wavy renter under my chin. The echo of the double chin that once resided there lazes about, gently saluting me as I groggily make my face each morning. I no longer wonder which side is my good side.
I think, perhaps, my good side is the soles of my feet. I like my left ear tip. My right pinky is pretty good.
But, for a momma that was big before pregnancy, that once was asked by a hoagie-selling Rotary member when the baby was due (when the last baby was in kindergarten), for someone that has successfully lost 50+ pounds TWICE (but we won't go into that) and is losing weight now slowly and carefully: the stomach is not likely to be the 'Best Side."
Maybe that's just me. I looked down and thought: Hello! When did this happen? I didn't notice it when it was stretched out and tight.
But now I do.
The Mommy-Pooch has now become the Gramma-Pooch. I'm WAY to old for the brave Fourth Trimester mamas proudly showing off their bodies and babies. I applaud them- but the infant I would hold in the photo is my youngest grandson.
Today I realized that, just as I would hunt and seek my Easter basket, then categorize and prize the contents, I need to do that, too, with my own body.
I am what I have done.
My choices made the body I see. The food I ate, the exercise I shunned. And, yes, the babies I carried (but that's a cop out. Plenty of women have carried 10 pound babies and 'snapped back-ish' afterwards.)
I own my body. Inflated and slack. Weak and creaky, flexed and toned. I started with a perfect package and I've put some miles on it. But this body brings me delight.
I can taste, touch, see, hear, feel, see. My voice can praise, make music, question, instruct. My eyes can twinkle, cry, read. My legs are strong, so strong. (They have carried more than they should for some time.) The knees are creaky, one ankle is whiny- but we get along OK.
My stomach. My core. I need to love it as it is. Wibbly-wobbly and all.
I've decided that I don't need to make myself into the punching ball anymore. No punishments. I know how I got here, and I know where I am going. I'll own the entire journey.
-----------------------------------------------------------------------------------
If you enjoyed this please click on the heart below so I'll know it clicked with you.
Click here to see the other things I've written, and here to follow me on Twitter.
For a book with beautiful bodies of proud mamas: The Bodies of Mothers by Jade Beall

Judey Kalchik
Writer, retail manager, loving & quirky wife, lying athlete, enthusiastic reader, skillful cook, doting yaya, wedding officiant, too truthful mom.
I am not funny but at times I can be situationally humorous. (No promises, though.)
See all posts by Judey Kalchik →