Hidden Figures
The Black Cowgurls
BLACK COWBOYS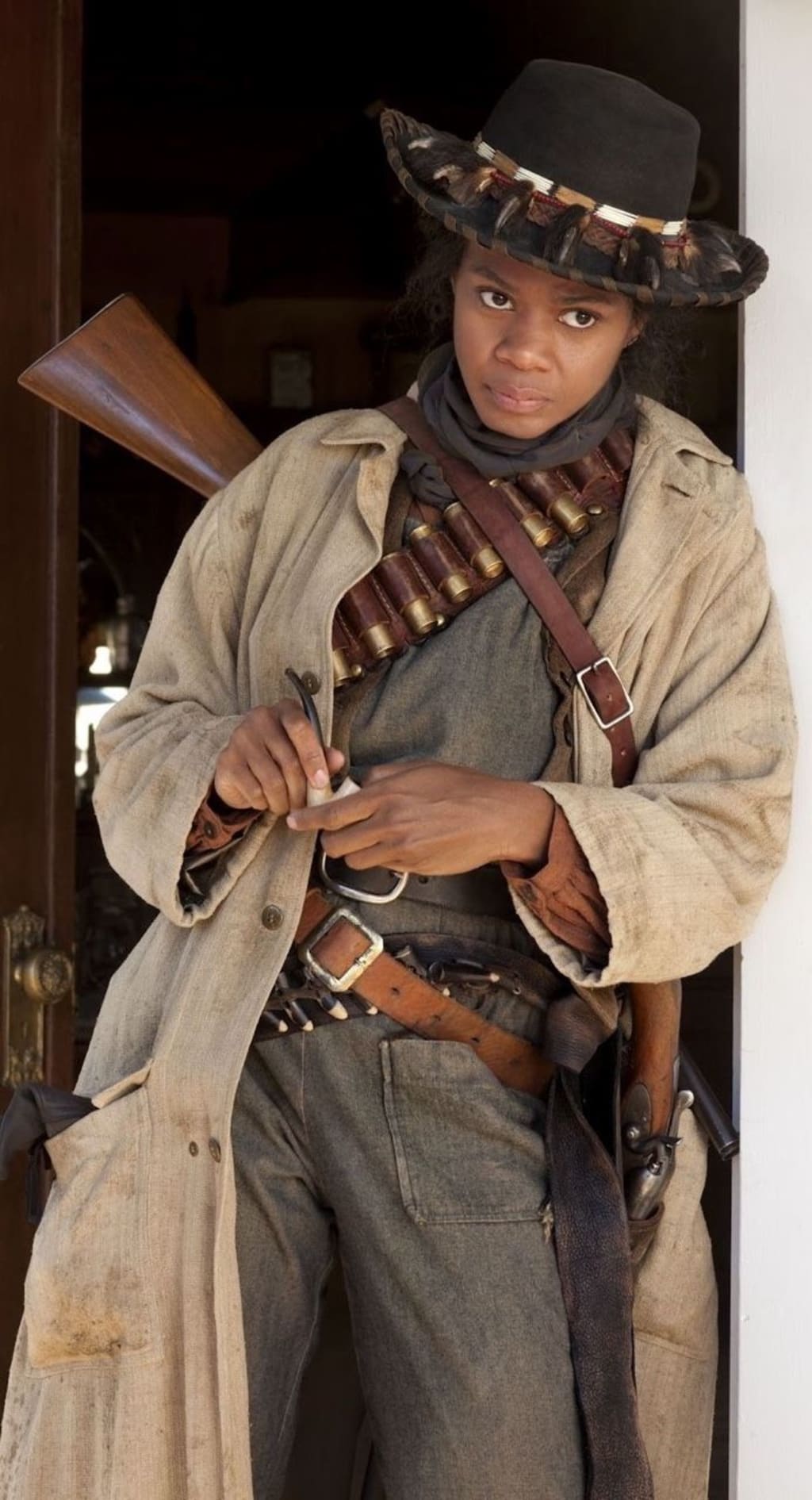 KIMBERLY ELISE BLACK COWGURL
Rarely can one conjure up a realistic image of a Black Cowgurl unless it's from a movie such as Gang of Roses [2003] starring; Monica Calhoun, Lil' Kim and Stacy Dash. There's also They Die by Dawn [2013] with Erika Badu based on real life characters in Langston Oklahoma an All Black Town.
The plot revolves around Four Gun-Slingers who meet up in Langston to play a risky game; the Winner gets $80,000 and the Loser gets to Die.
In the early West of the 1800s there was definitely a hierarchy of careers available to Women; 1) Wives 2) Saloon Women 3) Prostitutes.
Wives had babies, kept a household and were expected to be subservient.
The next two categories were looked down upon even in a brand new Society. Saloon Women were Loose Women who danced with and entertained the men in the saloons; could also be Prostitutes. The Sporting Women were the Prostitutes who usually sold their services in rooms above the saloons or were located in Brothels on the outskirts of town. The Saloon Women and Prostitutes were called 'Soiled Doves'… very demeaning.
For Black Women the choices were even more limited and many times they were involuntarily included in the second and third category. It would take a Strong Black Women to carve out a Living in the Wild West. One such Black Woman was Mary Fields aka Stage Coach Mary.
Mary Fields [1832-1914] was born a Slave and worked in a Male Dominated Job as a Mail Carrier for the US Mail. She was Six Foot Tall drank hard and fought hard. She could knock out a Cowboy with a single punch. It's documented while delivering the mail she and her horses were attacked by a gang of Wolves, Mary fought them off with her shotgun and revolver and successfully delivered the mail. Don't Mess With Mary.
Cathay Williams [1844-1893] is another Black Woman of the Early West who has been overlooked. During the Civil War she wanted to fight on the front lines but, Black Women were not allowed anywhere near the Battlefield and limited to jobs as Cooks or Laundresses.
Cathay refused to let anything stop her and disguised herself as a Man and called herself William Cathay 'passed' the physical and went on to fight in battle with the 38th Infantry Regiment US Army. Cathay must have been a Hellavu Strong Black Women to pull that off with the help of a male cousin who served with her and kept her Secret. She was hurt and hospitalized five times, but no one ever discovered her secret.
Cathay Williams and Stage Coach Mary's stories would make an Inspiring and Entertaining Movie…why hasn't anyone done it? I have Hope that one of the up and coming Black Movie Moguls will take on this Challenge and bring their stories to the World.
I was surprised to Learn that Sade is an expert Rider and Black Cowgurl after watching her 1985 music video "It's Never As Good As The First Time." She has command, Sits the Horse beautifully, you can see She Loves the Horse and the Horse Adores Her. Her long black hair flows behind her in the wind as she gallops away on the black horse... breathtaking!
Actress Pam Grier Queen of the Blaxploitation Movies of the 1970s currently runs a working Horse Ranch in Franktown Colorado. She's a sho' nuff' Black Cowgurl now and even drives a John Deere Tractor while rescuing and rehabilitating horses for a therapeutic riding program.
Can you picture Foxy Brown on a Horse? "I'm Rural now and I Love it," Pam proclaims.
Black Folks have Emerged and are taking our Rightful Place in Horseman History Y'all!
Stanford E. Moore