The 19th Century Swedish Novel Missing from the Feminist Literary Canon
And How Its Legacy Supports Women Today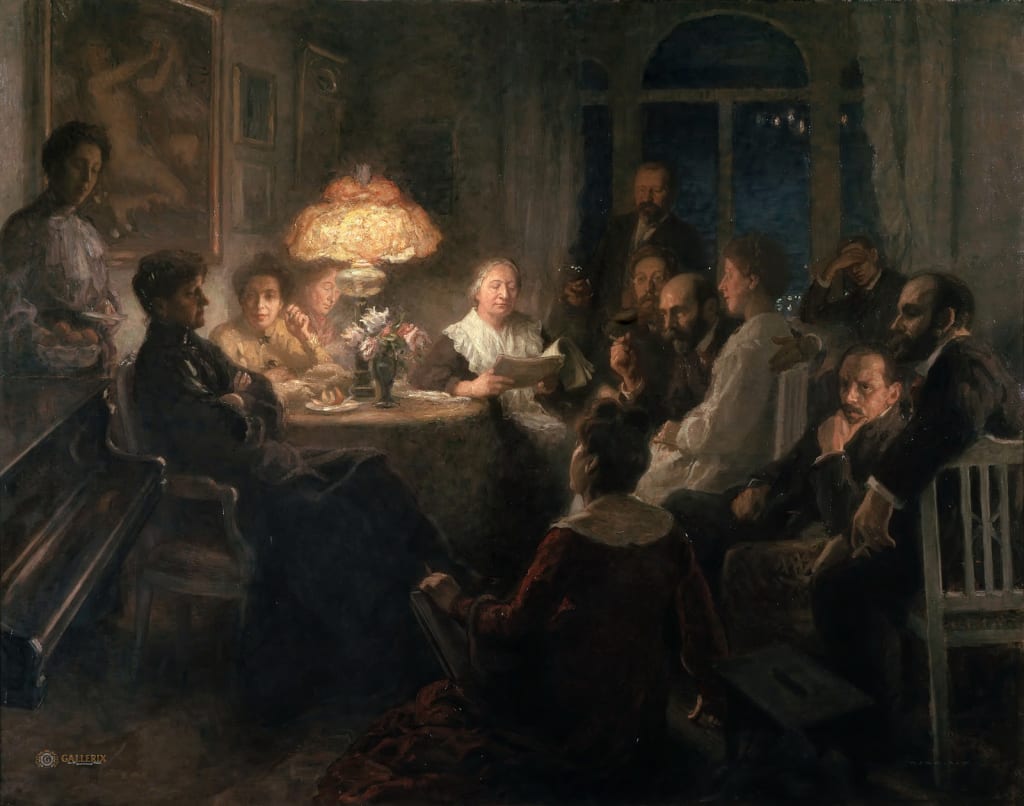 "Friends" by Swedish artist Hanna (Hirsch) Pauli, c. 1900–07. National Museum (Stockholm), NM 1723 (Wikimedia Commons). 
In surveys of the most important novels by 19th century women writers, the focus is usually on the works of Anglo and French authors like the Brontë sisters, Louisa May Alcott and George Sand. Yet for all their significance and value, few of these contributed to furthering both social and legal change as much as the frequently overlooked novel of one of Sweden's most important women writers.
What Harriet Beecher Stowe's 1852 novel Uncle Tom's Cabin did for the abolition movement in the United States, Fredrika Bremer's 1856 novel Hertha did for the women's movement in Sweden. Bremer's boldly feminist novel graphically illustrated women's oppression under Sweden's antediluvian laws, and prompted a heated public debate that contributed to emerging social and legal changes for women. It also inspired an arm of the Swedish women's movement that continues to advocate for women today.
Known today for its feminist government and progressive gender equality initiatives, Sweden in the early 19th century was "one of Europe's most distinctly patriarchal societies" (Qvist 284). The country's civil code, which had barely changed since 1734, dictated that unmarried women of all ages were minorities and must be under male guardianship.
In Hertha, Bremer succinctly summarized the situation of an unmarried woman:
"…she possessed no right at all over her own property, over herself or her future, otherwise than in as far as her father would consider it. She was a 'minor' in the eye of the law, and was bound to guide herself entirely according to the will of her guardian." (298)
Marriage offered women little better.
Bremer herself bucked this system the only way a woman of her time could: by successfully petitioning the king for her emancipation.
Although she gained her independence, age 39, in December 1840, few of her contemporaries had the same social and financial privileges that had enabled her to make her appeal in the first place. Born into a wealthy family in 1801, Bremer had received a better education than most women of the time. She had also achieved an international reputation as a respected novelist by the time of her appeal.
These advantages not only helped secure her freedom, they also put her in a position to participate in the intellectual debate surrounding "the woman question" that had been taking place amongst the educated middle and upper classes of Europe for centuries. Though Swedes had been engaging in this debate, the social and legal changes that were gradually being afforded to women elsewhere as a result of it were especially slow in reaching Sweden.
As Bremer herself said, "The thread of life, the small and the great, figuratively and litterally [sic], is more slowly spun among women, in Sweden, than in any other part of the world" (Bremer, England in 1851 41-42).
Bremer had addressed social and women's issues in her writing prior to Hertha, but her travels in the United States between 1849 and 1851 centralized her focus on "how she might be able to secure liberty and an unrestricted sphere of activity for Swedish women" (Bremer, Life, Letters… 85). While in the U.S., she immersed herself in the best and the worst of the New World, and closely investigated the barbarity of slavery and the position of women. She met with the country's greatest writers and thinkers of both sexes, expanding her already substantial international connections.
After returning to Sweden, Bremer's increasingly focused and radical ideas culminated in Hertha, a realist novel in which the central protagonist, Hertha Falk, is a young, unmarried middle-class Swedish woman with outspoken ideas about women's lack of rights and opportunities.
Hertha is an adult woman under the guardianship of her miserly and dictatorial father. She appeals to him for her financial and personal freedom, but he adamantly denies her repeated requests. Unlike Bremer, Hertha refuses to seek emancipation through the courts – a tactic that allowed Bremer to fully develop the theme of women's oppression under the law.
Through Hertha's voice, the narrative, notes, and an appendix, Bremer outlined in bold and explicit terms the injustices of women's situation, accurately portrayed the state of the both the intellectual debate and the progress of legal reforms in Sweden, and presented her case for equal rights and education. Early in the novel, Hertha states passionately:
"If our education were not so utterly miserable, and the object of our lives so utterly poverty-stricken and circumscribed; if we were early instructed, instead of seeking for support out of ourselves, to seek for it in our own breasts, in our own powers; if we were able to devote life and life's energies to great and noble purposes; if we were allowed to do the work which we should love to do,—then I am certain that we should become noble and even happy, should be lawgivers to ourselves and even others." (28-29)
Hertha's reasons for refusing to legally seek her emancipation made her a relatable and respectable figure driven by filial devotion and domestic responsibility, as well as a realist aware of how heavily the law was weighted against her achieving her liberty. The narrative describes how:
"Circumstances called upon her to be the support of the house and family, but denied her that which alone could have given her power as such. Neither her freedom nor her property was in her own power, and her whole soul was repugnant to applying to a stranger for counsel, or appealing to the Swedish Court of Justice to compel her own father to give her that freedom which he refused to her. Besides this, she knew the feeling of Courts of justice with regard to the lately agitated question of allowing an unmarried woman to become legally independent at a given age, and this had shaken her faith in their justice." (181)
Age 55 when Hertha was published, Bremer was highly respected both in Sweden and internationally. So much so that the novel was published in English at the same time as the Swedish original. This reputation guaranteed that the novel was noticed and discussed at many levels of society, including the highest. In addition, shortly before the publication of Hertha, a change in the law had been proposed that would allow unmarried women to request legal majority via more accessible local courts at age 25.
The timing of the novel, combined with Bremer's standing, meant that her strong feminist stance was thrust into the public and political debate that ultimately determined the fate of the proposed legislation. The novel prompted a divisive public argument known as the Hertha Debate (herthadebatten) in the Swedish press, and became her most strongly criticized—even condemned—work. As heartily embraced by others, Hertha became tightly woven into the fabric of the legal and social progress slowly being made for Swedish women.
Bremer considered Hertha her greatest work, even though it severely undermined her reputation and literary popularity in Sweden. Rather than feeling defeated by the attacks on the novel, however, she was happy she had followed her own inner voice, and felt proud to be viewed as a spokesperson for women's rights (Burman 458-59). She felt confident that her novel had influenced the ratification in 1858 of the legal majority law, as well as the establishment of Sweden's first public college for women in 1861. Citing both of these milestones, she wrote to a friend in 1861, "My Hertha has done her work…" (ibid 461-62).
In fact, the work of both Fredrika Bremer and Hertha was not complete. It continues even today through the world's oldest feminist magazine, Hertha, and Sweden's oldest women's rights organization, The Fredrika Bremer Association (Fredrika Bremer Förbundet).
Co-founded by Swedish feminists Sophie Adlersparre and Rosalie Olivecrona in 1859, the magazine was originally titled Tidskrift för hemmet (Home Review), and was the first women's magazine in Scandinavia. In 1884, Adlersparre also founded the Fredrika Bremer Association, and the magazine became the organization's publication with a new name, Dagny, in 1886. Finally, in 1914, it was renamed Hertha, in honor of Bremer's novel.
Bremer would undoubtedly be proud of the association and magazine that bear her name and that of her favorite work, both of which strive to further gender equality and women's rights in Sweden. The Fredrika Bremer Association is also part of the International Alliance of Women, an international non-governmental organization with general consultative status at the UN Economic and Social Council that promotes universal women's human rights.
The necessity of these efforts remind us that the words spoken by Hertha in the novel still ring true:
"Women… are not yet all that they might be. Their full day is not yet come." (168)
Hertha was Fredrika Bremer's last major novel. She died on December 31, 1865, leaving behind a significant legacy and body of work that are, sadly, now mostly forgotten outside Scandinavia.
Works cited:
Bremer, Fredrika. England in 1851, or Sketches of a Tour in England. Trans. L.A.H. Boulogne: Merridew, 1853.
Bremer, Fredrika. Hertha. Trans. Mary Howitt. New York: G.P. Putnam & Co., 1856.
Bremer, Fredrika. Life, letters, and posthumous works of Fredrika Bremer. Trans. Frederick Milow and Emily Nonnen. Ed. Charlotte Bremer Quiding. New York: Hurd and Houghton, 1868.
Burman, Carina. Bremer. En biografi. Stockholm: Albert Bonniers Förlag, 2013.
Qvist, Gunnar. "Kvinnan, hemmet och yrkeslivet (1809-1865)." Karl Johanstiden och den borgerliga liberalismen. Vol. 8 of Den svenska historien. Stockholm: Bonniers, 1968. 20 vols. 1966-1968.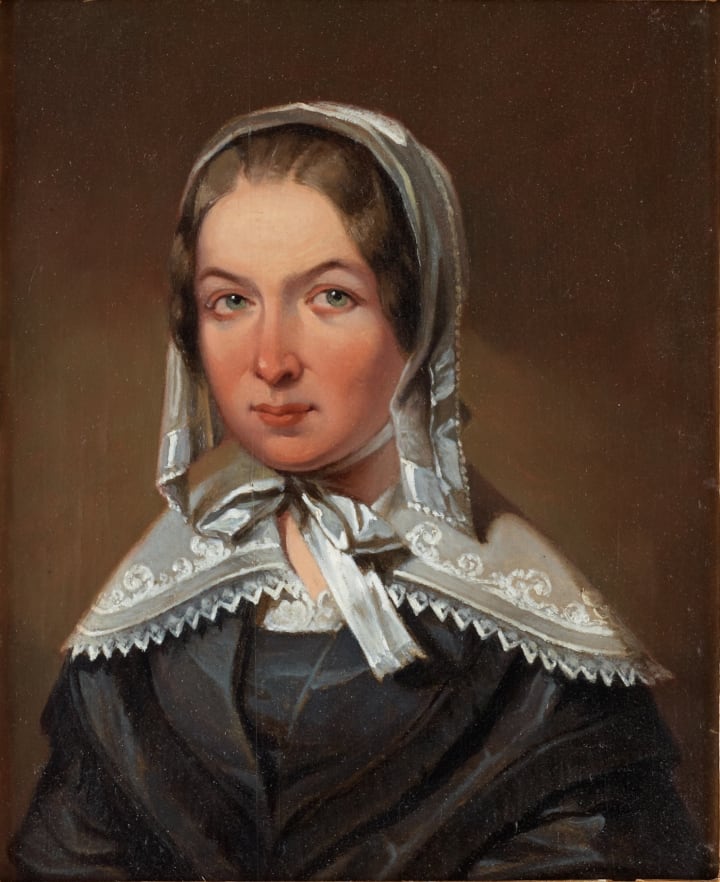 history
About the author
Writer and historical researcher. Visit my portfolio page for more of my work: https://www.victoriamartinezwriter.com/.
Reader insights
Be the first to share your insights about this piece.
Add your insights