Tackling Unsustainable Period Plastic with DAME
DAME is a sustainable period care brand on a quest to make periods sustainable and positive for women and the environment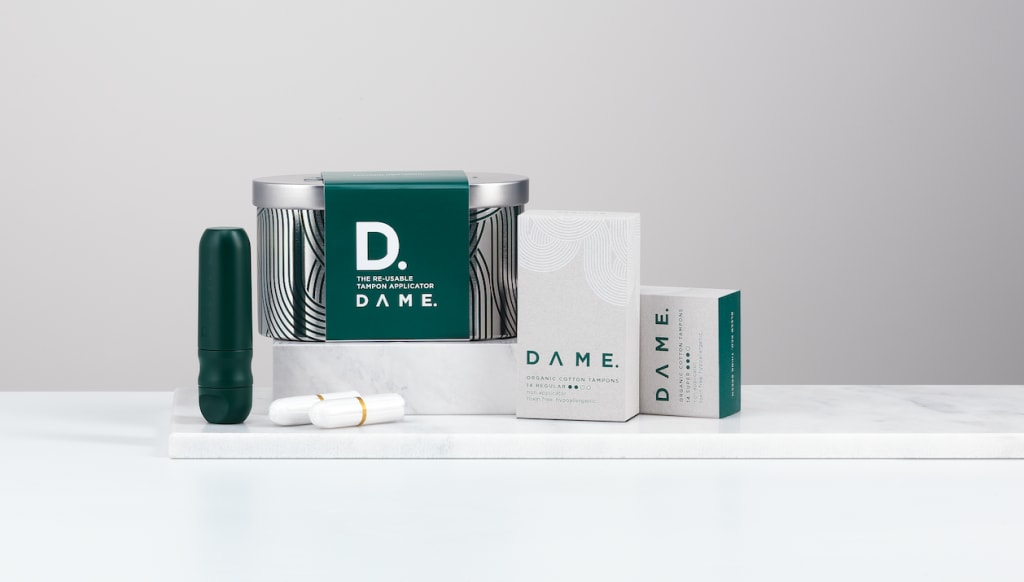 DAME product Lineup
Dame is a sustainable period care brand based in the UK. They are on a meaningful quest to make periods sustainable and positive for women and the environment. Their goal is to tackle issues such as harmful chemicals, plastic waste and the shame that is often associated with periods. They introduced the first reusable range of 100 percent organic cotton tampons and invented the world's first reusable tampon applicator.
Period Plastic and its Impact on the Environment
Did you know that more than 100 million period products are discarded every day on a global scale? This is a shocking figure that impacts the environment in a significant way. Most of these products are made using single-use materials and they often contain harmful chemicals.
Single-use period products often end up on European beaches and currently, they are the 5th most common type of plastic to be found washed up on beaches in Europe.
Sadly, period plastic waste is a massive issue but the problem is often ignored or hidden as a result of the shame attached to periods. We need to talk about it without fear and without shame.
A 2018 report by Mintel revealed that more than 48 percent of women are interested in sustainable period products however, less than 7 percent have switched from single, unsustainable products to reusable, environmentally friendly period care products.
"Bleed red, think green" is Dame's slogan and this is the perfect slogan because in the UK, each year more than 4.3 billion disposable products are used with 1.3 billion of these products being plastic tampon applicators.
Every menstruating woman uses approximately 11,000 pads in their life time. This is more than 150kg of single use, harmful materials, a shocking figure.
DAME are flipping the script by producing healthy feminine care products that are not just good for women but they are good for the environment too.
DAME was founded by Celia Pool and Alec Mills, they are passionate about eradicating the shame that is often linked to periods. They are on a quest to educate and promote the use of reusable period care products to save the environment and to reduce the amount of harmful chemicals we use on a daily basis.
DAME's mission is to encourage more women to make the switch. To champion a movement to steer modern women towards reusable products instead.
The seeds for DAME began to flourish in 2018 and it took two years of extensive planning, research and design before they launched the world's first reusable tampon applicator.
The sustainable applicator is made from medical-grade, BPA-free Mediprene® with antimicrobial Sanipolymers® that reduce harmful bacteria growth.
DAME also produces 100 percent organic cotton tampons that are free from toxic and harmful chemicals, hypoallergenic and they are also biodegradable.
The admirable thing about DAME is that since their launch in 2018, they have saved more than 350 million pieces of single use plastic from going to waste. They also take the necessary steps to ensure that they reduce their carbon footprint as a business. They believe that businesses need to start thinking carefully about changing their policies and attitudes to reduce their overall carbon footprints and to start working towards a more sustainable way of working.
DAME is focused on being part of the solution to reduce carbon emissions and to drastically drive down or eliminate the use of unsustainable plastic period care products.
In an interview with Pop Sugar, co-founder, Celia Pool said:
"As soon as society acknowledges that your period is not a choice, that it is not a "luxury" (as the tampon tax would have it) and that these are essential products, the better. Menstruation needs to be normalised. The detrimental effect of girls missing out on school or work is not something that is confined to lockdown. It is a systemic problem that needs to be corrected."-Celia Pool-
DAME continues to campaign against period poverty and sustainability in relation to period care products for women in the UK and globally.
DAME products are available from their official website and from authorised stockists in the United Kingdom.