SUFFRAGIST
Who Catalogued The Stars
Reflecting on my college history class from a long time ago, the history professor stated that history was written by elitist males. At that time, my thoughts were, "Not surprised!" His remarks were made in March of 1995. Recalling the history class, something else comes to mind. It was in regards to a female professor traveling to the university campus and giving a special lecture on Women's History Month.
Back then, being unfamiliar, my first reaction was, "What is Women's History Month?" Aware of the special day for Administrative Assistant Day and Boss Day. Yet, clueless about Women's History Month! Learning that in 1987 Congress was petitioned by the National Women's History Project, it passed, setting aside March 1987 as Women's History Month. As they say, the rest is history.
********
This month is National History Month. With so many honorable women to choose from, my focus is on a deaf woman in history. Was your first thought, Helen Keller? Of course, you know about Helen Keller who was not only deaf she was blind too.
Have you ever heard of Annie Jump Cannon? Years ago, we were at a science museum. At the museum, there was a special exhibit regarding Annie Jump Cannon. As always, reading the information at the exhibit, the fact that Annie Jump Cannon was deaf caught my attention.
Mentally, entering her name into my memory bank, the point was not to forget this woman of science. Why you might ask? Because she was deaf like me, really, you don't come across very many women scientists who are profoundly hearing impaired. Notably, Annie Jump Cannon did not let her disability stop her. The fact that she made scientific contributions and was a suffragist touched my heart.
********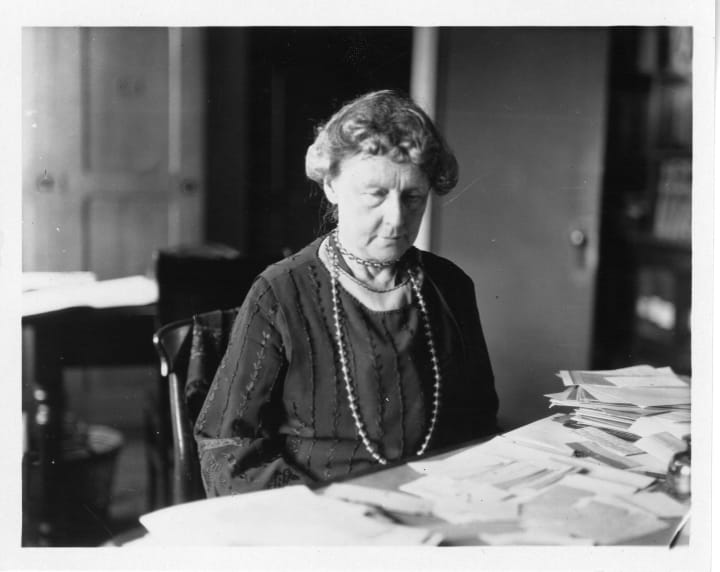 On the 11th of December, 1863, Annie Jump Cannon was born in Dover, Delaware. Her parents were Wilson Lee Cannon, who was a senator and shipbuilder, and Mary Elizabeth Jump, who was a stay-at-home mother and was her husband's second wife. Mary played an instrumental part in her daughter's life pursuits by encouraging Annie to study science and math
Long before Annie went off to college, mother and daughter would observe the stars from their home rooftop observatory which they built together. Annie's mother taught her the constellations.
Taking her mother's advice, science and math were her major interest when she went off to college. During her time at Wellesley, she learned to make spectroscopic measurements. Unfortunately, while attending Wellesley College, Annie came down with scarlet fever, and as a result, became hearing impaired.
Amazingly, Annie was valedictorian of her 1884 graduation class. After graduation, she returned home. She tutored students in U.S. history and math. Developing an interest in photography, she took classes at Wellesley College. In 1894 Annie's mother died. At that point, she returned to study astronomy at Radcliff while she worked as a teacher at Wellesley.
Making astronomical observations gave Annie a renewed sense of purpose. In 1896, Edward Pickering hired Annie as his first female assistant. Pickering was the director of the Harvard College Observatory. Recording the night fluctuations in brightness and comparing the stars, Annie collected and complied observations of others around the world who came up with similar observations. She completed a large series of tablets, calling them "A Provisional Catalogue of Variable Stars."
Working at the Harvard College Observatory, Annie was paid approximately fifty cents an hour which was considerably less than what secretaries were being paid at Harvard.
Spanning a forty-year career, Annie published her first catalog of stars in 1901. Developing a system based on temperature, the classification system is known as the Harvard spectral classification system. If you google the definition of mnemonic, you will see Annie's mnemonic device "Oh! Be A Fine Girl--Kiss Me" as an example of the word. Even today, those that pursue astronomy are still organizing stars according to their characteristics.
Finally, in 1938, after years of hard work, Annie was appointed a faculty position at the Harvard College Observatory. Retiring in 1940, she continued to work until her death.
Interestingly, the difference between suffragists and suffragettes is that suffragettes were willing to use militant action, and suffragists used harmonious methods.
Forming in 1916, the National Women's Party advocated the right to vote. Annie was a suffragist, and through peaceful means, she campaigned seeking the right for women to vote as a member of the National Women's Party. Approximately, four years later, Annie saw the passage of the 19th amendment.
Winning many honors, Annie was the first woman to receive an honorary degree from Oxford University. Another first, she was the first woman Dean of Astronomers. Scholarship prizes have been given in her name and an asteroid and a lunar crater have been named after her.
For more information about Annie Jump Cannon, please see the references below.
References:
https://www.womenshistory.org/education-resources/biographies/annie-jump-cannon
https://www.britannica.com/biography/Annie-Jump-Cannon
https://www.sdsc.edu/ScienceWomen/cannon.html
https://www.space.com/34707-annie-jump-cannon-biography.html
https://www.biography.com/scientist/annie-jump-cannon
About the Creator
Barbara J Iversen, also known as Babs Iverson, lives in Texas and loves her grandkids to the moon and back. After writing one story, she found that writing has many benefits especially during a pandemic and a Texas-size Arctic Blast.
Reader insights
Be the first to share your insights about this piece.
Add your insights