Socanomics Encompasses...
All That Dance Is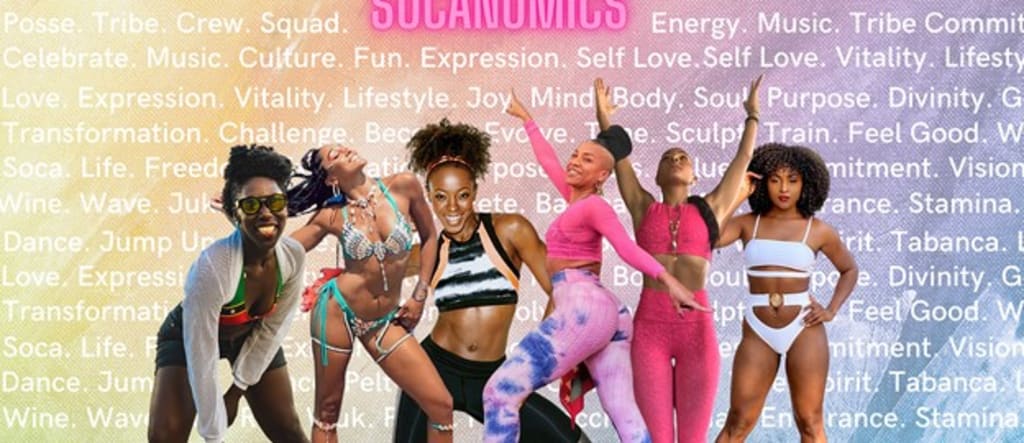 Go to socanomics.com
It is a transformative spiritual experience when you truly connect your soul to your body. Those who have the freedom of mobility maneuver through life unappreciative of the gift of movement. Dance is the release of all the tension the body holds. It is the telling of all the stories of ones' ancestors and ones' descendants. It is futuristic folklore. Love. Safety. Understanding. Warmth and Comfort. It is cooling and centering, while somehow erupting the parts of yourself that had been dormant during your moments of stillness.
It used to be a euphoric and cosmic event to watch others ascend through dance. An event that was invigorating yet unattainable. The Alvin Ailey American Dance Theater. Michael Jackson. Savion Glover. Choreographers on Steezy. James Brown. Galen Hooks Freestyle Roulette. Dancers on Subway trains. Break-dancers. Les Twins. The list expands as delicately and deliberately as a dancer's body.
Before I had the inclination to succumb to my usual pessimism Socanomics made the unattainable conceivable in my mind. My limbs were going further than I thought they could. They were branching out, strengthening, and deepening. Now, my neck and back elongates making my regality more prominent. I am not trying to tell you that I can move like Carnival dancers, Ciara, Judith Jamison, or Teyana Taylor. I have not been so swept up by the power of dance that I have lost touch with reality. Socanomics has negated the notion I had that I could not feel comfortable doing choreography, though. I have always loved dancing when I get the house to myself, when I'm cleaning, and pre-covid I was on the dance floor of many clubs in NYC. But choreography was this prehistoric creature I avoided like the plague. I stopped attempting the newest dance crazes because once I saw more than four steps, I knew I could not do it. It took me countless sessions from diligent friends to learn the Electric Slide, Cupid Shuffle, Crank That (Soulja Boy), etc.
Socanomics has been the transformative spiritual experience that has introduced me to a version of myself that I had unknowingly left masked and restrained. The dynamic women of Socanomics promote setting an intention when you join the class. They encourage the tribe to armor ourselves throughout the day with the purpose that brought us to class. The level of inclusivity that popular gym chains advertise is so apparent in a Socanomics class that you can feel your inhibitions pour off your body along with the pools of sweat.
I preach being kind to yourself to my friends constantly, probably because it has taken me so long to begin to treat myself kindly. This dance/ cardio/ yoga/ ethereal fitness practice is indoctrinating me with irremovable self-love competence. If I can't do a move the way Selena (the founder of Socanomics) does it, I modify or personalize the movement. I only used her first name because Socanomics has made me feel like she, Oneika, and Anissa are my personal friends. I haven't done any classes with Ilana Warner and Kaleila Jordan yet and only one or two classes with Nikeva Stapleton but once I do, they will be members of my fictional friend group too. I jokingly curse out Selena, Oneika, and Anissa regularly in class because they challenge me. By the end of a session, I have "my hand to heart center" and I am internally thanking the instructor for changing the course of my day with their routine and inspirational, genuine words.
This dance fitness workout has been a core element of my fundamental blossoming. I am defining my sensuality. My confidence as a woman, as a Black woman is soaring. I prance with piercing eyes and a smile that is not bashful about my overbite. I hook up my laptop to the tv and strive to accept my body more each time I logon to do an on-demand session. I might dance naked or take a few extra moments of meditation. To respect where I am physically and mentally, I thank myself for continuing the work out in the instances when I think I can't. I am present enough to take inventory of my body, stopping when necessary and having no shame in doing what my body needs.
Socanomics is about community as much as it is about individual growth. My sister started doing the on-demand classes with me and my practice of dancing naked ceased, but the encouragement we give each other is a fair trade. Some steps I struggle with, she breaks down for me on a remedial level I can follow. When she stops and sees me continue, she gets that burst of energy to push through. I did not think we could get closer, but Socanomics has done that too. It has altered how I view fitness. Socanomics consists of Carnival Body, a Carnival Body/ Socanomics infused class, Grown & Groovy, Yoga & Soca, and a class boasting the name of the company. When I miss a week or two of Socanomics I don't feel the same difficulty to return to working out I would feel if I was going back to the gym, because there is so much solace instilled in the Socanomics practice.
I love Socanomics. I am grateful for it. It will be a part of life forever, forever, ever, forever, ever. (Outkast reference). It is a daily love letter to the rich culture of the Caribbean and Blackness as a whole. As a Black American there is a heartbreaking unawareness I have about where my ancestors originated from and Socanomics is the definition of home I was missing. I strive to project the type of peace Socanomics represents onto any and everyone. Most importantly I am going to continue to nurture that peace within myself.