Hidden Figures
Queen Elizabeth II's Most Badass Moments
Who runs the world? Girls. Particularly, Her Majesty the Queen.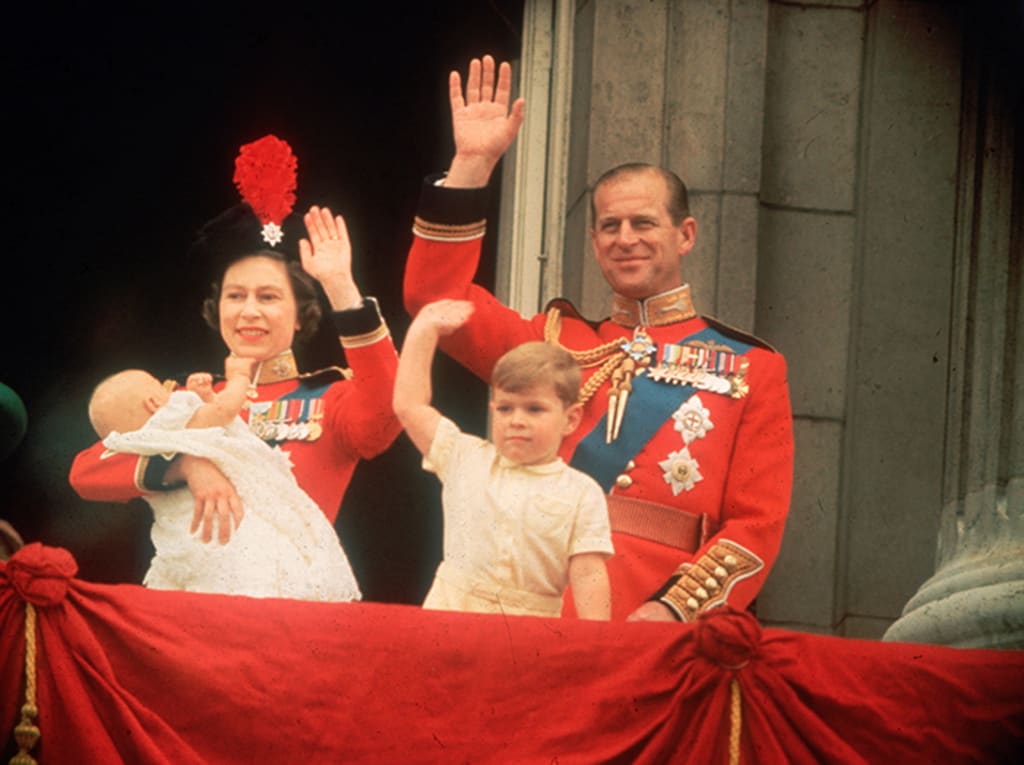 Queen Elizabeth II, husband Prince Phillip, and youngest sons Prince Andrew and Prince Edward. 
No matter where you live, the words "the Queen" almost certainly conjure up one world-famous monarch: Queen Elizabeth II, of the UK (and Canada, and Australia, and so on). In addition to being the longest-reigning and oldest living British monarch, she is also the grandmother of the ever-popular young Royal generation, Princes William and Harry (whose recent engagement to Suits actress Meghan Markle recently took the world by storm). But the 91-year-old Queen Elizabeth, or Lilibet, as her family calls her, is not all tea and crumpets and "my-husband-and-I"s.
Her age and long reign are not the only totally iconic things she's accomplished over the past 91 years. Her Majesty has done some pretty cool things, set some progressive precedents, and said some hilarious quotes. During her reign, she has gone from recording the first televised Christmas speech to the first livestreamed speech, and she's done it all with dignity and just a touch of sarcasm. While she may no longer be as young and spry as the Lilibet we see on Netflix (played by Claire Foy, of course), she's still pretty damn awesome. So without further ado, here are Her Majesty's 10 most badass moments.
10. Her Totally Relatable Response to Being Asked How She's Doing
In 2016, Northern Ireland's Deputy First Minister asked Queen Elizabeth is she was doing well. She quickly responded, "well, I'm still alive, anyway." Hard same, Lilibet.
9. The Small Fortune She's Made Herself
Queen Elizabeth II is well known for her love of animals. In particular, her main hobby is horse breeding and racing. This little leisure hobby of hers has earned her around $8.8 million in the past three decades, according to various racing statistic sites. Not bad for a side hobby! She is known to read the Racing Post every day.
Her daughter Princess Anne competed as an equestrian in the Montreal Olympics. The Queen herself still rides at the age of 91.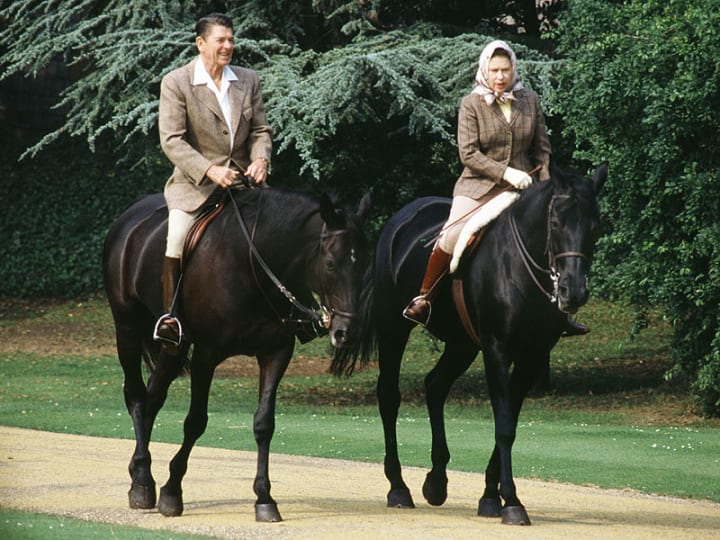 8. Her Truly Unrivalled Love for Dogs
But of course the Queen's most stalwart companions are her famous corgis (amongst other breeds). Of course, any decent person loves dogs, but Her Majesty really loves dogs. She has owned 30 corgis during her reign, and in 2007 alone she owned 14 dogs. Yeah, you heard me, 14 dogs! She apparently walks them herself whenever possible, and when she walks them all together she calls them "the moving carpet."
7. Her Hatred for the Misogynistic "Resting Bitch Face" Concept
Queen Elizabeth has been accused of having "resting bitch face" on numerous occasions. She admits herself that "I've got the kind of face that if I'm not smiling I look cross." But should Queen Elizabeth be constantly smiling? She certainly doesn't think so. "Why are women expected to beam all the time? It's unfair. If a man looks solemn, it's automatically assumed he's a serious person, not a miserable one," she argued. You tell 'em!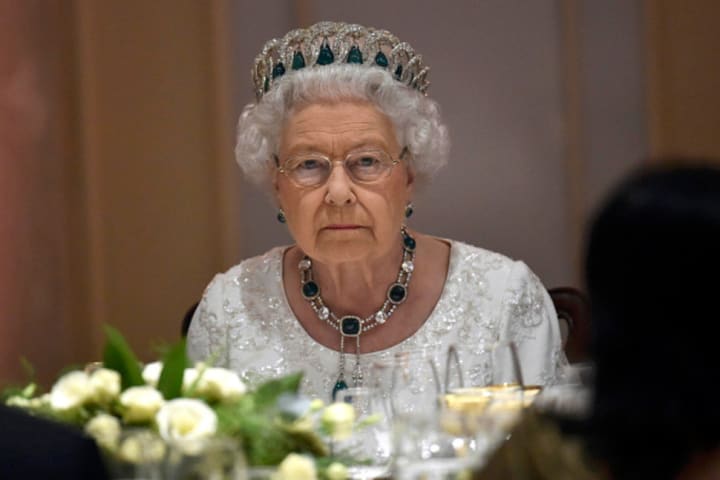 6. Her Joy upon Giving Same-sex Marriage Her Royal Assent
All parliament actions in the UK have to be given the Queen's royal assent (although this is a symbolic act, as she can't not sign). But the Queen apparently expressed her joy at finally giving same-sex marriage her official approval. Allegedly, after signing she exclaimed "well, who'd have thought 62 years ago when I came to the throne, I'd be signing something like this? Isn't it wonderful?"
This of course cannot be confirmed, but we'd like to believe it. What we do know for sure is this: in 2017, she vowed that her government "will make further progress to tackle the gender pay gap and discrimination against people on the basis of their race, faith, gender, disability or sexual orientation."
5. Being the Only Current Head of State to Have Served in World War II
Much to her parents dismay, at the age of 18, the then Princess Elizabeth joined the Women's Auxiliary Territorial Service. The young Princess was known as Second Subaltern Elizabeth Windsor, and she served as a mechanic and ambulance driver. Yes, the Queen was a mechanic. This makes her the only female member of the royal family to have served in the Armed Forces.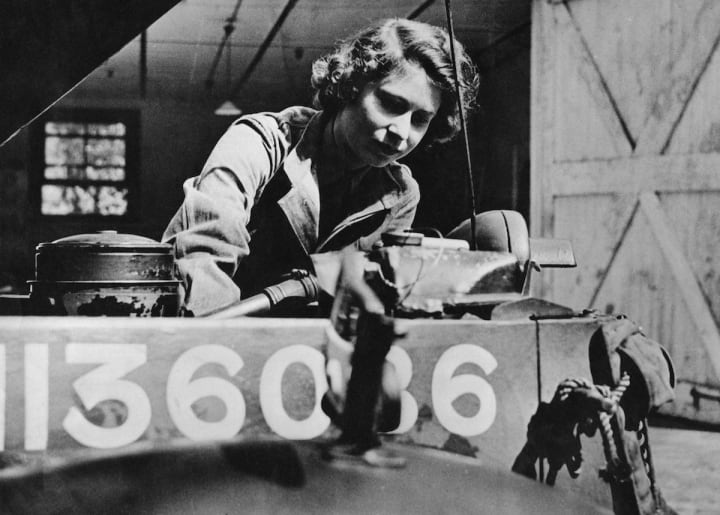 4. Appearing with James Bond in a Clip for the London Olympics
In the opening ceremony for the London Olympics, a clip began to roll showing James Bond, played by Daniel Craig, visiting the Queen at her home Buckingham Palace. The Queen was seen from behind, leading those watching—including grandsons Prince William and Prince Harry—to believe that it was an actor portraying the Queen. The crowds cheered when the figure turned, revealing itself to be the real Queen Elizabeth. She then skydived into the arena alongside James Bond. Okay, fine, that part was done by a stunt double.
3. Casually Being Unfazed by an Assassination Attempt
In 1981, as Queen Elizabeth rode her horse through streets full of supporters, six shots suddenly rang out, seemingly aimed at the Queen. Her horse understandably panicked, and began to take off, but she quickly calmed him and, apparently unfazed, continued on her slow journey through the streets.
The shots turned out to be blanks, but this wasn't known in the moment. As police, guards and bystanders screamed in panic, the Queen seemed to remain completely calm. She patted her horse and kept on riding.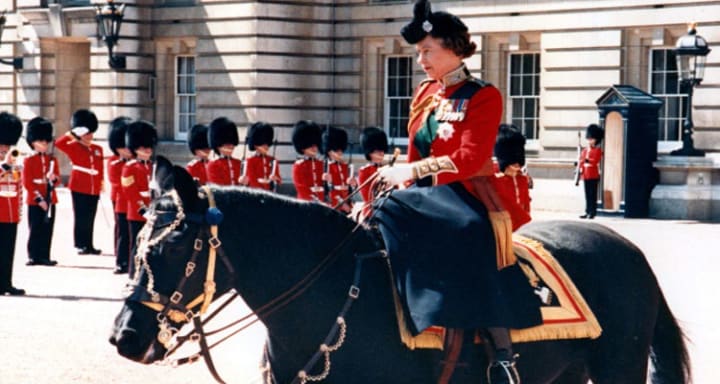 2. Calmly Chatting with an Intruder in Her Bedroom for Ten Minutes
The following year, an intruder named Michael Fagan managed not only to break into Buckingham Palace, but to get all the way to Her Majesty's bedroom without alerting any security. Luckily, he meant her no harm and seemingly only wished to meet her. What really happened in those few moments is known only to the two of them, but Fagan claimed that as she waited for help to arrive, she calmly made conversation with him on her bed.
1. Quietly Becoming One of the Greatest Historic Figures of Our Time
Queen Elizabeth II has ruled longer than any other British monarch. She has spent decades at the centre of the world's most famous family. She has been a mother of four, a grandmother and now a great-grandmother. Her name will be one remembered for centuries, much as Queen Victoria has been. To live in this new Elizabethan age is to be witness to history being made. God save the Queen!