Pepe Le Pew Is the Mascot of Sexual Harassment: A Retrospective on Growing up With Rape and Consent Culture in 80s Pop Culture
A contemplative stroll back through the nostalgic 80s. Hindsight is 20/20 when it comes to different messages we may have absorbed without question.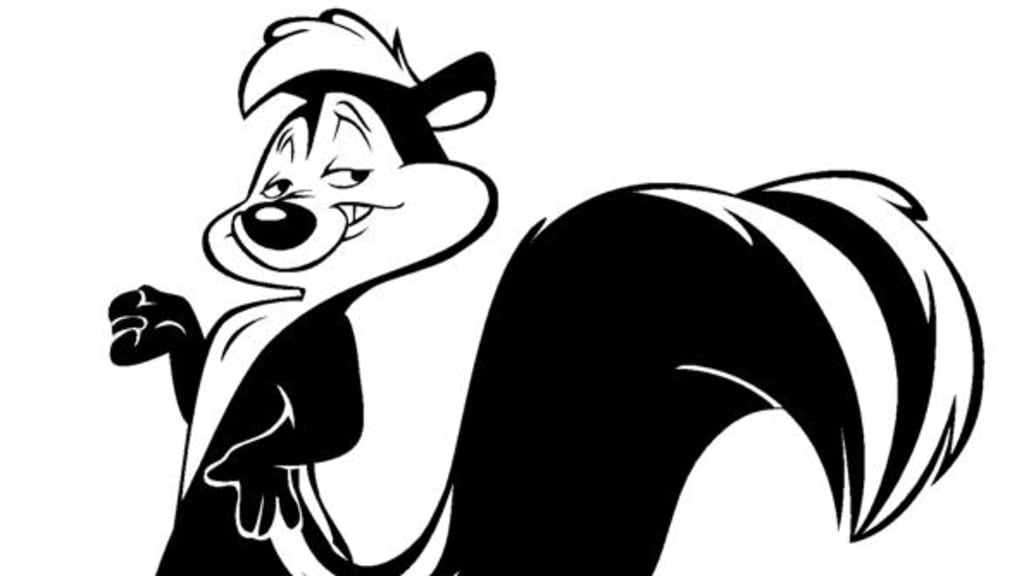 Pepe Le Pew (Looney Tunes/Warner Bros)
Anyone familiar with Pepe Le Pew from the Looney Tunes cartoon menagerie will get the same image in their head. A male skunk merrily bouncing towards a terrified female black cat who had the misfortune of somehow getting a white stripe painted along her back. The premise: Pepe thinks she is a female skunk now, which apparently makes it okay to relentlessly harass her, despite the most desperate of refusals and uber-clear non-verbal cues from the cat. Each episode is the same: Pepe nonchalantly stalks her for the whole show, flirting with a French accent, tries to hold her against her will and kiss her, while the cat scrambles out of his arms time and time again, scrambling for sanctuary from her insistent, clueless pursuer. It doesn't help that Pepe is a stinky skunk whose scent wilts flowers as he walks by. Occasionally, the cat will retaliate by laying in wait around a corner with a large mallet, or maybe perhaps rig up an Acme anvil to drop on Pepe's head. Even after being smashed in the head by the cat, Pepe doesn't get it. He smiles and says in his thick faux French tones, "flirt."
I watched these cartoons as a child, and way into my teens, as did many others way before the 80s. I don't think I thought it was right, or wrong. It was something more insidious. It was… normal. Just a part of my breakfast for Saturday morning cartoons. Watching it now as an adult, I still find it funny, but in a different way. His toxic cluelessness is just absurd. It reminds me of how sometimes I will just laugh at the surreal and toxic absurdities that come out 45's mouth, which can also seem like a dystopian cartoon. Pepe Le Pew provided just one of many cues I received as a teen in the 80s that normalized rape culture and patriarchy. In retrospect, now that I think back about various messages I absorbed from entertainment media, there was a lot that I had absorbed and internalized.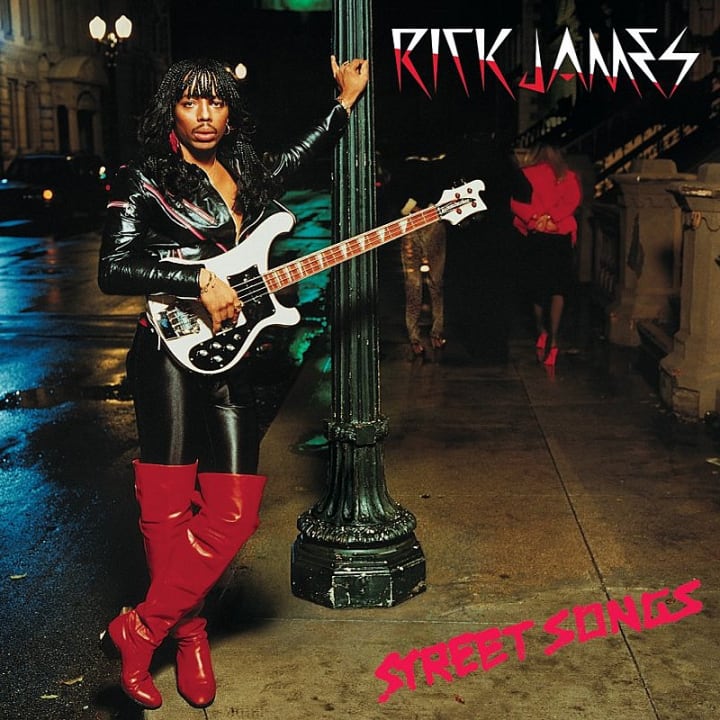 One of my favorite funk songs form that era was Rick James' "Give It To Me Baby." When it came on the radio, I would run to my boom box to hit the cassette record button, then turn up the volume and dance and sing every word. Yooooo ho! Owww! I got used to singing it without really thinking about its content, as we do with so many songs. It was decades later when Rick James passed, that I mentioned his death to my neighbor, and she got a look on her face. "I umm… never was really a fan," she said. Her face looked like she was diplomatically concealing distaste, and that she wanted to say more, but wanted to respect my mourning. I wondered to myself what could illicit such a reaction? It's Rick James! So the next time "Give It To Me Baby" came on, I listened closer. It was like I was hearing it for the first time. So, let me get this straight… He came home intoxicated, she was fast asleep, wouldn't even talk to him, and how does James decide to proceed? It is glorified in the chorus, where he demands over and over, GIVE IT TO ME. GIVE IT TO ME, GIVE IT TO ME!! Wow. The sheer entitlement, as if the woman had something, an "it" that belonged to him. It's basically a celebration of ignoring cues, prioritizing male pleasure, and coercive sex. I began to understand a little bit of why my neighbor wasn't so heartbroken to hear about Rick's passing. She identified as a survivor too, so I can't even imagine the various levels of impact this song may have had on her, a song which has been in high rotation for decades, and continues to be.
I also grew up with messages that normalized grown men pursuing under aged young women. Remember that one hit wonder soft rock ballad by Benny Mardones, "Into The Night?" The one with the chorus "If I could fly, I'd lift you up, and take you into the night, and show you love." Well, the opening verse was:
She's just sixteen years old
Leave her alone, they say
Separated by fools
Who don't know what love is yet.
The video takes it to another level. Watching it for the first time as prep for writing this article was a little nauseating to be honest. I can't believe this video was aired! "Leave her alone, they say" is right! He wasn't trying to hear that, though. It shows ol' Benny being chased away from this girl's house by her dad. A clammy-faced and forlorn-looking Benny continues to stalk the house, watch the young teen through her window, and he eventually climbs in the window. Yooo. This is a 16-year-old girl. Benny Mardones was 33 when this song became a hit in 1980. The feeling of deep yearning is conveyed through the wistful guitar licks and haunting piano, and it was on high rotation on the radio throughout the 80s and continues to play on soft rock and oldies stations today. I connected to the yearning tones in the song as an emo teen in the 80s, especially since I was having crushes on 16-year-old girls myself. It's only later that I realized, wait… Benny ain't no teenager!! We're talking about straight up statutory rape here. Years before R. Kelly was on the scene. Yeah, I said it.
Stalking was also quite en vogue in the 80s, very glorified by songs and movies. Pop culture told us Stalking Is Sexy. The iconic image from Say Anything is probably one of the most recognizable memes from the 80s (before we called them memes!). John Cusack's character stands under his ex-girlfriend's window, holding a boom box high over his head, blasting "In Your Eyes" (Peter Gabriel & Youssou N'Dour). Back in the day, you'd think something was in your eyes–that scene gave you all the feels. Wasn't a dry eye in the house. To us, his stalking was dramatic proof that he really loved her, that he wasn't going to just let her go. She eventually does come back to him, so the message that is given is that stalking "works."
I'm going to admit something to you, reader. As a teen in the 80s, I thought that was so cool, I did that sh*t. This is in Kingston, Jamaica. With the support of two other boys, I took my boom box to the house of a girl I had a crush on and we "serenaded" her. I put the boom box on her gate and blasted god knows what music. Definitely wasn't a heart-tugger like "In Your Eyes." We hadn't been invited, had never been inside the house. We just posted up at the gate, bumpin' my precious double-deck boom box, its iridescent and puffy stickers in full glory. Some impromptu attempts at breakdancing may have occurred. Well, she got in trouble with her parents, not being able to explain why three boys had raucously claimed their driveway, and she avoided us after that. I remember feeling bad, and some time down the road, I apologized for that. She clearly wanted to move on and not speak of it ever again. We somehow managed to become friends, and I made no more romantic overtures. If indeed we could call the boom box episode, "romantic."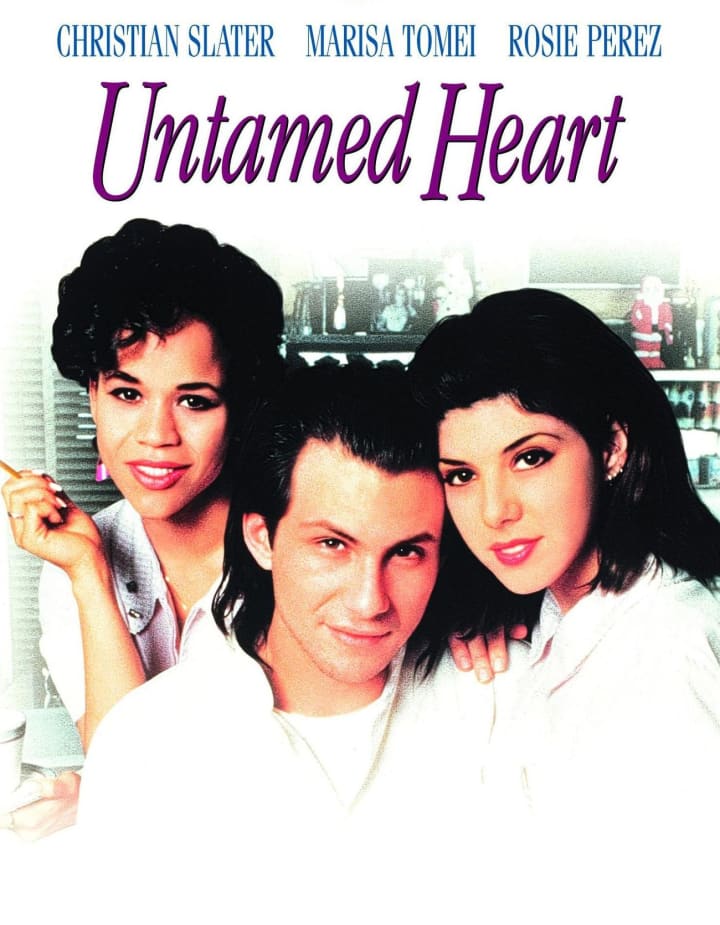 But you know, these things have different levels of inappropriateness. What probably took the cake for normalizing stalking as romantic was the movie Untamed Heart, starring Marisa Tomei, Christian Slater, and Rosie Perez. It's actually an early-90s movie, but it clearly carried the stalking torch over from the 80s. Have you seen it? Whew. SO.
Marisa Tomei's character, Caroline, works at a diner with Christian Slater's character, Adam. There is some intrigue brewing between them. Adam doesn't talk much. He is critically shy and socially awkward. It's Christmas weekend, and on Friday night, Caroline shyly wishes Adam a Merry Christmas, and says that she won't see him until after the holiday weekend. He doesn't really respond. He's relatively stone faced. I think he cracked a quarter-smile and waved goodbye.
The scene cuts to Caroline waking up in her bedroom. She yawns, stretches, and sits up. She gasps. At the foot of her bed is a fully decorated Christmas tree that wasn't there when she went to sleep. Dude broke into her house and set up a Christmas tree in her bedroom while she was sleeping. This is not a horror movie. It's a romantic drama. And Caroline is absolutely gleeful. She LOVES it. She goes back to work on Monday and coquettishly asks Adam if he knows anything about that tree. Giggle giggle, tee hee. Oh Adam. So thoughtful and cute! #RestrainingOrder
"Every Breath You Take Explained Sting"
YouTube/A&M 1983
Lastly on the subject of "stalking chic" in 80s pop culture, gotta mention the classic ballad by The Police, "Every Breath You Take" with its pleading to an ex "oh can't you see, you belong to me," and menacing chord changes around the phrase "I'll be watching you." Like many love songs in the US, the idea of someone "belonging" to you is very popular, and very romanticized. It's not too long ago that a woman was literally considered to be a man's property through marriage, and vestiges of that notion of a romantic partner or spouse being a "possession" still thrives today—to the point that folks may feel like someone "belongs" to them, even after a break-up. Not healthy.
Anyway, the response to this song was huge. It's a wedding song staple. People have walked down the aisle to it, or made it their first dance as spouses. Former frontman of The Police, Sting, talked about how it's probably the most successful and recognizable song in his repertoire, and also probably the most misconstrued:
"It has something about it people respond to in that it seems at first like a very romantic, kind of seductive song, which is what I initially intended. But then when you listen to it, you realize there's a compulsion behind it to the point of obsession where it becomes quite sinister."
And I could go on about themes of rape culture in rap and dancehall music too, like NWA's extremely graphic rape/murder interlude, "To Kill A Hooker," and Pinchers sweetly singjaying "she wah di agony, agony, agony in her body," normalizing jackhammering away at a woman and inflicting pain during sex as manly and sexy. I mean, time and space for everything though, yeah? Jackhammering can be hot. Especially if you know each other's bodies really, really well; your partner is a big fan of it; and you don't read a wince and recoil from smashing up against the cervix or other sensitive spot as "pleasure." But if jackhammering is the only gear you got… you might need to switch your game up, bredrin. Maybe ask your partner what they like. And listen.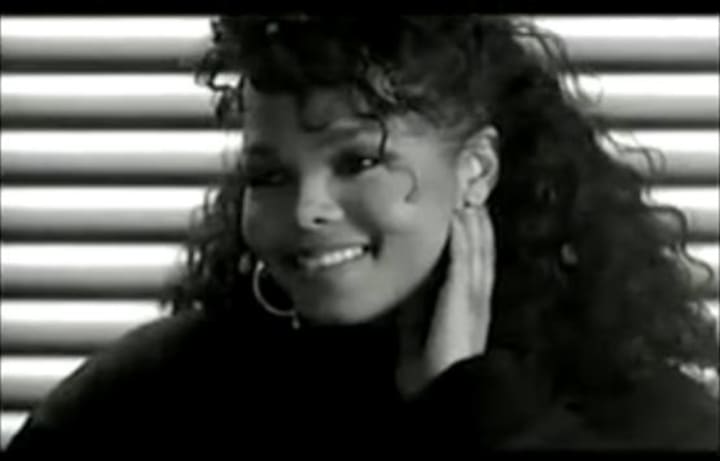 Luckily, 80s pop culture also had themes of honoring boundaries and consent culture, possibly more so than today! Janet Jackson sung "Let's wait a while, before we go too far." Stephanie Mills crooned, "You're putting a rush on me, but I'd like to know you better." British proto-neo-soul pioneers Loose Ends sang "Slow down, cuz I can't take the heat" from both a male and female perspective. De La Soul addressed sexual abuse in "Millie Pulled A Pistol On Santa," and Tupac challenged misogyny and rape culture in "Keep Ya Head Up."Salt N' Pepa brought sex ed and boundary empowerment to the airwaves with "Let's Talk About Sex," and LL Cool J showed a much more tender side of hip hop masculinity, declaring "I Need Love." We even had Jermaine Stewart sing, "We don't have to take our clothes off to have a good time." When was the last time we heard a brotha sing a song with THAT message??
Some critics of consent culture express concern that this movement will demand that masculine folks no longer be pursuant. Or anyone of any gender for that matter. Some fear the death of "the chase." To that, I say it is more than possible to initiate romantic overtures in a consensual and respectful way. Consent can be really hot. Especially enthusiastic consent. ie, "oh god YES PLEASE do THAT!!" I'm also a strong believer that there is a difference between taking initiative and being assertive in a confident and respectful way; as opposed to being coercive in an aggressively persistent way that ignores verbal and non-verbal boundaries like Pepe Le Pew. I believe we all have a responsibility to be able to parse out the difference, and hold our folks accountable to help them figure it out.
Personally, it's been a long journey of unlearning toxic messages I had absorbed without question. Like most men, I consider myself to be a "nice guy," but as I continue to unlearn, I can also now see where I wasn't so nice. I can own that and apologize to whoever may have felt that I transgressed their boundaries. I can pledge to keep listening and unlearning; to hold myself accountable; and to hold my brothers accountable too. It's a journey without a finish line, as unlearning any "ism" is. I am now more vigilant of what I consume, especially in the realm of music, since I have been a DJ for over 30 years. Rape culture thrives by us absorbing its messages without us even knowing it. Creating a similar space for consent culture, would mean to surround ourselves, children, loved ones, and communities with creative expressions that normalize consent and respect for the boundaries of others and ourselves.Here is an offering: I belong to a men and masculine folks group called ASAP Collective (Anti-Sexism Anti-Patriarchy Collective), and we gave each other the assignment to make a musical playlist that does not perpetuate misogyny and rape culture. This is my contribution, and I really enjoy it! It uplifts the voices of women, LGBTQ, and disabled folks, and also showcases cisgendered straight men who are bringing that revolutionary positivity. And it's also just a fun playlist. Expect to hear Ibeyi, Erykah Badu, Miriam Makeba, Me'shell Ndegeocello, Georgia Anne Muldrow (if you don't know her, and miss the heyday of Lauren Hill, press play!), Sade, Alice Coltrane, Nina Simone , Janis Joplin, Betty Davis, OSHUN, Solange, The Internet… plus Deep Dickollective, Mykki Blanco, Tupac, Curtis Mayfield, Jimi Hendrix, Bob Marley and much more. Gotta say, the second song is an afrobeat track called "Sister," that is to date theeee most radical declaration of men supporting women that I have ever heard in a song. I mean, EVER.
Enjoy! And may we together build a world where we normalize respecting the lives, humanity, and boundaries ourselves of others. Ase'.
Richard Wright, MA is a Jamaican New Yorker who lives in Florida. He is a bystander intervention specialist, teaching artist, visual artist, relationship coach, DJ, and intersectional afrofuturist writer working on getting his first novel published.
He is also an author, with a piece published in the new anthology,"Ask: Building Consent Culture," edited by Kitty Stryker. Other progressive, feel good, throwback & futurist mixes can be heard here:https://soundcloud.com/ffloodi/stimuli-a-ffloodmixhttps://www.mixcloud.com/fflood/avant-yardie/
pop culture
Richard has a Masters in Expressive Arts Therapy; trained with MenCanStopRape; and facilitates healthy masculinity / consent culture workshops. He DJs, paints, and writes afrofuturist fiction too. For more: www.richardmwright.com
Receive stories by Richard Wright, MA in

your feed