Official Millennial Black: Inspiring a Generation
How Sophie Williams uses her platform and creativity to advocate for a better tomorrow.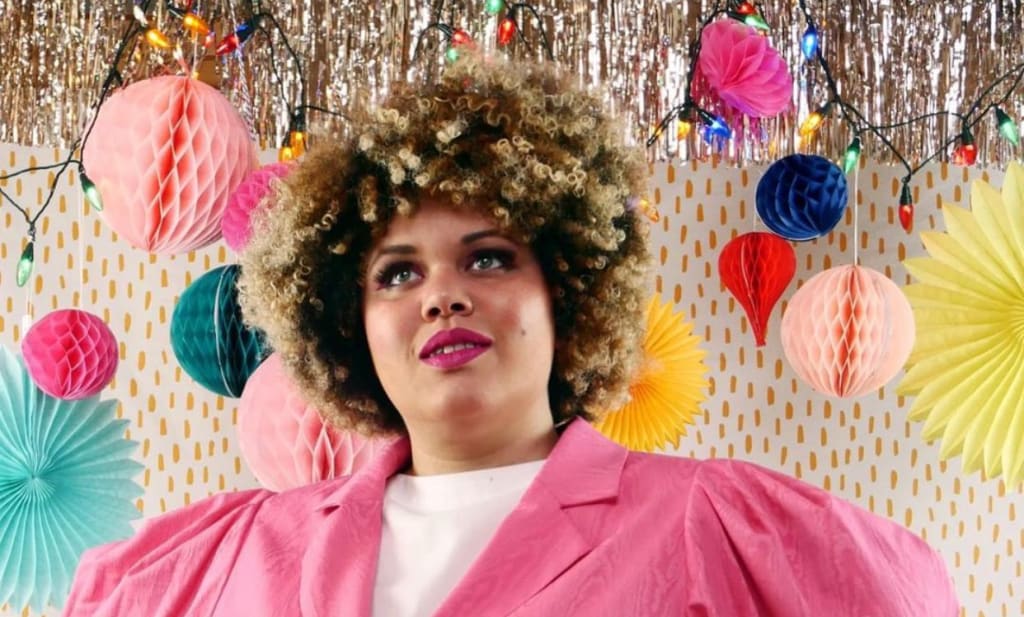 (Photo courtesy of Sophie Williams' personal IG, @sophiewilliamsofficial)
Coming off the magical heels of Black History Month and in the effervescent throes of Women's History Month, while we should always be sharing and celebrating these stories, what better time than now to continue highlighting strong, powerful, creative black women who continue shattering the glass ceiling in business, revolutionizing the media sphere, and inspiring this generation and beyond.
Heavily influenced by the digital sphere and the ever-changing cultural and creative landscapes that shape us all, I'm endlessly scrolling on the look out for amazing new creators to follow and be inspired by. One of my favorites I've stumbled upon recently is Sophie Williams (@sophiewilliamsofficial), the sole brains and beauty behind the Official Millennial Black account (@officialmillennialblack) on Instagram.
So...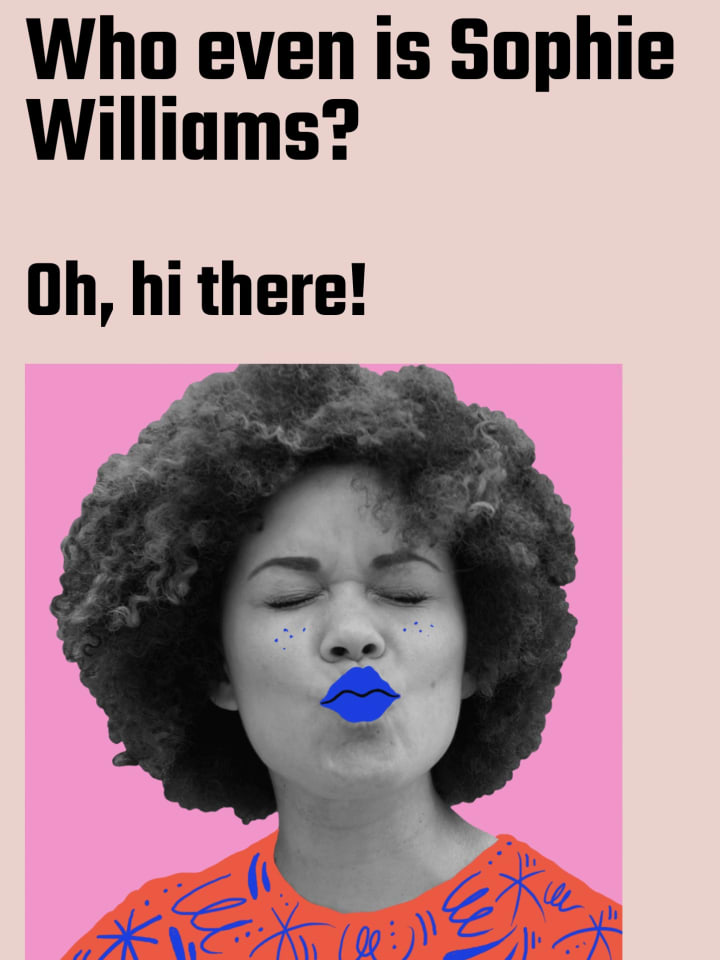 In her own words, Sophie Williams identifies herself as "a TED Speaker, an Author, and an anti-racism activist in the UK, who loves thinking and talking about intersectional identities (especially race and gender) and how they shape our experiences of the world." While all of this is true, Sophie Williams is so much more than what exists at the surface.
According to Sophie's own biographical history, Sophie has been COO for several marketing agencies. She's worked on the branding teams for Netflix, including Sex Education, The End of the F***ing World, and The Crown. The End of the F***ing World is only one of my favorite tv-binges the recent tv history! What a show (totally worth the watch if you haven't given it a shot already).
After digging a little deeper into Sophie's background, I was so delightfully surprised to learn she attended university for Theatre and Performance. (Just when I thought I couldn't like her more!) I obtained a Theatre minor in undergrad, so I'm personally geekin' seeing how it really is such a realistic possibility to have that background and follow the whole trajectory her career has taken, one that mirrors that of my dreams. Anything is possible, kids!
Looking at the content she produces online alone, it also makes so much sense she's been trained in a performative background with how much life she breathes into every thing she does. She exudes this energy that is so spirited and commanding, you can't help but be drawn in. I love it.
A Woman of Beautiful Words
Up until now, Sophie has penned the remarkable, Anti-Racist Ally: An Introduction to Action and Activism. From here her words and platform soar. All of us can benefit from experiencing this literary masterpiece. As creatives, as bystanders, as human beings in this complex world, Sophie offers a solution for us all to get on the same page. If you have the time, please check out this publication.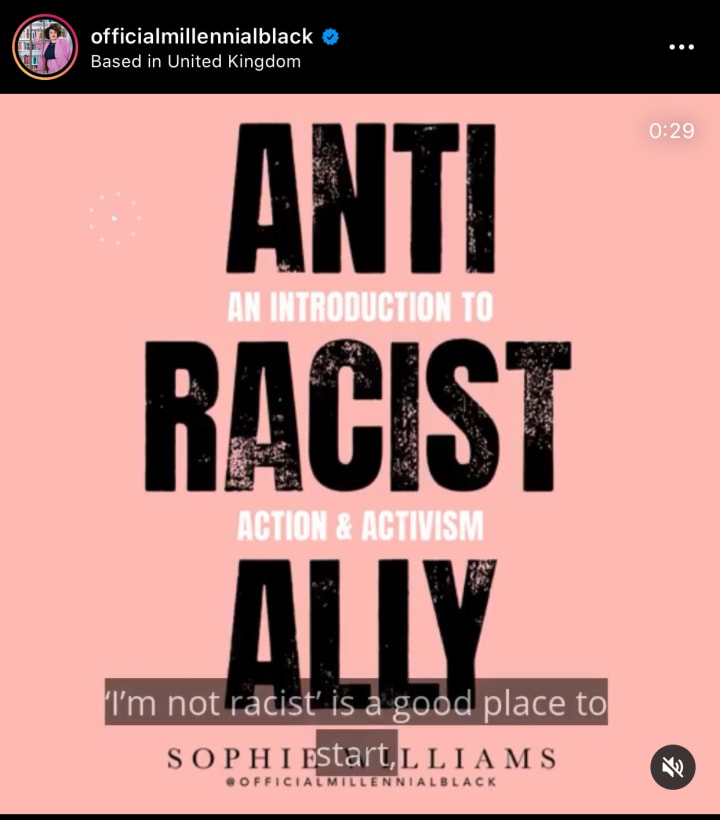 Self-Creating Social Media Mogul
As mentioned before, Sophie runs not one, but two, uber successful Instagram accounts where she has created and amassed an audience of epic proportions. Maybe I only speak for myself, but it's daunting enough managing one Instagram these days (social media can be draining, and it's ok to take a break, y'all!) Sis doesn't quit, though! What immediately struck me seeing the official personal Sophie Williams IG was her dedication to self and high-spirited personality. She creates her own graphics. She loves color and certainly does not back down from her truth. In a word, I'm obsessed.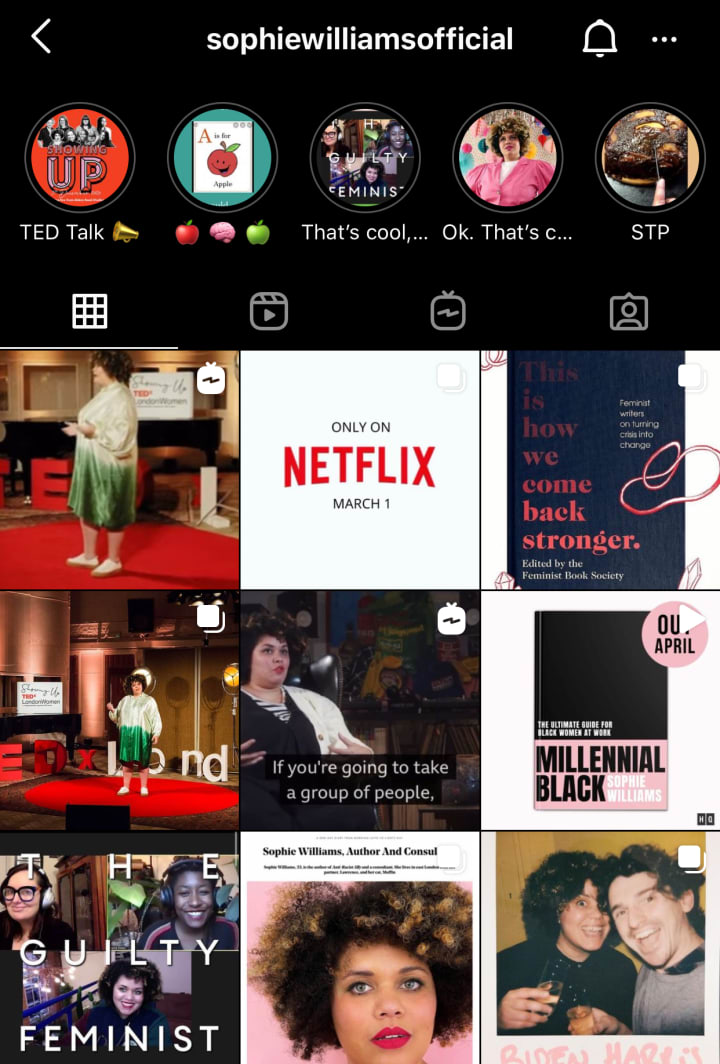 From here, she created an Instagram for her latest book, set to release in April 2021 & entitled Millennial Black, the accompanying Instagram @officialmillennialblack respectively. The account was created in February 2020, starting out as an outlet to promote her latest creative, literary creation. With the deaths of George Floyd and Breonna Taylor sparking social uprising, Sophie's Instagrams skyrocketed to the forefront of the digital sphere. & Thank God (or whatever you choose to believe in or not) that they did.
Standing on the Edge of the "Glass Cliff"
In December 2020, riding on the wings of her first publication, Anti-Racist Ally: An Introduction to Action & Activism, Sophie scored a major deal to speak for TEDxLondon, an independent subsidy of TED Talks. Y'all, I've grown up with an English-teaching mother, living my life and defining my identity through these very TED Talks (Am I a nerd? Yeah, probably. Am I cool with it? Absolutely). To score time speaking on a personal TED Talk is huge to me.
So in Sophie's TED Talk, not only does she speak on shattering "the glass ceiling" and the trials and tribulations women, predominantly black women, and men of color continue to face in the modern day workplace, but by doing so, she inherently breaks through this very framework herself.
In a related Instagram post (below), Sophie said herself, "The organisers [of TEDxLondon] told me that women never talk about business, and they don't think a black woman ever has before... I'm breaking boundaries!"
HELLO! Talk about an inspiring claim to fame. She is doing the damn thing, and I for one am so happy to be here to witness it.
By boldly going where no black woman ever has before (at least on the TED Talk stage), Sophie paves the way for other black women in business, giving them platforms and momentum to push forward and do the same.
Sophie uses her own platform to promote other black creatives changing the game, especially smaller creatives and small businesses.
According to Forbes, the global Covid-19 pandemic is the contributing factor to the permanent shut down of "nearly half of black small businesses" across the U.S.— by April 2020, just one month into the crisis in the U.S.
It's challenging enough (and quite admirable) to be a creative and/or own, operate, and maintain a small business without a widespread disease ravaging our livelihoods. Tack on a mentally, physically, emotionally, and economically taxing pandemic, and worlds flip upside down.
Through her social media influence, Sophie continues to advocate for black creatives and entrepreneurs that may not receive as much recognition as they deserve otherwise. That, to me, is so admirable and worthy of recognition. She's not only in this for herself but for the celebration and success of those just like her.
To look into, shop, and support other black creatives and small businesses, I encourage you to please hop, skip, and jump over to her account to look into her "The Blackest Friday" series from November 2020, where she highlights some of her favorite black creatives and small business owners.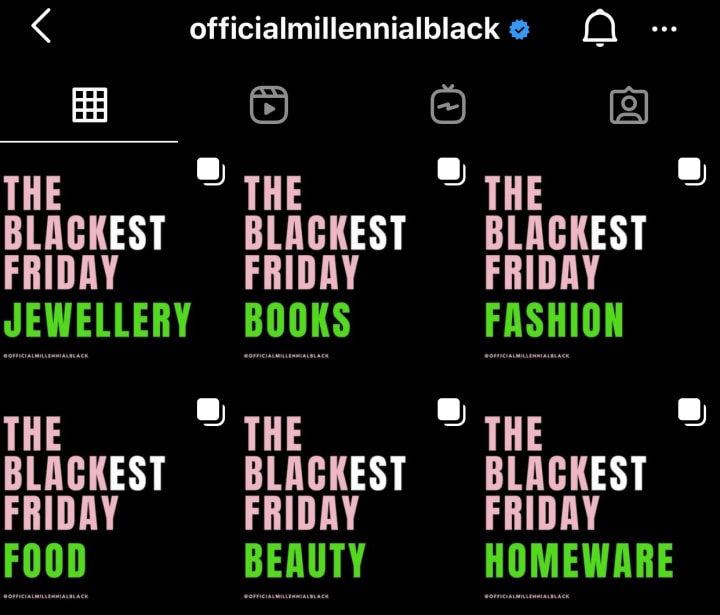 To bring it all home, like I mentioned before, Sophie Williams is so much more than what exists at the surface.
Sophie, to me, embodies everything I hope to be in my own life and career— to hopefully not just create but to inspire. To rise in my power but also support and advocate for others in their journey to do the same— celebrating everyone when we get to where we're going.
She is a vibrant splash of color in an otherwise black and white world.
She is a creative force to be reckoned with, with the content, ideas, and resume to back it up.
She is wise beyond her years.
She is an activism powerhouse who champions for allyship and standing up against injustice.
She is a voice for the voiceless and amplifies the voices of those who already have the courage of speaking out and showing up.
She is genuine and unapologetically authentic.
& Most importanly, she is a somebody for everybody. She champions for all of us and the ways in which we can come together in a world that so often tries to drive us apart— and that alone is something to celebrate.
It is so refreshing to be met with a creative that not only delivers such quality content and is passionate about her own work and growth but also cares so deeply about the collective & how mankind can grow together and learn from each other along the way.
With over 180,000 followers between her personal and professional Instagram accounts, a lot of you may already be acquainted with Sophie Williams and her amazing work. And for those of you just "meeting" Sophie, as she says best, "It's good to meet you, we've got work to do," and work we shall.
In Sophie's own words, I'll leave you with this, from her & both of us with love:
You be good, I love you.
To learn more about Sophie and follow her creative and cultural journey through this world, please feel free to subscribe to her daily newsletters, visit her homepage, & follow her on socials. Continue to celebrate and share her story & those of amazing black creatives and entrepreneurs alike. Together, we all can support one another while we inspire a generation & beyond towards a better tomorrow.