More Than A King's Mistress
The Story Of Margaret Erskine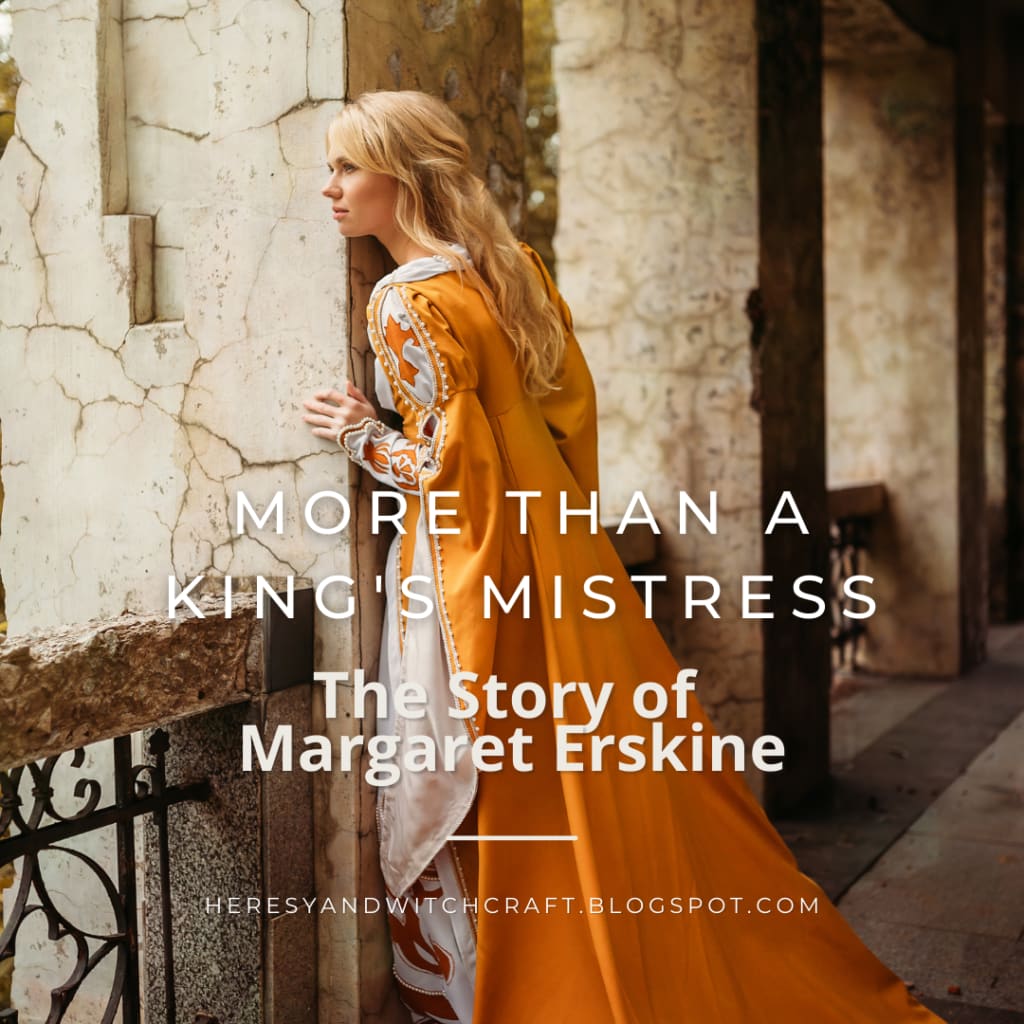 Edinburgh, October, 1515. A daughter was born to Lady Mary Campbell and her husband John Erskine, 5th Lord Erskine. At the moment they held their baby daughter, they probably had big dreams for her, as big of dreams as one could have for a daughter in 16th century Scotland. They probably didn't, however, expect her to become the mistress of arguably the most influential man of the time, King James V.
Margaret probably had what would have been considered a normal childhood, which happened to include a marriage. In 1527, at the age of twelve, Margaret was married to Robert Douglas of Lochleven. Robert was a scottish courtier and landowner, and resided in a castle, called Lochleven Castle, on an island in Loch Leven. It is estimated that Robert Douglas would have been roughly about the same age as Margaret, unlike most husbands in the 1500s, who were usually fifteen to twenty five years older than their brides. It was, however, unlikely to have been a love match. It would have been an arranged marriage, possibly decided in their infanthood, between two powerful families.
Margaret and Robert had six children during the course of their marriage. Two sons, William and Robert, and four daughters, Margaret, Euphemia, Janet, and Catherine.
In 1547, Robert was struck down and killed at the Battle of Pinkie Cleugh. He would have been about thirty two years old. This was the last significant battle between England and Scotland before the Union of the Crowns in 1603.
After her husband's death, Margaret became the châtelaine (or woman in charge) of her husband's family estate, Lochleven Castle. Her duties as châtelaine would have included running the household and overseeing the staff, rationing and planning meals for the household, and occasionally chaperoning and hosting guests, especially young, unmarried, aristocratic women. One of the women she chaperoned, or was "keeper" of, was Mary, Queen of Scots, in 1567.
One of the most defining experiences of Margaret's life was the time she spent as a mistress of King James V of Scotland. James V was king from 1513 until his death in 1542. He was the son of King James IV and Mary Tudor. During his reign, he married twice. First, to Madeleine of Valois, a young french woman, in order to renew a treaty, the Treaty of Rouen, between France and Scotland. She died, however, that very same year in the King's arms, after a lifelong battle with tuberculosis. She was seventeen years old.
After the Queen's death in 1537, King James V toyed with the idea of marrying possibly the only woman he really loved, our heroine, Margaret Erskine. She was still married to Robert Douglas at the time, but James considered decreeing a divorce for the pair and marrying Margaret himself. It is said that the King even went so far as to discuss the possibility of marrying Margaret with the Pope. We see evidence of this consideration in a letter written by Sir William Howard to King Henry VIII in England, discussing King James's Marriage, he wrote,
"...The marriage is broken between the King's Grace your nephew and the Monsieur de Vendôme, and he will marry a gentlewoman in Scotland, the Lord of Erskine's daughter, who was with your Grace the last summer at Thornbury; by whom he has had a child, having a husband, and his Grace has found means to divorce them. And there is great lamentation made for it in this country as far as men dare."
Love, however, or lust, was not enough for James to commit to marrying Margaret. He still needed a French wife to fulfill the treaty with France, so instead he married fellow widow Mary of Guise. Together, James and Mary had three children. Only one, however, would survive childhood.
The King's marriages did not stop him from his relationship with Margaret Erskine. As quoted in the passage above, Margaret did have children with the King throughout their affair. Together, they had two sons. The first, James Stewart, 1st Earl of Moray, was Regent while James VI was too young to rule Scotland. Their second son was Robert Stewart, and he became Prior of Whithorn (Head of the monastery) until he died in 1581.
Margaret was a woman, a wife, a mistress, and a mother. But who was she, apart from the roles she played? Unfortunately, there is not much known about her likes and dislikes, because of the way history was recorded. To some, she was believed to be a woman of supernatural skills, and had what could be considered prophetic dreams. While pregnant, it is rumored she had a dream of a lion and dragon, heraldic beasts, fighting in her womb. Perhaps, predicting the future struggles her sons would face when the question of legitimacy was raised.
Margaret devoted the rest of her days to her family. She supported her sons as they became influential men, and she kept the doors of Lochleven open to those who needed a refuge, including her granddaughters, and sent her family abroad gifts of whisky. Margaret passed away on the Loch in May of 1572. She was fifty seven years old.