How Becoming a Mom changed my Relationship with my Body
Becoming a mom gave me a new appreciation for my body, and everything it's capable of.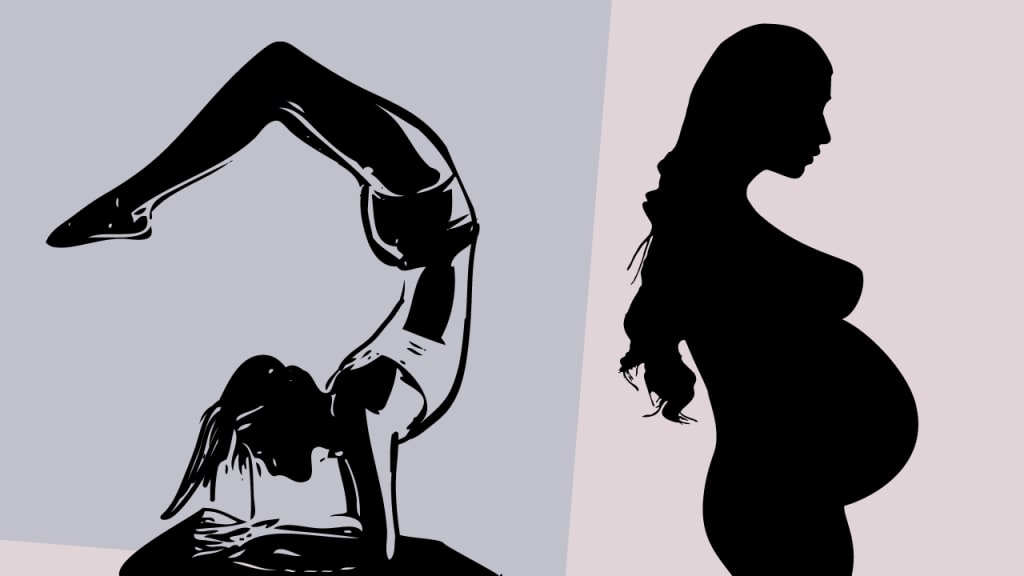 How I coped with body changes before pregnancy, during and post partum.
It took me a long time to get in sync with my body, and longer still after I had our baby.
Growing up, I had a bad hormone imbalance. It made it impossible to lose weight, I struggled with terrible periods, mood swings, and acne, and just never felt comfortable in my own skin.
Around sixteen, I started getting serious about my health and fitness, and within a year, lost almost 30lbs. By age 18, I was rock climbing, kick boxing, taking martial arts classes more regularly, and working out like a fiend.
This trend continued on, in a healthy way.
I worked out a lot, but I started eating cleaner and tracking my sugar intake. Eating good, wholesome foods with all real ingredients, and drinking lots of water too.
Many years later, I was still in the best shape I had ever been. I married my college sweetheart, and the two of us did a lot of fun activities together like Kenpo Karate and P90X3.
A little surprise
About a month into doing that fitness program, we found out we were pregnant. It was definitely a shock, because we weren't actively trying.
Becoming pregnant with our son Arthur was such a sweet blessing though, and everything that came from it has been as well.
Pregnancy was a very different experience. Your body grows and moves in so many ways. Your hips get wider, breasts get bigger, and of course, your belly grows too.
The one thing that held me back was that I wasn't sure how to be healthily pregnant.
I knew you weren't supposed to do things like drink wine or coffee, and I was pretty sure exercise was bad as well. Or at least, these were all things I had heard. "Don't' exercise hard, you'll hurt the baby." was a phrase that wrung through my head so often.
Not knowing what to do, I feel like I did nothing. And that made it really hard on my body towards the end of my pregnancy.
Loving your body and everything its capable of
Our bodies are capable of AMAZING things.
From healing themselves, to fighting off disease, to pushing out babies. Women have the amazing ability to carry life and give birth to little human beings, and I will forever be grateful for my experience carrying our son.
My relationship with my body prior to pregnancy was very good.
I had lost the weight, I worked out often, and could pretty much eat what I wanted without gaining an ounce. I loved how I looked and felt very in-tune with my body and what it needed, from food to exercise.
But toward the end of my pregnancy with my son, I started down a rough slide of feeling anxious, unattractive, and incapable.
I have a skewed view of how I looked because none of my clothes fit. I was anxious about overworking myself and hurting my unborn son by accident. There were so many things that started to play negatively on my mental and physical health.
This was not my baby's fault, my husband's fault, or my own fault.
I now have the hindsight to realize what I should have done differently, and how I could have had a better pregnancy with my little boy, Arthur.
Change is a good thing
Pregnancy can be an amazing, beautiful time! And so much of mine was.
I love these photos I took of myself on my breaks at work, showing how much baby boy was growing.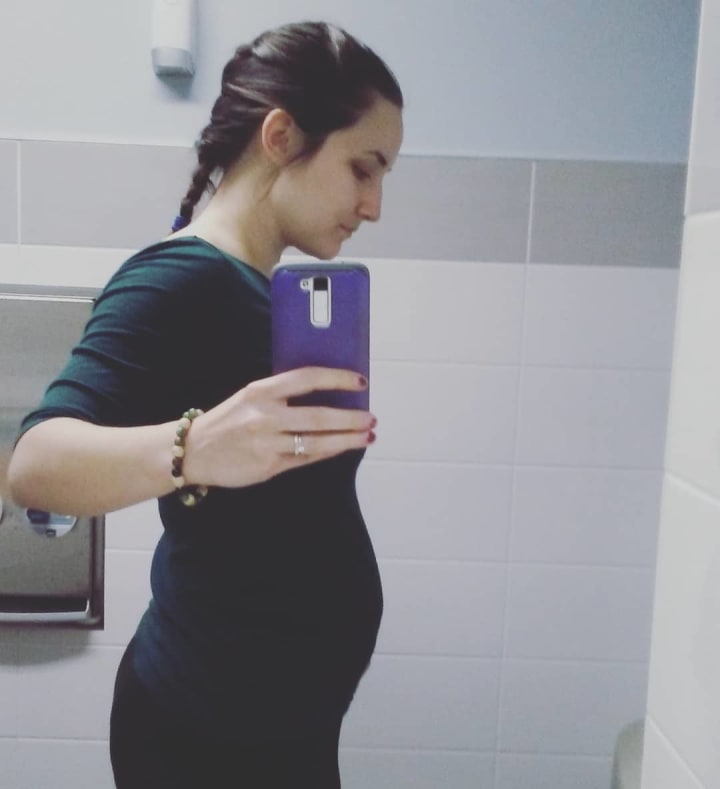 Inactivity and High BP
Now, with the hindsight I have, I know I should have been more active during the second and third trimester.
Not walking and exercising like I should have been is likely what led to swelling, anxiety, and ultimately getting Pre and Post Partum Preeclampsia.
This photo was taken about two weeks before I found out I had gotten preeclampsia. It's still my favorite belly photo from the end of our pregnancy.
Welcoming new life
These moments captured below were from the day after our son was born. So tired, so happy, and so ready to go home.
We were so happy and tired.
My blood pressure was an ongoing issue for a good while after giving birth, which is a story you can read here. I started my post partum journey in a rough way, even though I "shrunk down" as the nurses said, very quickly. It took a long while to get my BP back to normal. I still couldn't fit in any of my jeans or tank tops for a long time, and none of my clothes besides sweat pants even felt comfortable.
I honestly don't remember much of that first few months.
There are moments I remember, like waking up early and watching movies on the couch with our son while he breastfed. Snuggling up together for afternoon naps, and just being amazed at the little human being we created.
Though I was happy, I needed to get back to taking care of my mind and body and get back to being healthy again.
Loving my little one while taking care of myself too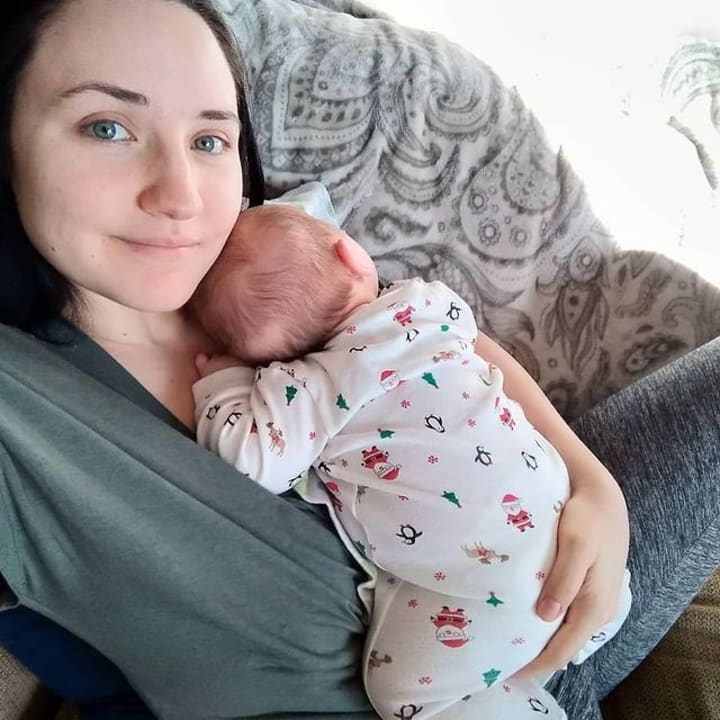 This is me 4 Months Post Partum, starting to feel better and more capable.
During this time, we bought a house. During the beginning of the COVID19 pandemic no less! By the time Arthur was 6 months old, we had settled in and the Chaos was settling a bit for us. We were in a good routine.
Not long after, a friend of mine reached out and asked if I wanted to join her fitness group. It was with a company called Beachbody, and I had been a part of that community when I first started losing weight around eighteen. I talked to my husband and remember saying, "I think I need to do this for myself. I need to challenge myself to get in shape again."
Being Intentional with Change
I had to remind myself I was still capable. SO capable of great things, including getting back in shape. I started working out with a group of women from my church and doing a Beachbody program called Morning Meltdown 100.
This program is 100 days long and has exercises that range from MMA type training, cardio, yoga, weight lifting, and full-body exercises.
Jericho McMatthews is the trainer with the red hair and green crop top pictured above. She is one of my biggest inspirations when it comes to health, fitness, and energy. She herself has a little boy, and that helped me to realize that if another mom can be that fit, happy and energetic, so can I.
Now in March of 2021, I am feeling even stronger than I did before I was pregnant with my boy. I've finished 3 fitness programs, learned healthier eating habits, and am more confident than I've been in a long time.
I've also lost 15 lbs of body fat and gained 5lbs of muscle. I've lost 7 inches since starting my first program a year ago when my boy was only six months old.
I know how powerful my body is, how tough I am, and what I am capable of as a woman.
I carried my son for nine months, recovered from post-partum preeclampsia with herbal supplements, healed my diastasis recti and gained a ton of healthy, lean muscle mass, and can carry my 25lb toddler around as much as he needs.
So to any other mama's out there, it is possible to love your body again. It is possible to feel strong and capable, and to feel healthy and like yourself.
Yes, my relationship with my body did change between pre-pregnancy and post-partum, but I wouldn't change the change I went through for anything. I'm stronger and more fit than ever. It taught me how to love myself all over again, and I'll always be grateful for that, and for my amazing little boy.
_______________________
If you loved this article, read this next:
Thank you so much for reading! If you liked this article, be sure to click the heart button. If you really liked this article, tips are greatly appreciated! You can find more articles from me here on Vocal under my profile. -Leah H.
body
About the author
Writer, blogger and artist. Inspirations for writing are Markus Zusak and Tyler Knott Gregson. Follow me on Instagram! @a.natural.endeavor
Reader insights
Be the first to share your insights about this piece.
Add your insights