Gianmatteo Costanza on How to Create a Price for Your Artwork
Gianmatteo Costanza, a business expett and lover of the arts, shares his thoughts on pricing your artwork.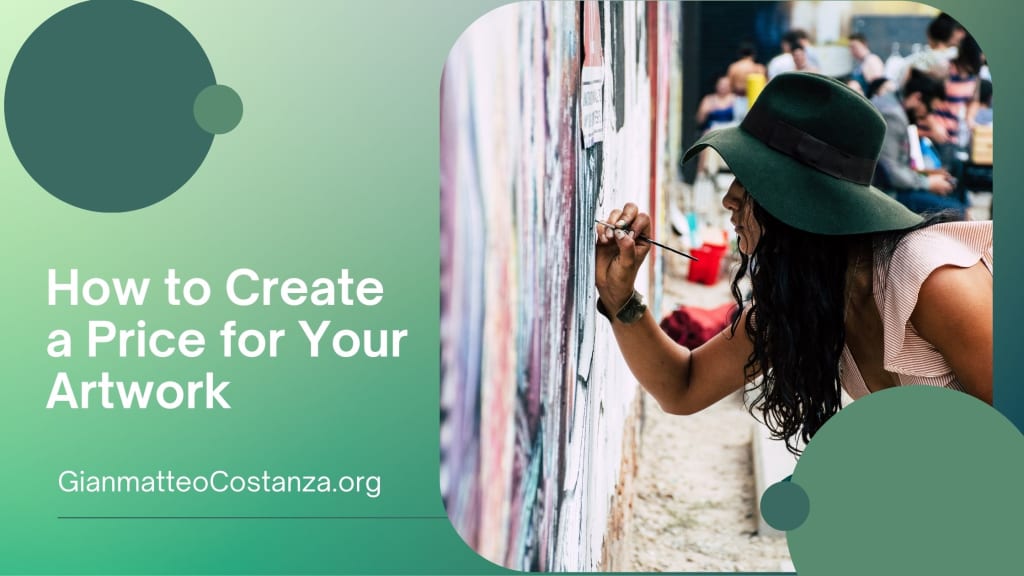 https://gianmatteocostanza.org/how-to-create-a-price-for-your-artwork/
Pricing an artwork is one of the most challenging things in the art world. This process can be very time-consuming and challenging, as it involves figuring out the market price for a particular piece of art. In addition to the type of art, other factors, such as the materials used and the piece's popularity, can also affect the price. This article aims to provide a general idea of how to price artwork so that it will appeal to both buyers and sellers.
Do Your Research
Getting to know your competitors is vital to any market research strategy. In a world where information is easily accessible, this process has become much less tiring. It used to be that we would walk through art galleries, look through art fairs, and browse through newspaper articles. Now we just go through the web to locate the type of art we need.
Most established artists have their own websites where they can display their prices. Some have also created profiles on art-focused websites to help potential buyers find more accurate information.
Before you start the process of pricing an artwork, it is important that you know what you want to sell. In addition to the type of art, other factors, such as the materials used and the piece's popularity, can also affect the price. The complexity of the art styles can make the pricing process incredibly complex.
Look at Expenses
When it comes to being a visual artist, varying expenses can be incurred depending on the type of art you are working on.
One of the most common mistakes that artists make is putting too much value on their own time, as we tend to have a lesser idea of ourselves than we actually are. However, there are still ways that you can do this, such as calculating the average hourly wage in your country. This will allow you to determine the amount of money you need to spend on the art you want to sell.
Another common mistake that artists make is forgetting to include their experience when it comes to pricing their works. For instance, if you are an experienced artist who has been working on a particular type or style of art for a long time and has already gained a lot of experience, then the value of your work should include this.
Conclusion
The final value of an artwork depends on what your audience is ready to spend. While the internet provides us with tremendous freedom, we also have to consider various factors when it comes to pricing, such as your country of residence and your intended audience.
ABOUT GIANMATTEO COSTANZA
It may seem counterintuitive to call Gianmatteo Costanza an artist, given his many years of expertise within the IT industry. But to him, software creation is a form of art. Gianmatteo believes that products developed with the user in mind can profoundly impact people's lives. As a tech expert who has worked on teams from small to large and has knowledge of front- and back-end development, team management, financing, and design, Gianmatteo enjoys being part of something that creates inspiring solutions and improves the quality of life.
As a full-stack developer, Gianmatteo possesses a unique combination of hard and soft skills, which is mandatory to excel at his work. He seamlessly bridges gaps and brings together multiple departments in order to form a cohesive team. Gianmatteo has built up a stellar reputation for acting as a liaison between users and developers, something that is vital to any software life cycle. His time management skills as a leader ensure that projects stay on budget and within timelines. Gianmatteo has the ability to zoom out and see the big picture while also treating UX UI stages as valuable as the code it sits on. Along with the creative vision necessary to be as successful as Gianmatteo Costanza has been throughout his career comes patience and understanding with his team, coworkers, and clients.
About the Creator
Gianmatteo Costanza has been at the heart of the visualization revolution since its beginning. He moved to Silicon Valley and became one of the change-makers after arriving on the UX/UI scene. He values both front- and back-end development.
Reader insights
Be the first to share your insights about this piece.
Add your insights