Five Things You Should Know About Women's Rugby
A quick summary of a few things that make this amazing sport, well, amazing.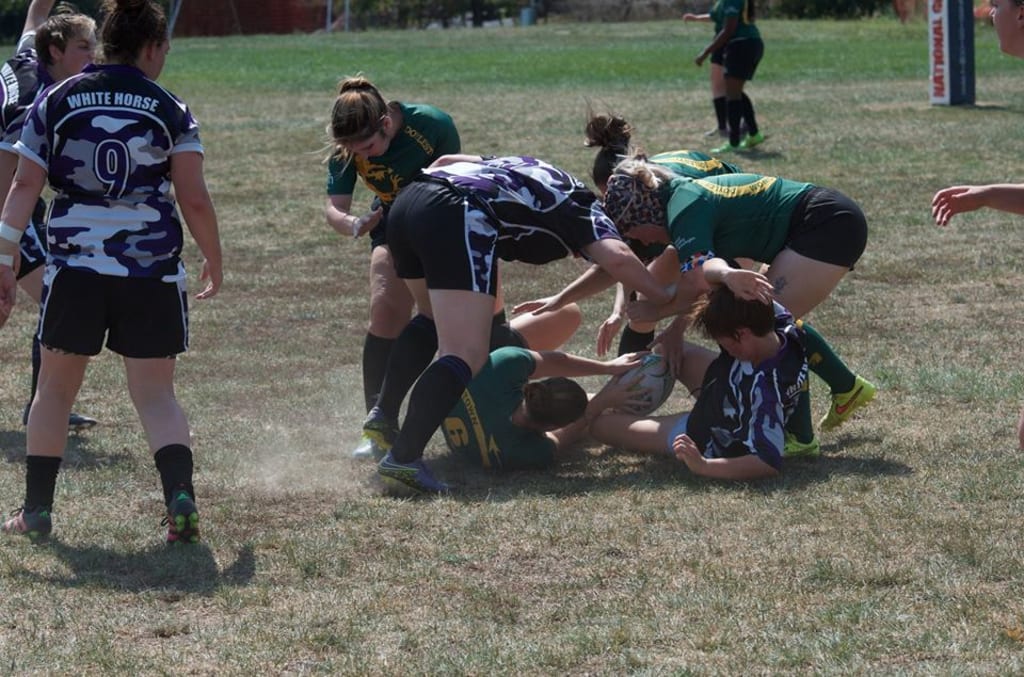 Me (the short haired goober) trying to roll away after a tackle during Phoenixville White Horse vs Doylestown Dragons
Rugby is an incredible sport that is at last breaking through to the masses and, like anything, new, people are going to have some questions about it. This modest little piece is simply here to serve as an introduction to any woman intrigued about this sport, its history and curious as to how to get involved.
1) It's full contact:
Rugby is one of the few sports women can play that is full contact. Many organized sports women enjoy today lack that harmonious blend of mental strategy with unadulterated physical brutality. Even women's hockey bans body checks while on the ice. Thankfully, that sexist idea that the "gentler sex" wouldn't have much fun hitting each other never made it onto the rugby pitch. Female ruggers will tackle, scrum and ruck just as their male counterparts do and then parade around some awe inspiring injuries they received for their efforts. They will also, of course, drink plenty of beer afterward. That's essential to the healing process.
2) Rugby has been around...for a while:
The hooligans' game played by gentlewomen (and men) has made an incredible surge in popularity over the last three years and in 2016 rugby sevens was made an official event in the Summer Olympics. This game of elegant violence has been with us for a very long time though. The first official documentation of an organized women's charity match was in 1917! Women, as indomitable as ever, refused to give up on this sport and finally, in the late 1970s, the United States held the first ever Women's US National Championship in Chicago.
3) Rugby encourages altruism:
As mentioned above, not only is rugby's personal history long but so is its tradition of giving back to the community that hosts and nurtures it. Many times throughout the year, a town's men and women rugby clubs will join forces so they can keep their environment clean, raise money for individuals with special needs, or simply collect funds for a variety of charitable causes. The spirit of rugby intensifies not only the players' physical drive but their drive to help their fellow human beings as well.
4) Rugby is for everyone:
Anyone can enter into this realm of camaraderie and ridiculousness. A form of rugby for disabled players was even developed in the early 1970s in Canada. Wheelchair Rugby, originally called Murderball, is a full contact and coed sport. It is also a Paralympic event, and the 2005 film Murderball actually follows U.S. hopefuls as they fight their way to the Games in Athens, Greece. Rugby brings women together and empowers them to tackle (pun intended) obstacles they never thought possible. Now Wheelchair Rugby is played in over twenty countries around the globe!
5) Joining is easy:
Personally, I had only heard rumors about rugby and only started playing when I was a sophomore at West Chester University; needless to say, after my first week of practice the sport had captivated me. Since then I've had the privilege to run, sweat and scream alongside mothers in their thirties, fresh college graduates and even people who've never played the sport before in their lives. Women who are interested in joining but don't know where to start needn't fear. Joining a team for the first time is simple. All you need to become a rugger is a mouth guard and a pair of cleats. Once you have your gear, go ahead and join up with your local rugby club! They will be more than happy to teach you the rest of the techniques you will need to know. I look forward to meeting you in a ruck!
About the Creator
Welcome! I provide free book reviews for modern poets! At the end of the year, 10% of all earnings and donations will be given to a non profit organization. This year you will all be helping Lambda Literary! Thank you!
Twitter: @poetryberry
Reader insights
Be the first to share your insights about this piece.
Add your insights