Finding the Magic
It's Bridgerton's world, I'm just (dreaming of) living in it.

Familiar theme songs of 90s sitcoms, the lovable corniness of childhood Disney shows, the first episode feeling of sinking down into my cozy spot as I restart One Tree Hill or Criminal Minds for the umpteenth time; I am a comfort show person (yes, I realize I just called Criminal Minds a comfort show, moving right along). When faced with the decision to start a new show, no matter how thrilling and enticing the trailer may be, nine times out of ten I will add it to my list, but continue watching something I already know and love. Anyone else? I can't imagine I am the only one. So, for those of you kin to me in these ways, you might not want to venture into the psychological reasons behind your desire to stay within the realm of familiarity and comfort. Not to worry, I am only here to offer you a challenge.
I recently graduated from university with a degree in English Literature; for those of you who have indulged in any of the classics, you probably have a decent sense of who I am by now. For those of you who have not, let's just say, you can often find me in some 18th century fantasy world I've created in my mind at any given time of day. Three and a half years of Jane Austen, Samuel Richardson, and Voltaire have a tendency to do this to one's subconscious (and sometimes conscious) desires. That said, the shows that have accomplished the feat of luring me out of my den of cozy TV comfort, have been the ones that offer more than just a gripping concept or impossibly beautiful cast. Proposition me with a sublime experience, a stillness found in the possibility that in another life I was a part of this world, and a story so beautifully crafted that those most memorable scenes can't help but linger in my mind throughout the day and night. I'm a tough critic, and such an experience is a rare and elusive find; but if you too have been looking for it, look no further. Grab your favorite snack and snuggle into your cozy spot, I'm betting you won't leave it for 8 episodes. Find Bridgerton on Netflix, hit play, and escape to a very romanticized version of 1813 London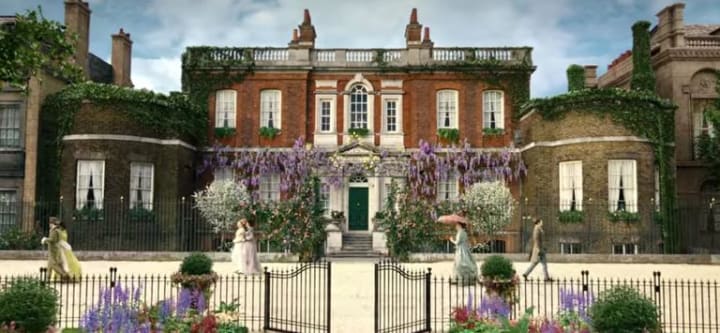 Now, if my introduction was just so darn good that you abandoned your computer and headed straight for the TV, I don't blame you one bit. If you're still here, hear me out when I reiterate the very in "very romanticized." The series that shattered Netflix streaming records, birthed from Julia Quinn's romance novels, does not depict historical realism, especially in terms of race. One of the reasons the show is so romantic and ideal is because it paints a picture of racial equality in a time period where that was indeed not the case. In the wake of the Black Lives Matter movement and the very necessary historical reckoning brought alongside it, we should be more aware than ever of the brutal history of racial inequality in all parts of the world. I do not think that the execution of Bridgerton and the choice to set black and white characters equal to one another (referring to their official "statuses" in the show) do an injustice to historical accuracy or serve as a shallow attempt to make the content and characters more digestible. Rather, we see talented actors step into roles and begin to pen their own story in the world of entertainment, a history that continues to be written. Whilst still fighting racial inequality and the many avenues that systemic racism has taken to continue the oppression of black people, Bridgerton chose not to ignore these challenges, but embrace them. They chose to confront Eurocentric storytelling head on and cast the roles based on a modern landscape that recognizes the need for and the desire to see strong black leads in such roles. Is it perfect? Far from it, but it is a start.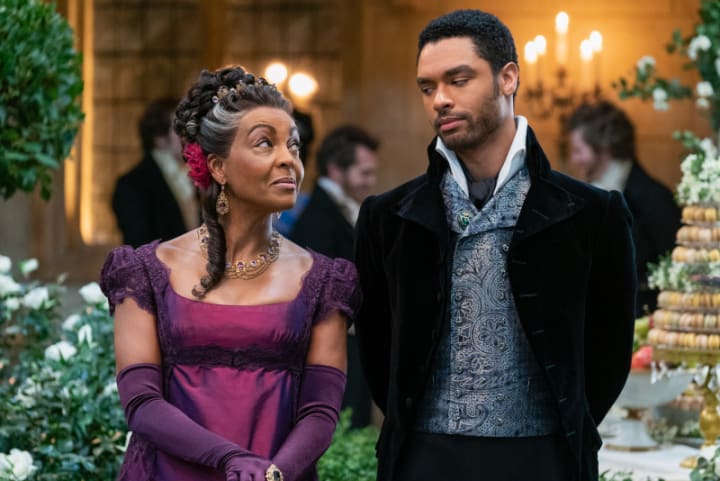 To that end, it is no secret that Regé-Jean Page is just one of the many reasons why this show is most certainly classified as binge-worthy (I mean, have you seen him?).
His dashing good looks, however, are only an addition to the full package of a very capable and dedicated actor. His character, the Duke of Hastings, returns to London and finds himself in an agreement with Daphne Bridgerton to help her find a husband (although it's clear from the start that he's not all in on "mission: find Daphne another man", which... duh). Phoebe Dynevor brings the character of Daphne to life and matches the graceful and romantic atmosphere at every turn. The dresses are to die for, the jewels are exquisite, the houses are enormous, and yet the chemistry between Page and Dynevor (or rather, the Duke and Duchess) makes the rest of it fade away, as their on screen presence demands the entirety of your attention every single time they appear. Through and through, I am an independent and "I don't need no man" kinda gal, but the perfectly pleasing aesthetics of the show accompanied by the romantic duo's subtle glances and soft touches had me dreaming of finding my own Duke and wishing I was waking up beside him to the sound of a horse drawn carriage clattering down the road outside my bedroom window…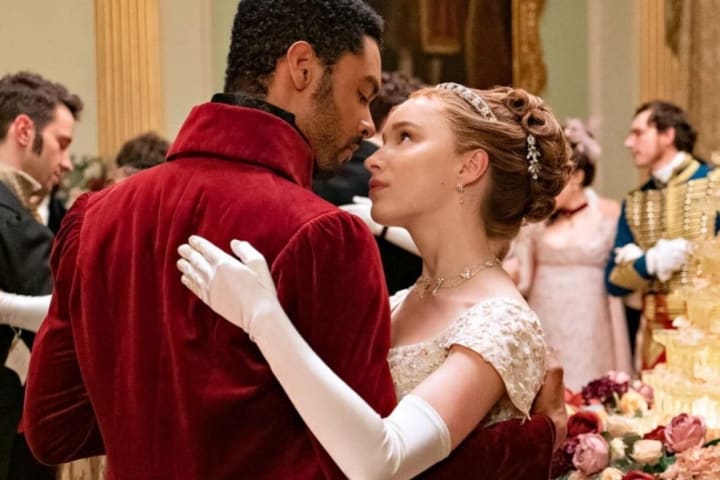 Where was I? Ah yes, the first (and not for long, only) season heavily follows the romance between the Duke and the Duchess, but the subplots are captivating in their own rights, always assuring you that something unexpected and scandalous lurks just around the corner. There are balls, operas, boxing matches, piano playing, nude portrait painting, fake French accents, ginormous wigs, canopy beds, passion, tension, some of the most flawlessly choreographed intimacy scenes to touch the screen, humor, the weight of familial obligations, a marvelous black queen, and the voice of Julie Andrews chiming in every episode like a Regency-style gossip girl (in the best possible way). If that's still not enough to convince you, there's also modern pop songs including, "thank u, next" and "bad guy" played by Vitamin String Quartet thrown right into the background noise of the episodes.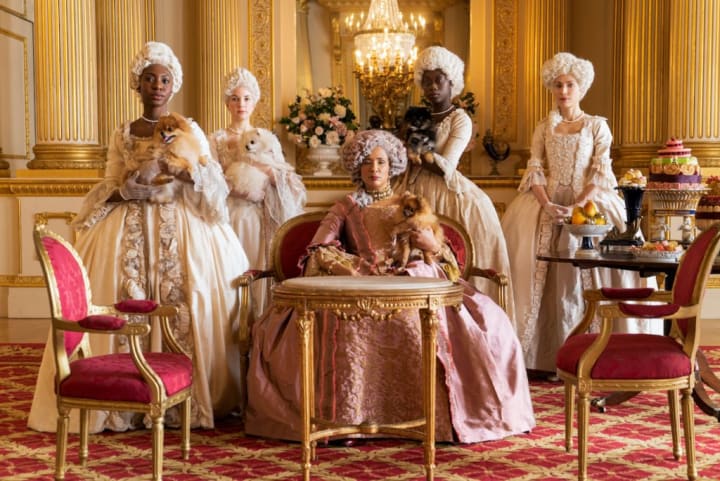 Bridgerton is about finding love for some, avoiding it for others, and grappling with the age-old "head vs. heart" debate for most. Young women take hold of their own destinies, young men just try to keep up, and the parents do what parents do best, while some fail to even be around. Set in a time long before any of us, many of us can still find ourselves somewhere amongst the messes they find themselves in.
I don't want to give any spoilers, so let me conclude by saying, as someone who rarely starts new shows, I started Bridgerton, finished it, and repeated that process just to take it all in once more. I considered writing this submission over a show that would probably be more broadly accepted as "binge-worthy," not a brand new show with only one season. When I began to ponder what really makes something binge-worthy, however, I found myself at a bit more of a philosophical endpoint. What an English degree taught me (other than how to write a 15-page essay in one day) is that a truly good story has a near-mystical power that we encounter in different forms throughout our lives. If reading isn't your style, you may find it sitting in a movie theater in the darkness, or listening to an elderly family member tell stories of their own lifetime. It can be found in small and unexpected places, but you'll know when you come across it, by what it awakens inside of you. There is nothing wrong with a comfort zone, when it comes to TV or life, but often times the magic is hiding just a little bit outside of those boundaries.