Dispatches from NYWIFT 20th Annual Designing Women Awards
New York Women in Film and Television: Designing Women Gala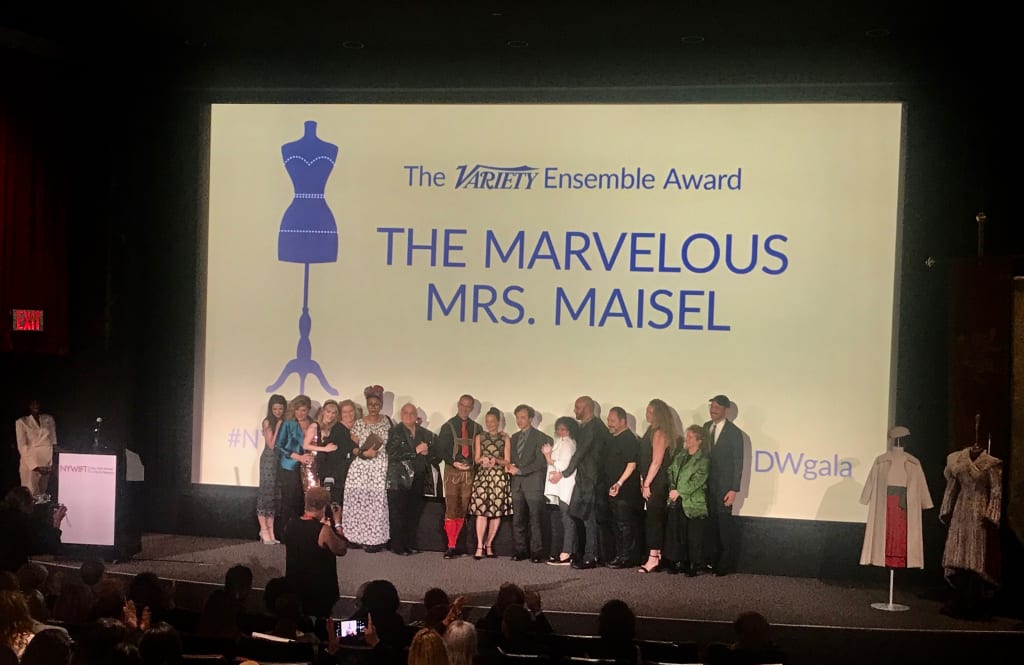 photo by Lia F.
New York Women in Film and Television (NYWIFT) had its 20th annual Designing Women Awards gala on Tuesday, June 11 at the acclaimed Directors Guild of America Theater in New York City and was once again a motivational celebration. Co-presented by Variety, the event recognized and celebrated extraordinary women behind-the-scenes, renowned make-up artists, hair stylists and costume designers for their achievements, talent, and vision in the entertainment industry.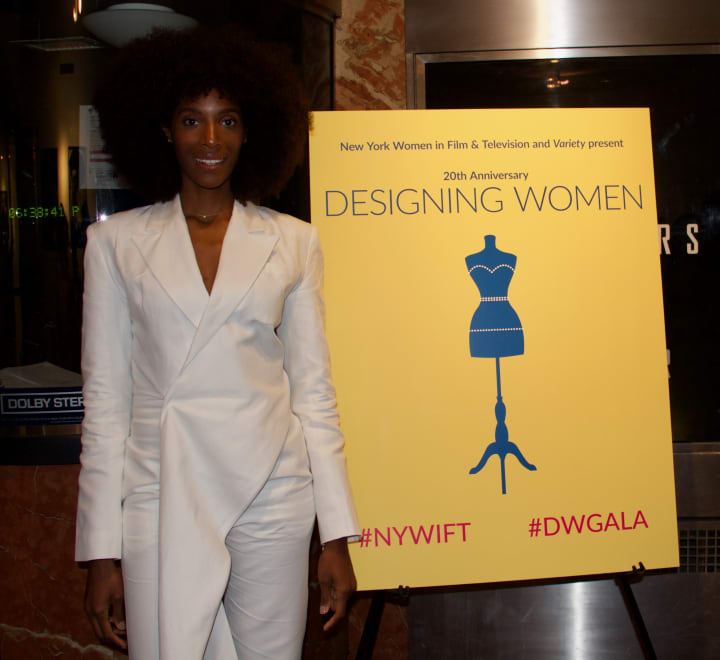 NYWIFT has supported and empowered women working in the show business for over 40 years and this annual award gala was hosted by comedian Zainab Johnson(Late Night with Seth Meyers, Last Comic Standing). Other distinguished presenters included Rachel Brosnahan (actress, holds an Emmy and two Golden Globes for The Marvelous Mrs. Maisel), Marin Hinkle (Actress, The Marvelous Mrs. Maisel, Two and a Half Men, Madam Secretary), Caroline Aaron (Actress, Beyond the Sea, Edward Scissorhands, Hello, My Name is Doris),Zazie Beetz (Actress, Deadpool 2, Atlanta), Lesley Stahl (Broadcast journalist, 60 Minutes), and Janet Graham-Borba (Executive vice president, supervising production on HBO series), along with NYWIFT Executive Director Cynthia López and NYWIFT Board of Directors President Simone Pero.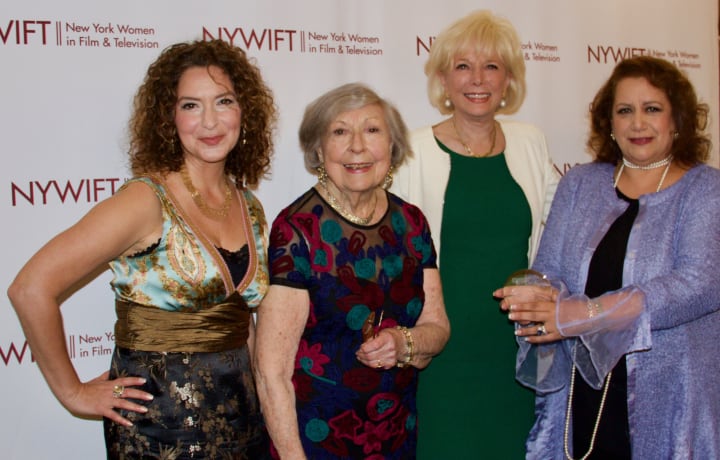 Exceptional women honored this year included Costume Designer Michele Clapton(Game of Thrones, The Crown), Hair Stylist Shunika Terry(Atlanta, House of Cards, First Wives Club), Makeup Artist Riccie Johnson(60 Minutes), and The Variety Ensemble of The Marvelous Mrs. Maisel Design Team Donna Zakowska (Costume Design), Patricia Regan (Makeup), and Jerry DeCarlo (Hair).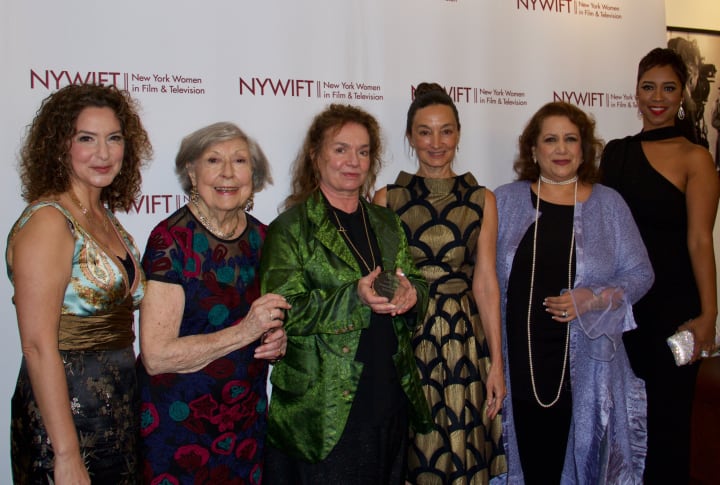 Actress Zazie Beetz noted what a wonderful evening it was when presenting the award for Shunika Terry.
"We are here for creativity, we are here for connection, we are here to tell stories and to share. This is what Shunika does."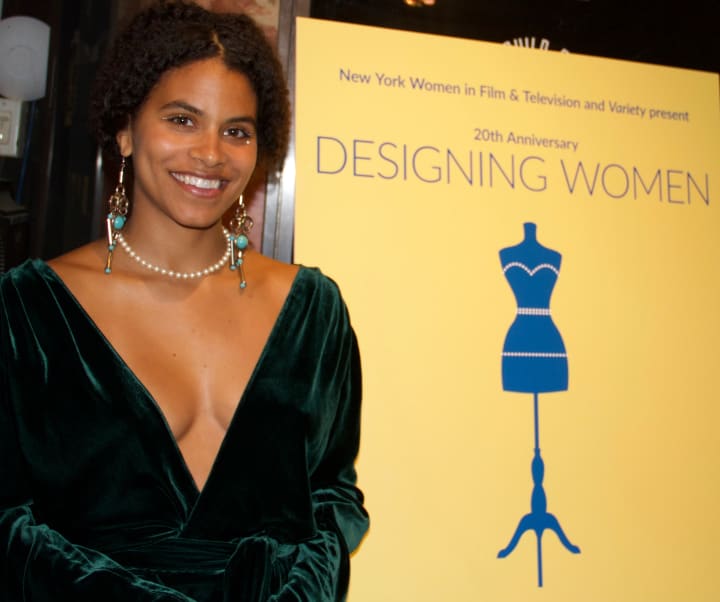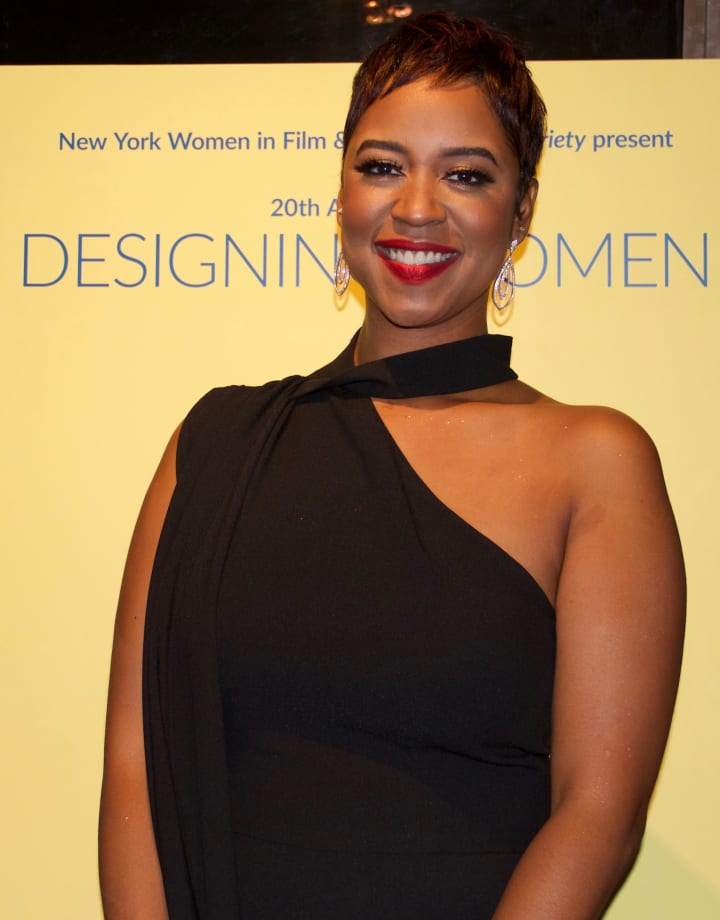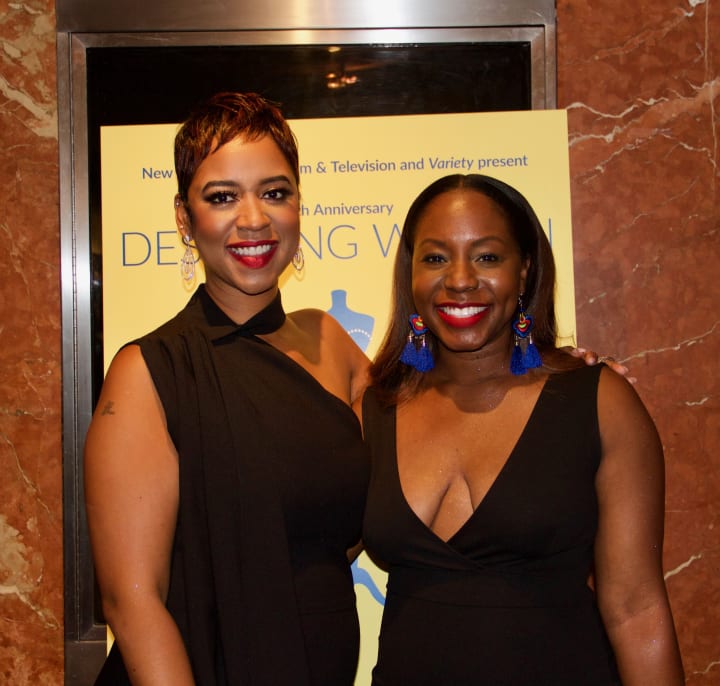 Michele Clapton had a strong message in her acceptance speech—"Women can do anything if they are given the choice to do so" and encouraged the creation of facilities while filming, specially for mothers, to support women.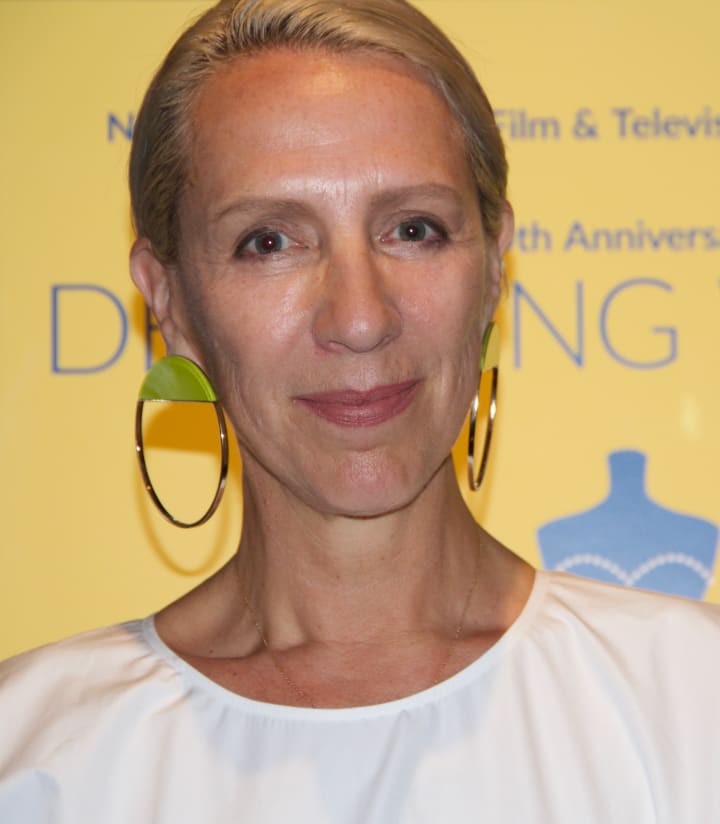 Each award presentation was introduced with a clip and audiences learned new information about designers, including that costume designer Michele Clapton found inspiration from wool Ikea carpets to help create costumes because as she explained, "I'm not being lazy, I am being practical." Hairstylist Shunika Terry relied on babies staying super still during a scene from "The Three Stooges" film so that a wig doesn't fall off because they couldn't glue them to children's heads. Make-up artist Riccie Johnson got the opportunity to apply make-up to The Beatles during their famous Ed Sullivan appearance after someone passed on the opportunity. When Johnson saw Paul McCartney again, he remembered her as the lady who put us in pancake make-up and eyeliner.
As The Marvelous Mrs. Maisel make-up artist, Patricia Regan, received her award, the show's star Rachel Brosnahan helped to adjust her make-up, noting, "Now I'm your make-up artist!"
"Women in film and television are like cocoons," said costume designer Donna Zakowska. "Certainly nothing practical about it, but you need to do it with passion. We are in a perpetual state of waiting, hoping that we will be recognized, that we will be given credit, that we somehow are equal. What is so great about this whole event is that I think the cocoons open and we become butterflies."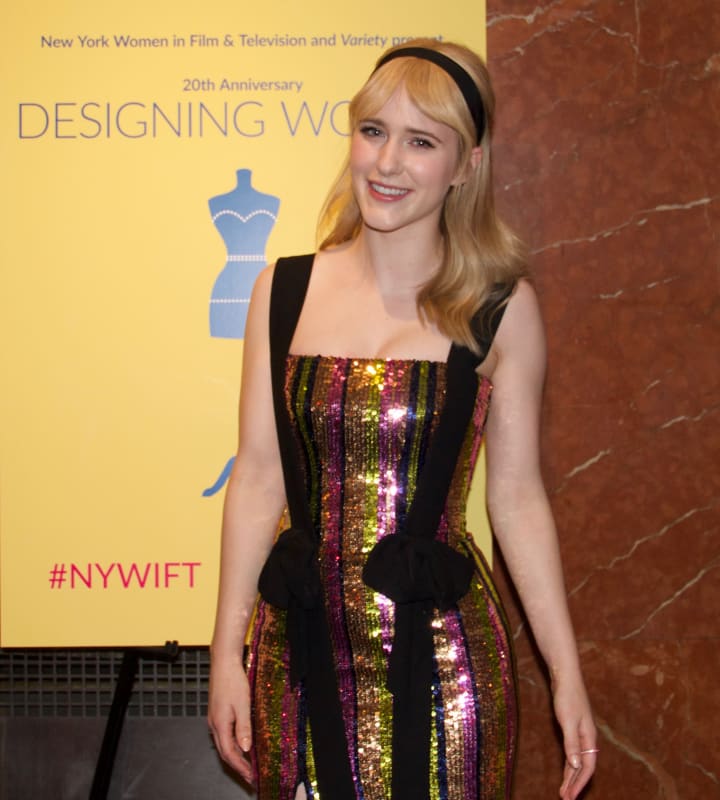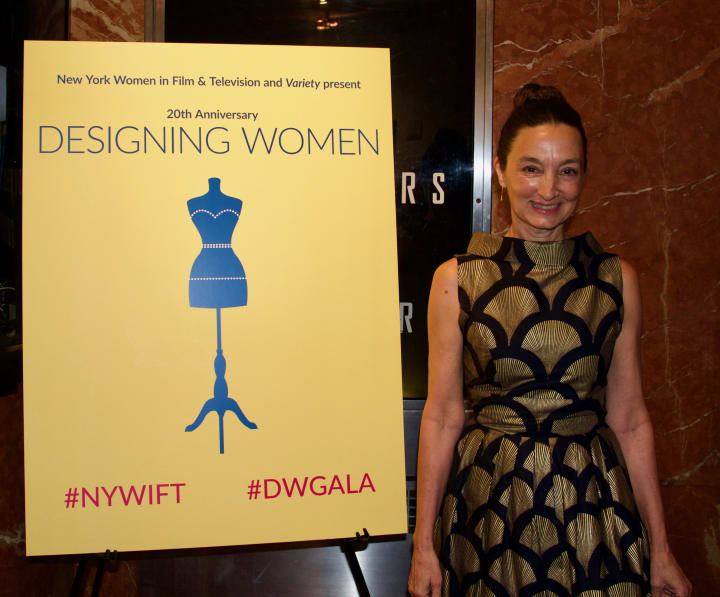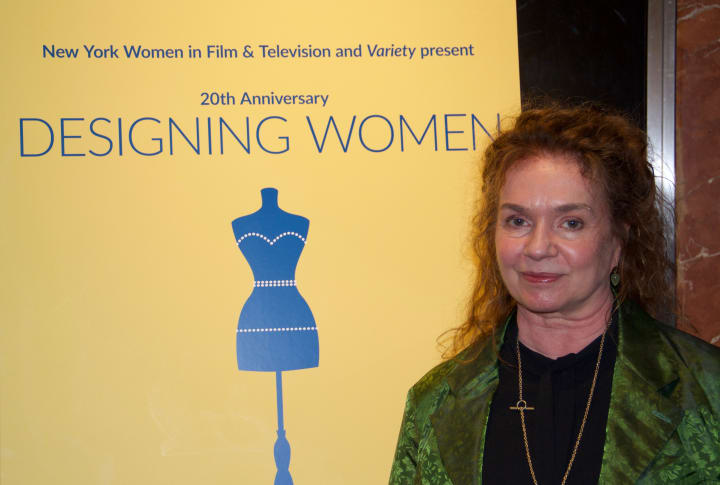 In this industry that is working towards diversity, including more women, people of race and range of beauty, it is essential to acknowledge the work of these women. They have created, innovated, and developed a foresight for storytelling in the media entertainment.
Let us congratulate these extraordinary women!
To find out more about NYWIFT and Designing Women Awards click here.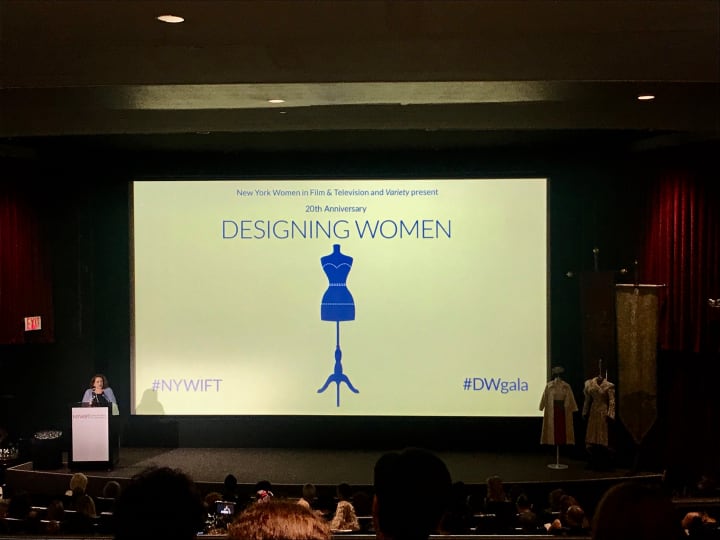 About the Creator
I'm an actress of Portuguese and German descent, with a lot to say! Love storytelling, specially the ones that explore social issues. Social awareness through art.
Reader insights
Be the first to share your insights about this piece.
Add your insights