Dealing with PCOS
My Side of the Story

PCOS... Why do I feel like this is one of the least talked about abnormalities in women's health? I would like to share my story and obstacles I have encountered, but have also come to accept (for the most part).
I was the semi-normal girl. I had braces at a young age, developed acne sooner than most, and started my period when I was 12. I was super irregular. I would get my period every three to six months and they were very light. It's still like that to this day and I'm 24. From 4th grade to about 10th grade, I struggled with acne. I would wash my face three times a day. No difference. I'm sure you can imagine my frustration. On top of the acne, I was about 15 pounds heavier then I should have been. I had horrible self-esteem issues. High school wasn't all bad though. I slimmed down when I got into sports, but then I started to notice something else. Hair. Frickin' hair—dark, thick hair. Growing on the sides of my face. Of course my first instinct was to shave it. I kept it pretty concealed the rest of my high school career. But it always bothered the hell out of me.
Fast forward to my first year out of high school, and being on my own for the first time. This was a really weird year of me. I wasn't in college at the time. I decided to figure out what I really wanted to do, so I moved in with two roommates, worked two jobs, and did all things a 19-year-old girl would do. Date.
One of my jobs was working at a gym. So by working there, I had a free membership. At first I didn't really use it. However, after all that "dating," I had sworn off boys and dedicated all my time to myself. I worked out for three months straight and had lost about 20 pounds. I left amazing. I was lifting weights, doing non-stop cardio, and of course eating clean. One thing that always bothered me, though, was my facial hair. There was more of it and it was darker and thicker than ever. I had it on the sides of my face, my chin, under my chin and onto parts of my neck, AND my upper lip. I was so embarrassed and covered my face with so much makeup, and I HATED wearing makeup to the gym. Then, of course, I got acne. It was a vicious cycle. I had sworn off shaving my face because I would get terrible razor burn and it just hurt my face. So I switched to tweezing. It hurt so bad, but I was not going to walk around with a full on beard. I would have to tweeze everyday. That's how bad it was. My face was red and sore from the tweezing. I would use so much concealer and powder to try and cover up everything. I would spend weekends in my room with no face-to-face contact with anyone because I wanted my face to heal. Plus it was just saddening.
After countless talks with my mom, we both decided it was time to make a doctor's appointment. I wanted to get to the bottom of this. There were so many un-answered questions I had. I went and saw our family practitioner. She was great. Very understanding and helpful. By looking at all my symptoms and me telling her EVERYTHING, she came to the conclusion that I had PCOS. Though she wanted to make sure. I had another appointment to have a vaginal ultrasound to see if I had any cysts. For some reason, that was a very scary procedure. I saw all these red dots on the screen and immediately jumped to conclusions, but didn't ask questions. I was frozen. I was very emotional afterwards. I got the results in about two weeks. NO CYSTS! Hooray! But I was diagnosed with an above average case of PCOS (whatever that means).
I was about 155 pounds (which was "overweight"), had facial hair, acne, high testosterone levels (which caused the hair growth), very irregular periods, and had a higher chance of a heart attack, high blood pressure, and diabetes. Also there was a chance that it would be harder for me to become pregnant, or to bear a child.
This was all very devastating news for an insecure, alone, 19-year-old.
Over the last five years, I have tried laser hair removal to try and contain my facial hair. It works, but in a minimal way. It is very expensive and also painful. I was only able to do about four or five sessions but damn did I see a difference. Unfortunately, the laser will never actually destroy the hair follicle completely because women with PCOS have high testosterone levels, so it keeps growing back! And the laser is practically burning your face, in a sense. Oh the things women do to make themselves prettier.
I still work out and eat a pretty well balanced diet. But I'm not perfect all the time when it comes to food.
I have done tons of research to try and better myself to deal with PCOS and this is one of my favorite websites: Dr. Brighten
Also! look up Episoft. It's not a permanent solution but it helps with the hair growth and makes this more bearable.
I hope this will give you some insight and to all you other girls out there with PCOS, I feel your pain. You are not alone in this journey. Feel free to contact me by email if you have any questions or comments.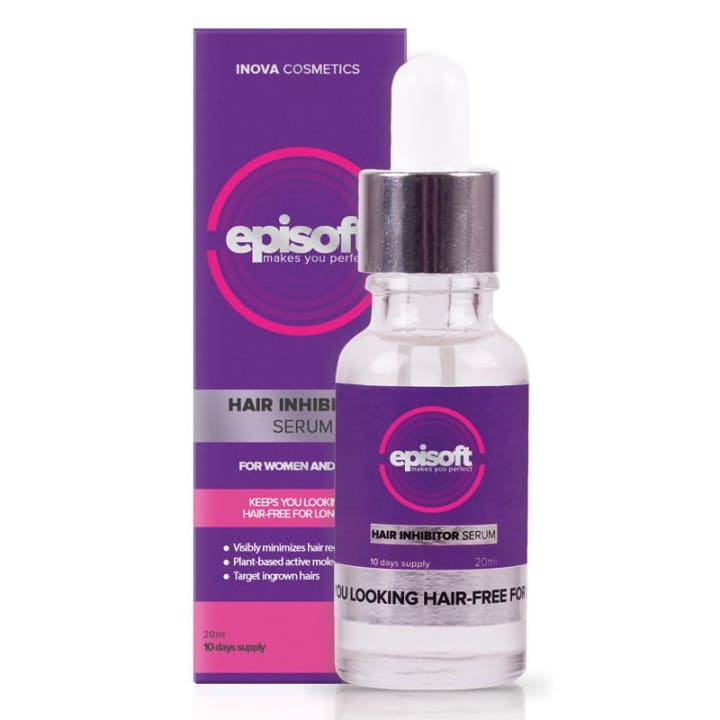 I found them on Instagram. Go to their page @episoftglobal. Link in their bio.