Cuz I'm My Own Soulmate
A tribute to Lizzo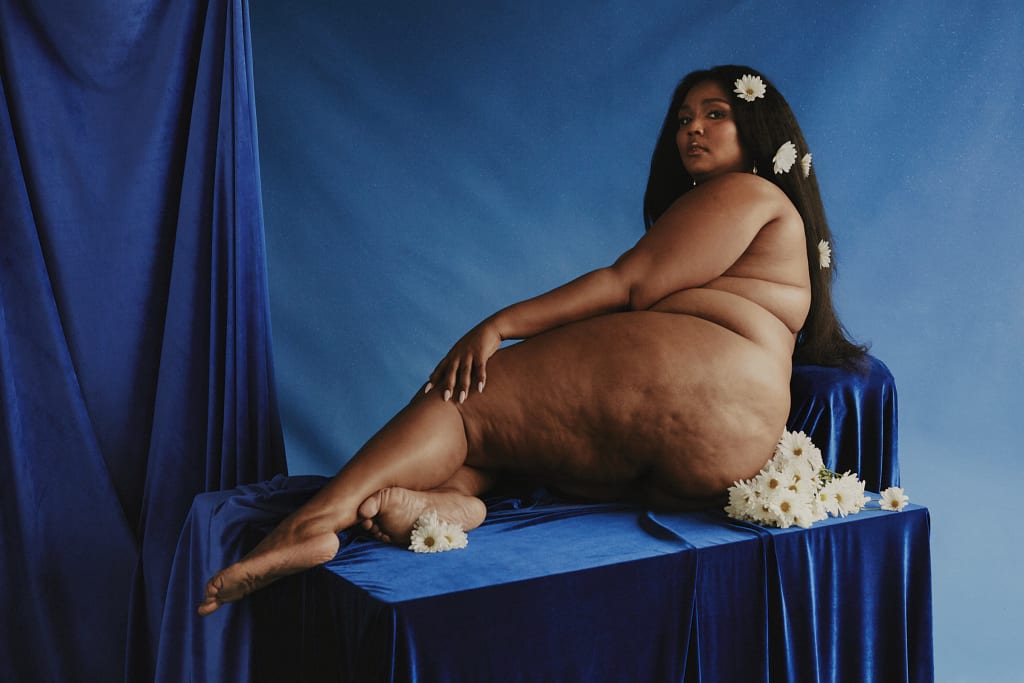 Thick. Sassy. Gorgeous.
Those were my first thoughts as I watched her music video for "Truth Hurts" with my sister.
My second thought, I want to be her when I grow up.
All my life I've struggled with my weight and the beauty standards "demanded" of women. I've also fought with friends, family and society about the fact that I'm content with being single. I don't need a man to be happy and I shouldn't have to have one.
As most songs do stick with us do, Lizzo's song "Truth Hurts" came to me in a time when my ex resurfaced in my life. We had a lot of unresolved issues and we'd both been hurt by each other to the point of disrepair (or so I thought). I have this terrible habit of when I find a new song that I'm obsessed with, I play it over and over until my obsession with the song has been satiated. As I'm bathed in her lyrics, they really spoke to me about being a strong woman (that famous line "100% that bitch") and washing or "cleansing" myself of my ex. I knew those emotions that I was harboring against my ex inside were toxic and slowly killing me. I needed to let those feelings (and him) go and I think this song finally gave me the strength that I needed to do so. It was like that finally push, that really good advice from your BFF that you finally decided to listen to.
Despite "Truth Hurts" being super popular (and let's be real a favorite), my personal favorites by her are the songs "Juice" and "Soulmate". This trio became part of my pump-up/drive into work anthem. Not only are these songs fun and upbeat, but filled with awesome and empowering lyrics.
"Juice" is all about being a fine ass woman and embracing my own beauty and knowing that I'm the one that people want to be (and if not want to be or be with at least the one that they are watching). I've never really been one to like my body or be the center of attention (not that I've really ever enjoyed that being an introvert and all), but this song really resonated with me. Lizzo knows she is a big girl and embraces her body and just doesn't give a fuck about what the haters are going to say and I want to be like that. I want to love my body for all of it's curves and dimples and rolls and jiggles. I want people to be jealous not because I have a banging body, but because I have this amazing confidence that you can see as soon as I enter a room. I want to carry myself with the air that I know I'm hot shit. And most importantly, I want to believe I'm hot shit. (Getting there, slowly but surely. Self love is probably the most difficult relationship I've ever been in, but I know I'm worth it baby.)
Now her song "Soulmate" almost feels like it was written for me. The whole song is about being in a relationship with yourself and knowing how much you love yourself. And it finally felt like someone has seen me. Someone else understands what it feels like to be the best you by yourself and not needing someone else to give that to you. A couple of my favorite lines from this song are actually from the chorus Yeah, I'm my own soulmate. / No, I'm never lonely. / I know I'm a Queen, but I don't need a crown. I couldn't agree more. I feel more whole now than I ever have in a relationship. I don't have to give half truths. I can go exactly where I want for dinner, see the movie I want to see. Do what I want to do without constantly feeling judged or having to worry about pleasing someone else. I am happy single and know that I am my own soulmate. Every time I hear this song I belt it out at the top of lungs because this song was meant for me and I feel it down to my bones.
This is my thank you to Lizzo for creating my anthem. A thank you for reminding me that I am a goddess and that I am beautiful and nothing can stop me. A thank you for being a symbol for big girls who have been ashamed of their bodies, to allow us to finally shine, to know that we "aren't a snack, but the whole damn meal." And finally, a thank you for reminding me the most important love is self love.
pop culture
About the author
I'm a self-published author that enjoys writing fantasy/supernatural novels and occasionally dabble in poetry and realistic fiction. In my spare time I'm writing, a freelance artist or annoying my cat. "Rising Stars" is my first novel.
Reader insights
Be the first to share your insights about this piece.
Add your insights