Cut It Out
Modifying an Underwire Proves Empowering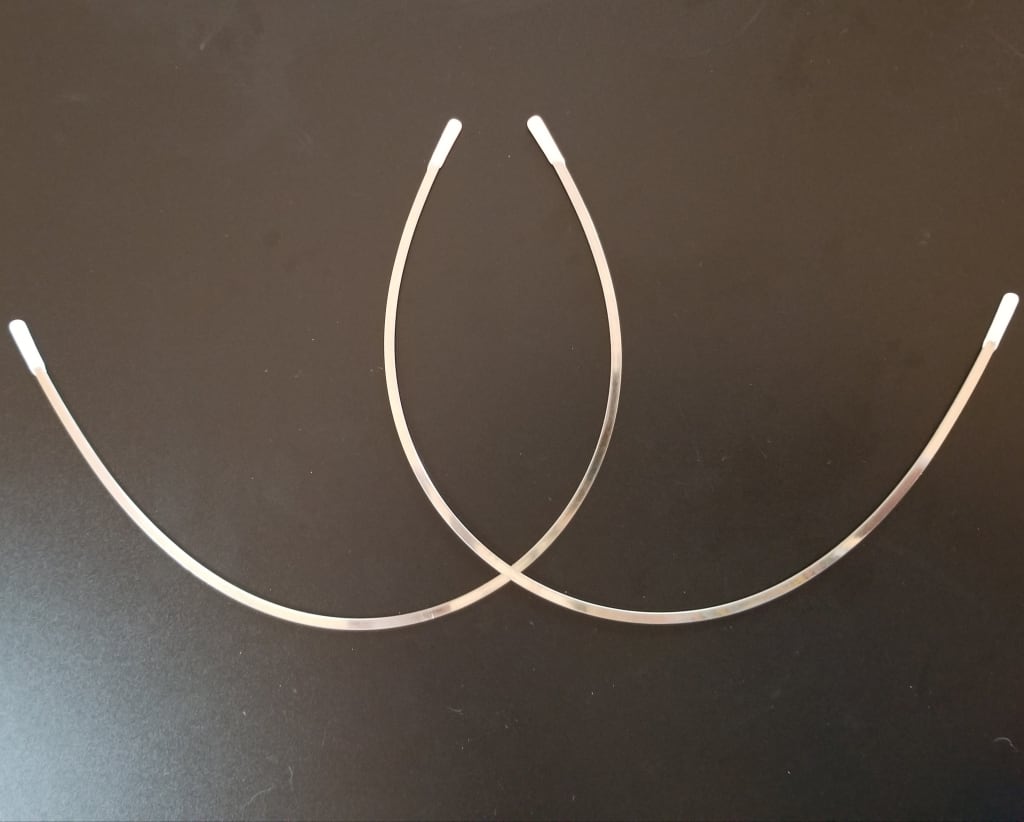 Underwire as art
Maybe it's happened to you. The surprising nip between the bazoombas when you're out on a dinner date. The sharp sting in the armpit while unloading the washing machine. If you've worn an underwire bra for more than two years you know what I'm talking about. The metal underwire that breaks free from the fabric tunnel of power net to attack your most tender flesh when least expected. That curved metal prong that escapes and jabs like a devil's toothpick.
I pay enough for bras as a person who wears a G cup. When you get that far along in the alphabet you have to leave the department store and shop online using an alias. If I lived in a large metropolitan city I might be lucky enough to find a lingerie store that carries cup sizes beyond DDD. I'd certainly bring my credit card. There are few discounts for the well endowed.
When paying top dollar for my fancies I'd like them not to bite me after two years of careful wearing and washing. Still it happens. The flat metal wire pierces a tiny hole in the fabric sleeve covering it and pokes out directly into my delicate skin. When this happened to me I whipped off that bra immediately and examined it closely under a fluorescent light. I spied a few frayed threads near where the cups meet, cleavage central, right side.
Grabbing my trusty sewing kit and the nearest spool of thread, turquoise, I threaded my needle and made 37 hasty, gnarled stitches over the small gap. Truthfully, I had no idea how to mend it. This gob of thread looked substantial, like it might raise a blister. Surely it ought to stop the wicked wire from breaking through again.
But, no surprise, the next time I wore the bra, the wire popped through and gouged a hard to explain red welt in my right boob. That's my overachiever, the one that always wants to spill out and over the top. No one has perfectly balanced, evenly sized cream puffs. There's always one that's a little bigger, a little fuller than the other. Don't let the airbrushed models fool you.
I pulled out the right underwire and tossed my failed repair job in my bra and panty drawer and didn't look at her for three months. But I missed that bra. Not only was she a great bra for support she was my favorite protection-against-headlights-t-shirt bra.
I took out that bra and my manicure scissors and snipped precisely, like a microsurgeon, into the left fabric tunnel that hid the remaining underwire. Then I pushed, squeezed and wheedled the wire out with my fingertips. As I slid the underwire out of the bra the fabric fell slack in my hand. Had I killed her?
I scooped my tatas into the soft unwired cups and smoothing back the sides, amazingly discovered that I could now hook into the smallest row of eyes. Somehow, that always makes me feel like I've lost weight. While the lift and separation is not the same, the comfort level is sky high. Sometimes that's all I'm after, comfort in a bra that makes me feel thin with no headlights. And I saved the life of one of my bosom friends. For today I'm the heroine of my lingerie drawer.