Confidence 101
An Ode to You and Your Body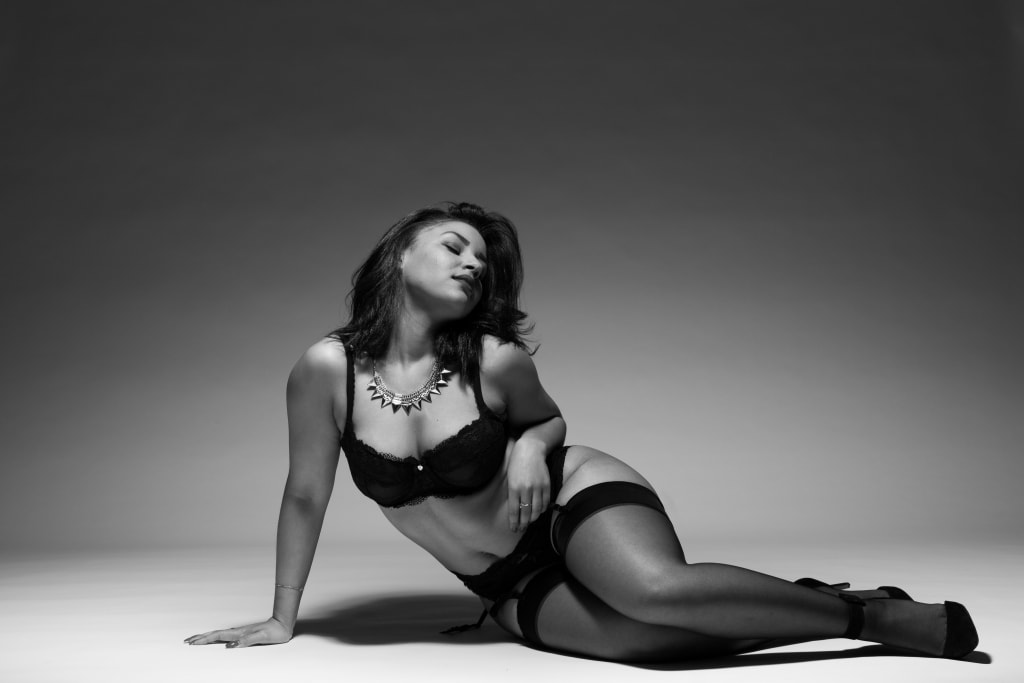 Model: Me. Photo: Ab Sesay
Over the last few years, I've been making a name for myself as a Freelance Model/Actress and I have had many women come up to me or slide into my DMs, asking me one thing: "How are you so confident?"
I find it incredibly ironic that I would be a confident woman today who owned her sexuality and sensuality, portraying that through my art and showcasing it for the world to see, when in reality I grew up entirely insecure. I'll first share a little bit on that and how I overcame it all.
See, I didn't exactly grow up in a household that promoted body positivity or self-love. One sister would constantly ask me how much I weighed and would compare herself to me, making me feel that if I didn't weigh anything smaller than her, at 130 lbs with seven kids, then I would be fat and should be ashamed. Another sister would constantly use that to her advantage whenever she felt like belittling me. I then would be made fun of because I had curly kinks compared to the sleek straight or wavy locks they owned, my hair always being described as "bad hair." It made me feel ugly and I wanted straight hair so my mother relaxed my hair at the age of 8, and that continued until I was 19. She should've just opted for an occasional blow-out, but maybe this was cheaper and easier to do at home. Sometimes, I would have scabs on my head because my sister would leave it in too long.
I grew up wanting positive attention. I wanted to feel beautiful, cute even. I remember this one time where I was out with my mom and her granddaughter who was around my age and this stranger in the street had commented on how beautiful she was. I then stepped forward in notion. "What about me?" My mom took it as I was being an attention whore and should've stepped back, when in reality, I simply wanted to be complimented, too. After all, things like, "You have bad hair," "you're fat," and "you think you're all that," aren't exactly something you should be telling a little girl. I can go on and on about how my self-esteem was shot down on the regular, but I think you get the point.
I dove into the arts in middle school, turning to poetry and in high school, I got my first taste of runway modeling. I modeled for a Hair and Makeup Show and fell in LOVE with the feeling! People were rooting you on, looking and feeling glamorous. I immediately knew this was a feeling I wanted to keep in my life moving forward, so I modeled the next hair show the following year and in my first year of college, I had a photoshoot for some new headshots as an actress.
I never planned on becoming a model. Acting has always been my number one love, my number one dream, but I realized as I took pictures for my new headshots that I enjoyed being photographed. I enjoyed the chemistry I had with a camera and the person holding it. It was like a little game in a way, depending on what I shot, and I learned to have fun.
Prior to this, no one ever really took pictures of me. My mother didn't have more than one photo of me (I was 4-years-old) on her mural of photographs throughout the living room, and I didn't notice it until I was 18. I fell in love with the feeling the camera gave me, and looking at the photos of myself after really made me go, "Damn, I look good!"
Throughout the year-and-a-half I was out of school, prior to transferring to CCNY, I ventured into freelance modeling even more and realized I had a niche for it. I began posing in lingerie, and at times nude. A lot of this was frowned upon, but I got so many great things in return. Photographers began noticing me, admiring my work, wanted to work with me, would pay me, and I felt incredible. I was a lot more aware on how I looked and I learned to feel sexy. I loved feeling sexy and couldn't understand why people looked down upon women who were comfortable owning that.
Then social media skyrocketed for me with women admiring my work, loving what I looked like, and men, of course, giving me the daily dose of attention. But I didn't do the work for attention. I did and still do it to make a name for myself, to express myself, to feel good about myself, to see if I can go pro at this, to open the doors to new opportunities, and most of all to inspire women to feel comfortable owning their sensuality, their sexuality, and to love themselves.
So back to today, here is a list of things I would like for you to try today — in fact, everyday for a month straight — and see where you go from there.
Own a full-sized mirror. If you don't, buy one. They run anywhere between $10-$25. You can hang it on your wall, behind your door, etc.
Stand in front of the mirror, naked. This may seem awkward if you're not used to looking at yourself regularly, or if you're uncomfortable with nudity to begin with, but I promise there's a reason behind my madness.
Take a moment to really look at yourself and tell yourself what you see. Begin with your face. From head to shoulders, name at least one thing you see that you like. Make a mental note of that because it's important. Compliment yourself on this. You'll learn that though being humble is important in life, you can never compliment yourself enough.
Move on down to your shoulders and down to your hips and do the same. It's easier to dissect the body into parts so you can carefully take the time to observe and admire these parts of you. If you can't find one thing, try again. It can be your skin, the shape of your belly button, your fingers, or heck even your boobs if you're a woman.
Move down from the hips and repeat. After you've done this, look at yourself in the mirror, eye to eye. Tell yourself out loud that these things are beautiful. Compliment yourself everyday, and you'll find that, eventually, you'll believe the words coming out of your mouth and that the things you say will actually make you feel better.
Take pictures of yourself everyday, even on your off days! You don't need to be a model to be photographed. Have your best friend take pictures of you, and if you don't have one, hell, I will take them for you! I love photographing other people, as well, because pushing them to own their sexiness and inner and outer beauty can be remarkable! If you're not yet comfortable being photographed by others, then take selfies! Selfies, although they seem vain at times, can seriously help you see yourself in a different light. And I don't mean go on and compare your selfie to Kylie Jenner or any celebrity for that matter, but take them because you want to, because you want to feel beautiful. Your relationship with a camera can boost your confidence just as much as it has boosted mine.
Print at least one good photo and store it somewhere to constantly remind you of your beauty, your potential, and to inspire you to keep going. Seeing this photo daily can help you find your inner goddess, and we all have one! When I move into a large house one day, I will have a huge framed photo of me either in my bedroom or private bathroom. Beauty is art!
Go shopping! This may hurt your wallet, but it doesn't have to. Thrift stores have a lot of great finds. Just take a free day and enjoy the process of rummaging, or visit your local mall and favorite store. Try stuff on! You may not need to buy it all, but sometimes shopping is not only a stress release. It can also help you with evolving your style and finding clothes that best fit your body type. They don't call it retail therapy for nothing.
If you had/have younger siblings or a daughter, think about how you would want them to feel about themselves growing up and lead by example. You don't need to be naked, but for me personally, I don't share the same views and morals on nudity as most of society does. So when the day comes for me to have children, they'll know what I've done, why I've done it, and understand that there is nothing wrong with it as well.
I hope this helps you in at least one way. I thought about all the women in my life recently and they inspired me to write this. Remember that daily affirmations are real and key to getting what you want in life, and feeling how you truly want to feel. Realize this: you're already a beautiful, badass woman. You just gotta dig through the barriers that prevent you from seeing it. Get out there, own your sexiness, own your beauty, own yourself, and learn to love yourself, because that's the relationship that will count the most in the end. And guess what? That shit is attractive and powerful as fuck. Go rule the world!
xoxoAUREA
body
Puerto Rican Artist from NYC. Actress/Model/Writer/Singer. I write about everything: raw and real. I aspire to provoke emotion and spark change with my words. To learn more about me, visit www.aureaofficial.com