Chris Buckner on Different Types of Art Galleries Explained
As the previous Showroom Manager of Jonathan Adler and columnist for Metropulse, an Association of Alternative Newsmedia, Chris Buckner of New York shares his expertise on writing the perfect art review.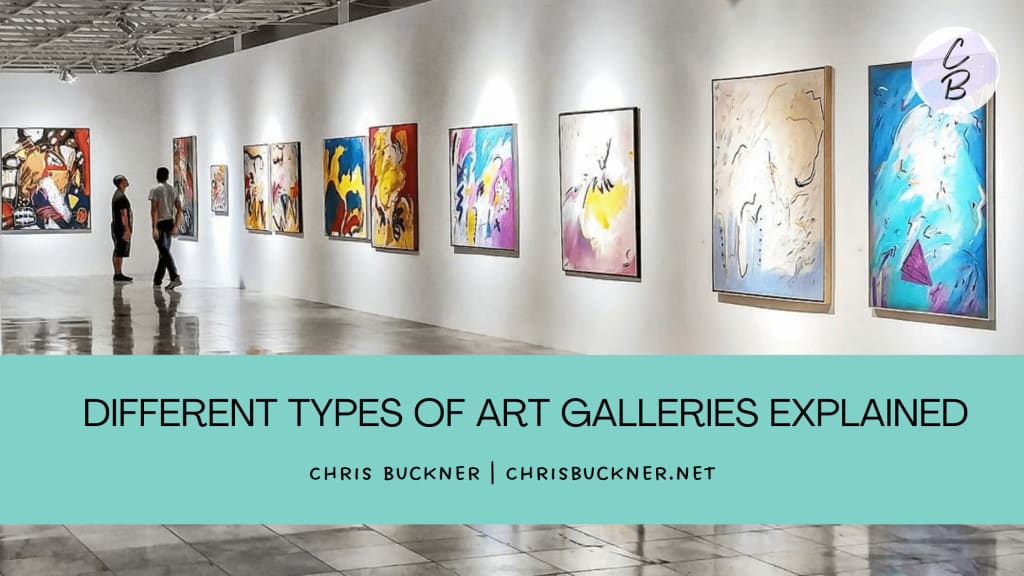 https://chrisbuckner.net/different-types-of-art-galleries-explained/
Art galleries play a vital role in the industry, as they are responsible for showcasing the best new talent and scouting for potential acquisitions. They are also the link between collectors and artists. Despite their importance, many people still don't know what art galleries are or what they do.
Art Gallery Defined
An art gallery is an establishment that primarily displays and sells works of art. It is a commercial enterprise that works with a group of artists to represent their works. The gallery then distributes the works of art to its clients.
Although most art galleries follow a similar structure and procedure, there are different types of galleries implementing another method. This article will talk about each of these galleries and their various forms. In this article is a list of the different types of art galleries that exist in the industry.
Commercial Art Gallery
One of the most common types of art galleries is the commercial gallery. Although the term commercial may have a negative connotation, this type of establishment is essential to the art world as it is the best kind of gallery for both collectors and artists. The goal of a commercial art gallery is to support and represent a group of artists.
Mega Galleries
The commercial art gallery known as mega-galleries has grown and become an industry leader. They are highly influential and have large exhibition spaces similar to significant museums. The mega-galleries are considered the industry's top layer of the art world. They represent the best artists in the world, and they also advise corporations, art exhibitions, and institutions.
Vanity Art Gallery
One of the most common art galleries that are not considered art galleries is the vanity art gallery. These establishments charge artists a fee to exhibit and promote their work. Unlike other types of art galleries, vanity art galleries do not have a strong reputation in the industry. They do not look for artists based on their quality or the size of their wallets. Instead, they usually display works of art that are either willing to pay a fee or are just looking for a quick exhibition.
Artist-Run Gallery
An artist-run gallery or collective is a type of establishment started by an artist or group of artists. It usually happens due to the lack of opportunities to exhibit. Sometimes, it can be a bit frowned upon for an artist to start a collective or artist-run gallery. However, as demonstrated in a case study, this type of establishment can be very successful and has a strong reputation within the industry.
About Chris Buckner
Even though he now resides in New York City, Chris Buckner is a proud son of Knoxville, Tennessee. After graduating high school, Chris attended the University of Tennessee-Knoxville, where he received his Bachelor of Arts in Communications and Public Relations. Known colloquially as Tennessee's university, UT started as a small college in 1794 but has since grown to become the state's flagship university and top public research facility state-wide. In addition to its impressive curriculum, the school boasts 225 years of volunteerism, both within Tennessee and around the world. The university's space and agricultural institutes have a long history of educating residents and visitors and making a difference in people's lives via research and engagement projects.
After graduating from college, Chris spent a few years traveling and deciding which career path to take. Being a natural writer, Chris spent years as a columnist for Metropulse, an Association of Alternative Newsmedia (AAN) member. As an outspoken activist from an early age, Chris gravitated toward this medium to promote alternative journalism through advocacy and education. Publications within AAN are recognized for their regional focus on arts and culture, objectivity in news reporting, tolerance for social and individual freedoms, and eagerness to cover subjects and areas that many mainstream media outlets ignore. Chris showcased local artists in his weekly lifestyle column, where he shared museum exhibition experiences and helped promote upcoming bands.
A natural-born extrovert, Chris Buckner has always been a perfect fit for the sales industry. He has flourished in the retail sector for over two decades. Prior to moving to New York, Chris honed his customer service skills at Three Rivers Market in Knoxville, a food co-op that sustained the Knoxville region and empowered its residents.
About the Creator
Chris Buckner is a customer service professional and retail expert who has over twenty years of experience in the industry. Now residing in NYC, Chris is originally from Knoxville, Tennessee. Learn more by visiting chrisbuckner.org.
Reader insights
Be the first to share your insights about this piece.
Add your insights