Breast October
Friday 22nd October, 2021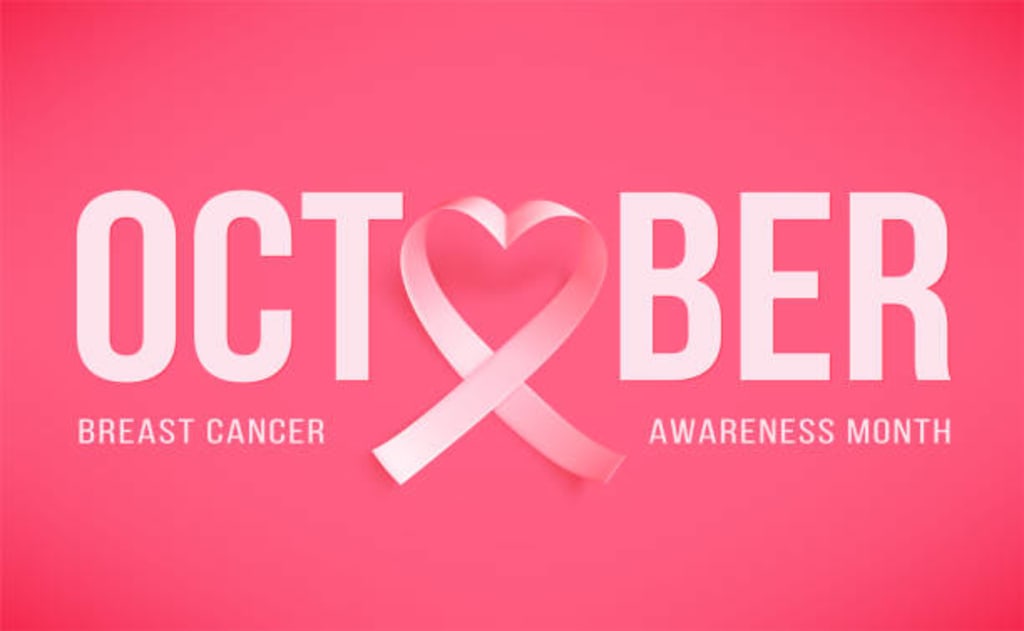 So many of us have been affected by Breast Cancer, either ourselves or with someone we love. For me personally, it was my mum who had Breast cancer. She found a lump in one of her breasts, booked the appointment and I went with her. A biopsy was taken and we went for the results in January. "I'm very sorry Mrs B…. but I'm afraid it is Breast cancer", said the doctor. Mum couldn't believe it! "I've just buried my husband, he died of cancer", mum told the doctor. Both of us had nursed dad for three years before the cancer spread to his lungs and brain and eventually dad died.
The breast was operated on and mum went through chemo and radiotherapy. I managed to go with her for nearly every chemo session and bought mum a small brooch for every appointment, (mum loved brooches) just to say "well done mum". Finally, the doctor could confirm that the breast (or what was left of it) was free from cancer. We went out for a meal to celebrate.
A few months later, mum had a fall on a bus and broke her hip. Luckily, the doctor could operate and replace the hip. Then --- mum became very ill and was taken into hospital. The doctor pulled me to one side and said: "The cancer has spread and it has gone into the bone, I'm so sorry but we cannot do any more for your mother." Three months later, mum was dead. That was twenty years ago and I still go to buy flowers for mum or pick up the phone to call her. It is so true --- we only have one mum!
My story is just one out of thousands and the feelings and emotions are all too real. The cancer had spread from the breast into the bone and the doctors just did not know. I felt cheated! Cancer had taken my mother from me. Today, bone cancer is curable, thanks to the incredible research that is being done.
National Breast Cancer Awareness Month began in October, 1985. It Started when the American Cancer Society and the pharmaceutical division of Imperial Chemical Industries formed a partnership in October, 1985, and thus Beast October started. The former First Lady Betty Ford helped raise awareness being a Breast cancer survivor herself. "Wear the pink ribbon with pride, for all those who have survived and for all those who did not --- we love them all" is what I think of every time I see the pink ribbons.
This year, the day is Friday 22nd, 2021 --- but of course the whole month of October --- is the time to wear the pink ribbons, raise money for the charity and sit quietly to think about our loved ones. Breast cancer doesn't stop but then neither do we! This year alone, around 11,500 women and 80 men may die from Breast cancer, although more and more are surviving this cancer. By the time our daughters grow up, it will no longer be a 'killer'. The research is ongoing but proving worthwhile as now, around 95 out of every 100 women survive Breast cancer. This is roughly 95% of all women who 'fight' this cancer and win! The treatments today are less invasive and more 'comfortable' and much stronger because they 'win' against Breast cancer.
I couldn't be happier to see this! Yes, mu died (primarily) from Breast cancer, but that was twenty years ago. Research and medicine has advanced at a rapid pace and we are 'winning' the fight against Breast cancer. A mammogram can detect a lump long before it is felt but we ourselves can check our own breasts. A definite lump / nipple discharge / inverted nipples / dimpling of breast skin and rashes around the nipple (similar to eczema) are all signs of Breast cancer and it's worth getting checked out, (even if it is nothing) your doctor will be more than happy to ease your worries.
Most Breast cancer patients are women who are fifty years or older (don't forget, some men get it too!). Age / a family history of / being overweight / being tall and drinking alcohol 'can' be causes of Breast cancer. After the doctor has examined you, you may be referred to a specialist and have a mammogram and a biopsy. It's a simple process and nothing to be afraid of (I've had a biopsy myself and luckily nothing was found). None of this is a 'walk in the park' but like that walk in the park, which is healthy, so checking up will help your health, if only to ease your mind and stop you from worrying.
I still love and miss my mum but now I remember the good times --- she smiled like an angel, had such a sense of fun and cooked an amazing apple pie. If your mum survived Breast cancer --- cherish her and your love will be rewarded!
health
About the author
I love all things Earthy and Self-Help
History is one of my favourite subjects and I love to write short fiction
Research is so interesting for me too
Reader insights
Be the first to share your insights about this piece.
Add your insights