Bosom Friends
Sewing for survival, with a little help from my friends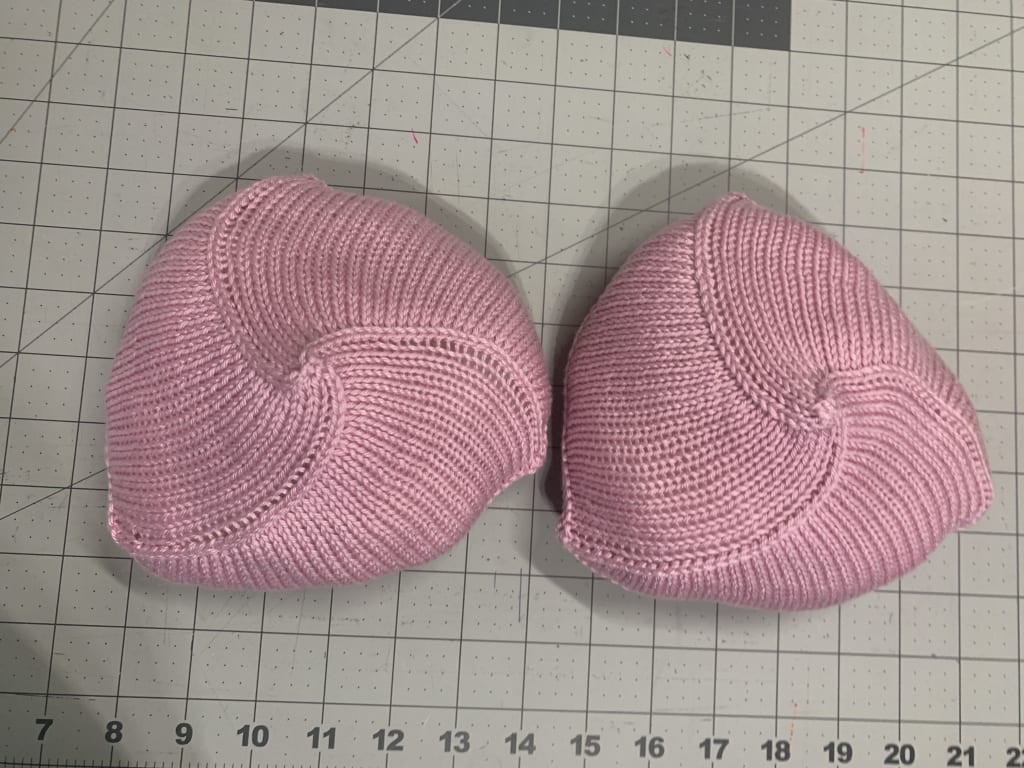 Knitted Knockers breast prosthetics
In February 2020, I was diagnosed with breast cancer. It was detected early, and the tumor appeared small, but I had to choose between a lumpectomy plus radiation, or mastectomy with reconstruction. The hardest part about this decision was the fact that I had finally become comfortable in my own skin. In my mind, it is truly just a body, but it is the body I've spent my entire life coming to terms with! However, If I opted for a double mastectomy plus reconstruction, I could choose a breast size that worked with standard clothing sizes!
As a matter of necessity, I sew some of my own clothing. In addition to being 6'2 and plus-sized, I've been large-breasted since middle school. I could never find button up blouses or blazers to close over my chest. A few years ago, I'd taken some tailoring classes and learned how to draft patterns. I've been working on my full bust adjustment for decades. I was getting closer with an armscye princess seam, but still wasn't satisfied with the fit.
My surgery took place the first week of April. Gina Quesenbery, a local breast cancer foundation, provided generous financial assistance for medical bills and travel expenses. When my expanders failed due to infection and had to be removed, I was relieved to get them out. I was sick. I'd had three surgeries in three weeks, and I just wanted to start feeling better. I'd had big plans of spending my recovery time drafting digital embroidery designs for my craft fair business, reading, and sewing. I don't remember what I actually did.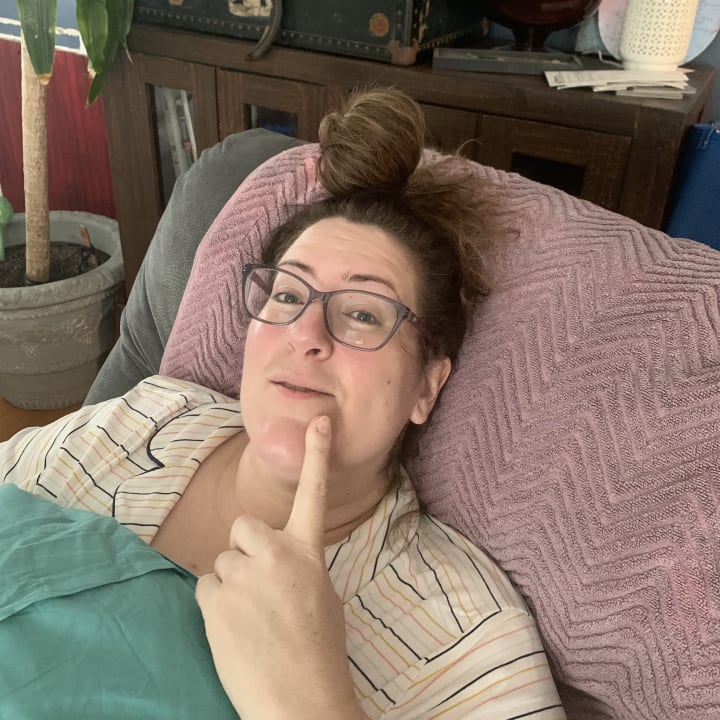 This all coincided with our state's stay home order in response to COVID-19, so I was able to work from home. This was also a relief. Once I felt up to it, I returned to work. I could work as much as I had energy for, take a nap, and work some more later. My pathology reports came back showing clear margins and no lymph involvement. They'd removed all the cancer, and I wouldn't need radiation or chemotherapy. I was not just going to survive, I was determined to thrive!
I started experimenting with dressing for my new body. I made a couple of peasant blouses in the event I had to wear something more formal than the yoga pants and button up pyjama tops I'd been living in. I wasn't sad to lose the breasts, but I had curated my entire wardrobe to fit them. To return to work, I wanted to feel as "normal" as possible, and having breasts had been normal for me since I was a middle schooler.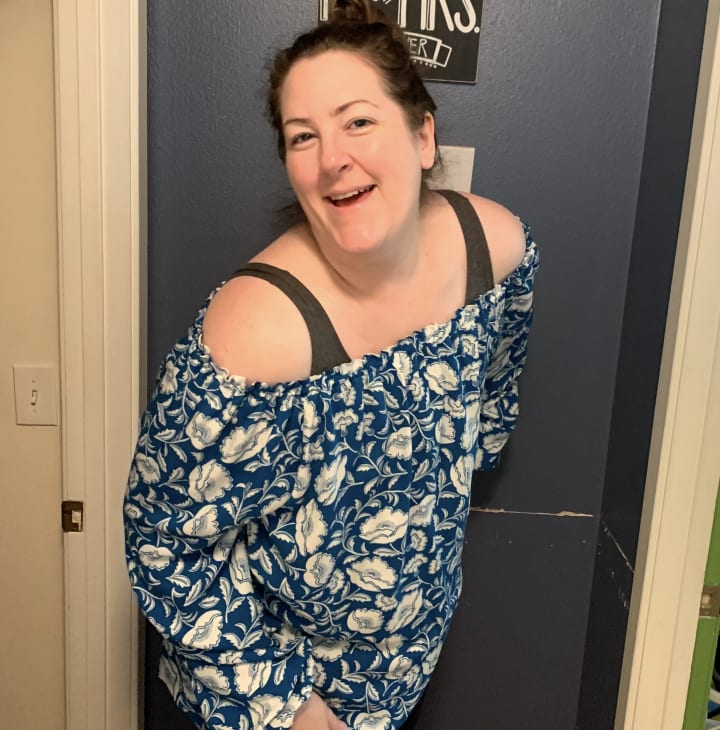 I ordered some mastectomy bras, and they were uncomfortable, overly complicated contraptions. I just wanted a simple, comfortable undergarment. I bought some bralettes with removable pads, and experimented with different types of prosthetics. They were also wrong. Even though I was no longer trying to fit my cup size, the straps were still not long enough for my tall frame. I couldn't believe I was flat chested, and was still going to have to make my own bras!
I had joined several facebook groups for breast cancer survivors, and this is where I learned about Knitted Knockers. They're soft, lightweight, and naturally shaped. I ordered a free pair from the organization but -- covid. It was going to be some time before they arrived. I was crafty, but I was not up for learning how to knit. I asked a multi-talented coworker if she knew how to knit, and if she'd be interested in making a pair for me. She accepted eagerly, and another coworker ordered all the supplies she'd need.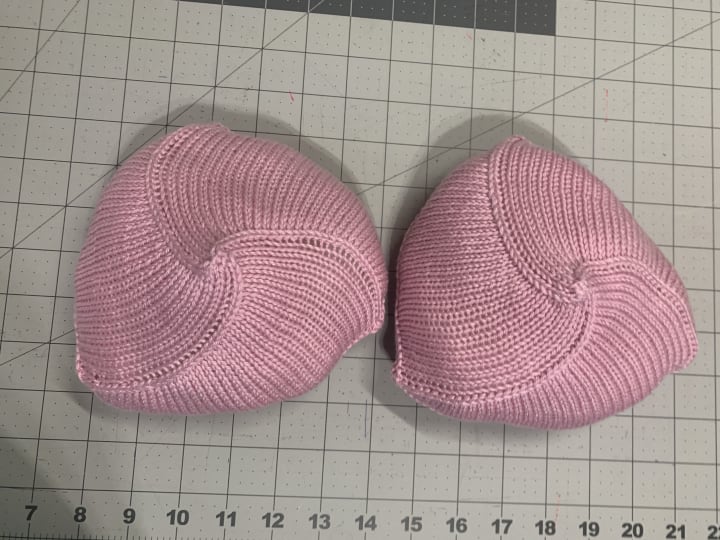 I set about finding a bralette pattern online and learning how to sew lingerie. I modified a design to include a pocket layer for the prothesetics. I used soft cotton knits and stretch lace. I even ordered bra hardware and acid dyes so I could color match my elastics. And yes, all of this was going to be easier for me than learning to knit at that moment.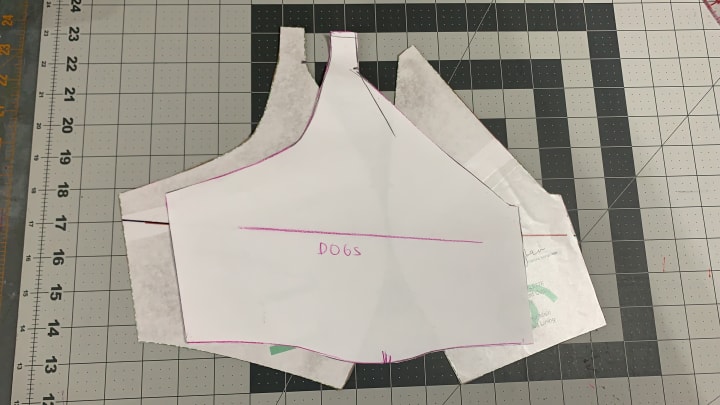 I made a sweet pink and white lace combination, a neutral ivory bra, and a black lace and mesh bralette. When my friend had completed knitting the knockers, they were a perfect match! I still haven't decided when I'll schedule my reconstruction. After what I went through, I'm not eager for more surgery yet. It's been almost a year now, and I'm still loving my incredibly comfortable, custom mastectomy bralettes and am thinking about modifying the pattern to camisole length.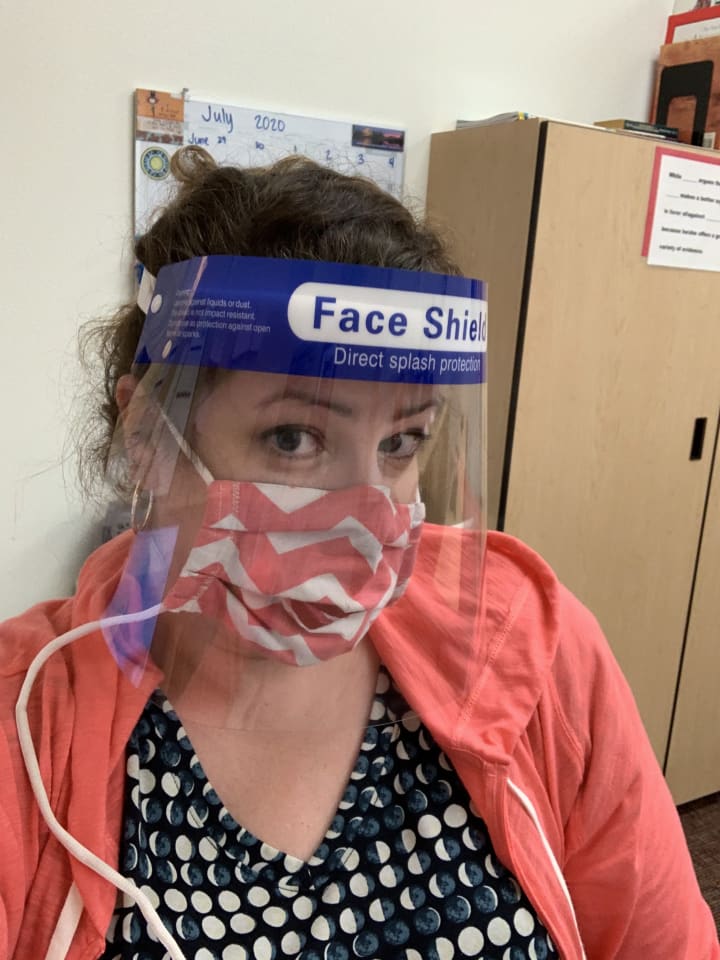 After taking a break from making several sets for me, my coworker started knitting knockers to donate to other women. She's made a few pairs and mailed them off to the organization to be stuffed and delivered to other breast cancer survivors. It's such a compassionate gift of her time and talents. We've talked about engaging other local knitters to organize a Knitted Knockers club. I like to fancy that we'd name our club "Bosom Friends."
"A bosom friend—an intimate friend, you know—a really kindred spirit to whom I can confide my inmost soul. I've dreamed of meeting her all my life. I never really supposed I would, but so many of my loveliest dreams have come true all at once that perhaps this one will, too." Anne Shirley, in Anne of Green Gables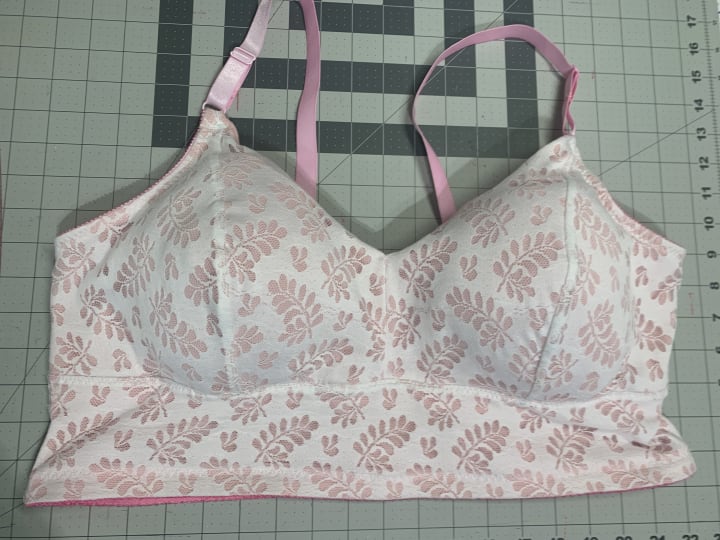 body
Jane is a veteran educator, a seamstress, a reader and writer, a breast cancer survivor, a wife and an auntie, and a pursuer of learning new skills to make pretty things.