And The Bride Wore
Royal Brides Through History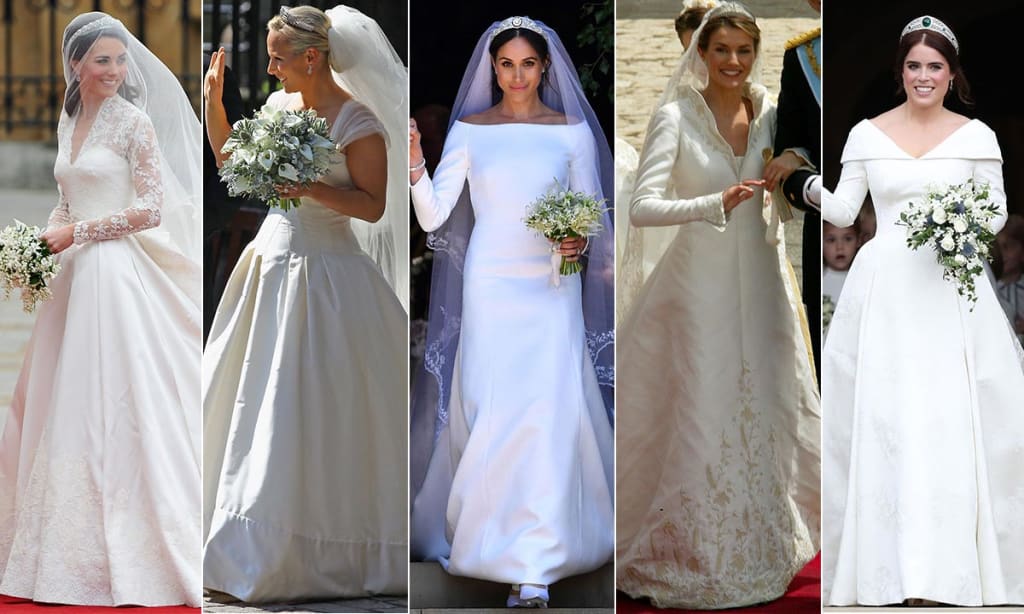 Modern Royal Brides
Every little girl dreams of being a princess and when she is older, she dreams of being a bride. In both dreams she wears beautiful dresses. For some of these little girls, their dreams actually come true. I'm talking, of course, about Royal Brides. True, some are born into Royalty and have the title Princess from birth. For others, though, they become a Princess when they marry their Prince. Either way, their dresses were and are beautiful! Royal Brides throughout history have always had interesting lives and beautiful, even exquisite, dresses, and many have been 'followed' as fashion icons. They seem to know just how to dress for every occasion.
The Wedding Dress is one of the most important dresses a woman will ever wear. It was Queen Victoria who made white the favourite colour for getting married in. Before that, the wedding dress was usually a smart dress, which could (and often was) worn again. Medieval brides wore dresses of blue which symbolized purity. The wealthier medieval bride wore a gown made of expensive and luxurious fabrics such as velvet, silk and satin, with rich hues of red and gold. When 24 year old Edward II married Isabella, the 12 year old bride wore a gown in shining blue and gold, and she wore a crown and a beautiful flowing hairstyle. Both bride and groom wore the Royal ermine and the long, pointed shoes that were fashionable for that time.
In the Tudor era, Catherine of Aragon was dressed exquisitely when she married Henry VIII. Catherine wore a dress of white satin embroidered with pearls and gold thread which was pleated in the Spanish style. Underneath the dress were hoops (farthingales). She also wore a silk veil that fell to her waist and which had a border of gold and precious stones. Catherine's hair was left to hang loose over her shoulders, which was a sign of purity (virginity). Catherine of Aragon looked every inch the Queen of Henry VIII. Henry's second wife, Anne Boleyn, was just as richly dressed in Tissues, Cloth of Gold, silver and velvet embroidered. She also wore a coronet with rich oriental stones. The only other bride of Henry VIII's to have her wedding gown recorded was Anne of Cleves. The lady was dressed in a gown of rich cloth of gold which was set full of large flowers of great and Oriental Pearl, made in the Dutch fashion. On the lady's head, Anne wore a coronall of gold with beautiful stones.
At the wedding of Charles I to Henrietta Maria, the 15 year old bride wore a dress with a stiff ruff, jewels in her hair, earrings and a necklace. Unfortunately there are not too many details recorded but she must have looked beautiful. George III's bride was Princess Charlotte of Mecklenburg-Strelitz and she was just 17 years of age. This young Princess wore a heavy, sumptuous gown with a purple mantle laced with gold and lined with ermine, a diamond studded cap and a small crown. I can't help thinking how nervous she must have felt, especially as Charlotte spoke no English at the time.
One of the most well-documented Royal dresses is the exquisite gown Queen Victoria wore for her wedding to Prince Albert. Being Queen, the dress was bound to be of a certain standard but, with this wedding dress, Victoria's personality shone through, showing the young Queen's humble and 'simple' tastes. The structure of the dress is an eight-piece bodice featuring a wide, open neckline. The off-the-shoulder sleeves are short and puffed. The waistline is pointed in a deep v-shape. The neckline and sleeves are trimmed with lace. The skirt is full and floor-length, containing seven widths of fabric in forward-facing pleats. The train was satin and over six yards long. Victoria wore a Turkish diamond necklace and earrings, and a beautiful sapphire brooch the groom (Albert) had gifted her. An important decision Victoria made was to choose British materials for her wedding dress. For example, the white gown was constructed with English Spitalfields silk, and she also used Honiton lace. The Queen treasured her wedding lace flounce and veil so much that she continued to wear them for other special occasions.
King George V's bride wore a wedding gown designed by Arthur Silk. The future Queen Mary's dress features emblems of the rose, shamrock and thistle, and is embellished with orange blossom. The wedding gown and train were made of ivory silk satin woven in the East London (Spitalfields) silk mills. The bodice was brocaded in ivory and silver thread. Both bodice and skirt were trimmed with Honiton lace and orange blossom. The lace veil had been worn by Mary's mother at her own wedding. The train had a design of roses, shamrocks and thistles in silver on a white ground. It is interesting that the rose represents the floral symbol of England, the shamrock is the plant symbol of Ireland and the thistle is the floral symbol of Scotland.
The wedding dress of Alexandra of Denmark helped turn this future Queen into a Royal style icon. The groom was Queen Victoria's eldest son, Prince Albert (the future Edward VII). Alexandra had been taught to sew her own clothes and was confident dressing in her own style. The wedding dress is beautiful! Worn off the shoulders with a fitted bodice and huge full length skirt, it is decked with four tiers of lace covered in orange blossom and myrtle. Her train is 21 feet long and made of silver moire while her lace veil was held in place with orange blossoms. The veil was covered with emblems of the four nations that made up the country, (again) including roses, shamrocks and thistles. The photograph of the bride in her wedding dress is exquisite and one of my personal favourites.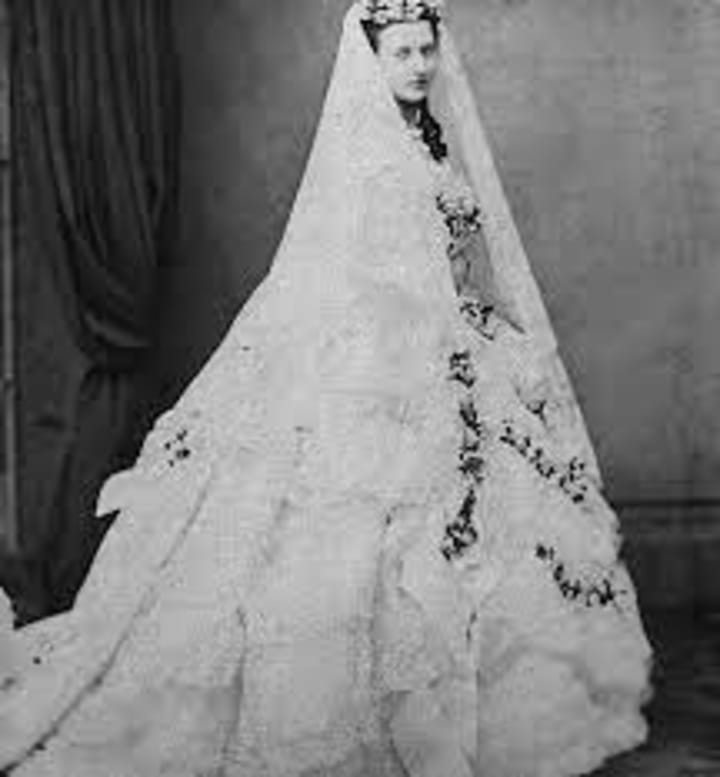 When Elizabeth Bowes-Lyon married Prince Albert, the Duke of York, she did not know then that one day she would be Queen Consort to George VI. Elizabeth's wedding dress is made of deep ivory chiffon moire, embroidered with pearls and silver thread. It was intended to match the traditional Flanders lace provided for the train by Queen Mary (her future mother-in-law). The dress itself was in the fashion of the early 1920's and was designed by Madame Handley-Seymour (who was the dressmaker to Queen Mary). The design was "suggestive of a Medieval Italian gown". The bride chose to wear a chaplet of leaves securing the veil, instead of a tiara. A strip of Brussels lace, inserted in the dress, was a Strathmore family heirloom. The silver leaf girdle had a trail of spring green tulle, trailing to the ground; silver and rose thistle fastened it. Elizabeth wore "an orange blossom wreath", which featured the "white roses of York". The wedding dress had two trains, "one fastened at the hips, the other floating from the shoulders". Again, the photographs of the bride and groom in their wedding attire are beautiful, even in black and white.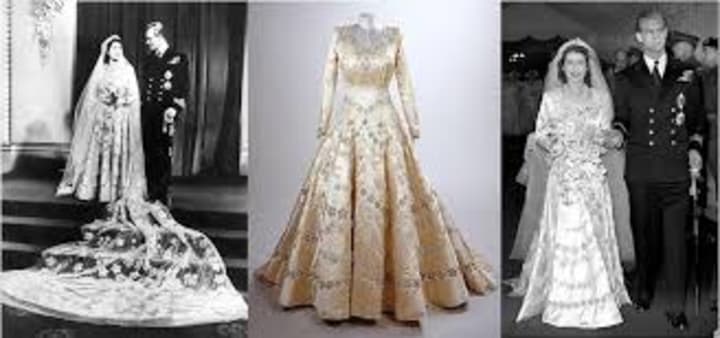 Princess Elizabeth's wedding to Prince Philip Mountbatten was The Royal Event held following the end of World War Two in 1947. She had to purchase the material using ration coupons and the dress was designed by Norman Hartnell. The wedding dress was made of Chinese silk, with a high neckline, tailored bodice and a short train. Without straps and with long sleeves, it provided a "fit and flare silhouette". The dress had a star-patterned fan-shaped bridal train that was 13 feet long. The train was inspired by Botticelli's painting "Primavera" and was symbolic of rebirth and growth after the war. This was also the inspiration for the wedding dress which had elaborate embroidery motifs of scattered flowers on rich satin material, and also for the veil. The material used was ivory silk and a diamond fringe tiara secured the veil. The wedding dress was decorated with crystals and 10,000 seed pearls. Hartnell claimed that it was "the most beautiful dress I had so far made". Ivory silk with flower designs of jasmine, smilax, lilac and white rose-like blossoms were added to the train, embellished by white crystals and pearls. The dress has a heart-shaped neckline and long tight sleeves. On the wedding day, the dress glittered, bejewelled with pearls "skillfully combined with flowing lines of wheat ears, the symbol of fertility, and worked in pearl and diamante". Our dear Queen has always known how to dress beautifully!
The wedding of Princess Anne (the Queen's daughter) to Captain Mark Phillips was in 1973. The bride's wedding dress was embroidered and in the Tudor-style with a high collar and medieval-sleeves. The train was seven feet long. The elegant dress sported white silk chiffon undersleeves which were edged with pearls and jewels. Princess Anne decided to wear the Queen Mary Fringe tiara. Her veil was made of silk net embroidered with floral sprays. Surely, another beautiful wedding dress.
Sophie Rhys-Jones' wedding dress was designed by Samantha Shaw. The dress is full-length, with long sleeves and it is made of hand-dyed silk organza and hand-dyed silk crepe. The 'detail' is rows of pearls and crystal beading around the neck, sleeves and train, with further beading down the back and front of the dress-coat. 325,000 cut-glass and pearl beads are sewn on the dress, which is corseted, with a v-neck. The full-length veil is one inch longer than the train, and it is made of hand-dyed silk tulle, and it is hand-finished with spotted crystal detail. The train is long. The bride also wore a black and white pearl necklace, interspersed with white gold rondels with a matching pair of earrings. Simple but striking! Sophie married Prince Edward, the Queen's youngest son.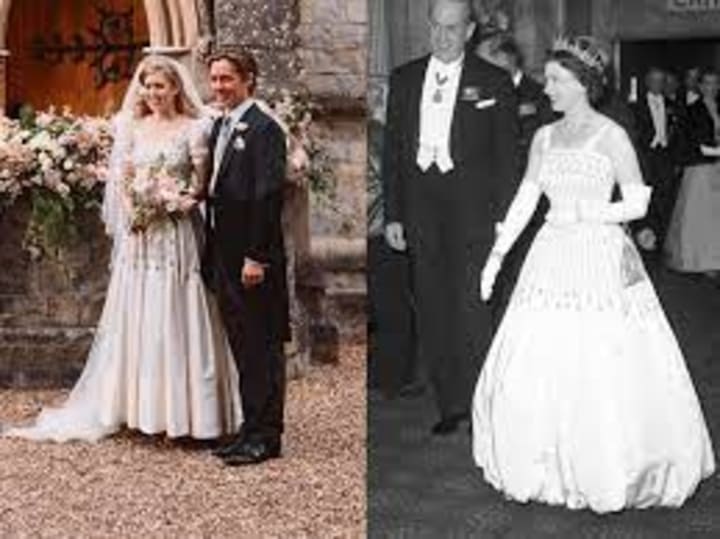 When one of the Queen's granddaughters married, she gifted her with an unusual 'loan' --- "something borrowed". Princess Beatrice wore a unique vintage gown for her wedding to Edoardo Mapelli Mozzi. The dress was originally designed by Norman Hartnell --- for her grandmother, the Queen. The gown is made from Peau De Soie taffeta and organza, and is trimmed with Duchess satin, and encrusted with diamante. With a few subtle adjustments, the gown was transformed into a wedding dress. What a lovely show of family love.
Here are just a hand-full of the beautiful and exquisite wedding dresses Royal Brides have worn over the years. Yours and mine are just as exquisite and beautiful, even as every bride's wedding dress always is.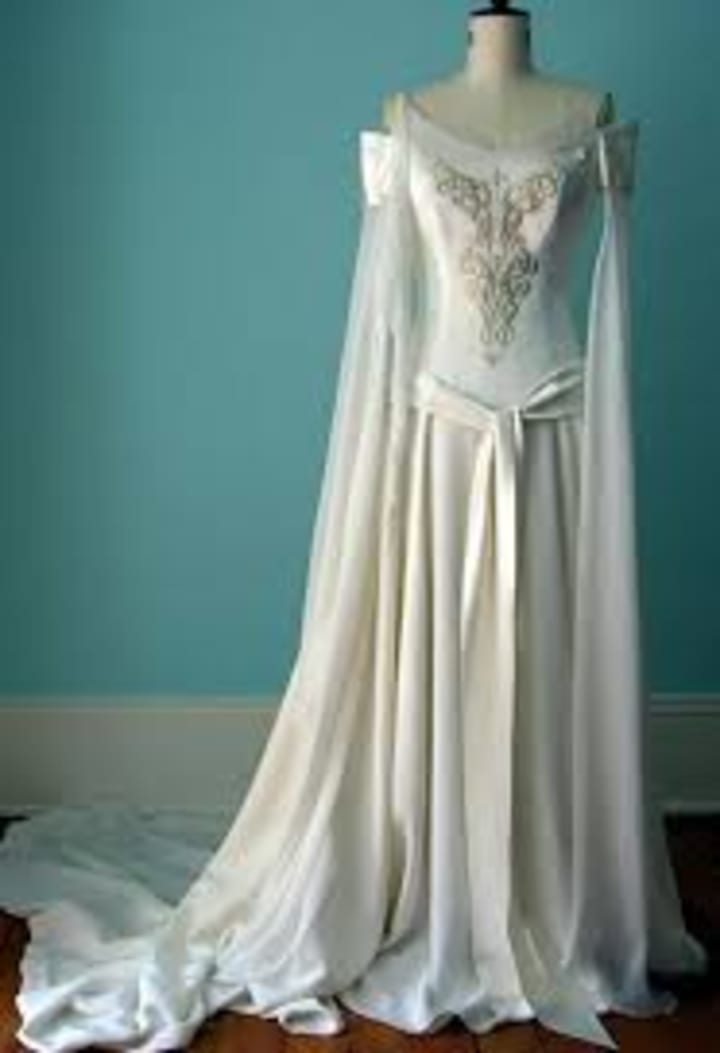 (If you liked reading this article, please feel free to "like" / subscribe / leave a tip or go over to my website, where the rest of my articles are: https://sarah-s-story-book.webnode.co.uk/)
fashion
I love all things Earthy and Self-Help
History is one of my favourite subjects and I love to write short fiction
Research is so interesting for me too