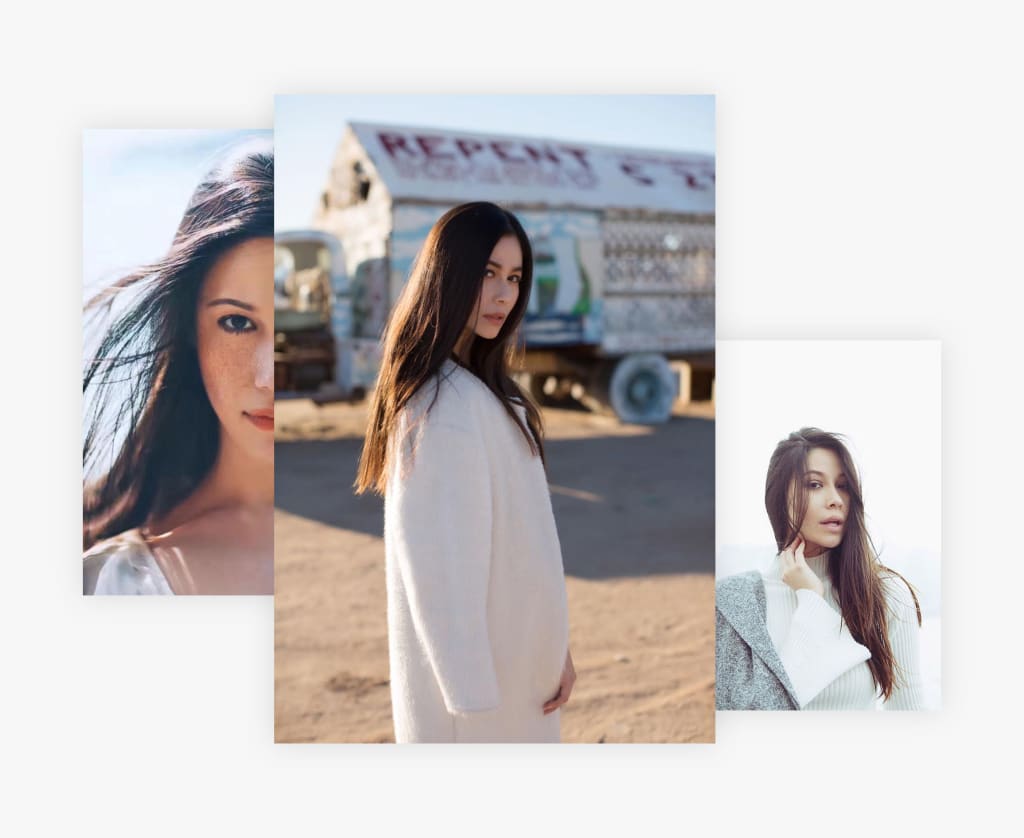 At her core, Bianca Stam is a businesswoman. She works in front of the camera as a model and actress, has the passion to work behind the scenes in film and production - all in addition to her involvement in the Italian restaurant Bar Roma in her hometown Chicago.
Having spent half of her life in the United States and half in China, Bianca has expertly bridged the gap between West and East through her personal and professional endeavors. She acts in both markets, speaks fluently in both countries, and lives to bridge the gap between traditional ethnic and cultural barriers.
Ever inspiring, Stam now turns her eyes towards the next generation. After getting firsthand experience with underprivileged children in the education systems in Hong Kong as a Kindergarten teacher, she now dedicates part of her time volunteering, giving English lessons so children have more opportunities to grow and succeed in their lives.
At Spotlight, we showcase inspiring women with inspiring stories, and it is an honor to have Bianca Stam featured in our collection. In this exclusive interview, we learn more about the amazing woman with a love for languages, cultures, passions, and doing good in the world.
Spotlight: How did you get started in modeling/acting?
Bianca Stam: I got started in modeling quite naturally. I was always scouted in Hong Kong by random agents as a teenager and my mother, being the skeptic that she is, always felt it was a scam. Then one day I just decided to go for it and I responded to one of the cards I received, a boutique agency, and it just went onwards and upwards from there.
You work in Asia a lot. Where is the most exotic location you've shot?
I work in Asia often and I have to say my favorite location was Sentosa island. It was a commercial for Friso milk. I played a young, pregnant mom with a prosthetic belly and the set was luxurious—challenging but fun.
You speak and act in five different languages. What's the story there?
I grew up pentalingual thanks to my family background. Neither of my parents spoke good English, so putting me in an English school was good to do because I had the background of speaking Cantonese, Mandarin, Taiwanese, and Italian with family members at home. I started acting in Hong Kong and China, my first movie being Chasing the Dragon with Donnie Yen and Andy Lau, but have yet had the chance to act in Italian. I so look forward to that day.
We're looking forward to that, too. How did you come to be involved in owning a restaurant?
I actually was lucky enough to grow up around successful Chicago restaurant owners, my mother's friends, so they were family friends with a strong success rate and ethical background, thus I gladly became involved.
Why did you add producing to your resume?
I feel at the core of my being, I'm a businesswoman. As much as I love the arts and performing, I really love working behind the scenes and having creative control, so producing comes naturally.
You have a mixed ethnicity. Has that helped or hindered your career so far?
This is a very tough question to answer. I'd say up front that for modeling it really helped. You see, I'm not your average 5'10 skinny model, I never even saw myself as a model. I think the reason I got to work so much in Asia modeling was because I was half Italian and half Chinese, a look that is "hot" for commercials and modeling. But for acting, it has for sure hindered me. Chinese movies are hesitant to cast me for pure Chinese roles because they feel I look too white, or unrelatable, and in the West, I feel I get cast for roles I cannot relate to myself such as Latin/Native American, etc. I don't book Asian roles in the States either so I feel a little misplaced and misunderstood. I am hoping to be able to bridge the gap between the East and West, rather than remain there because it would be such an honor for me to play my nationalities.
Who are your dream collaborators?
I was hooked on to movies by watching amazing actresses. Jessica Chastain is a dream collaboration, and I also grew up loving Elisha Cuthbert and Kristin Kreuk. Their movies and their work really speak to how true they are to themselves and exemplify their talent beautifully.
What's a cause that's near to your heart?
Underprivileged children of the education systems in Hong Kong. I used to teach Kindergarten and I am naturally very good with kids. I believe everything psychologically fundamental to a child's thriving is determined through their early years and I'd volunteer a lot in Hong Kong at underprivileged schools teaching English. We can form children into better versions of ourselves and give them the chance to thrive and save the world.
Finally, do you have any advice for women that want to get into the entertainment industry?
Be introspective and ask yourself why you want this. I do this weekly because Hollywood can be a scary place. If you don't protect yourself you can lose yourself.Follow Bianca Stam on InstagramKeep up to date on IMDB
Reader insights
Be the first to share your insights about this piece.
Add your insights