10 Lessons I learned from Barbie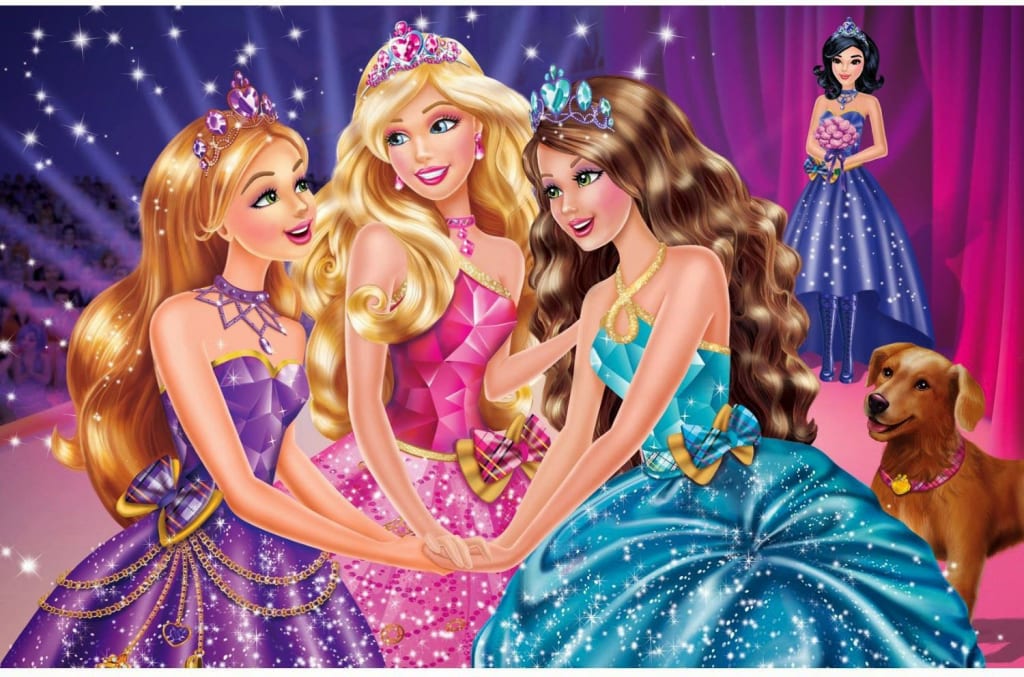 Barbie was a huge part of my childhood. I watched every movie, sang-along every song and played with my Barbie dolls in excitement. I used to wait in anticipation for the release of upcoming movies and would rush to buy CD's as soon as I got a chance to go to my local mall and requested Barbie dolls to pamper and play with for my birthdays and for Christmas. Looking back at my childhood and the list of movies that I have watched, I realized that there were a lot of life lessons instilled in those films and most of them were similar values across the movies. They are:
Lesson 1: Kindness & Love
In almost every movie I watched from Rapunzel right up to the Princess Charm School, Barbie is portrayed as a character who showers unconditional love and kindness upon those whom she meets, from her family, friends, random strangers and even the haters! To me, it is a lesson for humanity in which people treat others with utmost respect, loving one another and demonstrating kindness regardless of one's race, gender, ethnicity and nationality.
Lesson 2: Bravery
Barbie is confronted in having to defeat various villains in every movie from the Rothbart in Swan Lake to the malicious fairy in Fairytopia. Nevertheless, she demonstrates bravery, righteousness and justice in standing for what is right and finding clever ways to defeat them. Her fearlessness and strength is an example of how we should approach and confront various challenges and struggles in our lives. Furthermore; highlighted in Thumbelina, one's size does not prevent someone from making a difference.
Lesson 3: Problem-solving
Similar to lesson 2, problem-solving is apparent such as going on a journey to find magical crystals (Magic of the Pegasus) or even experimenting with objects and having implementing a strategy to achieve a certain goal.
Lesson 4: Family
Family is one of the most important lessons that I have learned. In times of happiness, hardship and grief, Barbie indicates that family would be there for you in times of need in being your support system, encourages you to be the best you can be, and also be the foundation of love, trust and care
Lesson 5: Friendship
Similar to family, friendship is also a common theme which runs throughout the films. The biggest lesson here is that the quality of friendship is more important than the quantity (Mariposa). True friends would be there in times of need, work together to solve problems, and never leave when times get tough (Mermadia)

Lesson 6: Teamwork
The importance of leadership and teamwork is also indicated when Barbie is faced with a problem and would have to collaborate with family, friends, animals, etc in order to solve a problem. Strategies are well-thought of and implemented and there is no sense of pride or ego in doing a task collaboratively but rather the sense of humility and encouraging others to do their best in dealing with a certain crisis.
Lesson 7: Creativity
A logical mind is valuable in problem-solving and critical-thinking, but so is having a creative mind. Barbie teaches us to have a balance between the two in order to live a happier, more peaceful and fulfilling. It may be a hobby or a sport such as surfing (A Mermaid Tale), dancing and singing (12 Dancing Princesses, Swan Lake) or even just painting! (Rapunzel)
Lesson 8: Perseverance
There are times where the villain gets away with ruining the world (Fairytopia: Rainbow, Diamond Castle) but Barbie never gives up and fights till the end and manages to save the day. The very act of perseverance (Three Musketeers) and determination when things get tough or even a negative event takes place is valued for it brings about success (and lessons!) the more you try.
Lesson 9: Authenticity
Barbie is presented as a unique character with different interests, hobbies and aspirations in every film. It showcases; especially in the 21-st century the power and love of authenticity and the ability to stay true to yourself and to not be insecure for there is only one special, unique version of yourself and to never have to sacrifice who you are to become what society expects you to be.
Lesson 10: Self-love
Similar to Lesson 9, stay happy and love yourself. Barbie begins and ends a movie with a smile and believes in the power of self-love; in reaching your goals and your potential, being happy with who you are what do you have to offer the world which is unique only to you. Embrace your flaws, for they make you who you are!
Reader insights
Be the first to share your insights about this piece.
Add your insights