Yuzvendar Chahal Biography: Meet The Champion Bowler Of Indian Cricket Team
He is the self-proclaimed 'shy' prankster. The funny guy in the dressing room. The focused bowler in the field. And the bright new star of the Indian team, Yuzvendar Chahal.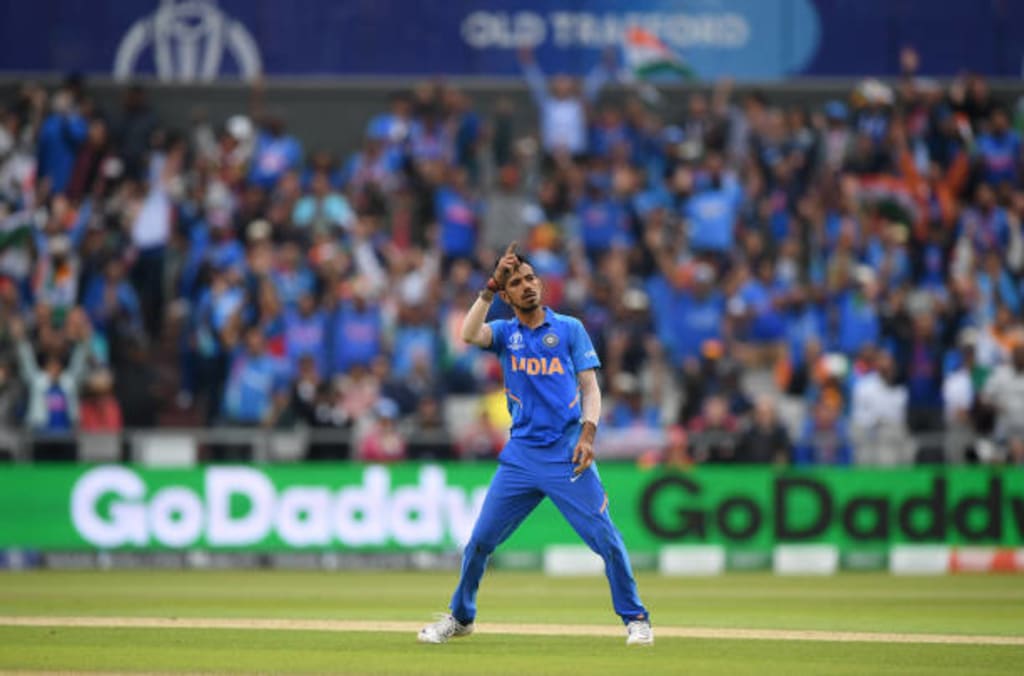 When Yuzvendar Chahal was seven years old, he started playing chess. He participated in various tournaments, but couldn't find sponsors to pursue it as a career. He was the U-12 National Chess Champion in 2012. He even represented India at the 2003 Chess World Cup.
Chahal used to play cricket as well and later decided to completely focus on that. His name is still listed on World Chess Federation's official website. Chahal holds the record of being the only player to represent India in chess and cricket.
Journey
Chahal made his first-class debut in November 2009 against Madhya Pradesh. Though he started as a medium-fast bowler, he became a leg spinner. In 2009, Chahal became the top wicket-taker at the National Under-19 Cooch Behar Trophy by picking up 34 wickets.
After his stellar performance in IPL 2016, Chahal was picked up in the Indian National Cricket team. He made his ODI and T20I debuts against Zimbabwe in June 2016.
Chahal holds the record of being the first Indian bowler to take 5 wickets in T20 Internationals. He achieved this feat against England in February 2017. He was declared as the man of the match in his very 2nd second ODI.
He also took 3 wickets for 25 runs against Zimbabwe.
Chahal at Indian Premier League
Chahal joined RCB in 2014 after playing for Mumbai Indians. In the three years with Mumbai Indians, he played in just one match. He was signed by RCB for a base price of INR 10 lakh.
His performance in the 2016 IPL edition impressed one and all as he took 19 wickets then and became the purple cap holder.
In an exclusive interview with Timesnownews.com, Chahal had said,
This is my sixth year with RCB and I have enjoyed a lot especially on the field and off-field with senior players like Virat bhaiyya (Virat Kohli) and AB sir (AB de Villiers). I am always excited whenever I play for RCB. It is like my family and I don't see myself playing for any other team.
Chahal has become an integral cog of RCB's bowling department. The franchise has signed on some new players, and Chahal is excited to start the new season of the league. He is also working on his batting skills for IPL.
Yuzvendra Chahal Fiancée
Chahal announced his engagement to Dhanashree Verma on 8th August 2020. Amidst the COVID-19 pandemic, the couple got engaged in a small Roka Ceremony at home, in the presence of their parents. Yuzi's fiancée, Dhanashree is a doctor and a choreographer. The founder of the 'Dhanashree Verma Company' has more than 1 million subscribers on her YouTube channel and has worked with the likes of Rajkumar Rao and Guru Randhawa.
Interesting Facts about Yuzvendra Chahal
The atmosphere in the dressing room is very friendly and Chahal is one of the funniest guys in the team. But, Chahal knows when to serious and when to relax. Along with all the pranks and jokes, Chahal is very glad to have found the support of his seniors.
"Whenever I feel something, I always talk to the senior players — Virat (Kohli) bhaiya, Mahi (MS Dhoni) bhai, Rohit (Sharma) bhaiya, Shikhar (Dhawan) bhaiya. They always help me. When Virat bhaiya is not there, I always [speak to] Rohit bhaiya and ask him what to do and what not to do," he told the Hindustan Times.
Yuzvendar Chahal claims that he is shy, but he has a very fun and naughty side to him as well. He even has his own channel, Chahal TV, where he shares quirky videos and interviews.
He loves to make quirky videos with his teammates and these are regularly posted on BCCI website. BCCI also shares these through their twitter handle. Most of his teammates have debuted on 'Chahal TV.' Smriti Mandhana has also been interviewed on the channel and trolled Chahal by calling him her batting inspiration.
Chahal seems to inspire by Captain Kohli when it comes to tattoos as well. He has anchor and compass, Shiva, and zodiac Leo tattoos. These inspire him when he is feeling low.
Chahal shares an excellent comradery with MS Dhoni as well. In fact, they play PUBG together whenever they find some time. Chahal was quoted by Hindustan Times,
"Mahi bhai and I play PUBG together sometimes (laughs). Seven-eight people play PUBG for two hours. We go for dinners, [have] fun. It's a big thing to play under Mahi bhai. He was my first captain. Whenever we need help in bowling, Kuldeep (Yadav) and I always ask him."
Shane Warne is his bowling idol.
Flamboyant Bollywood star, Ranveer Singh, is Chahal's favourite actor. Chahal is a big fan of bindass attitude and loves all his movies. When it comes to the actresses, he has a huge crush on Katrina Kaif. She is his dream date!
Chahal is a big fan of football. He supports the team Real Madrid, and his favourite footballer is none other than Cristiano Ronaldo!
Chahal is absolutely in love with the city of Gurugram. He has built a home there so that his parents could shift from Jind village in Haryana. It is his dream house and constructed exactly the way he wanted for a long time.
His teammates call him Yuzi and Tilli.
Yuzvendar Chahal loves travelling. His dream destinations are Maldives, Greece, and Paris.
He loves to feast on homemade butter chicken and rajma chawal.
Just like most of us, Yuzvendar loves to 'Netflix and chill'!
Yuzvendar's net worth is estimated to be around USD 4.5 million. Along with his National Team salary, he earns handsomely through IPL salary. In the very first season of IPL, Yuzvendar was signed for INR 10 lakh by Mumbai Indians. However, in 2018, he was earning a whopping INR 6 crores per year from RCB.