You've Got to Be Kidding Me
NBA All-Star voting often reminds me why we can't have nice things.
Paul Pierce lives up to his nickname and speaks "The Truth"
The NBA All-Star Game is a night where we see the league's elite players face off in a wildly entertaining matchup. Now more than ever with the team format replacing the traditional East versus West style, there is much more hype around this fun and historical event.
However, when it comes time to vote players into the All-Star Game, I'm always left feeling disappointed in humanity. Yes, those are strong words concerning something that's irrelevant in the grand scheme of history, but damn it, WHAT IS WRONG WITH YOU PEOPLE?!? Each year, I see worthy candidates receive few votes or are completely left out of the top 10 for their positions while other "less deserving" players get votes for a plethora of reasons. Hell, we are only a couple of years removed from nearly making Zaza Pachulia an NBA All-Star. This unfortunate trend has continued this year, so I'm going to breakdown the current All-Star voting blunders. To prevent this article from being too long, I'll have three players that are too high and too low in each conference.
Western Conference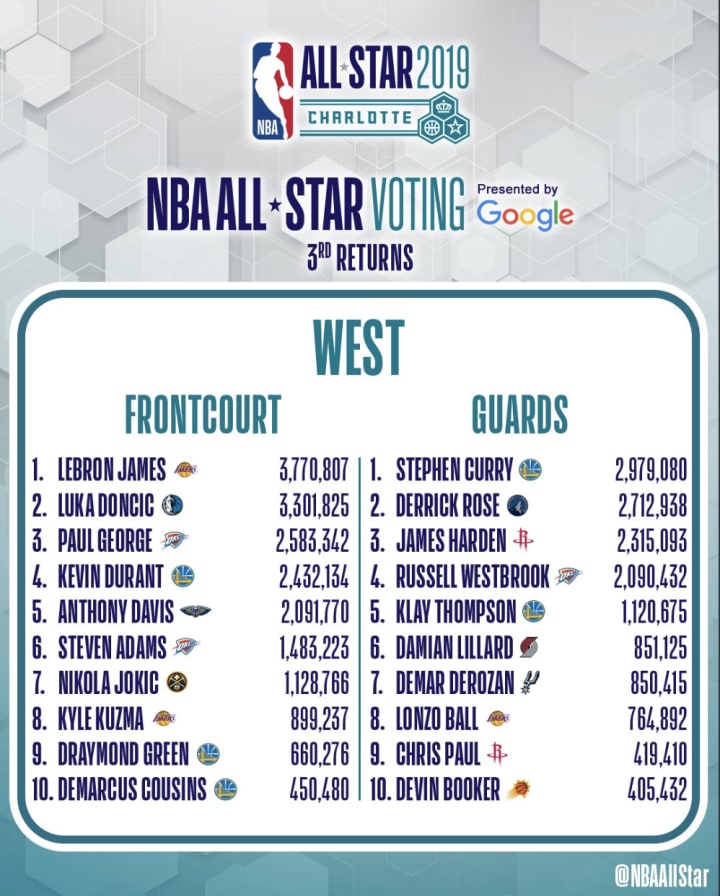 Too High
Luka Doncic: I know I'm going to get a lot of flack for this pick. No, I'm not a Luka Doncic hater; he's making me eat my words and is running away with the Rookie of the Year competition. He is already asserted himself as the best player on the Dallas Mavericks, and will be a superstar in the coming years. However, he's received far too many votes from the fans. It's not about him being undeserving, it's about other people receiving less votes than him or have been left off this list completely. There is no reason Doncic should have more votes than players like Kevin Durant, Anthony Davis, Paul George, and Nikola Jokic. He's good, but they're on a different level. It's hard to fault fans for boarding the Luka hype-train, but this isn't right.
Draymond Green: Let me preface this by saying, as bad as Draymond has been this season, he's still a unique talent and no one is questioning that. However, BOY HAS BEEN TRASH! Well, at least in comparison to what is expected of him. His shooting—which had steadily been declining since KD's arrival—has totally fallen off a cliff, shooting the third worst and second worst from the field and from three, respectively. His turnovers are also up, and he just seems to lack confidence on offense, which has thrown off this Golden State Warriors team. In all fairness, being ninth amongst frontcourt players isn't "high" per se, but I just don't think he should be here.
Derrick Rose: OK, if people hate on me for what I said about Luka, they're going to hunt me down with pitchforks for what I have to say about D-Rose. I get it, he has a compelling narrative: Overcome numerous injuries, has reinvented himself as a player, and is having his best season in years. Thing is this narrative is better suited for the Rose winning the Sixth Man of the Year Award rather than being an All-Star. His stats are good, but they're not on an All-Star level, and there are just so many more deserving guards. (James Harden, anybody?) I'm sorry, but Rose doesn't deserve to head to Charlotte this February.
Should Be Lower: Steven Adams (shouldn't be above Jokic).
Should Also Be Excluded: DeMarcus Cousins (hasn't even played a game), Lonzo Ball (solid player—not even close to All-Star level), and Chris Paul (who hasn't played enough games nor well-enough).
Left Off
Tobias Harris/Danilo Gallinari: I'm technically cheating, including two players in one pick, but I don't care. Though the Los Angeles Clippers have come back down to Earth after their hot start to the year, they are still fifth in the West and are playing great basketball. Therefore, someone from that team needs to be in the All-Star Game; it could be either of their starting forwards. Tobias Harris was the NBA's Player of the Month in November and is having the best season of his career. As is fellow forward Danilo Gallinari; finally healthy, he's posting career highs across the board. This team has simply had too much success to not have at least one of these players make the team.
Clint Capela: After the terrible start the Houston Rockets got off to this season, James Harden has willed the team back into the playoff picture, currently sitting in fourth in the Western Conference. But with the astronomical play of Harden, Clint Capela has improved yet again, averaging career highs of 17.3 PPG and 12.7 RPG to go with almost two blocks a game. He may not end up making it due to the number of talented bigs in the West (and due to his recent injury), but he should have more votes than freaking Boogie Cousins.
Jrue Holiday: I think I'm the most upset about this potential snubbing. There's no doubt that Davis is the best player on the New Orleans Pelicans, but Jrue Holiday has been balling out, having—what's becoming a recurring trend on this list—the best season of his career, with 21.0 PPG, 8.4 APG, and 4.5 RPG to go along with his outstanding defense. I'd say he's in the third or even second tier of elite guards this league has to offer, and to see him left off this list is just criminal.
Should Be Higher: James Harden (has taken command of the MVP race with his dominant play and singlehandedly launched Rockets [ha, see what I did there?] back into playoff picture), Nikola Jokic (team is first in the West; he's an MVP candidate), and Anthony Davis (should be above KD, in my opinion).
Should Also Be on the List: Karl-Anthony Towns (much improved since Jimmy Butler trade), LaMarcus Aldridge (man just dropped a 50-piece on OKC and has helped the Spurs turn their season around).
Eastern Conference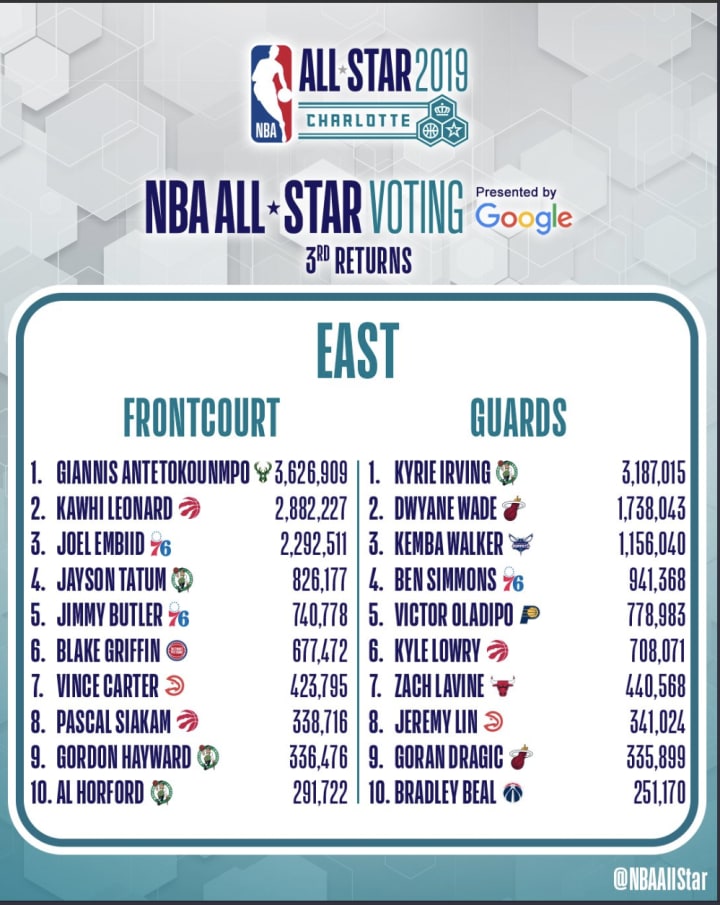 Too High
Jayson Tatum: This is going to make Jayson Tatum fans really upset, especially the people who constantly point out, "He's only 20 years old!" whenever he freaking breathes. The fact is that he's having a "disappointing season"—even though his season performance has been rather on par with my preseason predictions—and is not worthy of being named an All-Star this year. The Boston Celtics have taken a step back this year, and part of this can be attributed to Tatum's offensive inefficiency; he's trying to force the issue, rather than playing within himself and the Celtics system. Simply put, Kyrie Irving is the only All-Star on that team right now.
Dwyane Wade/Vince Carter: Cheating again, but what are you gonna do about it? This one pains me to say, as I love both players, particularly Dwyane Wade. But if we vote players that are retiring simply for their legacy, being an All-Star loses its value. Besides, if that's how the voting is being done, why isn't Dirk Nowitzki getting the votes when he's had a better career than Vince; Vince isn't guaranteed to retire after this season anyways. There can be other ways to honour these great players, but sending them to Charlotte is not the way to do it.
Gordon Hayward: This one shouldn't take too much explanation. Gordon Hayward has been a shell of his former self since returning from injury this season. While he has shown improvement over the course of the season (and apparently goes off whenever the Celtics face the Timberwolves), he's not putting up numbers and the Celtics aren't having enough success to even warrant a second All-Star. I'd take Al Horford over Hayward (and probably over Tatum, too, since I'm a Horford guy) and he hasn't really played well this season either, so Hayward shouldn't make the squad. I hope he continues to improve and gets back to his old self, or is able to reinvent himself like Derrick Rose has to be effective in the league.
Should be Lower: Kemba Walker (got off to an amazing start and had a 60-point game, but doesn't have the team success of players below him).
Should Also Be Excluded: Jeremy Lin (not even the best player on his team, nowhere near being an All-Star).
Left Off
Kris Middleton: Charles Barkley recently advocated that Jamal Murray should make the All-Star Game if the Nuggets are a top two seed in the West, but said Kris Middleton shouldn't make the team at all. I love Chuck, but he's dead wrong on this one (as he often is). Kris's offensive play has been roughly on par with that of Murray's, he has been much better on defense, and his Bucks have a better record than Murray's Nuggets. It would be a travesty if Middleton doesn't head to Charlotte.
Nikola Vucevic: The Orlando Magic have not been totally terrible this season; sure, they're seven games below .500, but they're only two and a half games out of the eighth seed in the East, and have beaten some of the league's best teams in Houston, Boston, and LA. A large portion of the team's success can be attributed to the resurgence of Nikola Vucevic. He's having a career year (join the club) averaging 20 points, 12 rebounds, and four assists while making 38 percent of his threes. Those are definitely All-Star numbers.
Josh Richardson/Justise Winslow: The Miami Heat are a very strange organization. They're sixth in the East and they're doing it without any real star—Goran Dragic is injured for the foreseeable future and Hassan Whiteside is, well, Hassan Whiteside. As of late, the team has been playing well enough to get back to .500, led by Josh Richardson and Justise Winslow. Richardson has been the team's leading scorer at just under 18 points per game to go along with four assists and four rebounds. Since being made the Heat's point guard following the Dragic injury, Winslow has averaged around 15 points, five rebounds, and five assists, having several big games for the Heat. Both continue to be strong defensive players as well, so one of them should make the All-Star Game for their efforts.
Should Be Higher: Bradley Beal (he's had two triple-doubles with at least 40 points and 15 assists since John Wall got injured; man is straight hooping), Victor Oladipo (the best player on the third best team in the East), and Ben Simmons (be it triple-doubles of 20-20 games, Simmons has been playing outstanding basketball as of late and his team is winning).
Should Also Be on the List: D'Angelo Russell (due to the shear lack of talent in the East, Russell has the Nets in sixth place and is having the best season of his career) and maybe Andre Drummond (crazy to think a team outside the playoff picture should send two All-Stars, but Drummond has been doing his thing and the Pistons struggles aren't mostly on him).
About the Creator
Huge NBA (more importantly LeBron) fan, love writing about things happening around the league.
Instagram: @mdaywiththetrey
Facebook: Olamide Olatunbosun
Reader insights
Be the first to share your insights about this piece.
Add your insights