WWE Friday Night Smackdown Recap: Edge Confronts Roman Reigns, Still No Decision?!
Edge was interrupted by Universal Champion Roman Reigns during an inspirational speech. Plus, Kevin Owens stuns Reigns from behind.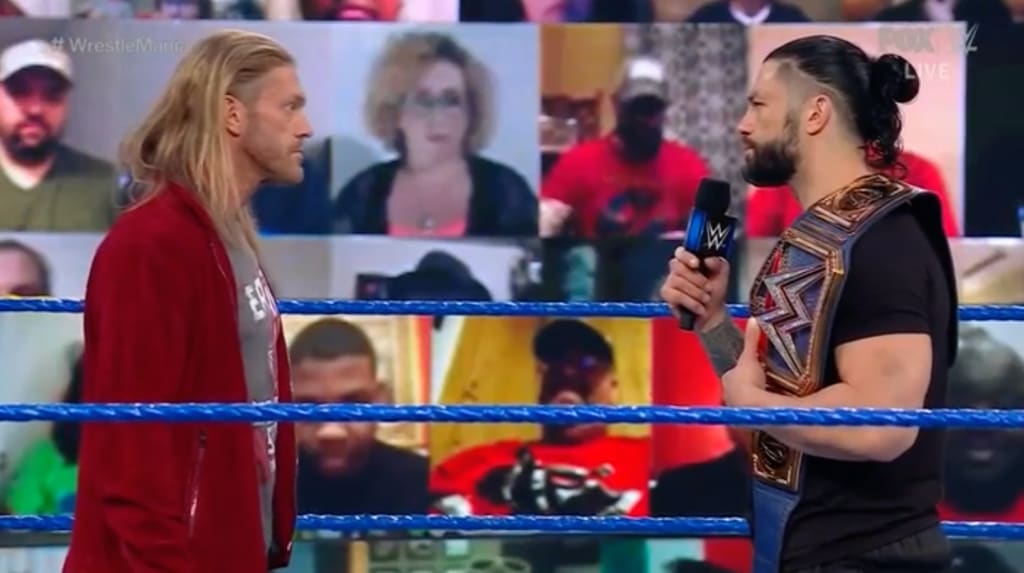 Image Credit: @WWE
It looks like the 2021 Royal Rumble winner, Edge, has not made his decision....yet.
As a result, Kevin Owens returned to deliver a cold-hearted stunner to the 'Head of the Table,' Universal champion Roman Reigns.
Greetings, Wrestling fans!
Welcome to 'M.A.R. Entertainment!'
Today, I will be discussing the segment between Edge and Universal champion Roman Reigns.
Edge's Inspirational Breakthrough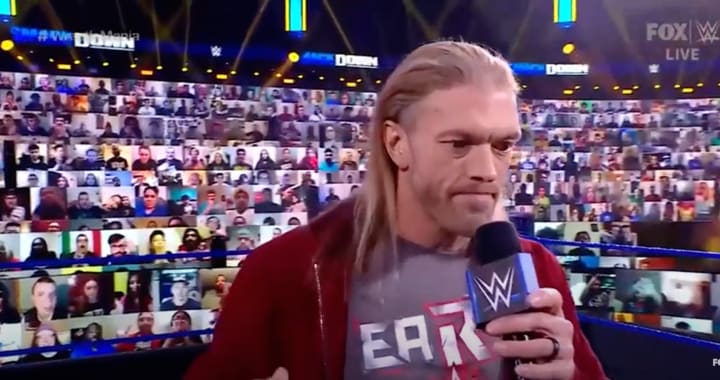 To kick off the segment, the 'Rated-R' superstar Edge came out to speak to the WWE universe about his road to coming back home. I will quote what Edge said during the segment that gave us inspiration to follow our dreams:
"You can't accomplish something you've ever dreamed of. For the last 7 months, while I was grinding through rehab, I was dreaming, man. Every road mile that I logged, I was dreaming. I dreamed of coming back here.....coming back home. I was dreaming of winning the Royal Rumble and main eventing Wrestlemania. I was dreaming of taking back something that I never lost....something that I feel is mine."
If this is not an inspiring story, I don't know what is. This is a perfect Cinderella story for Edge. After forcing to retire his World Heavyweight title back in 2011 due to a severe neck injury, Edge fought relentlessly back to where he is today.
This is not by chance or luck.
This is Edge's moment.
Right now, Edge can change the landscape of the WWE forever with one decision. Unlike previous Royal Rumble winners, they would go on emotion to choose their picks and main event at Wrestlemania. Edge is nothing like those men from the past.
With the decision on the line, it brings a lot of excitement and suspense for WWE fans to anticipate. Simply put it, it is refreshing. Something we have not seen in a very long time.
Edge Appeared on Smackdown
While Edge was still speaking, here comes the 'Head of the Table,' which signals a "your time is up" type of entrance. As Reigns, his cousin Jey Uso, and manager Paul Heyman entered the ring, Edge noticed that he was alone with them. As big as Reigns is, he still needs back-up, which Edge figured out blatantly.
As the 'Head of the Table' continued his rant about being disrespected, here comes Kevin Owens, who stunned Reigns from behind. What made that moment hilarious was when Edge has that amused look on his face. After Reigns get stunned by Owens, Smackdown ended the night with a lot of questions still to be answered.
My Thoughts
First off, Reigns deserved to be stunned by Owens after cheating his way to three victories during their bouts. Owens didn't mind helping his fellow Canadian and include himself to the Universal title picture once again. So all that talk of Reigns getting rid of Owens for good was a little too late. Hopefully, both Owens and Reigns participate in a "Hell In A Cell" match for the Universal Championship at the next pay-per-view.
This time, I am for team Owens to finally win it and end the reign of the 'Head of the Table' once and for all. For all its worth, Edge enjoyed his time at Smackdown and will wait for the winner of both NXT Champion Finn Balor and Pete Dunne for sure.
Based on the landscape of the WWE currently, it seems that Edge will be leaning toward the NXT title.
Why?
First, we know that both WWE champion Drew McIntyre and Sheamus are in a feud for the title. For Edge to intervene will only make it worst and the matchup will not be enjoyable to watch if its a triple threat match. Secondly, if Edge were to face Roman Reigns for the Universal championship, Owens will be a part of the match and destroy the mystique of the singles match.
Those were the reasons why Edge should challenge Finn Balor for the NXT title at Wrestlemania.
This begs to question, which champion do Edge choose? Edge literally has the world in his fingertips. One decision can alter his future, or even destiny.
Will Edge choose WWE champion Drew McIntyre? Will Edge choose NXT champion Finn Balor? Or will Edge choose Universal champion Roman Reigns?
As Edge continues his branding tour, stay tuned for upcoming updates on his decision.
If you enjoyed this post, make sure to donate and like it.
Thank you for taking the time to read this post and hope you enjoyed every minute of it!
Every donation is much appreciated!
Stay safe and well everyone!

Michael Reynoso
The purpose of M.A.R. Entertainment is for all readers alike to experience entertainment in a fun, new way. There will be movies, sports, and artistry involved for me to do reviews, critique, and put forth my opinions on trending topics.
See all posts by Michael Reynoso →