Wrestlemania 34 Review: Full Breakdown & Highlights!
Brock Lesnar's Shocking Title Win Over a Bloody Roman Reigns, Ronda Rousey's Epic Debut, and Much More!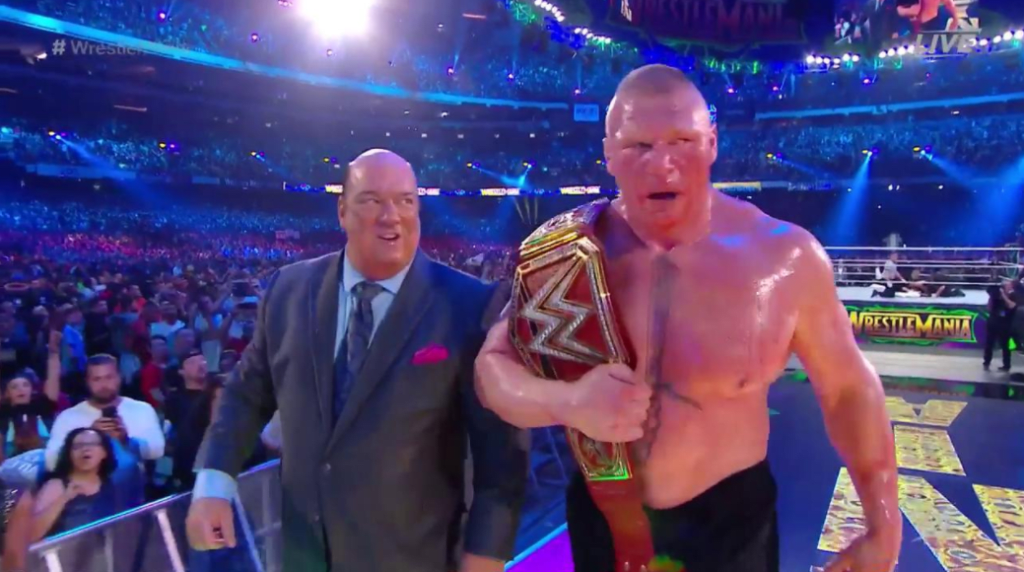 Image Credit: @Wrestlemania
What a strange ending!!
I am not quite sure what we just saw. Wrestlemania 34 was mostly an entertaining night with various matches that totaled up to 14 in all. There were plenty of big moments, but something does not feel right. It is not just Roman Reigns losing. Brock Lesnar was able to retain his Universal Championship, while Roman was left lying on his own blood. This was not an ending we all expected to see.
I am yours truly, Michael, and today, we will do a full breakdown of the matches that occurred in Wrestlemania.
So, without further ado, let's get right to it!
'Andre the Giant' Battle Royal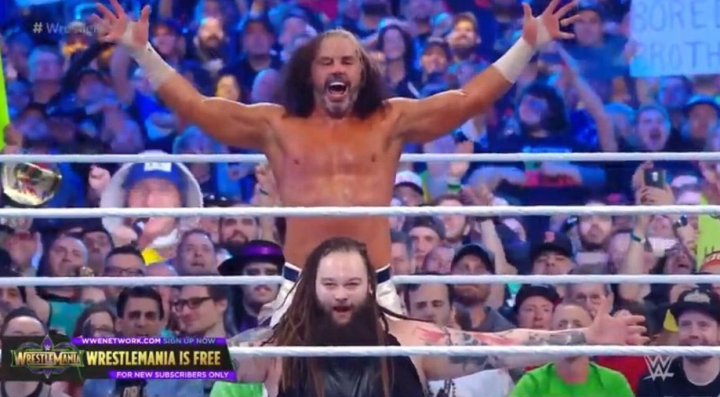 We kicked things off with the "Andre Giant Battle Royal" for the men, which was a fun match. There were no NXT stars and legends in the match. Now, there were a few superstars who were not in the match; guys like Big Cass, Elias, Chris Jericho, and others. We all thought that Baron Corbin was the favorite to win this match, but it was the "Woken" Matt Hardy himself, who won with the help of his new ally, Bray Wyatt. John Cena was in the crowd and was enjoying himself with the fans.
There were some cool moments in the match too.
I liked Mojo Rawley eliminating Zack Ryder, who was his former partner. I liked Goldust dapping when he eliminated R. Truth. That was fun too. The match looked like it was setting it up to be a two-time winner because it was down to both Corbin and Mojo. Now, somebody who has not won the "Andre the Giant" battle royal before is Matt Hardy. Then spooky noises and graphics on the screen appear out of nowhere from Wyatt, who made his return. We have not seen him in quite a while, so he helped his new ally to eliminate both Corbin and Mojo to set up a partnership between the two men.
I cannot wait to see where this partnership ends up between Matt Hardy and Bray Wyatt!
My assumption is that Jeff Hardy will probably be drafted to Smackdown to start his singles matches. We have Matt and Bray teaming up in the coming months and perhaps going after the Raw tag team titles.
Good luck to them.
They have got some stiff competition now.
WWE Cruiserweight Championship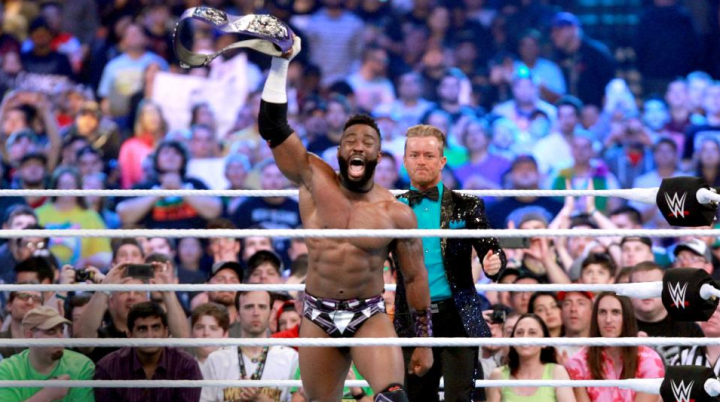 Next up is Cedric Alexander versus Mustafa Ali for the "Cruiserweight Championship." This was something I was worried about, as far as the crowd reception went. Regardless, the crowd was into the match and it was solid. The cruiserweight division does not get enough TV time, unfortunately, so it is good to see that the crowd were receptive and enjoyed a great match. For example, Mustafa Ali hitting a high-flying move from the top rope.
It was brilliant!
At one point, Cedric grabbed Mustafa from outside the ring and looked like he was going to be counted out, but Cedric did not want a count-out victory. So, he pulled Mustafa back in to continue the match, which was great. Then Mustafa hits the "O54 Splash," which is a tremendous move, but Cedric gets his foot on the rope in time. He goes on for a second attempt and misses.
Then Cedric hits his finishing move and became the new Cruiserweight Champion!!
He is a guy who I think you can build the entire division around.
Congrats to Cedric!!!
First Ever Women's Battle Royal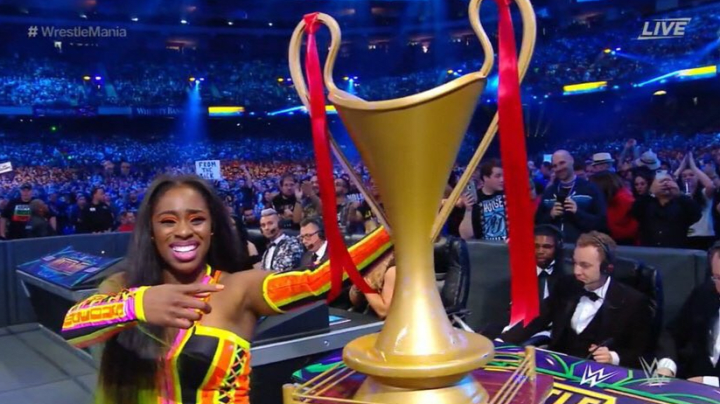 The final match of the "Wrestlemania Pre-Show" was the first historic "Women's Battle Royal."
Historic.
Carmella was immediately eliminated from the match because nobody likes her, obviously. There were a few NXT female wrestlers who participated in the match and squared off against some of the WWE female wrestlers, which was a cool moment. Bianca Blair, who is terrific, is going to be big in the next few years.
Mark my words.
She hit that fantastic "450," which was brilliant. Kairi Sane was eliminated and it was disappointing.
I love Kairi Sane.
I would love to have at least seen the elbow drop. That should have been on TV and it would be so tremendous. In the end, it came down to both Sasha Banks and Bailey, who are former best friends turned bitter enemies. I was upset that they did not have a prominent spot on the Wrestlemania card. However, they did have a cool moment and some storyline progression, which was important. So, they both went for a handshake and shook hands. Then Bailey eliminated Sasha. Bailey thinks she won the match.
However, Naomi was still in the match and flies back in the ring. Then she tosses Bailey out the ring and won the first ever "Women's Battle Royal." This was a clever way of continuing the Sasha-Bailey storyline, while also giving another woman on the roster a big moment.
So, congratulations to Naomi!!
It was a great match!
Now is time for the main show!!
Intercontinental Championship: Triple Threat Match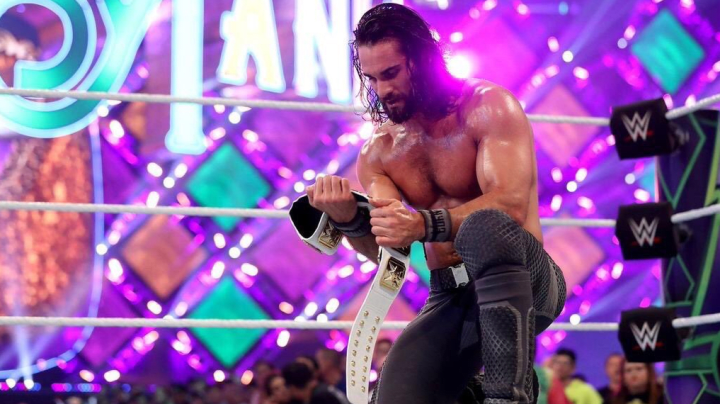 Next up is The Miz versus Finn Balor versus Seth Rollins in a triple threat match for the "Intercontinental Championship."
This was a fast-paced match to kick things off, and the crowd was excited. Seth entered wearing some of Roman Reigns's blue contact lenses while The Miz entered dressed like he came to war (laugh). I guess he does not want his two fellow comrades to help him during the match. You must admit that this is a huge step for The Miz and looks even more confident than ever before.
I think there was a chance here that he could have been overshadowed by both Finn and Seth, who are arguably more athletic than him. However, The Miz played his character perfectly. Both Seth and Finn may have had the more impressive bouts, but The Miz was relentless and ruthless the entire match. He was cutting off the offense off his opponents as often as possible. Each man did their best to finish their opponent off the best they could, but it was Seth Rollins who picked up the win to become the new "Intercontinental Champion" and "Grand Slam" champion in the process.
This was well deserved.
Congratulations, Seth!!
What a great Wrestlemania opener!
This was one of the best matches of the night as far as I am concerned. At least The Miz will have his rematch clause.
Smackdown Women's Championship: Singles Match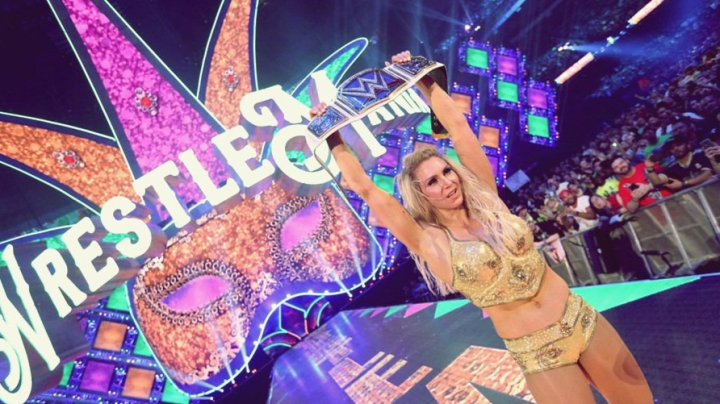 Next up is Charlotte Flair versus Asuka for the "Smackdown Women's Championship."
The Streak is over!!
The "Queen" defeated the "Empress."
Charlotte was ready for Asuka and retained her "Women's Championship."
The match started off slow, but there was some good action in this one. Charlotte went for a "Moonslaught." Then she was caught in a triangle choke by Asuka, which was flawlessly executed. There was a breathtaking flying ability on the top rope by Charlotte. There was a big vertical suplex outside the ring by Asuka. Then in a straightforward fashion, Charlotte locked in the "Figure 4 Leglock" maneuver later during the match and Asuka tapped out.
I could not be happier.
I may not have predicted it, but Charlotte Flair is legitimately the best women's wrestler in the world today.
She is that good.
Charlotte is unbelievably talented and if there is anybody who should have ended the streak, it was her. Then Asuka told her, "You were ready for Asuka!" and the two women hugged it out with respect. This was a match to remember and is certainly up there as the top match of the night.
Congratulations, Charlotte!!!
The Undertaker has arrived!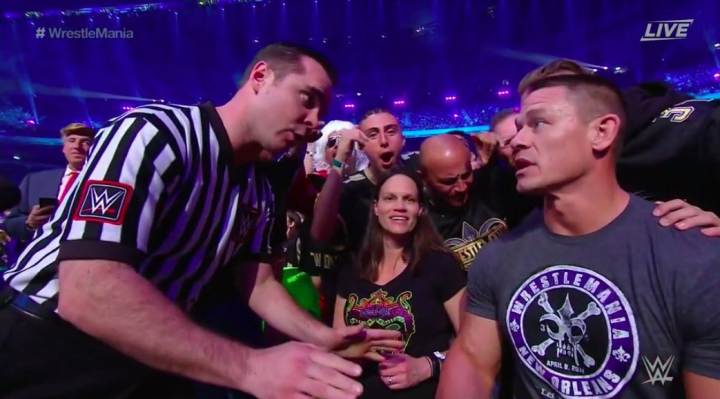 After the match was over, the referee ran to ringside and let John Cena know that The Undertaker had arrived. This was good because John could stop having a shocked look on his face every time he watched a wrestling move. It was like he never saw wrestling before. He kept looking at the matches with astonishment and it was moved that we have seen on a weekly basis on TV. Regardless, John Cena was very impressed with the action in the ring. This Undertaker-Cena storyline has been fascinating.
It has been unusual at best, but I think we will look back ten years from now and see that it was the most enjoyable Wrestlemania storylines of all-time. It has been odd as of late. John has gone mental and has become more mental as each week has gone on, but it culminated on Wrestlemania night into something brilliant. I get it now why they did not advertise the match right away.
We will get to that very shortly.
United States Championship: Fatal 4-Way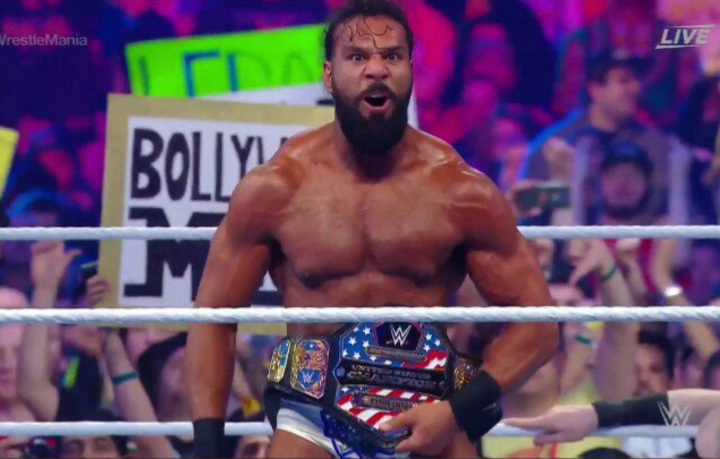 Next up is Randy Orton versus Jinder Mahal versus Rusev versus Bobby Roode for the "United States Championship."
Jinder Mahal won the title!!
On Rusev Day, Jinder beat Rusev.
Let's look at the positives here!
The match itself was good. Not great, but good. We have a truly despised heel champion. Jinder Mahal was not ready for the WWE title and is now ready for the United States title run. If the WWE is clever here, they can capitalize on his hatred and book something quite magnificent. There were a few entertaining RKOs from Randy but was not enough. Rusev had a few actions, but it was Jinder who capitalized and delivered his devastating finishing move to capture the U.S. title.
The Modern Day Maharaja has begun!
Hopefully down the ling, we will see both Rusev and Jinder Mahal going toe-to-toe for the U.S. title. Overall, the match was still a little bit annoying. Nobody thought that was going to happen, but it has been an unpredictable night.
Mixed Tag-Team Match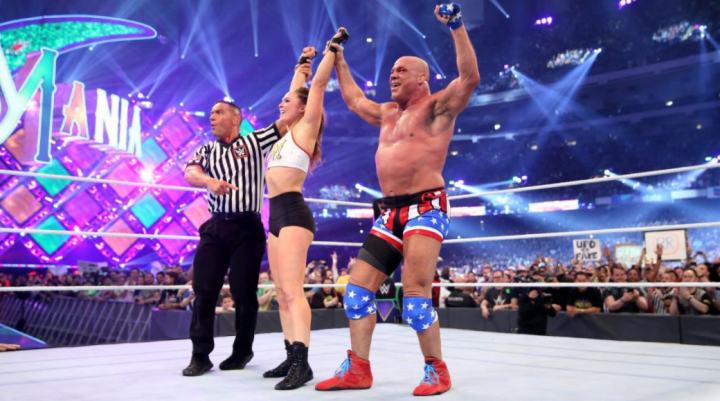 Then came Kurt Angle and "Rowdy" Ronda Rousey versus "The Game" Triple H and his wife, Stephanie McMahon.
This match played out perfectly.
Cheap shot after cheap shot from Stephanie. She is the dirtiest player in the game right now, if you ask me. Ronda had enough of her little cheap shots and finally got her hands on her.
It felt so good.
This was basic wrestling storytelling.
It was bad guys versus the good guys and it was expected. I do think Stephanie got a little bit too much offense in the match. She was blocking Ronda's MMA submission move and executing legitimate wrestling maneuvers.
That should not happen.
Stephanie is not a wrestler. On the other hand, her brother, Shane McMahon, is a terrific professional wrestler. At one point, Rousey had an armbar on Stephanie and Stephanie was able to resist it, and ended up reversing it.
Rousey is a UFC fighter.
What was that about?!
That should not have happened, but overall, it was Kurt Angle and Ronda Rousey who picked up the win. It was a classic and Rousey impressed us with her epic debut. Rousey's participation in the match was more than we expected, and she was born to do this. Seriously, she is a tremendous athlete and entertainer. She proved on Wrestlemania night that she is a valuable asset to the WWE.
I cannot wait to see what she does next!!
Smackdown Tag-Team Championship Match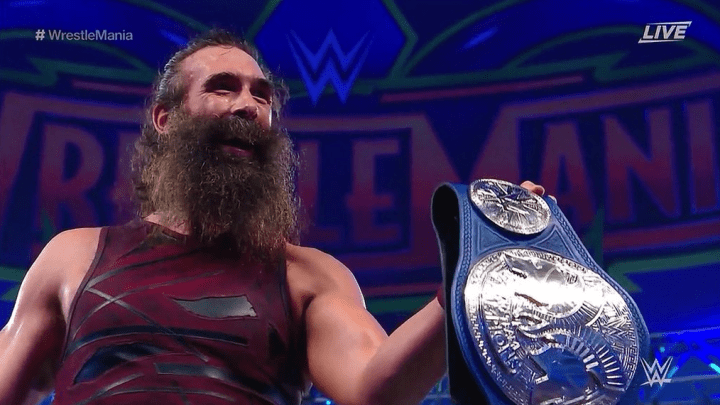 Next up, is The Usos versus The New Day versus The Bludgeon Brothers for the "Smackdown Tag-Team Championship."
There is not much to say about this match.
Following that mixed tag match, it has not been easy, and this match was kept relatively short.
The Bludgeon Brothers, of course, picked up the win and became the new tag-team champions!!
I think it would have been really inflating for them not winning the tag-team titles. They were too dominant and destroyed everyone in their path. Personally, there was a big part of me that wants to see The Usos, who never had a Wrestlemania moment, and have it end this way.
I like Luke Harper and Eric Rowan.
Congrats to The Bludgeon Brothers for becoming the new Smackdown tag-team champions!!
Singles Match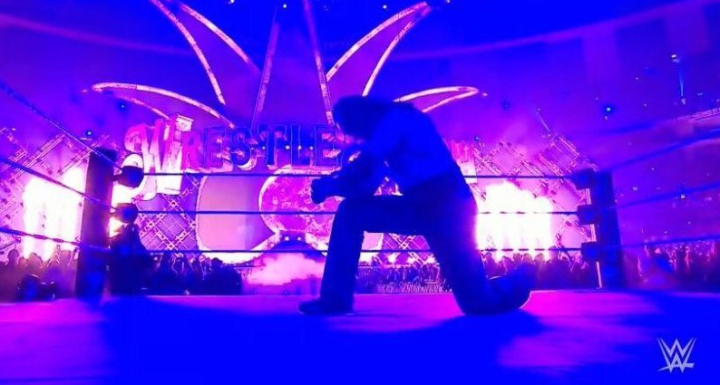 Next up is John Cena versus The Undertaker.
It actually happened!!
A match that we never thought we would see, especially after what happened last year when The Undertaker was defeated by Roman Reigns, finally happened. We all thought "The Deadman" would not wrestle ever again. I think this match lasted less than three minutes.
It happened!!
Following some Elias guitar segment, The Undertaker appeared as "The Deadman," not with Kid Rock behind him, thank the Lord (laugh). He completely squashed John Cena and won with ease.
It was a squash match.
It is funny.
If you had asked me a year ago, would The Undertaker ever wrestle again, it would have been a definitive no. A retirement, or what we thought was the perfect retirement. Then when the "gong" sound hit, immediately I got goosebumps. So, this was why the match was not confirmed beforehand. You could not advertise a match like John Cena versus The Undertaker and get people to sign up to the WWE Network, even though it's free.
It is a free 30 day trial if you want to get it. You can advertise that and deliver a match that was three minutes, but it was great that the match did happen. There is no greater character in professional wrestling than The Undertaker.
Ever.
He is simply the best.
Seeing him against John Cena after weeks of hearing him going berserk on Raw, was brilliant.
That is a Wrestlemania moment.
I think I want to see one more match and the obvious thing to me is The Undertaker at Survivor Series pay-per-view where he debuted 28 years ago.
It will all come full circle.
He looks in great shape. He can go again. I cannot believe I am saying this and I may be a bit carried away with this hype. Overall, a tough quick loss for John and I am sure the WWE writers will allow this feud to continue.
Who wants to see the rematch between John Cena and The Undertaker?
Smackdown Tag-Team Match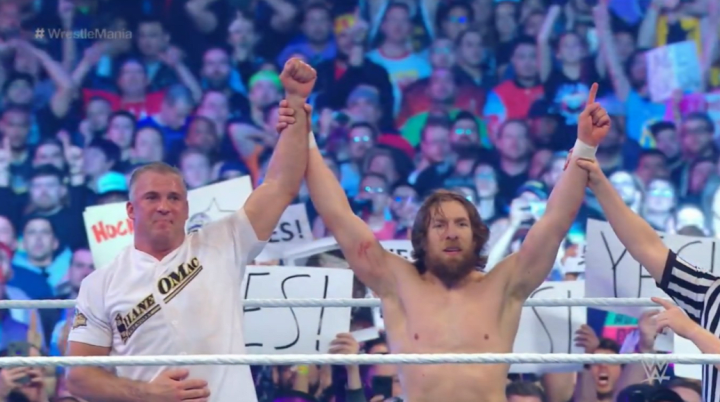 Then came Sami Zane and Kevin Owens versus Shane McMahon and the return of Daniel Bryan. Speaking of people who thought we would not see competing in the WWE ring again, Daniel Bryan made his triumphant return and competed at Wrestlemania in 2018.
Yes!
Yes!
Yes!
Anyway, immediately at the beginning of the match, Daniel was attacked by both Kevin and Sami. Bryan was laid outside of the ring, which left Shane to compete on his own. This looked like a handicap match. At this point, the match should have lasted about 20 seconds, but no. Shane showed us why he can still fight on his own. He is one of the best wrestlers on the face of the Earth.
He held his own against Kevin Owens and Sami Zane. When Daniel Bryan got back into the match, he proved that he has not missed a beat. He is still the intense technician that we all know and love. I think a lot of us did not want to see him come back into a tag match. It was not a return match that we all dreamed of, but it was a solid match.
It was a fun match.
Both Shane and Daniel won the match and the crowd was thrilled. Daniel got his third Wrestlemania moment. Daniel won the IC title in a "Ladder Match" and the "WWE World Heavyweight Title" four years ago in New Orleans when he defeated "Evolution." Seeing him in the corner of the ring "yessing" in his ring gear was very special.
Daniel Bryan is back!!
There are so many dream matches to choose from on who the ideal opponent would be to face him. Overall, the match was not what we were expecting, but it was still good. Also, I cannot wait to see both Kevin Owens and Sami Zane get fired on Smackdown Live.
Raw Women's Championship: Singles Match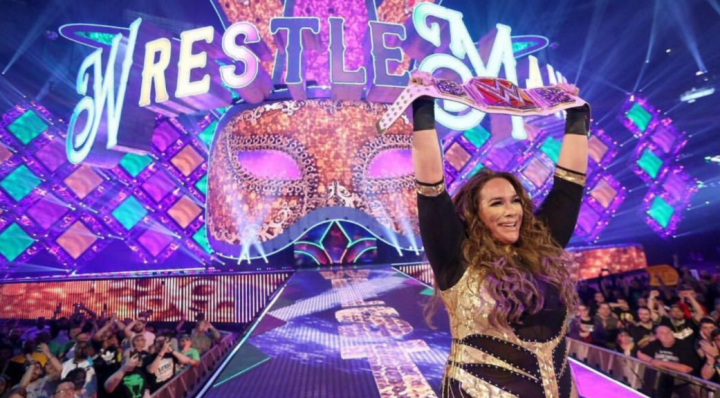 To me, this is where Wrestlemania 34 started to lose its momentum here.
Next up is Alexa Bliss versus Nia Jax for the "Raw Women's Championship." This, to me, felt slower than it should have been.
I liked the start.
I think the start was strong.
Nia came down to the ring and destroyed Mickie James, which was good. It officially looked like a one-on-one match. Alexa used her nasty heel tactics to try to win by picking the eyes and pulling Nia's hair. Overall, this was not as I thought it would be. This is the match where I thought we would finally see a brutal match. I am surprised that Carmela did not use her "Money in the Bank" briefcase to cash in on Alexa at the end of the match.
It did not happen.
However, this match was the right conclusion to the storyline between Nia and Alexa. It was a nasty story about bullying and body shaming. It was great to see Nia Jax have her Wrestlemania moment, but the match was very underwhelming.
Smackdown WWE Championship: Singles Match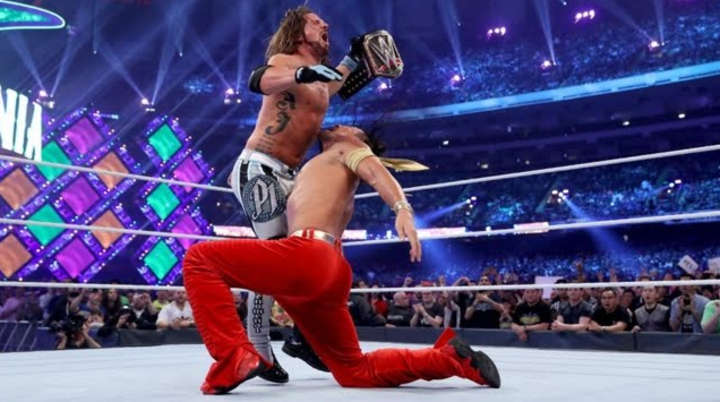 Next up, is AJ Styles versus Shinsuke Nakamura for the "WWE Championship."
Not "Universal Championship" WWE writers.
This is not what any of us were expecting. I do not know if it was due to time issues or patches placed on the card itself. The crowd was certainly burned out by this point. They experienced a lot of good wrestling, but this did not live up to the expectations.
That is a crying shame.
In my mind, this was going to be the match of the night, easily.
No question.
However, it was not. The ending sequence was good, not great. There were a few decent fights, but overall this match live up to the hype that well. What was interesting is what happened after AJ Styles retained the WWE title.
Shinsuke turned heel.
That was a shocker!!
Now, this is exciting.
This can be a great change of direction that Shinsuke needs. Even though we were disappointed by this match, it could make a rematch way more interesting. This match was all about a match being a dream match. It was not much of a storyline there. AJ is very emotional and always has emotions on his sleeve.
The question is, can he control those emotions?
I think ever since being called out from NXT, Shinsuke Nakamura's character has not translated that well to a wider audience. That is a shame because he is still intense, brilliant, but he is not the Nakamura that we saw on NXT. Since coming to the main WWE roster, I do not think he had a good standout match.
This match should have been it.
We know this match could have been more fantastic. We have seen it in Japan. I think in the next few months, either after "Money In the Bank" or "Summerslam," wherever the match happens, we will be talking about it. So, I am trying not to get too down on this one. This match was not what we thought it would be, but it will happen, and it will be brilliant.
Raw Tag-Team Championship Match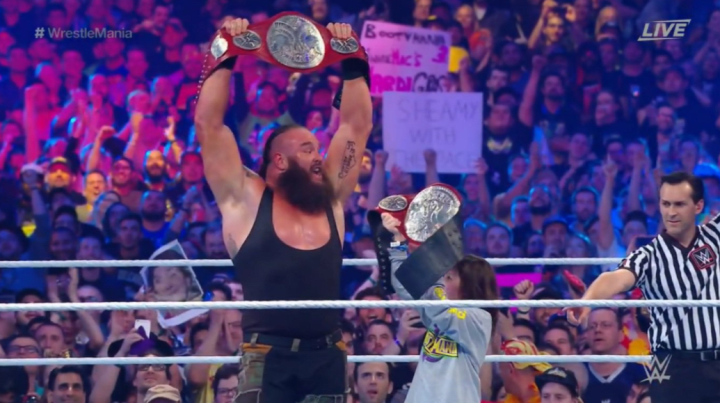 Next up, is The Bar (Cesaro & Sheamus) versus Braun Strowman and a mystery partner for the "Raw Tag-Team Championship."
Who could it be?
Was it Big Show?
No.
Was it CM Punk?
No.
Was it Kane?
No.
It was a ten-year-old child called Nicolas (laugh).
This is really laughable.
Come on, Braun. There must be someone other than Nicolas who could have been your partner. I know you want to entertain the crowd and pick them, but not in a match like this. So, Braun destroys The Bar's parade ride before entering the ring. Then he explained, like "Hey! My partner is not on the back. He is in the crowd. He is somewhere out there."
Who does he pick?
Did he pick the shocked Undertaker guy?
No.
Braun picked a ten-year-old child. I do not know if he is ten or eight. He picked a helpless child called Nicolas and Nicolas is now one half of the "Raw Tag-Team Champions" (big laugh). You know what, I am not even mad. Wrestling is silly and if Nicolas continues to stand like a statue the entire match, then it's all in good fun.
Nicolas, you are living your WWE dream right now.
Congratulations!!!
Finally, the main event of the night.
We have Brock Lesnar versus Roman Reigns for the "Raw Universal Championship."
Brock Lesnar retained his Universal championship belt and left Roman laying on his own blood.
Roman Reigns kicked out of 5 F-5'!!
It took 6 F-5's to put him away, but Reigns lost in a bad way.
Roman Reigns blood flowed immensely!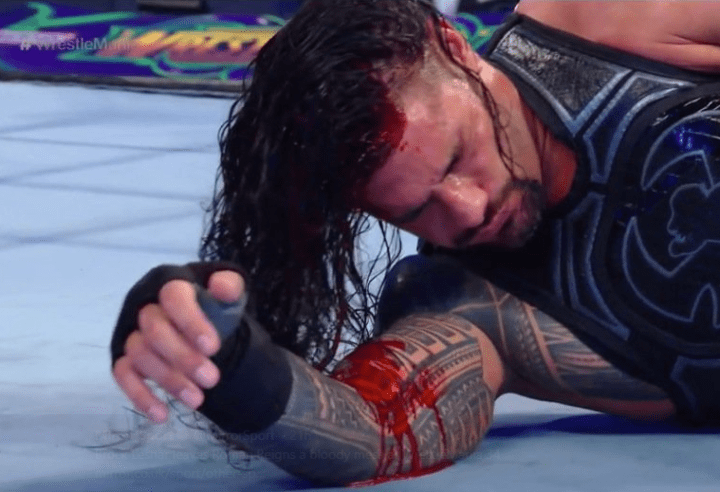 The match was more brutal than expected, as Brock used his elbow to crack open Reigns' wound. Then Roman was bleeding immensely.
It was brutal.
This was very uncomfortable for audiences and viewers everywhere. My family and I were not expecting this to happen. However, the most shocking thing here is that Roman actually lost. This match was over three years in the making and we all knew what it would be like. The match was just not what we expected, which is the overriding theme of Wrestlemania 34. It is not a bad thing that Roman lost.
It was just unpredictable.
Brock Lesnar looked over Roman Reigns!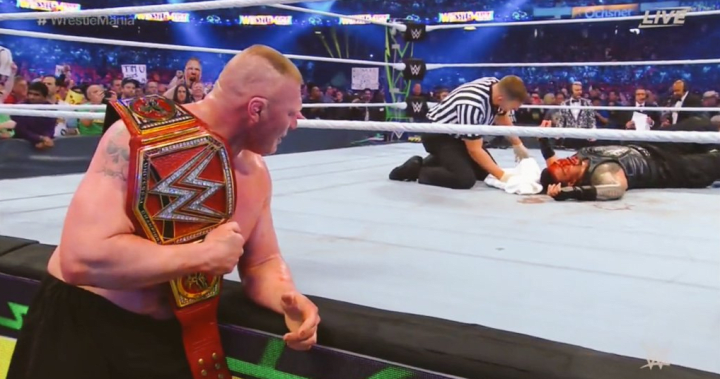 Maybe Brock Lesnar is not going back to UFC as soon as we expected.
I do not know.
What was weird in some ways is that there was no defining moment in the end. There was no image of seeing Roman Reigns standing tall as the new Universal champion.
That did not happen here.
I am really in shock about this, guys.
So overall, an enjoyable night.
There were disappointments.
There was no point of pretending that there were, but think back to the last three hours of the show and it was terrific. It was an enjoyable night of wrestling. I think Charlotte Flair and Asuka was the match of the night for me, along with Kurt Angle and Ronda Rousey. I think Charlotte is the biggest star right now.
That match was solid, and it was real wrestling. I also think the mixed tag – team match was great. Great storytelling and basic bad guy/good guy storyline.
That was great.
Roman Reigns' Epic Entrance!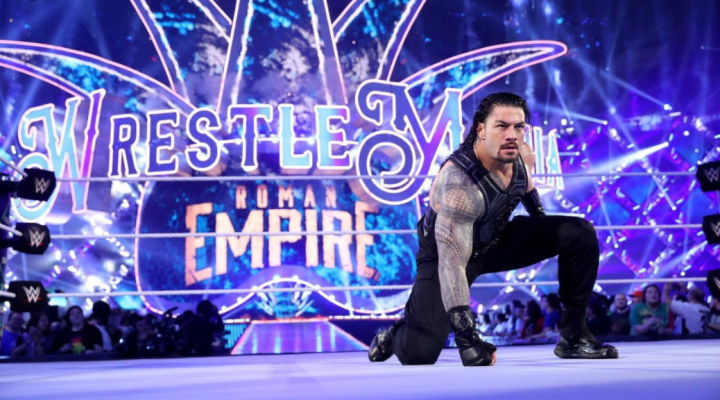 Also, the "Intercontinental Championship" Triple Threat match was brilliant. There were lots of memorable moments, like The Undertaker and John Cena match, which was fantastic.
This was a weird Wrestlemania.
Anyways, congratulations Naomi and to all who won their respected matches!!!
Most importantly, congrats to Nicolas!!!
He is a tag-team champion!!
This was a fair play (laugh).
I hope you guys enjoyed this live event as much as I did!
That is all the review I have for you today!
Thank you so much for reading!
Thank you for contributing to my post, and I really appreciate it!
Follow me on:
Twitter: @MikeAReynoso
Facebook: Michael Reynoso
Please make sure to send a gift below for support if you enjoy reading my posts!
Until next time ^_^