Women's Hoop Review XXV
National Players of the Week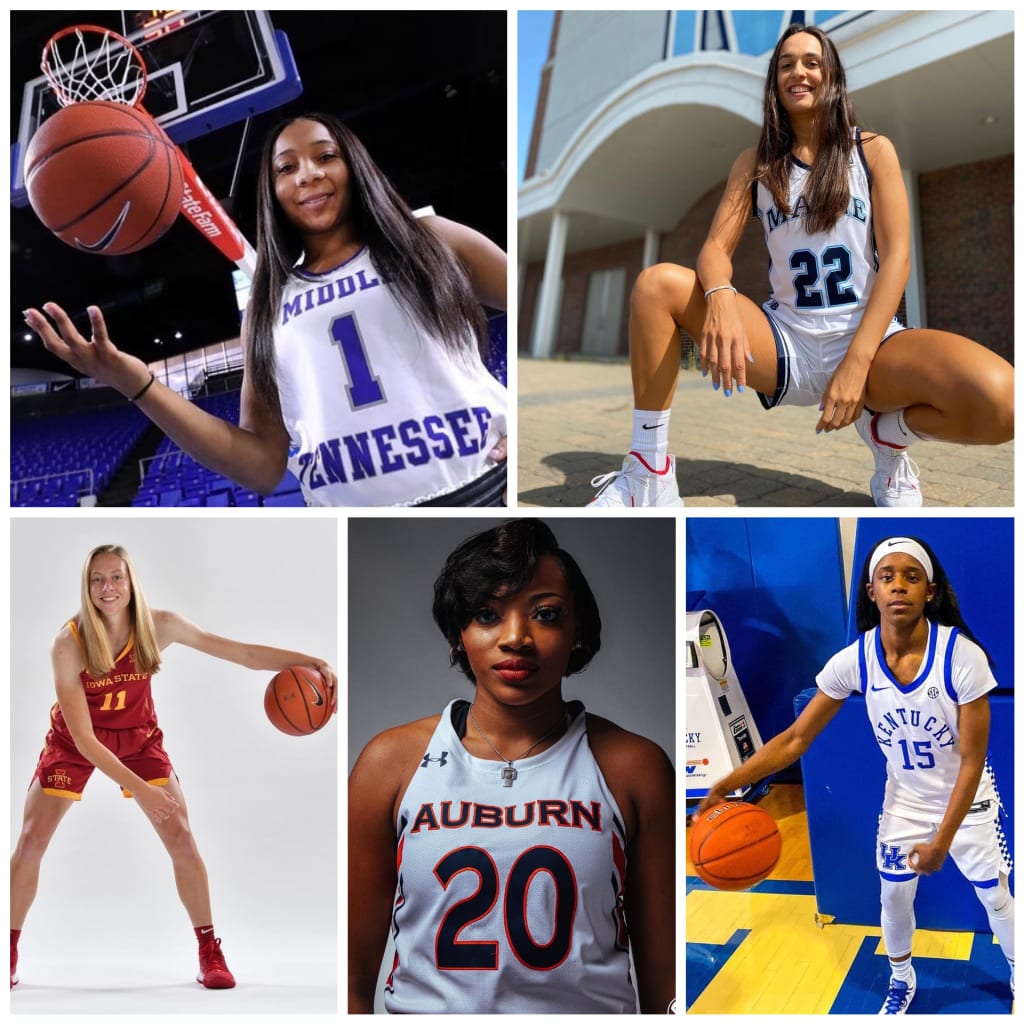 Anastasia, Bianca, Emily, Unique & Chasity
The games that are considered for National Players of the Week range from Dec. 18 - Dec. 24.
Emily Ryan - Iowa State - Freshman - Guard
Prior to this week Emily Ryan's high in assists was seven. On Dec. 18, she tallied nine assists and only one turnover in a 91-65 Iowa State win over Kansas State. Ryan followed that with a 20-point, 10-assist effort against Drake. Her team was victorious in that game, 85-67. The 5-11 point guard leads her team with an average of six assists per game and is also second with one steal per contest.
Her 20 points against Drake was a season best as she shot 7-9 overall, including 4-6 from three. It marked the first time Ryan scored in double figures all season.
Bianca Millan - Maine - Senior -Guard
Maine is 5-0 and this week, senior guard Bianca Millan played the best basketball of her career. The 6-1 native of Spain dropped in an average of 29.3 points per game in three games between Dec. 20-23. She scored 33 points each in back-to-back games against Northeastern and Hartford. In her third game in four days she scored 22 points in another match against Hartford.
In those three games she shot 55 percent and averaged 8.3 rebounds. Millan is currently sixth in the nation in scoring with an average of 26 points per game.
Unique Thompson - Auburn - Senior - Forward
It is a very strong argument that Unique Thompson is the best power forward in the nation. For the second week straight she is named National Player of the Week. She is the second player to receive the honor this season but the first to be named in back-to-back weeks. This week she posted 20 points on 64 percent shooting and 23 rebounds in a 78-57 victory over Belmont on Dec. 20.
That performance placed Thompson firmly as the nation's number one rebounder. She is averaging 15.3 rebounds per game, one spot ahead of the first player to twice get Player of the Week honors, Esmery Martinez of West Virginia. She averages 14 boards per game.
Thompson also averages 18.8 points and 3.1 steals per game. She is shooting 57 percent from the field.
Chasity Patterson - Kentucky - Senior - Guard
If Chasity Patterson keeps up this robbing spree, police departments around the nation may get confused and add her to their wanted lists. We're joking but opposing defenses are truly concerned. On Dec. 19, Patterson tallied 10 steals in a 98-37 win over Wofford.
Patterson has collected at least seven steals in four games this season. She opened the year with a 30-point, eight-steal effort in a win over Murray State. She is currently tops in the nation with an average of five thefts per game. She's not doing shabby at all of defense with an average of 15 points on 50 percent shooting from the field and 82 percent behind the free-throw line.
Anastasia Hayes - Middle Tennessee - Senior - Guard
After five games Anastasia Hayes is the leading scorer in the nation. The 5-7 guard is averaging 28.8 points per game to go along with strong averages of 7.8 rebounds and 5.6 assists.
On Dec. 20, Hayes had her best game of the season with 35 points, making 12-0f-21 shots against Lipscomb in an 84-64 win. Despite shooting a career low 59 percent from the free-throw line Hayes has yet to have a game under 25 points this season. She also hasn't played less than 36 minutes in a game so far.
Hayes is having a career year as she has averaged 15.1 points over the course of her career.
Reader insights
Be the first to share your insights about this piece.
Add your insights