Women's Hoop Review XXIX
Ryhne is the Reason, KK Deans lifts WVU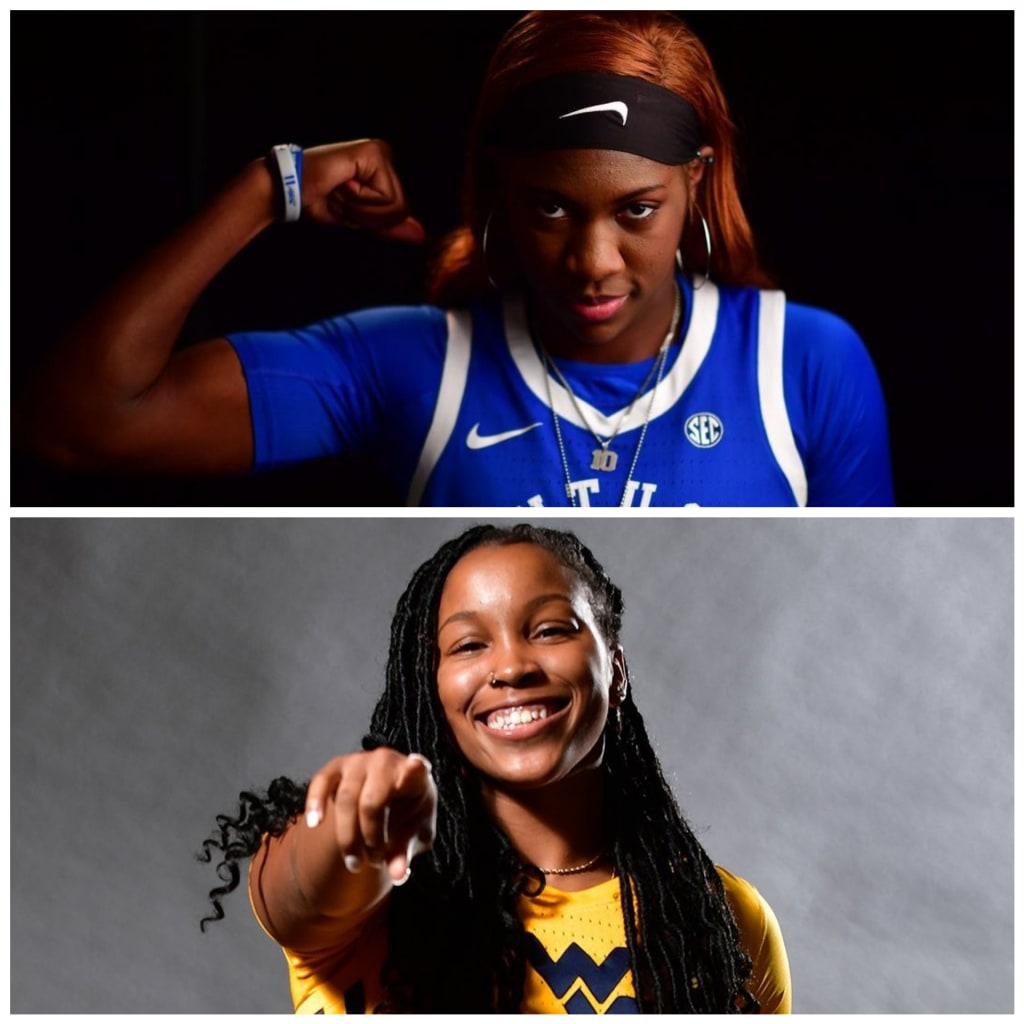 Jan. 3, 2021
Kentucky 92 - Mississippi State 86 (OT)
Below: Rhyne Howard
After a slow start, Kentucky (9-1) guard Rhyne Howard is back to prime form. The 6-2, Cleveland native scored 33 points, grabbed 10 rebounds and dished out six assists in an overtime win against fellow SEC opponent Mississippi State.
Below: Rickia Jackson
It is her second straight double-double. She had 24 points and 10 rebounds in a win against Arkansas on new year's eve. Howard and her team outlasted a strong effort by forward Rickea Jackson of Mississippi State. Jackson led her squad with 23 points. She is averaging 18 points for the season. Howard is averaging 20.3 points for Kentucky.
West Virginia 90 - Oklahoma 72
Guard Kysre Gondrezick scored 26 points with six assists, while her backcourt mate Kristen Deans poured in 20 points to lead West Virginia to victory over Oklahoma.
Below: Kysre Gondrezick
Gondrezick is averaging 20.1 points per game and shooting 45 percent from the field with an average of 4.2 assists, all career highs. Deans is in the midst of a very solid season. The 5-8 sophomore has scored over 20 points for the second straight game and shot over 55 percent for the fourth straight contest. She is averaging 13.2 points per game.
Below: Kirsten Deans
Power forward Esmery Martinez continued her productive season with her best offensive performance of the season. She scored 18 points on a 7-11 shooting. She also continued her strong season on the boards pulling down 11 rebounds. Martinez is averaging 12.9 points and 13.7 rebounds per game.
Below: Esmery Martinez
Oklahoma had a difficult second half after fighting hard to stay competitive in the first half. The Sooners were led by one of the best offensive performances of the season as guard Madi Williams scored 45 points on 17-of-30 shooting. She also made eight-of-nine free-throws. The six-foot junior from Fort Worth, Texas is averaging 25.8 points per game. Last season she averaged 16.1 points.
Below: Madi Williams
Jan. 2, 2021
Wright State 54 - Youngstown 39
When host Youngstown State saw that it held Wright State to 18 points in the first half, it had to feel good about itself. The problem is that Wright State held Youngstown State to 17 points in the second half while scoring more than twice as more at 36 points.
Below: Destyne Jackson
Both teams offensive numbers were less than desirable as Wright State outshot Youngstown State 37 to 27 percent. Wright State was led in scoring by Destyne Jackson's 11 points. She also shared the team lead in rebounding with six boards. Center Tyler Frierson grabbed six rebounds as well.
Angel Baker was the only other Raider to score double figures with 10. Youngstown State freshman Nneka Obiazor was the only player on her squad to hit double digits. She had 12 points as she also led her team with six rebounds and two steals.
Below: Nneka Obiazor
Buffalo 76 - Miami 67
Miami sophomore guard Peyton Scott did outscore Buffalo star Dyaisha Fair 26 to 23, but her team fell nine points short against its Mid American Conference foe.
Below: Dyaisha Fair
Scott's 26 was a season high in a season where she has scored at least 12 points in every game. Fair has scored at least 20 points in all but two games. The Buffalo 5-5 sophomore also had seven assists, four steals and just one turnover. Buffalo guard Hanna Hall also had 10 points and four assists. Forward Loren Christie had a near double-double with nine points and nine rebounds. The 6-3 sophomore also had three blocks. Christie has averaged 11 rebounds and two blocks over the past three games.
Central Michigan 90 - Ohio 87
Another shootout between Mid American Conference guards took place as Central Michigan edged Ohio in a three-point road win.
Below: Micaela Kelly
CMU guard Micaela Kelly outdueled Ohio guard CeCe Hooks with 28 points. Hooks had 22 in the defeat. Kelly who averages 22.7 points per game also had six rebounds and four assists. This is her fourth straight game with at least 23 points.
Kelly had a lot of help. Center Jahari Smith went four-of-four from the field with eight points to go along with her team best 12 rebounds. Guard Molly Davis scored 23 points, pulled down 10 rebounds and dished out five assists. Davis hasn't had a single game with less than 10 points this season. Senior guard Maddy Watters scored a season best 17 points on five-of-10 shooting from three. She also had six assists.
Below: CeCe Hooks & Erica Johnson
For Ohio, Hooks' performance marked her fifth straight game with 22 points or more. She also tallied seven rebounds, three assists and three steals. Bobcats forward Erica Johnson scored 21 points, grabbed nine rebounds and tied Hooks for the team lead with three assists. Three other Ohio players scored 10 or more points. Gabby Burris (12), Peyton Guice (11), Madi Mace (10) pitched in to keep Ohio in the contest.
Florida International 81 - Old Dominion 80
Emerald Ekpiteta powered Florida International with 15 points and 15 rebounds, holding off a strong rally from Old Dominion.
Below: Emerald Ekpiteta
It was Ekpiteta's fifth game with 10 or more boards. The 15 rebounds is her best performance of the year in that category. Forward Alma Danielsson and guard Jiselle Thomas each shared the lead for FIU with 18 points. They both also grabbed six rebounds apiece. Danielsson knocked down six-of-nine three-point attempts. Guard Kyla Nelson canned three-of-six from three as well. She scored 11 points and grabbed seven rebounds.
Reserve guard Fujika Nimmo had a productive game off of the bench with 12 points eight assists and five rebounds in 23 minutes of action for Florida International.
Below: Fujika Nimmo
Old Dominion had two players with at least 20 points. Forward Amari Young shot 10-19 on her way to 23 points. She too grabbed 15 rebounds and blocked two shots. Guard Victoria Morris scored 20 points with four rebounds and four assists.
Below: Amari Young