Women's Hoop Report XXXV
National Players of the Week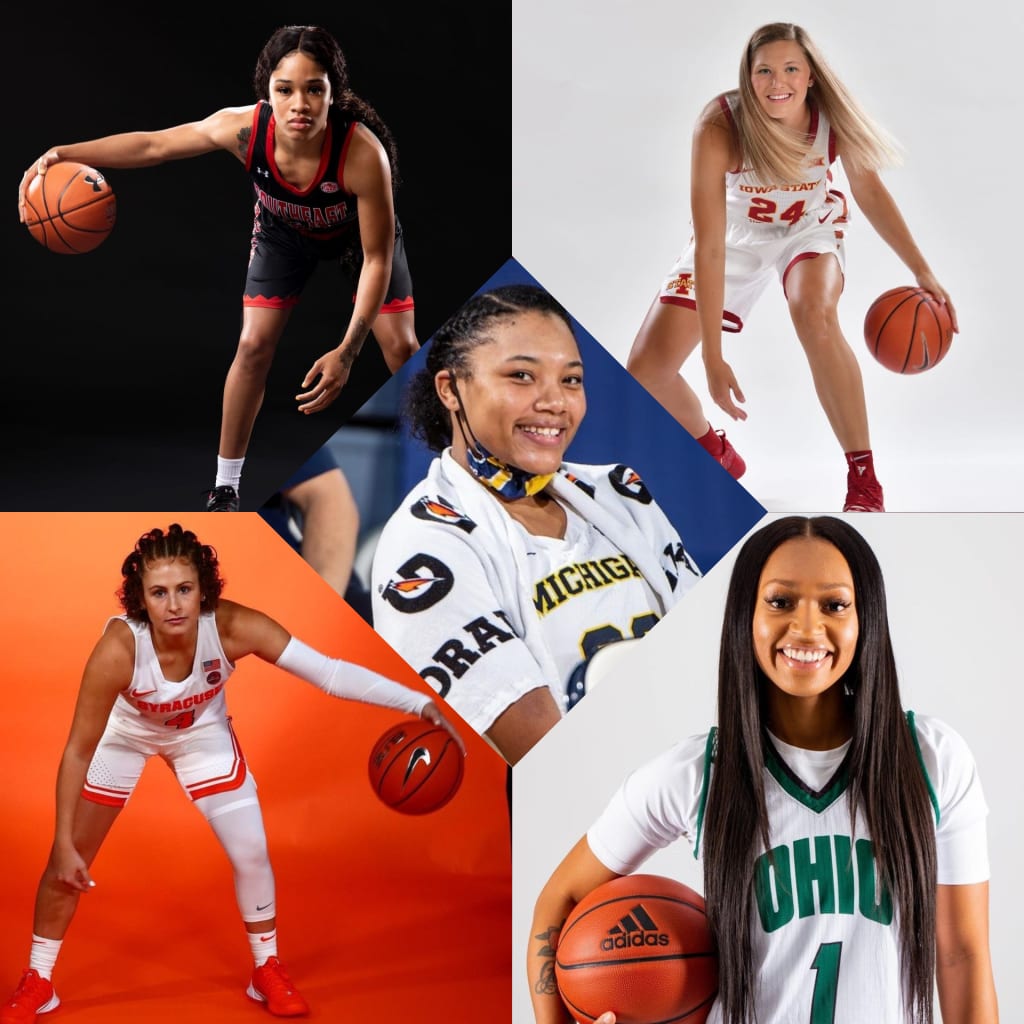 Tesia, Ashley, Tiana, Naz & CeCe
The games that are considered for National Players of the Week range from Jan. 15 - Jan. 21.
Tesia Thompson - Southeast Missouri State - Senior - Guard
A native of Memphis, Tennessee, Tesia Thompson scored a combined 50 points in two games over the past week. She had her best game of the season in a 74-61 win over Austin Peay, Jan. 16. Thompson scored 33 points, while knocking down 12-of-21 shots and connecting on all nine of her free-throw attempts. She is averaging 19.6 points per game this season which is a career high. Thompson is leading her team in scoring and is second in rebounds with an average of 8.1 boards per game.
Ashley Joens - Iowa State - Junior - Guard/Forward
Ashley Joens was arguably the hottest player in the nation in mid-January. On Jan. 16, she scored 27 points and grabbed 12 rebounds in a win at Baylor. Joens made 10-of-15 shots during that contest. Three nights later she led her team to a 64-63 win over Oklahoma. The six-foot junior posted 32 points against the Sooners, while pulling down a season best 16 rebounds.
Joens has recorded three straight double-doubles and has scored 30 or more points three times this season. She is fifth in the nation with a scoring average of 25.1 points per game.
Tiana Mangakahia - Syracuse - Senior - Guard
A native of Australia, Tiana Mangakahia had three straight games with at least 10 assists over the past week. On Jan. 16 she scored 10 points and dished out 10 assists in a 99-64 win over Miami.
She stepped up with season bests 19 points and 13 assists in an 88-76 victory against North Carolina, Jan. 19. Two days later Mangakahia tossed out 11 assists with zero turnovers, but her team fell short on the road to Louisville, 67-54. Prior to that three game stretch Mangakahia had 27 assists and 28 turnovers in her first five games. In the last three games, she has had 34 assists opposed to 12 turnovers.
CeCe Hooks - Ohio - Senior - Guard
The Mid American Conference Player of the Year award looks like it is destined for a guard at Ohio University. CeCe Hooks is averaging 24.7 points per game, which is sixth in the nation.
On Jan. 16, Hooks scored 26 points, with four assists and two steals in a road win over Central Michigan. She made a season best 12 shots on 20 attempts. Hooks' next game was a home victory against Buffalo, when she dropped 28 points on 10-0f-19 shooting. The talented guard from Dayton, Ohio filled the stat sheet with seven rebounds, six steals and five assists. Hooks has scored at least 18 points in each of her games this season.
Naz Hillmon - Michigan - Junior - Michigan
After scoring a season low six points in a win against Wisconsin 0n Jan. 14, Naz Hillmon put on a performance that will be remembered at Michigan for generations to come.
On Jan. 21, the 6-foot-2 native of Cleveland, Ohio, took on Ohio State and despite her team's 81-77 loss, Hillmon stole all the headlines. She became the first player in the history of Michigan basketball to score 50 points. When we say the first, we mean male or female. Not, Glen Rice, Chris Webber, Jalen Rose or any other Wolverine has ever scored 50 points before Hillmon made history.
She scored on 20-of-30 shot attempts, while canning 10-of-14 free-throws. Hillmon also had 16 rebounds and a block. The game was her sixth straight with at least 11 rebounds. She is third in the country at 26.3 points per game and sixth in the nation with a shooting percentage of .636. Her rebounding average of 12.3 is fifth best in the nation.