Women's Hoop Report XXXIII
The Top Scorers in Women's College Basketball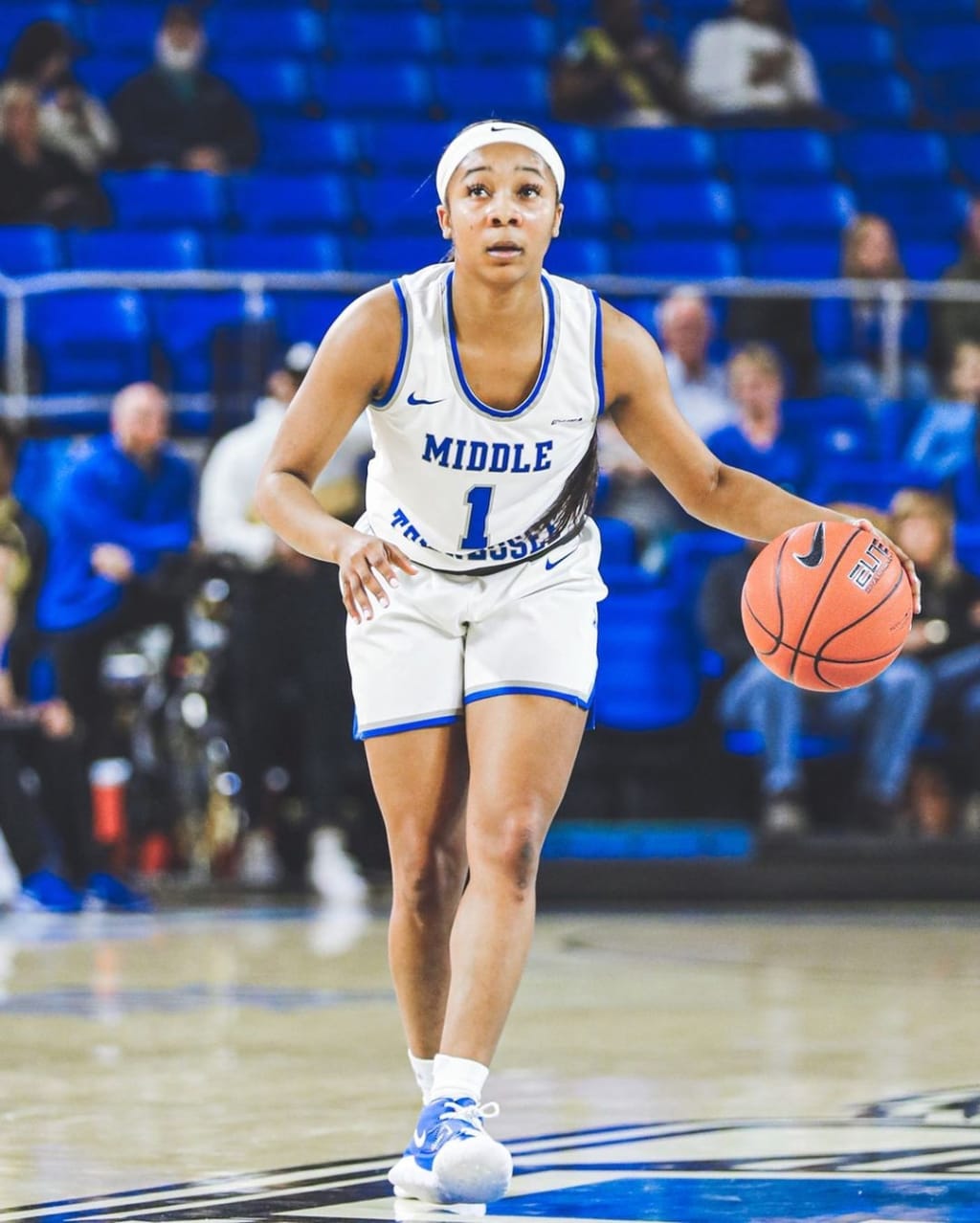 Anastasia Hayes
National Scoring Leaders as of Jan. 11, 2021
Anastasia Hayes, Middle Tennessee, Senior, 28.6
Anastasia Hayes is averaging the most points in the country. She has played 34 minutes or more in every game this year including two games where she has played a full 40. She has scored 28 or more points at least six times. Hayes also is averaging five assists per game.
Chelsey Perry, Tennessee Martin, Senior, 27.7
The 6-2 senior forward is shooting the lights out. Chelsey Perry is connecting on 55 percent of her shots overall and 50 percent from three-point territory. Last season she averaged 23.7 points and Perry is topping that so far with her average of 27.7 points per game. Perry is averaging 8.2 points per game and has had three double-doubles this year.
Naz Hillmon, Michigan, Senior, 25.9
Naz Hillmon is arguably the most dominant player in college. Her best game of the season was a 35-point, 22-rebound performance against Nebraska. She's had seven double-doubles and has scored at least 24 points six times this season. She scored a season best 37 against in-state opponent Oakland.
Caitlin Clark, Iowa, Freshman, 25.6
It took 10 games for Caitlin Clark to look like less than a superhero in a college basketball game. She scored in double figures in each of her first nine games. She had scored at least 20 points in eight of her first nine games. She had scored 30 points three times so far this season. Finally in game eight Clark was held to eight points. Despite that she is still averaging 25.6 points to go along with 6.6 rebounds and 6.5 assists.
Illmar'I Thomas, Cincinnati, Senior, 25.1
This 5-19 forward is having a career year. With a career average of 15.1 points, Thomas is pouring on the offense during the 2020-21 season. She scored at least 23 points in each of her first eight games of the year. Her ninth game saw her get held to under 10 points for the first time of the year as she scored nine points against Tulane. Her season best 34 points was scored in the season opener against Northern Kentucky. Thomas has had 32 or more points three times this season.
CeCe Hooks, Ohio, Senior, 25.0
CeCe Hooks' light is greener than the color on her uniform. Her shooting has led the way for squad this season. She started the season with 18 points but hasn't scored less than 23 since then. Hooks' top performance was a 32-point outburst in a win against Notre Dame. The 5-8 guard from Dayton, Ohio is also strong on the boards as she is averaging 6.4 rebounds per game. She's only had one game this year with less than five boards.
Kionna Jeter, Towson, Senior, 24.4
Last season Kionna Jeter shot 39 percent and averaged 18 points per games. This year she is shooting 43 percent and averaging 24.4 points. She started the season with her only double-double of the year so far. She had 25 points and 12 rebounds against East Carolina. Her best scoring performance came in a 33-point explosion against Morgan State. She hit 14-of-19 shots that game. She also scored 32 points against Longwood.
Maddy Siegrist, Villanova, Sophomore, 24.0
The 6-1 forward registered five straight double-doubles to start the season. Her sixth double-double came when she scored 34 points and hauled down 19 rebounds against Creighton. She had 31 points and 13 rebounds against Lasalle. Siegrist hasn't scored less than 11 points this season and has scored at least 23 points seven times.
Ataiya Bridges, Texas Southern, Senior, 24.0
Ataiya Bridges is a tiny 5-foot-4 but her game is big. She has scored at least 22 points in each of the three games she has played so far. Her best performance was a 26-point game against Stephen F. Austin. She knocked down 11-of-29 shots during that game. Her next effort saw her put up 22 points and 11 assists against Prairie View. She is averaging six assists five steals and 4.3 rebounds per game.