Women's Hoop Report XXXII
A Wonderful Weekend of Winning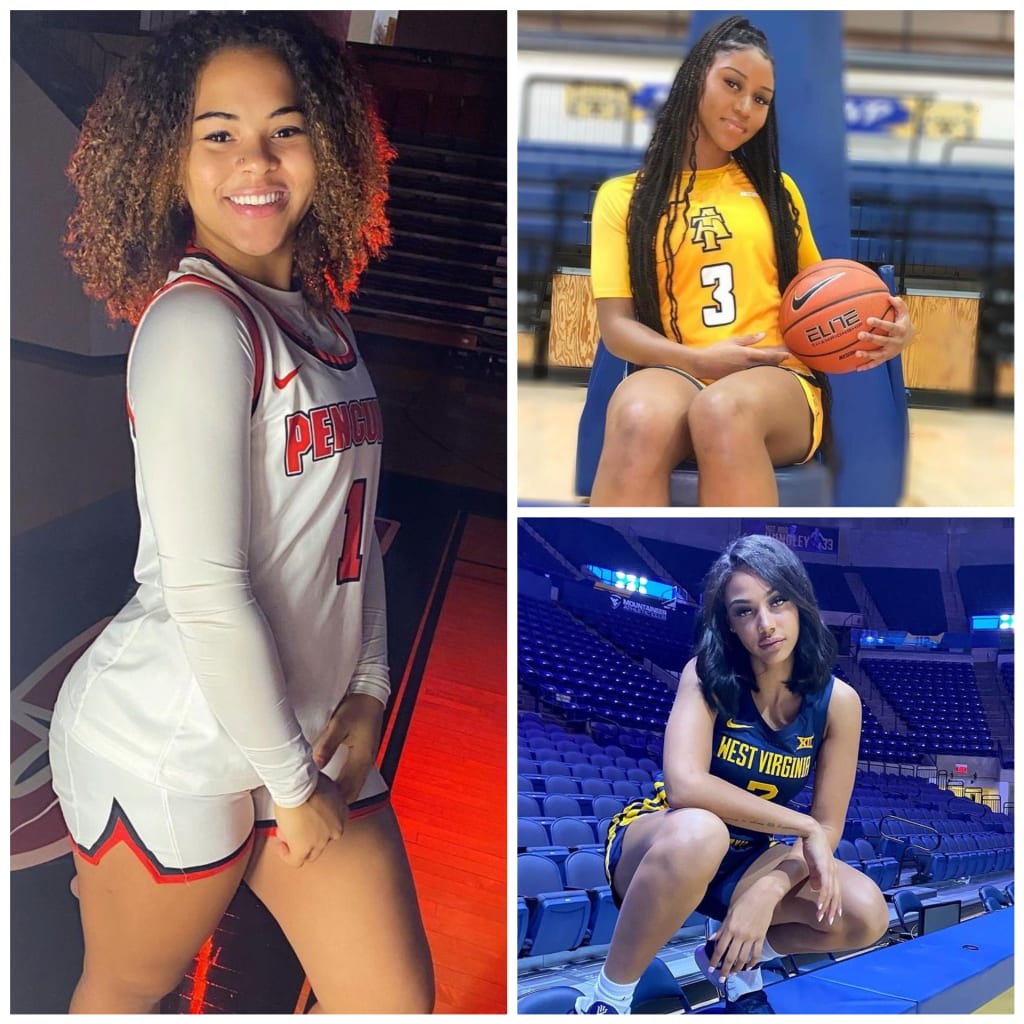 Nneka, Sean, Kysre
Jan. 10, 2021
North Carolina A&T 97 - South Carolina State 54
North Carolina A&T came three points short of 100 points as it defeated host South Carolina State for the second time in as many days.
Below: Chanin Scott
The Aggies followed a 78-39 throttling of South Carolina State on Saturday with a 97-54 beat down on Sunday. Forward Deja Winters came off of the bench to pour in 21 points. She's posted 21 points at least three times this season. Four other NCAT players scored double digits. D'Mya Tucker has 19 points on eight-of-13 shooting. Guard Chanin Scott was very productive with 14 points, nine rebounds and six steals.
Below: Sean Kelly Darks
Guard Sean Kelly Darks kept the offense proficient with 12 points to go with game best nine assists with only one turnover. Darks, a freshman guard from Cincinnati, Ohio had a season best 19 points in the previous game against South Carolina State. Jasmen Walton rounded out the double figure scoring with 10 points. She connected on six-of-six free-throws.
Jan. 9, 2021
West Virginia 92 - (17) Texas 58
Senior guard Kysre Gondrezick scored 24 points as unranked West Virginia (8-2) routed 17th ranked Texas 92-58 at home on Saturday.
Below: Kysre Gondrezick
Gondrezick is having a career season with an average of 20.5 points per contest. She tied her season best with 10 field goals as she scored at least 20 points for the seventh time in 10 games. Gondrezick's supporting cast seems to get better with every contest. Power forward Esmery Martinez grabbed at least 10 rebounds for the sixth straight game and had her fifth straight double-double. Along with snagging 10 boards, Martinez scored a season high 19 points. She also had her best shooting performance scoring on nine-of-12 shot attempts, good for a 75 percent clip.
Below: Esmery Martinez
Martinez is averaging 13.5 points and 13.3 rebounds. She's scored 16 or more points in the last four games for West Virginia. Junior Madisen Smith posted a season high 17 points to go along with four assists and two steals. She is averaging a career high 11.2 points and shooting 47 percent from three-point land, which is number one on the team.
Below: Madisen Smith
Another West Virginia guard Kirsten Deans is having a strong season. She scored 12 points with six assists and one turnover against Texas. Deans is averaging 13.1 points per game while shooting 49 percent from the field and 45 percent from three.
Texas struggled taking care of the ball. The Longhorns had 10 assists and 20 turnovers. Texas was led in scoring by Joanne Allen-Taylor's 12 points.
(18) South Florida 80 - Houston 51
Below: Bethy Mununga
Eliza Pinzan and Bethy Mununga posted double-doubles in a blowout win against Houston. Mununga led the team with 14 rebounds to go along with 12 points. The six-foot senior forward scored on five-of-six shots. She also had three steals and a block. This was her fifth double-double of the season.
Pinzan a junior guard tallied 14 assists with only three turnovers. She scored 11 points as well. This was her second game with more than 10 assists this season. She is averaging 7.2 assists per game.
Below: Elisa Pinzan
Sophomore Maria Alvarez led South Florida with 23 points on seven-of-nine shooting, including six-of-eight from three-point territory. She is averaging 10 points per game this season.
Houston was led in scoring by Miya Crump who tied her season best with 16 points. She hit three-of-seven three-point shots.
Youngstown State 72 - Oakland 57
After having a rough 0-3 start, Youngstown State turned things around with its first win of the season, coming against Oakland.
Below: Nneka Obiazor
Freshman forward Nneka Obiazor posted a double-double with 22 points and 11 rebounds. The 5-10 forward scored in double digits for the third straight game but this by far was her most efficient offensive performance. In her first three games she shot 11-27 (40 percent), but in the win over Oakland Obiazor knocked shot 10-19 (52 percent).
Youngstown State was led in scoring by guard Chelsea Olson's 24 points. She also had a turnaround performance on offense. In the three previous games she scored seven points in each contest. Olson also had six rebounds, five assists and four steals. She led the team with four three-pointers made.