Women's Hoop Report XXXI
National Players of the Week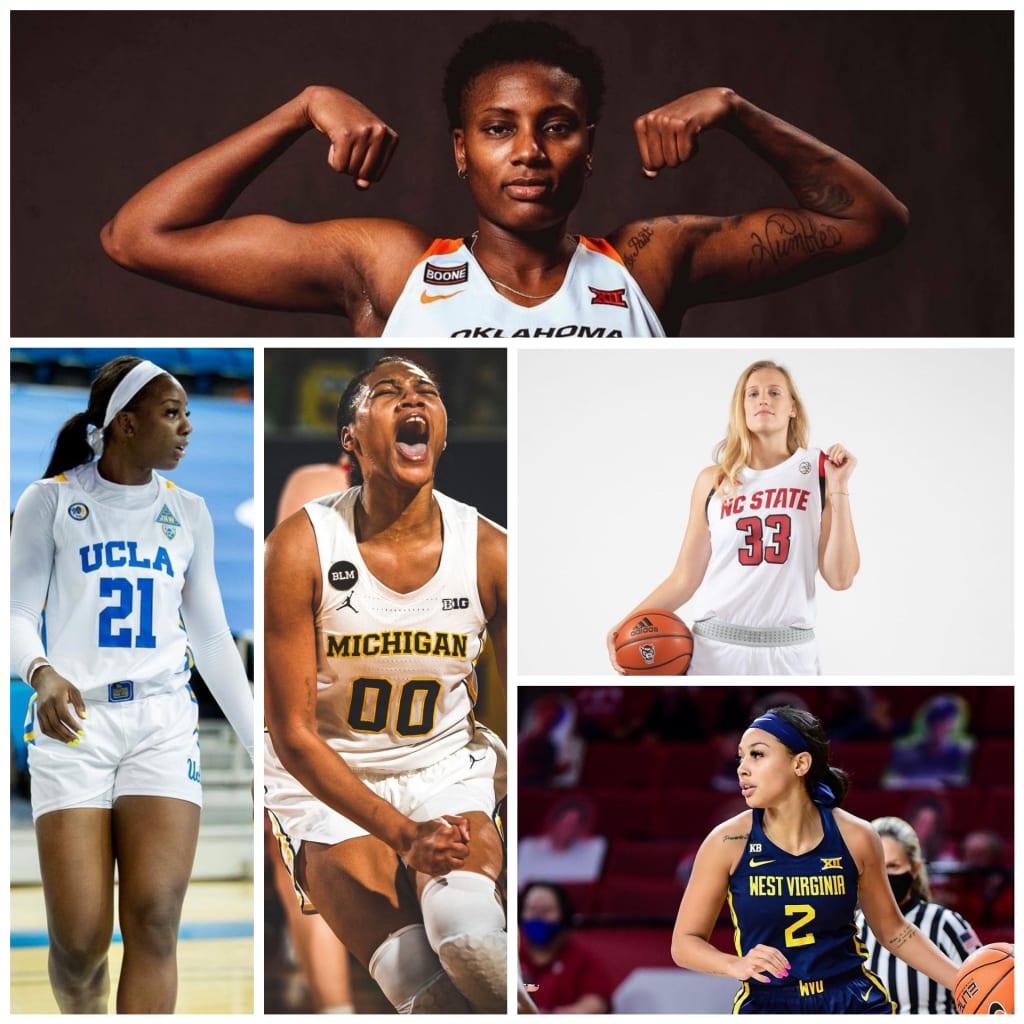 Natasha, Michaela, Naz, Elissa & Kysre
The games that are considered for National Players of the Week range from Jan. 1 - Dec. 7.
Natasha Mack - Oklahoma State - Senior - Forward
It was a block party this week for Oklahoma State's Natasha Mack. During a win against Texas Tech on Jan. 2, Mack struggled offensively but she made up for it with a ton of blocks and rebounds. She grabbed 16 rebounds and blocked six shots to go along with 11 points in her team's 27-point win. Four days later Mack topped that performance with a 25-point win over TCU.
Mack scored 28 points, grabbed 17 rebounds and blocked 10 shots. That's right, she posted a triple-double. She also had six steals in that game. Mack is leading Oklahoma State with 17.8 points, 11.2 rebounds and 4.3 blocks per game.
Michaela Onyenwere - UCLA - Senior - Forward
In a 73-71, win against previously unbeaten Oregon, Michaela Onyenwere put the nation on notice that she and her UCLA Bruins squad are as good as anybody. She scored a season high 33 points on the Jan. 3, win, knocking down 12-of-20 shots from the field and eight-of-eight from the free-throw line.
Onyenwere also grabbed 10 rebounds, marking her third double-double of the season. She is her team leader in rebounds (8.4) as well as scoring (18.9). Onyenwere hasn't had one game this season with less than 10 points. In her last five games she has scored at least 17 points.
Naz Hillmon - Michigan - Junior - Forward
Naz Hillmon was on her business in a 64-62 win against Nebraska. The 6-2 forward posted 35 points and 22 rebounds in the victory on Jan. 7. She made 15-of-23 shots and collected 13 offensive rebounds as well. On Jan. 3, Hillmon had 26 points after making 10-of-14 shots in a 21-point win over Northwestern. She had 12 rebounds along with a steal and a block.
In her first eight games of the year Hillmon is on the short list for National Player of the Year honors. She is fifth in the nation in scoring with an average of 26.1 points per game. She is the only woman in the country who is averaging over 20 points per game while shooting over 60 percent. Hillmon is also among the top 20 rebounders in the country with an average of 11.4.
Hillmon has only finished one game under 20 points this season. She has scored 25 points or more on five different occasions.
Kysre Gondrezick - West Virginia - Senior - Guard
After a rough stretch during the middle of last month, Kysre Gondrezick has found her touch again. In a win against Oklahoma, the 5-9 guard shot nine-of-19 (47 percent) and scored 26 points. She also had six assists, marking her third straight game with at least as many dimes.
For the season, Gondrezick is averaging a career best 20.1 points and 4.2 assists per game. She is also shooting a career best 45 percent overall from the field. Gondrezick scored at least 20 points in each of her first four games this year. Between Dec. 10-18 she averaged 13 points in three games but over her last two games she has averaged 25 points, seven assists and two steals.
Elissa Cunane - North Carolina State - Junior - Center
The 6-5 center from North Carolina State (10-0), Elisa Cunane shot a perfect nine-for-nine from the field as her team remained unbeaten in a 76-57 win over Boston College, Jan. 3.
In that game she led all players in scoring with 24 points and shared her team lead with eight rebounds. She also led her team with three steals and two blocks. The 24 points was her season high. Cunane has scored at least 20 points three times this season. The junior leads her team in scoring (16.4), rebounds (7.5) and blocked shots (1.4). She is also shooting career bests 58 percent from the field and 84 percent from the free-throw line.