Women's Hoop Report II
Hillmon, Jones, Harris play big and strong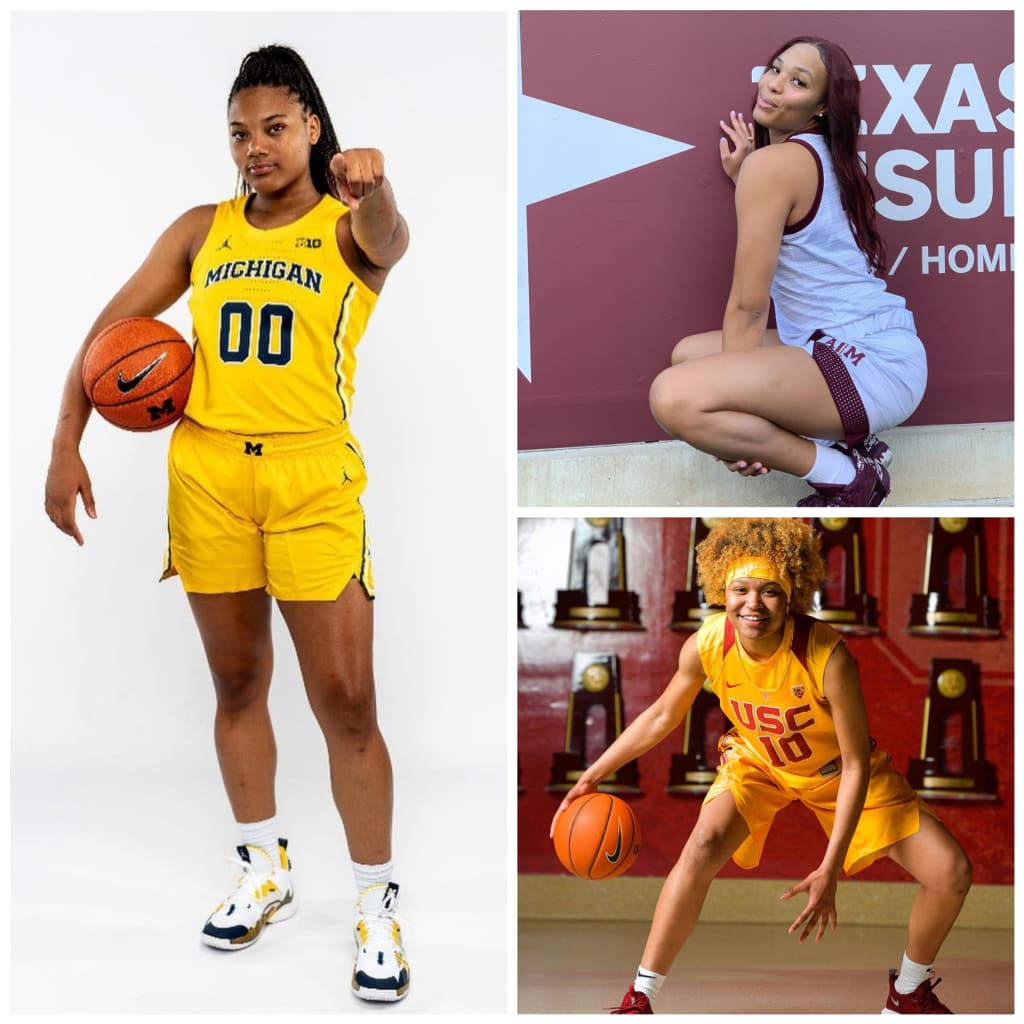 Naz, N'dea & Amaya
Here's another look at some of the games from opening day on November 25. Stay tuned to this series throughout the season as we highlight the best in women's basketball.
If you missed our previous Women's Hoop Report click the link below:
Texas A&M 77 - Lamar 61
Above: N'dea Jones
The big women from Texas A&M were a load for Lamar in the Aggies season opening win. N'dea Jones scored 25 points with 11 rebounds and a block. The 6-2 forward shot 8-12 in a brilliant offensive performance. She had averages of 11.1 points per game in 2019-20. Her teammate, 6-4 center Ciera Johnson put up a massive 18 points and 18 rebounds to bring more pain to their opponents.
Above: Ciera Johnson
Johnson hit seven of her 11 attempts during the victory. Texas A&M only hit 3-17 from three-point land. Those three shots were made by reserve Destiny Pitts who is a transfer from Minnesota. Pitts had 11 points and has a career average of 15 points per game.
Lamar struggled, shooting 31 percent as a team. Its lone bright spot on offense was 5-10 junior guard Anyssia Gibbs who scored 11 points, while shooting 3-6 from beyond the arc.
USC 85 - Loyola Marymount 55
Above: Amaya Harris
Freshman Amaya Harris gave Loyola Marymount more than it could stand as she posted 17 points and 16 rebounds. She grabbed six offensive rebounds along with getting a steal and a block. Madison Campbell handled things from outside for USC as the 5-11 guard shot 5-12 from beyond the three-point line. More three-point shooting came from Endyia Rogers who scored 15 points while shooting 3-5 from long distance.
Angel Jackson made the most of her time off of the bench as she scored 13 points in 15 minute of action. Loyola Marymount fell short on offense with 20 turnovers. The Lions did have four players in double figures which included center Meghan Mandel and forward Ciera Ellington who both had a team best 13 points. Mandel also had six rebounds and three blocks.
Michigan 93 - Central Michigan 75
Above: Micaela Kelly
After a competitive first half, Michigan stretched its lead from eight to 18 as it won its first game of the season.
Central Michigan fought hard behind Micaela Kelly and Molly Davis' scoring exploits. Kelly had 30 points on 11-22 shooting while Davis followed that up with 24 points, going 11-20 from the field. Michigan fired back with a 26-point and 11-rebound outing from Naz Hillmon who made 11 of her 13 field goal attempts.
Above: Naz Hillmon
Leigha Brown scored 22 points and dropped five assists for the Wolverines. She shot 9-13 for her squad that made 61 percent of its shots overall. Michigan got a 15-point and six rebound effort from guard Amy Dilk as well.
Xavier 81 - Detroit 73
Above: Nia Clark
Nia Clark had eight turnovers but when you collect 10 steals it sort of balances things out. Clark led Xavier with 14 points to go along with her 10 steals as her team topped Detroit. Most of the Musketeers offense came by way of the bench. Three reserves scored double digits off of the pine. Kae Satterfield had 12 points, nine rebounds and three steals. Carrie Gross scored 11 points to go along with four rebounds and three assists. Courtney Prenger posted 10 points while shooting 4-5 from the the field.
Above: Markyia McCormick
Detroit was paced by 5-6 sophomore guard Markyia McCormick who scored 17 points in 34 minutes. She was the top scorer of the game and outperformed her 6.8 points scoring average from last season. The Titans also got 14 points each from guards Sammiyah Hoskin and Kaela Webb. Forward Brigid Fox led Detroit with seven rebounds, while scoring 10 points.