Women's Hoop Report 70
March Madness: Tennessee holds off high scoring Hayes and Middle Tennessee after halftime tie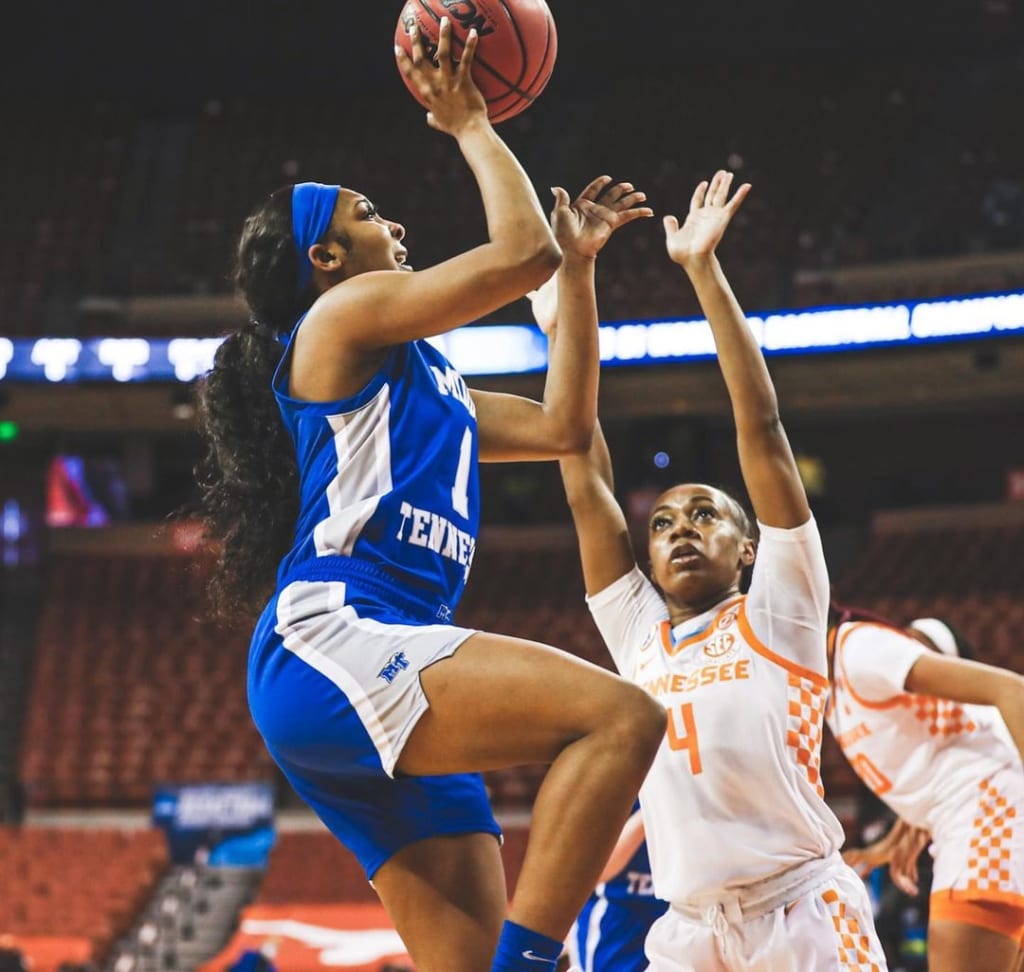 Anastasia Hayes shoots over Jordan Walker
Middle Tennessee (17-8) fought tooth and nail with Tennessee for one half but the much taller Lady Vols (17-7) had a bigger second half in their opening round win of the Women's NCAA Tournament.
After being tied 39-39 at the half, Tennessee outscored Middle Tennessee 48-23 in the final two quarters for the win. Rennia Davis, a six-foot-two guard/forward posted 24 points and 14 rebounds for Tennessee. Rae Burrell, a six-foot-one guard/forward had 22 points and seven rebounds. The two Lady Vols combined to shoot 17-of-27 from the field as they were too much for Middle Tennessee.
"My stat line was just another day in the office," Davis said. "I just wanted to do whatever my team needed me to do. I remember I had five rebounds for a while and I was like, 'Wait, let me get on these boards right quick.'"
Davis averaged a career best 8.7 rebounds per game during the regular season. In her last three games including two SEC Tournament contests, the senior is averaging 11.3 rebounds to go along with an average of 22 points.
Winners Only All-Defense First Team selection Tamari Key made her presence known with a game high three blocked shots. The six-foot-five center also scored 13 points which was her highest point total since Jan. 31, when she put up 23 in a winning triple-double performance over Florida.
This game had a bit of a backstory. Middle Tennessee star and Winners Only All-National First Team selection Anastasia Hayes competed for Tennessee during her freshman year during the 2017-18 season. She averaged 9.1 points and 3.4 assists for the Lady Vols and looked to be headed for a promising career before being dropped from the team. Tennessee's head coach at the time Holly Warlick said that Hayes violated team rules.
The five-foot-seven guard took her bright future to her hometown of Murfreesboro to continue her career at Middle Tennessee State. She was the second leading scorer in the NCAA this season, averaging 26.5 points per game. Hayes led her team in scoring against Tennessee with 26 points, five assists and three steals. She said that she didn't make a big deal going into the game about playing against her former school.
"I stayed grounded, I stayed with the course," Hayes said. I treated this game just like any other game."
While Hayes may have not made playing against her old program a major issue, she came prepared to play in the first half. The fiery guard scored 16 of her 26 points in the first two quarters which had a big impact on the tied score at the intermission.
"I'm very proud of our team," she said. "We fought hard. We had days where we didn't know if we were gonna play. We had times where we didn't even know if there was going to be an NCAA Tournament, so I'm just very proud that we got to this point."
Coach Rick Insell was equally proud of his star guard's effort. "[Anastasia] played hard," he said. "She played so hard on the offensive end. We don't have problem taking a play off or two on the defensive end, but today we had to have her guard somebody so she had to play tough on both ends. I'm not displeased with any of my players right now."
Hayes' younger sister Aislynn pitched in 15 points, making a team high three triples from long distance.
Middle Tennessee forced 21 turnovers and only committed 14, but the Lady Vols got the better end of the rebounding battle. The Blue Raiders were outrebounded 56-21.
Tennessee will face Michigan in the second round. Michigan beat Florida Gulf Coast in the opening round.