Women's Hoop Report 68
March Madness: WVU, Tech, Beavers, Gamecocks advance in NCAA First Round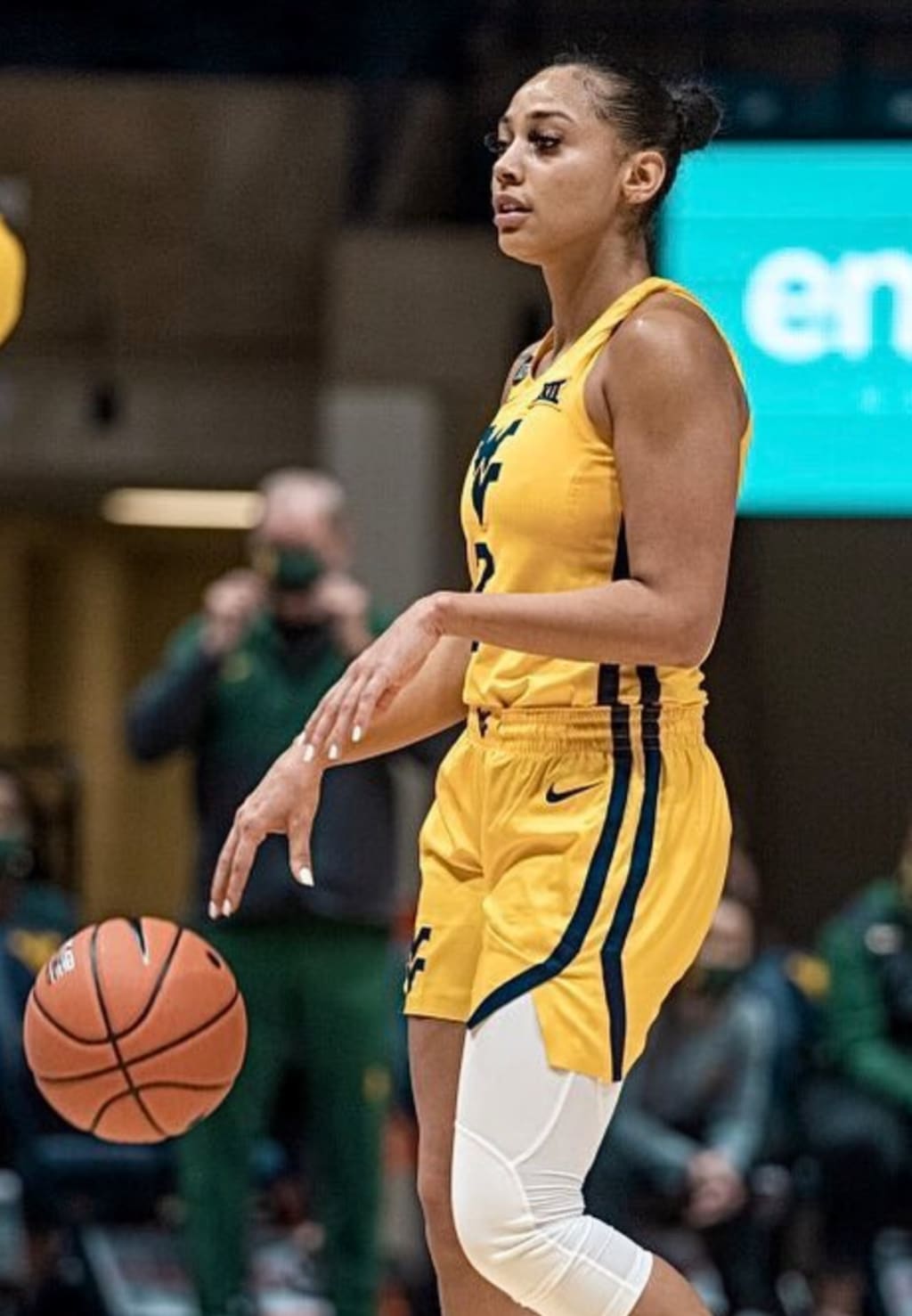 Kysre Gondrezick hit six triples against Lehigh
Women's NCAA Tournament First Round, March 21
West Virginia 77, Lehigh 53
Above: Kysre Gondrezick
After a tight first quarter, which West Virginia (22-6) escaped with a 15-13 lead, the Mountaineers had dominant second and third quarters, where they outscored Lehigh 50-26, on their way to a 77-53 win.
Winners Only National Player of the Year, Kysre Gondrezick shot nine-of-15, including six-of-eight from three to score 26 points for the win. The high scoring senior guard also had seven rebounds, five assists and four steals. Gondrezick made a season high six three-pointers. She also shot 75 percent from beyond the arc which is her best performance of the year from long range.
Below: Kirsten Deans
Kirsten Deans continued her strong sophomore season with a 19-point effort. The five-foot-eight guard posted 19 points, while matching her season best with eight rebounds. Deans posted five assists and three steals in a well balanced effort. Since Feb. 6, she has scored at least 11 points in 12 straight contests.
Another West Virginia sophomore shined as usual this season. Forward Esmery Martinez, Winners Only All-National Defensive First Team selection, snagged a team leading 11 rebounds while scoring 16 points. She stole the ball twice and dished out three assists in the win.
Lehigh had three players with double figures in scoring. Forward Emma Grothaus led her team with 14 points and seven rebounds in the defeat.
Georgia Tech 54, Stephen F. Austin 52 OT
Georgia Tech outlasted a Stephen F. Austin squad that didn't want to end its strong season. The Ladyjacks finished the year at 24-3 after an overtime loss to the Yellow Jackets.
Winners Only All-National Defensive Second Team selection Lorela Cubaj gave all she had leading Georgia Tech with 10 rebounds, four blocks, four assists, while sharing the team lead with 14 points. She had a rough shooting performance, making six-of-18 shots. She wasn't alone as her co-star and teammate Lotta-Maj Lahtinen shot five-of-19 on her way to 14 points as well. Lahtinen pitched in with four steals on the defensive side in the win. Guard Kierra Fletcher posted 11 points but shot four-of-13. She just missed a double-double with nine rebounds while also amassing three assists and a block.
Stephen F. Austin's top scorers struggled from the field as well in this defensive tango. Reserve Avery Brittingham made five-of-13 shots, scoring 16 points and grabbing 13 rebounds. Guard Stephanie Visscher was the only starter in double figures but she shot a hard five-of-18 on her way to 14 points and 12 rebounds.
Georgia Tech improved to 16-8 and will face West Virginia in the second round.
Oregon State 83, Florida State 59
Above: Aleah Goodman
Oregon State improved to 12-7 in a route of Florida State (10-9) during the opening round of the Women's NCAA Tournament.
Senior guard Aleah Goodman scored 24, marking her eighth game of the season with at least 20 points. She knocked down eight-of-12 shots including three-of-five from three-point land. Goodman also led all players with five assists and zero turnovers. Forward Taylor Jones followed Goodman's performance with 18 points, eight rebounds and two blocks.
Florida State's best scorer was Bianca Jackson. The five-foot-11 guard scored 17 points which was her seventh highest total of the season.
South Carolina 79, Mercer 53
Above: Aliyah Boston
South Carolina (23-4) forward Aliyah Boston scored 20 points and pulled down 18 rebounds in a 26-point route over Mercer (19-7). Boston's powerful game delivered coach Dawn Staley her 500th win. The six-foot-five sophomore has grabbed 10 or more rebounds in all but five games this season. She scored at least 20 points for the sixth time this season.
South Carolina also got 20 points from six-foot-two forward Victaria Saxton. It was the junior's second game this season with 20 points.
The Gamecocks were too strong on the boards, outrebounding Mercer 52-27. Amoria Neal-Tysor scored 15 points to lead Mercer. The Bears also got a solid game from guard Jada Lewis, who scored 14 points, grabbed six boards and passed out four assists.
South Carolina will take on Oregon State in the second round.